Culturally Speaking
By Cornelia Seckel
ART TIMES July/ August 2012
With summer before us there are even more many festivals, fairs, concerts, and exhibits than usual. Hopefully you can take some time from other summer activities and enjoy the creative multitude.
The Gallery At The Factory, Rte 212 in Saugerties, NY had it's inaugural show on June 9 with a group exhibit of works by sixteen contemporary artists and close to 500 visitors attending the opening reception. Erica and Gerard Price have renovated 21,000 square feet of the former Liquidator's factory and created a multi arts venue, The Saugerties Performing Arts Factory (SPAF) which houses the new art, a 15,000 square foot gallery, and excellent place to see and show work. For more about SPAF and the exhibits and performances they are presenting see www.saugertiesperformingartsfactory.com
The Hudson River Valley National Heritage Area program was established by Congress in 1996 and is funded, in part, through the National Park Service and Department of the Interior. The Hudson River Valley National Heritage Area and the Thomas Cole National Historic Site announced the expansion of the Hudson River School Art Trail (launched in 2005), which includes locations painted by Hudson River School painters. People can hike to these locations and of course paint the same views that inspired Thomas Cole, Frederic Church, Jasper Cropsey, Asher B. Durand, Sanford Gifford and many others. The trail has expanded from its original eight sites in New York to 17 sites in New York, two each in New Hampshire and Wyoming, and one in Massachusetts. For more information see www.thomascole.org/trail
The Red Hook Community Arts Network has a new home base at the Red Hook CAN / Artist's Collective Gallery at 7516 North Broadway. It is a collaborative grass roots effort to bring the talented creative people of Red Hook together to present their work to their neighbors and to the greater community of the Hudson Valley. They are dedicated to seeing the ARTS and Artists of Red Hook, NY celebrated and supported, and to seeing that an ARTS and Agriculture identity continue to be used to bring attention and prosperity to Red Hook. For more info about Red Hook CAN: www.rhcan.com.
The New Rochelle Art Association has a long and illustrious history. Many of its early members were well-known illustrators, such as Joseph Leyendecker, Fred Dana Marsh and Norman Rockwell, whose works was on many covers of magazines of their day. Much of the public sculpture in New Rochelle was designed by members — from the War Memorials commemorating the First World War and the Spanish American War, to the abstract work that sits in Library Green. In the 1920s artists from the association designed a set of ten welcome signs (including one by Norman Rockwell) marking the boundaries of New Rochelle and adjacent towns. The New Rochelle Art Association was founded in 1912 "to further the interest in Art in the Community, to establish through public exhibitions an educational standard in the Fine Arts, to safeguard the public interest in matters pertaining to the Fine Arts, to improve the administration of the public departments relating to the Fine Arts and to interest itself in all matters pertaining to the practice of the Fine Arts in Painting, Sculpture, Illustration, Crafts, Photography and Digital Art." It is one of the oldest art organizations in the country. To celebrate its 100 year anniversary, the NRAA will be holding a series of special themed shows highlighting the past and present of the Association. For more about this association visit www.nraaonline.org
The Americans for the Arts (www.americansforthearts.org) released its fourth study of the nonprofit arts and culture industry's impact on the economy, Arts & Economic Prosperity IV, the most comprehensive study of its kind ever conducted. The report features customized findings on 182 study regions representing all 50 states and the District of Columbia, as well as estimates of economic impact nationally. Nationally, the industry generated $135.2 billion of economic activity, including $61.1 billion by the nation's nonprofit arts and culture organizations. This economic activity supports 4.1 million full-time jobs. Attendance at arts events generates $74.1 billion in expenditures by audiences for local businesses such as restaurants, parking garages, hotels, and retail stores. The industry also generates $22.3 billion in revenue to local, state, and federal governments every year—a yield well beyond their collective $4 billion in arts allocations. Communities are investing in an industry that supports jobs, generates government revenue, and is the cornerstone of tourism.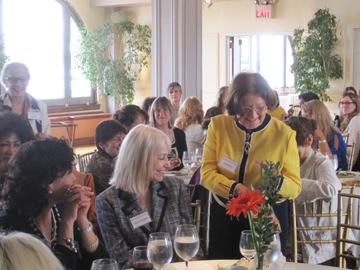 The National Association of Women Artists (www.thenawa.org) held their annual meeting and luncheon and artist Audrey Flack was the honored guest. N.A.W.A., founded in 1889, is the oldest Women's art organization in the US, perhaps the world. The Annual Meeting and Luncheon was held at the Manhattan Penthouse on 5th Ave., a beautiful venue for this important organization. Other dignitaries at the luncheon were Honorary Vice Presidents: Judith Brodsky, Kay WalkingStick and myself. There was a very delightful welcome from Executive Director Susan G. Hammond who gave some of the highlights of the past year and then a very brief annual meeting that included a business report, treasurer's report and a President's report. Outgoing President Sonia Stark graciously handed over the gavel to Doreen Valenza, incoming President who spoke about her mission as president to continue to elevate N.A.W.A. so that the organization is known across the country as a group that continuously promotes and mentors women artists. Judith Brodsky was introduced and spoke about "The Fertile Crescent: Gender, Art and Society", a project that she conceived and produced along with Ferris Olin, both co-directors of the Institute for Women and Art at Rutgers ( iwa.rutgers.edu/home/). This is an ambitious showcase five years in the making of exhibitions, public programming, and an accompanying catalog of the same title centered around the work of 24 contemporary feminist artists of Middle East heritage who do not want to be pigeonholed by national or religious identities. The work of these "transnational" artists examines and reveals from their global perspectives the complex social, theological and historic issues that have, and continue to shape, the state of Middle East women. There are numerous programs and exhibitions scheduled and you will hear more about it in future Culturally Speaking columns and by contacting the Institute for Women and Art (IWA) at Rutgers University. Audrey Flack, Honored Artist and Guest Speaker, spoke about her work — she is best known for her photorealist paintings and sculptures and began during the time of the abstract expressionists. She said that it was a struggle to be noticed early on and that is true, she said, even today. She spoke about the different sensibility women artists have and the struggle juggling home life and children. She was very encouraging that women do their own work and not imitate men. There was an exhibition of her work at the N.A.W.A. Gallery. Liana Monie was given the N.A.W.A. medal for lifetime achievement and in addition, an award of $300 to be established in her name for the Annual Exhibition. Liana is a former National President of N.A.W.A., a member of the Permanent Advisory Board, Founder and Chair of the N.A.W.A. Collection housed at the Jane Voorhees Zimmerli Art Museum at Rutgers, University in New Brunswick, NJ and in 1995 founded the Florida Chapter of N.A.W.A. in West Palm Beach, Florida. In response to receiving the award Liana said "Whatever I have accomplished for the N.A.W.A. over these 34 years has been inspired by our pioneer forerunners. I am deeply proud of the heritage and traditions they left with us. …the mission and the purpose of our organization have remained constant in extending the field of opportunity for women artists and maintaining a high standard in their creative endeavors. It has always been an honor and a privilege for me to be able to participate."
Art Along the Hudson, (www.artalongthehudson.com) now in its 9th year, is a year-round collaborative marketing effort to promote towns on or near the river as vibrant arts and cultural communities. Each year new communities and Art Tours have joined the group. In 2012, Art Along the Hudson includes: Peekskill, Garrison/Cold Spring, Newburgh, Beacon, Poughkeepsie, New Paltz, Rhinebeck/Red Hook, Kingston, Saugerties and Woodstock. It is also promoting eight Hudson Valley Studio Tours offering art lovers opportunities to meet the many artists living and working in the Hudson Valley. The new brochure can be seen at: artalongthehudson.com. Garrison Art Center hosted the AAH Kick off event that brought together business owners, State Legislators, Town Supervisors, artists, arts patrons and the media. Remarks were made by Mary Kay Vrba, Director Dutchess County Tourism; Libby Pataki, Director Putnam County Tourism (former 1st Lady of NYS); and Lisa Robb, Executive Director of NYS Council on the Arts who not only applauded the AAH consortium but acknowledged that they are a new engine for the growth of the arts in the Hudson Valley — in 2011, Tourists spent 4.7 Billion dollars in the Hudson Valley. Rounding off the event was an excellent performance by violinist Daisy Jopling.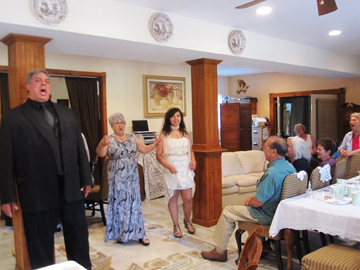 Altamura Center for the Arts, in Round Top NY (see a video from one of last year's performances on arttimes YouTube channel and from the video page of arttimesjournal.com) held a Volunteer Luncheon - the surprise entertainment was provided by baritone Lawrence (Larry) Harris (former NFL Houston Oiler), his wife, pianist Renee Guerrero and their children Sydney (15) and Quentin (14) Harris. Larry sang opera arias and the children sang duets from the American Musical Theater tradition. The grande finale (with Carmela Altamura joining in) included rousing selections from "Oklahoma!" Coming up this summer is the fully-staged opera La Sonnambula a Summer Institute, the play An enemy of the People a piano concert and the opera I Pagliacci. Visit www.altocanto.org for more details.
Tangent Theatre Company in Tivoli, NY, describe themselves as a passion, collaboration, a collective. They are a creative team of professional colleagues working closely together toward the same goal... dynamic contemporary, character-driven theater. They offer pub-theater (staging or reading plays in a pub) and main stage shows. For their upcoming productions see: www.tangent-arts.org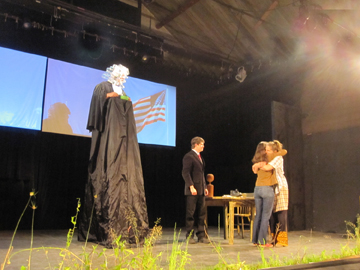 I went to see HedgeRow SpecimeN by Carey Harrison (son of the late Sir Rex Harrison) at the Byrdcliffe Theater in Woodstock, NY. The Woodstock Players, founded by Carey Harrison with Claire Lambe produced this play, the 5th premiere of a new Harrison play. They will be part of the Byrdcliffe Festival of the Arts (www.byrdcliffefestival.org) in July and the Phoenicia International Festival of the Voice in August. It has been a number of years since I attended a play at the Byrdcliffe Theatre (part of the historic Byrdcliffe Colony, founded in 1902 by Jane and Ralph Radcliffe Whitehead) and it is truly a wonderfully rich venue. This is a story of a woman (Violet Thorn played by Violet Snow) who is estranged from herself and the world. She wanders the country counting weeds, seeds —things that grow along the Hedgerow. She meets up with a snail that becomes her friend and only companion. Violet witnesses a murder and befriends the murderer (played by Holly Graff who also played Violet's daughter). This relationship and the relationships with her husband (Richard Bennett) and her son (Joseph Bongiorno) — all who play additional characters that she meets explores: death, murder, life, isolation, friendship, craziness, the ease of disappearing, and family relations. I found myself continuing to think about the play and it's many layers long after I left the theatre. The 4 actors were excellent, each one carrying pieces of their other characters in to the next and each one adding to the depth of the play. The staging was brilliant by minimally presenting the settings for each scene. At the end it is hard to know if what we have just see was a story she wrote and is being read from her journal or if we have followed the travels of an often mute bag lady over 27 years. Carey talked about his experience writing the play and the actors talked about their roles. One of the things Carey said was that it was particularly exciting to write for people he knew would be the cast. I wouldn't hesitate to see another play by Carey Harrison or a production by the Woodstock Players. Go to www.thewoodstockplayers.com for their upcoming performances.
The International Festival for the Voice (www.phoeniciavoicefest.org/)will be held in Phoenicia, NY from August 2 thru August 5. Their mission is to promote the human voice as an instrument of healing, peace and artistic expression through presenting world-class performances in Phoenicia, New York and surrounding areas. From opera to gospel, world music to Broadway, the Festival celebrates the human voice in all its multi-faceted glory. Beginning the festival on August 2 will be an Operatic comedy starring festival co-founder, mezzo-soprano Maria Todaro and soprano Michelle Jennings. Lectures, concerts, Children's programs, gospel music, theatre, choral groups, barbershop quartet, ending with a tribute to Peter Schickele. Ticket prices are very reasonable and range from $15 – 25. I have made several videos (don't worry for your jobs Hollywood filmmakers!) that give a sense of past Festivals and they can be seen on YouTube arttimes channel or online at arttimesjournal.com.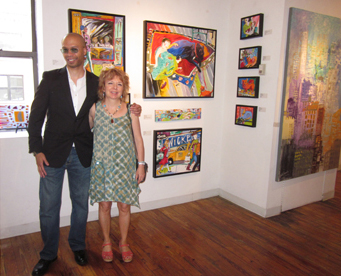 Enjoy the summer and enjoy all of what is available to enrich your life.
• Post a review of places you go, things you see on the ART TIMES Facebook page and become a fan/friend
• The next issue in print will be the September/ October issue.
• If you missed the current July/ August issue give a call or send an email and we will be able to accommodate you quite inexpensively online.