Culturally Speaking
By Cornelia Seckel
ART TIMES January/ February 2013
The Jan/ Feb 2013 ART TIMES marks our 300th issue in print. In 2001 ART TIMES began an online presence that continued to grow dramatically over the past number of years and even more so in the last 5 years with essays and videos archived from the past 11 years. Each month in ARTTIMES online we have included additional essays, videos, calendar listings, opportunity listings and new advertisers and advertising opportunities. In the Spring of 2013 we will begin printing quarterly (Spring- Mar/Apr/May; Summer- Jun/Jul/Aug; Fall- Sep/Oct/Nov; Winter- Dec/Jan/Feb) and publishing each month online at arttimesjournal.com. Given the economics of printing and distributing, and since we have no intention of folding our tent as so many other publications have done, we feel that this is the best way to proceed. We do hope that our readers will visit us online and continue picking up our quarterly publications. For those of you who are saying "I know this, I read it in the Nov/ Dec issue" that is great but given the importance of the announcement I thought it needed repeating.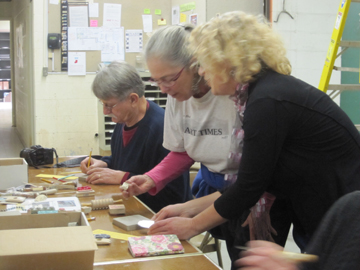 Often I am asked to publish a press release about an upcoming event; we've never done this and urge you to upload the calendar listing with the submission form found on the calendar page of the website. Additionally, use the arttimes facebook page for announcements. I'm working on a way to have short videos of events as another page of the ART TIMES website and will let you know when the kinks have been worked out.

You will see a new Music writer Mary Burrass added to our pages beginning with the Spring issue of ART TIMES. Mary is an Arts & Culture journalist and blogger in Central Virginia who fell in love with opera when she saw Placido Domingo sing at the Washington National Opera Company. We have enjoyed the contributions of Frank Behrens and bid him adieu wishing him success.

Online in December, I posted several pictures and notations of my November "out-and-abouting". Mery Rosado proprietor of Café Mezzaluna, offers excellent food, Brunch and Dinner concerts, poetry readings and a regular offering of art exhibits. Most recently, paintings and photographs by Jim Shine, Pablo and Amy Shine and after that show closed, assemblages by Fay Wood who showed new work: constructions of metal pieces that formed some very interesting and exciting wall sculptures. This is a very hot art spot in Saugerties NY and well worth a visit • The Woodstock Arts Fair is an event that ART TIMES co-sponsors with the Woodstock Jewish Congregation. This 5th Annual Fair had 48 artists and craftspeople selling their work. People said that they enjoyed the Fair as many left with their purchases. Our editor and co-founder of ART TIMES, Raymond J. Steiner had the assistance of Diane Baker showing his small paintings and books • Buglisi Dance Theatre performed at Kaatsbaan International Dance Center in Tivoli, NY. Many of the works were choreographed by Artistic Director Jacqulyn Buglisi. Martine van Hamel (Profiled in our pages September 1987) was a guest artist and it was thrilling to see this prima ballerina (formerly with American Ballet Theatre) and one of the 4 founders of Kaatsbaan. The Company's dancers were excellent and the use of costumes brilliant. I was particularly struck with the passion between dancers, the strength of relationship and how they connected with one another. On February 5-10 the company will be at the Joyce Theater in NYC • While on a Press Trip to Ann Arbor Michigan in late November I met up with our Theatre writer Robert W. Bethune for a face to face visit after 20+ years that he has been writing essays for ART TIMES. This 4-day trip was packed with activities including performances, visits to artists and galleries, events and tours. One of the highlights was an extensive tour of the factory where we learned about tile making as we watched tiles being made before taking part in a workshop at the Motawi Tile Factory (est. 1992 by Nawal Motawi). I just received the tile I made and it is an excellent souvenir of this experience.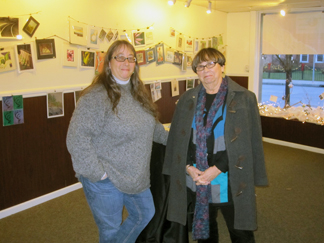 The Catskill Ballet Theatre (CBT) has been an institution for Dance in the Hudson Valley for 30 years and annually performs, with students and professional dancers, The Nutcracker Ballet, based on the story "The Nutcracker and the King of Mice" written by E.T.A. Hoffman, tells the story of a young German girl who dreams of a Nutcracker Prince and a fierce battle against a Mouse King with seven heads. The music is by Tchaikovsky and numerous choreographers have staged this ballet. Maja Tibbling was the choreographer along with Melissa Bierstock for the CBT production. Artistic Director Anne Hebard began her teaching career at the Arts Education Trust in London, and was awarded the Royal Academy of Dance's most treasured prize, The Advanced Teachers Certificate of Dancing with Honors. She opened her own School of Ballet in Kingston, NY in 1973 and soon after joined the teaching staff of the David Howard School of Ballet in NYC. Anne has had the pleasure of seeing her pupils join such companies as the American Ballet Theatre, Bejart Ballet, Joffrey Ballet, and the Royal Ballet to name just a few. The audience was thrilled with this very sophisticated performance that had fine dancers, excellent sets and costumes (by Frances Garofalo). Vladimir Bachinsky, (a fine artist that was the first artist's profile done by Raymond J. Steiner over 30 years ago) is retiring after 30 years from his role as Herr Drosselmeyer. Vladimir always kept his interest in theatre alive even while painting church ceilings with Russian iconic religious art or his surreal paintings on canvas. Young dancers in the Hudson Valley are lucky to have such a fine school and teacher for Classical Ballet.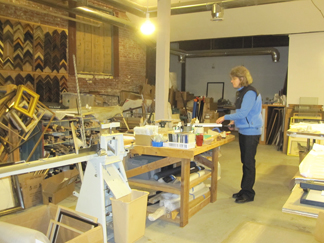 My exploratory mission to Northern Dutchess County had me visiting the RedHook Community Arts Network (RHCAN), Renée Burgevin at the Atelier Renée Fine Framing, Albert Shahinian Fine Art, Betsy Jacaruso's Studio and the Rhinebeck Artist's Shop.

At RHCAN, I met with Juliet Harrison and Barbara Campo who graciously answered my questions. RHCAN is a community group of hundreds of artists, writers, performers who are welcome to use the space for exhibitions, performances and workshops. RHCAN is also an Artists' Collective whose mission is to engage the arts community, support culture and foster a local identity through creativity. The hope is to make Red Hook an arts destination that helps to support the community and adds to the greater Hudson Valley's offerings of culture for residents, tourists and newcomers. The current exhibition was "Paper Works", a holiday show of original art all priced below $100. Included in the space are a 2-room gallery, a small office area and 5 spaces for artists to rent for working and displaying their art. There is an extensive offering of workshops and classes with topics including: Business Practices, Singing, Painting, Tarot, Photography, Social Media, Digital Camera, Writing, Chakra Healing & Drawing. 20 workshops will be offered in January. See www.rhcan.com for a full listing and to learn more about this grass roots arts community.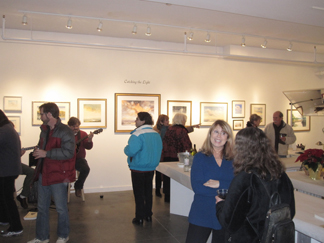 Renée Burgevin Fine Framing is in an amazingly stimulating space. The Chocolate Factory in Red Hook, NY has numerous businesses — some art-related, most not. It has been described as a "start-up" space yet some of the tenants have been there for many years. Renée's workspace is huge and the dream of any creative person— space for storage, large tables for working and a smaller more intimate space used as a showcase and office. Renée, unlike many framers, doesn't have a gallery component. She has been at the Chocolate Factory for 10 years and obviously it is working well for her. Take a look at atelierreneefineframing.com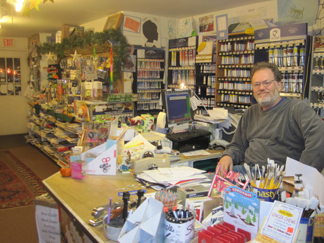 Betsy Jacaruso is a fine watercolor painter and teacher. Her new (about 1 year) space in Rhinebeck is spacious and has much more foot traffic than her old location at the Chocolate Factory in Red Hook. Betsy gives classes throughout the week and fortunately creates time to do her own work — of course, she feels, not enough. Take a look online at BetsyJacarusoStudio.com. The Cross River Artists also had their work on view. Betsy had her students make tree ornaments —small paintings that were hung with a red ribbon onto a small Christmas tree. These original watercolors sold for $10 with the proceeds going to the Astor Home for Children in Rhinebeck. Funds will specifically go toward their art program. I was pleased to buy the last of Betsy's ornaments. Sean Crimmins of the Heartstrings Hot Club band and Bob Cage provided excellent music during the open house reception. Sean Crimmins, raised in Dutchess County, NY, has performed in the Hudson Valley in many different venues, settings and genres ranging from gypsy jazz to singer/songwriting showcases. He has performed with some of the best musicians in the area. I had a chance to listen to his album, "Old Soul From Across the Room", available from Sean at seancrimminsmusic.com and on itunes. I found his music engaging and soothing. Bob Cage is the great-grandson of Anastasios Stathopoulo, who founded the company that later became Epiphone, a company known for fine instruments that responded to the specific needs of musicians, promoting innovation and creativity. Bob honors what they did, by creating his own music on their fine instruments, and encourages those who continue the family tradition of a devotion to Craftsmanship supporting Musical Excellence. I'm listening now to Bob's wonderful picking and strumming. You can learn more about Bob and hear his first album, Flat-Top at bobcage.com.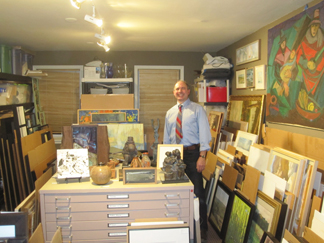 Doug Shippee has 2 locations for his Artist's Shop: Rhinebeck and New Paltz. Walking into the Art Shop I just wanted to start painting, drawing, coloring (as I've done for so many years at Catskill Art & Office in Woodstock and Kingston) — so many wonderful materials that even I, a non-artist, was inspired! There is a fully equipped professional frame shop with a large selection of frame styles to choose from. Take a look online at rhinebeckart.com or stop by when you are in Rhinebeck or New Paltz.

It had been a while since I was at Albert Shahinian Fine Art and so I was pleased to be in Rhinebeck at a time when he had an opening. Albert has had a gallery for the past 15 years after having been a Director of Music and Conductor. He has always been interested in art and felt that there was a great parallel between music and art and their creative process. The space in Rhinebeck has 3 gallery rooms (one of the rooms, a very utilitarian storage space, usually has a group exhibit hanging and hundreds of paintings stacked around the room. Albert represents mid and late career artists and shows both representational and non-objective work. I am familiar with most of his artists (see shahinianfineart.com for gallery artists and more information) and not only are they doing excellent work they are in good hands in this gallery. Currently Todd Germann and David Eddy have solo shows up through January 13. Albert has established a distinguished reputation as an art dealer and has a full-service gallery with its focus on quality original contemporary, regional, 20th Century, and Hudson River art.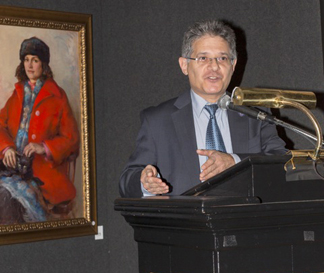 I recently learned about One River Gallery in Englewood, NJ a new contemporary art gallery that presents exhibits in a variety of genres from important emerging artists and mid-career artists. One River Gallery and its associated One River School of Art and Design were founded by Matt Ross, an art collector and arts education executive/entrepreneur. There is an extensive offering of classes. More information at: Oneriverschool.com

Update your news to ART TIMES facebook page, your calendar via the online submission form and email your opportunity listings. Visit arttimesjournal.com

Have an easy Winter and I'll see you out and about.