Culturally Speaking
By Cornelia Seckel
ART TIMES January/ February 2012
First off, I hope you all had a good Holiday season and are ready for the winter when you can pull your resources together in preparation for the reawakening of creativity/ nature. As I thought about the past 2 months, it didn't seem that I had been out and about much until I started writing down all the places and things I did.
The 4th Annual Woodstock Arts Fair cosponsored by ART TIMES and the Woodstock Jewish Congregation was again a big success. There were more people than in previous years that came to the Fair and artists and craftspeople were, for the most part, happy with their sales and the fair in general. It is the goal of the organizers to provide a professional and relaxed venue for participants to sell their work; to introduce the community to the WJC and its facilities, and be a fundraiser for the WJC. Early next summer, look for the notices for applications for the 5th Annual WAF.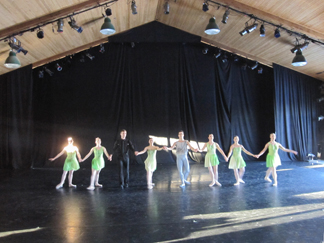 Performances at Kaatsbaan International Dance Center (kaatsbaan.org) in Tivoli, NY are always exceptional. New York Theatre Ballet (nytb.org) (known for their revivals of classic ballet masterworks), and founder and Artistic Director Diana Byer, showed their true colors when they finished up a 3-week workshop with a public performance. It was the day after the "October Snow Storm" that knocked out power for a million homes along the Northeastern corridor and in some areas dumped a foot of snow. Having been out of power, the Saturday evening performance had been cancelled. It was with great joy that on Sunday morning power was resumed and preparations were made for a performance. Just barely 2 hours before show time a car hit the main transformer on the main road to town and all power was lost yet again. Dancers insisted on going through with the performance and the natural light from the very tall windows on each side of the stage area (the size of the Metropolitan Opera house stage) gave some very interesting lighting effects. Music was provided by pianist Michael Scales. Fortunately, it was a beautiful and sunny day. The dancers are exquisite — strong, passionate, and technically sound. What troopers!! Expect a short video of this performance on the arttimes YouTube channel

When I deliver the issues to the galleries in Chelsea I get another chance to see artists' work that I may not have had on my radar. Marcia Clark was showing paintings and oil sketches from her travels. I particularly like her use of Mylar panels that gave such a wide view of the landscape she painted. See her work at marciaclarkpaintings.com • HeartShare, Human Services of New York, (heartshare.org), annually presents the work of artists with intellectual and developmental disabilities at the New Century Artists (newcenturyartists.org) galleries in NYC. It is a very exciting group of artists' work varying in quality but always passionate. • Lynne Friedman's (lynnefriedmanart.com) Northeast/ Southwest was at the Prince Street Gallery. I like Lynne's work; she uses bold and bright colors in most all of her paintings. When I went to her website I took a look at her drawings which are excellent. • Allied Artists of America (est. 1914) held their 98th Annual Exhibit at the National Arts Club in NYC. The goal of the Allied Artists of America, Inc. (alliedartistsofamerica.org) is to further the cause of contemporary American artists through its Annual National Open Exhibition, demonstrations, lectures, and $24,000 awards in cash and medals at the Annual.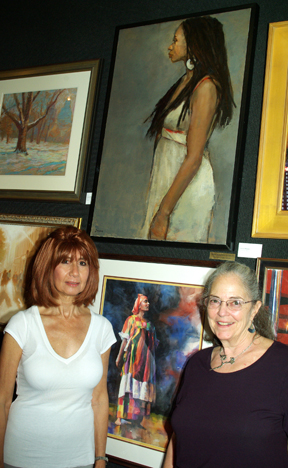 The Catharine Lorillard Wolf Art Club's 115th Annual Open Exhibition Awards Dinner is a delightful affair (clwac.org). I get to meet lots of women who I have spoken with on the phone and usually get to greet the winner of the ART TIMES award. This year's award went to Carole Dakake for her painting Woman in White. I was one of the painting judges for this show and for the first time chose Carole's painting to receive an award (although not specifically which award) and it was thrilling to see work again that I had spent hours looking at and then had chosen for awards. I was pleased to be able to speak for a few minutes during the awards presentation and to congratulate all the artists whose work was in the show and to briefly describe how difficult it was to make the choices we (the judges) did. Bob Trien received the Creative Hands Award, given to someone who is a strong supporter of the club. Catharine Lorillard Wolfe (1828-1887) was a prominent New York philanthropist and art collector, and the only woman among the 106 founders of The Metropolitan Museum of Art. In addition to bequeathing her painting collection to the museum, Ms. Wolfe left an endowment to Grace Church in Manhattan to promote "women's work." At the urging of Rector Dr. William Reed Huntington and several parishioners, the Catharine Lorillard Wolfe Art Club was established in 1896. The purpose at the time was to provide aid, counsel and exhibition opportunities to young women artists in New York City.

It was my mother's birthday and we went to Tilles, (www.tillescenter.org) the Performing Arts Center at CW Post Campus of Long Island University in Brookville, NY. Touted as Long Island's premier concert hall they offer over 100 performances by world-renowned artists in music, theater and dance each season. In addition, Tilles Center is home to regional arts organizations including the Long Island Philharmonic and Eglevsky Ballet. We went to a family performance of Momix. The performance was at 11am and was just a shortened program from the previous evening. The audience consisted of children with their parents and/ or grandparents, and Seniors who don't want to drive at night. I never thought to look at the Family offerings, but what a good idea. MOMIX is a company of dancer-illusionists under the direction of Moses Pendleton. The program was breathtaking. They are fabulous dancers, presenting innovative choreography in beautiful costumes and flowing props. You might see them in film and television, and commercials. If they're in your area don't miss them, they are great (www.momix.com).

Bard College Symphonic Chorus and the Bard College Chamber Singers give an annual concert and I've been to quite a few of them over the years. Composed of Bard students and community members they are under the direction of conductor James Bagwell. This year's program included the Franz Joseph Haydn Mass "Harmoniemesse". My only complaint was that the program was too short.


In November, 81 newly elected members of the National Association of Women Artists (est. 1889) were inducted into the organization at a general meeting held at the Rubin Museum of Art in NYC. Currently, more than 800 artist members are located in 42 of the 50 States with members working in a variety of mediums within the visual arts. The heads of the various committees spoke and new members were then able to sign up for specific volunteer work for the organization. Membership is open to all professional women artists in the US and Puerto Rico and in March and September applicants are selected by a jury from slides and cds. Mary Cassatt, Gertrude Vanderbilt Whitney, Isabel Bishop, Anna Hyatt Huntington, Alice Neel, Louise Nevelson, Audrey Flack, Miriam Shapiro, Pat Adams, Faith Ringgold were/ are all members of this important organization that provides numerous exhibition opportunities, educational programs, networking events and an image registry and historic archive. Applications are available at www.thenawa.org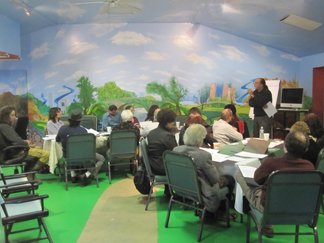 I was invited to an informational meeting of the Saugerties Performing Arts Factory located in Saugerties, NY and housed in what had been a very large warehouse. Stephen Tenner, Louis R. Spina and Erica Price are the 3 principals in this very enthusiastic and ambitious undertaking. "If you can dream it, you can do it" is their motto. They have great determination to bring all the arts under one roof. It is their idea to use the 14,000 sq. ft. of their part of the building (the other half being used by the owners' business) and offer a Theatre, an Art Gallery, Opera, Jazz and Cabaret, Photography, Fashion Design, Dance and more. It is expected that this will provide economic development and tourism for Ulster County while showcasing the arts and enhancing the already existing cultural outlets. Soon they will launch an event that will be a collaborative effort to bring all the arts organizations together and promote them. At the first of several focus group meetings, there were artists, actors, filmmakers, musicians, directors, writers, arts business people and a representative from the economic development council. It is expected that there will be an Arts & Entertainment Fair at SPAF in the next few months. Take a look at their site for more information: stellamayproductions.com

Have a good winter andmake sure to say hello if you see me out and about.