Culturally Speaking
By CORNELIA SECKEL
ART TIMES January/ February 2011

This column is meant to keep you informed, on a more personal note, about events I attend and newsy items that come across my desk. As we are now printing every other month the "in between print" culturally speaking column goes online — mostly as pictures and videos. Here I can be more elaborate with my comments about previous and current activities.

To begin with, three new books came in, Modern Gestures: Abraham Walkowitz Draws Isadora Duncan Dancing by Ann Cooper Albright, Music by Andrew Zuckerman, and Accelerating On the Curves: The Artist's Roadmap to Success by Katharine T. Carter that deserve special mention. For the dance aficionado, music lover, or artist, these books ought to be of interest. Modern Gestures, a little over pocket-sized and hard covered book, would make a nice self- or favorite-friend Holiday gift while Music, a substantial tome-sized coffee table treasure (12 ¼" x 12 ¼"), offers insightful glimpses into some 50 musicians on the current scene, many with "takes" from the performing artists' own words. This is a 3 in 1 multimedia project: an artbook, film, and a first of its kind iPad app that is available now at the iTunes store — a must-have for the serious celeb follower. Accelerating On the Curves, written by one of the leading full-service public relations and marketing firm for artists (Katharine T. Carter & Associates), offers an in-depth guide to achieving success in the art world. Chock-full of valuable tips and information, the book is heralded by artists, curators, critics, dealers and teachers from across the spectrum.

I met Lilly Rivlin at the Woodstock Film Festival's awards celebration in Woodstock, NY this past Fall and as we chatted I said that one of the films I regretted not seeing was her film Grace Paley: Collected Shorts and she offered to have it sent to me and I'm glad she did. The screening at the WFF was the East Coast Premiere for the film and won the audience award for Best Feature Documentary. The film is an excellent and beautifully skilled acknowledgement of Grace Paley (1922-2007) a woman who has been called the quintessential New Yorker — a mother, activist, poet, teacher, short fiction writer, friend and wife. Lilly Rivlin has told this story with old photographs of Grace Paley's early years, interviews with friends, students, family and most of all a lot of footage of Grace reading her poems, telling stories from her life, talking with her friends and family, as well as news clippings and footage from demonstrations. This is an important testament to Grace Paley and to the times of the women's movement and anti-war movement. Upcoming screening are at the New York Jewish Film Festival, Walter Reade Theater, Lincoln Center, NYC in mid–January, 2011 and at the Palm Springs International Film Festival early in January, 2011. For more information: gracepaleythefilm.com
In November, my actor/niece Mady Spiegel and I went to The Triad (triadnyc.com) on the upper West Side in NYC to see Broadway's Next Hit Musical. This delightful little theater with cabaret seating, has been the starting place for numerous Broadway hits including: Forever Plaid, Forbidden Broadway, Secrets Every Smart Traveler Should Know, Hello Muddah Hello Faddah, Nunsense, Frank McCourt's A Couple Of Blaguards, Gershwin's American Rhapsody 'Drama Desk Nominee' and Loose Lips with Bebe Neuwirth & Peter Boyle. It's been known as the Triad for 15 years and has been a performance space since the show Forbidden Broadway originated in the space then known as Palsons about 25 years ago. Meetings, parties, performances and film screenings can all be scheduled at The Triad. The show we saw, Broadway's Next Hit Musical, will again be presented February 10 through April 21. The idea of the show is this: Before the show the audience is asked to make up titles of songs. The first act is an award ceremony, spotlighting a scene that includes the musical number of the year's "Best Musical" nominees. These are made up on-the-spot, from the song titles the audience created. Before the 2nd act, the audience chooses their favorite musical number from Act 1 and the 2nd Act is a production of the "winning" musical with several scenes including the original made-up scene and song from Act 1. Needless to say we laughed throughout every performance. This unscripted, fully-improvised show is presented by Strategic Entertainment, NYC in association with Ralph Buckley and hosted by Greg Triggs featuring Robert Z. Grant, Kobi Libii, Deb Rabbai, Stefan Schick, Rob Schiffmann, Rebecca Vigil with Eric March and Andrew Resnick on piano. The actors have excellent voices and are amazingly skilled with improvisation. Clearly they were having a lot of fun as they pushed the absurdity of the stories/songs they were making up. It was wacky, innovative, playful and fine entertainment.

I was at the 2nd Annual Artshare at the New Century Artists Gallery in NYC. This exhibition is presented by HeartShare Human Services of NY (heartshare.org), a 96-year old organization providing care and support to many of NYC's most vulnerable individuals. The Developmental Disabilities Division was created in 1977 and provides community-based services including day and residential programs, medical/clinical services, education programs and additional support services for individuals of all ages with intellectual and developmental disabilities. Barbara Nowak-Cuthel was the curator for this exhibit of work by artists/ participants that are part of HeartShare's various programs in NYC. There were over 80 paintings, sculpture, jewelry and photographs from 50 artists whose age ranged in age from 6-42. The gallery was packed with friends, family, supporters and staff members who came to celebrate this show and sale. Much of the work was sold including several that kept drawing my attention. I applaud this project and the gallery for their support of this important exhibition that does much more than show an artists' work.
Katharina Rich Perlow Gallery of Contemporary Painting, Sculpture and Photography has been at the new location on Madison Avenue, NYC for nearly a year. I was pleased to see the work of Sally Michel (1902-2003) a one-time resident of Woodstock, wife of artist Milton Avery, mother of artist March Avery —the gallery has shown each of these artists. In fact Milton Avery is buried in the Artists' Cemetery in Woodstock and my memory is that many years ago there was a family exhibition at the Petrucci Gallery in Saugerties. The Katharina Rich Perlow Gallery consistently shows excellent artists and recent shows included work by: Milton Resnick, Jack Tworkov, Stephen Pace, Syd Solomon, John Grillo, Helen Frankenthaler, James Kelly, John Ferren, James Brooks, Norman Bluhm, Fred Mitchell, Claire Klarewicz-Okser, Richard Segalman, Yvonne Thomas, Byron Browne, George McNeil, Robert Natkin, Michele Harvey, and William Clutz.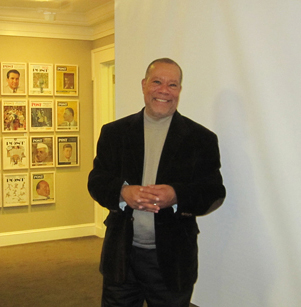 Julie Hedrick had a show at the Nohra Haime Gallery (nohrahaimegallery.com) that was just excellent. Titled "Red", all the canvases, some quite large, were red but not just red. Swirls of different tones and intensities all showing fabulous red atmospheres with depths to explore. Julie's show last year at this gallery was "Blue" with the same vibrancy in her canvases.
While my partner/critic Raymond J. Steiner was looking at Witness: The Art of Jerry Pinkney (thru May 30, 2011) honoring Jerry Pinkney's 50 years as an illustrator, at the Norman Rockwell Museum in Stockbridge, MA, (nrm.org), I attended a lecture for educators given by him that gave me good insight into this award-winning illustrator of over 100 children's books translated into 11 languages in 14 countries. Jerry shared this with the group and was quite pleased that an additional language will soon be added. The purpose of these "Educators" events is to help teachers and librarians make the curriculum connections to traveling exhibits at the Museum. Students in busloads will go to the Museum to see this show and to enjoy many of the programs, some, with Jerry Pinkney, a Westchester resident. These education outreach programs are ultimately audience-building for not only this, but all cultural institutes. Jerry spoke of his early years growing up in the South, the various stories and people that influenced him and which eventually show up in his paintings. An extremely personable man, easy speaking (unlike many artists I've met) before a group and knowledgeable about where he fits into the art world. See Steiner's critique of Pinkney's work in this issue.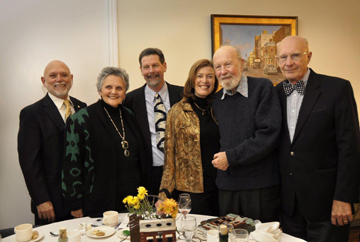 Since beginning ART TIMES nearly 28 years ago, I've been familiar with the Dutchess County Arts Association (DCAA), known more fondly as the Barrett House or Barrett Art Center. Through these years I have attended numerous exhibits and events. I was pleased to attend the 75th Anniversary Celebration that honored Pete Seeger and acknowledged Thomas Weeks Barrett who in 1935 founded DCAA, thus fulfilling one of his lifelong dreams of providing classes, events, and art shows to the community. In recent years, the Barrett Art Center has annually held national shows, including New Directions and Photo Works. Paint-Outs offer artists of the region opportunities to gather for a day of painting outdoors, then an auction of the resulting work with a wine-and-cheese reception. In 2005 a second building, Barrett Clay Works, was opened at 485 Main Street in Poughkeepsie offering ceramics courses, exhibitions, and communal and private studio spaces for artists in all media. The School of Art now holds courses at the Barrett Art Center, at the Barrett Clay Works, and at sites throughout Dutchess County and programs such as Family Clay Day, Artist's Salons, Gallery-to-Go. Recently there have been several collaborative efforts with Mill Street Loft, a not-for-profit, Multi-Arts Educational Center based in Poughkeepsie, NY that since 1981 has been bringing a wide range of creative, educational and culturally-enriching programs to diverse audiences throughout the Hudson Valley. These kinds of collaborative and cooperative efforts are the future for Arts Organizations as they can share resources and support one another more efficiently. The Celebration was a gala affair with over 140 people filling the Poughkeepsie Tennis Club with thanks to artist and BAC member and teacher Seth Nadel, Manager of the Club. Numerous volunteers helped make it quite an elegant and memorable evening that included music by The Ground Above and a performance by Courtenay Caramico, Soprano, and accompanist Terry Chapin as well as an Art Auction. Jose Gomez, President of the Board welcomed and thanked us all for coming; Executive Director Russ Johnson thanked all the sponsors; several people spoke about the history of the Center; Pete Seeger was presented with his award made by Clayworks Manager Judith Meadow thanking him for his work. There were so many old friends to greet and celebrating such an important organization for our region was my pleasure.
It was 24 years ago when I first spoke with the founders of The New York Conservatory for the Arts/ Pan American Dance Foundation (nyca.org). They had just moved to West Hurley, NY and began offering classes in dance, music and theatre along with Cabaret Performances and now a Traveling Troupe, a Summer Camp and the large scale Musicals held at UPAC in Kingston. Over the years I've attended plays and in the mid 1990's we awarded them with the ART TIMES Cultural Achievement Award. I was so pleased to hear that they were able to come to an excellent agreement and purchase the Woodstock Playhouse thus providing NYCA with a Performing Arts Facility and saves the Woodstock Playhouse from demolition. By this coming Summer Stock Season, 2011, NYCA intends to enclose the Woodstock Playhouse, install heating and air conditioning, and provide for more comfortable seating. The plans for the Woodstock Playhouse by the Foundation include maintaining the facility as a presenting Playhouse with performances of all kinds, including dance, theatre, music and film and for it to be available to other Production Companies to rent, for Touring Companies, Film and Theatre Festival, as well as be a venue for NYCA produced performances.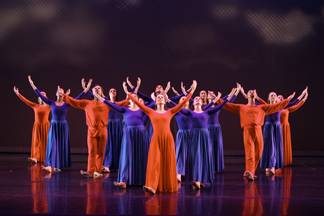 An evening at Kaatsbaan, International Dance Center in Tivoli, NY (kaatsbaan.org) is always delightful. I saw Charles Weidman's classic Christmas Oratorio performed by Nacre Dance Company. It was lovely with excellent dancers and a precise and beautiful performance. Coming up at Kaatsbaan is Rioult on March 19 & 20 and the TAKE on April 16 & 17.

The President's Skylight Dinner at the Salmagundi Club in NYC (salmagundi.org) was a delightful event attended by a larger crowd than seen in many years. First there were cocktails and hor d'oeuvres upstairs in the library and Founders Gallery. The exhibit in the Founders Gallery was a plein air show coordinated by Sharon Way-Howard and Michael Budden. This was a juried show and Jane McGraw-Teubner's painting won the Presidential Purchase Award. Coming up is a show of works by Malcolm Mackenzie and then Art About Art.
In the lower level of the Club where pool tables are set up for member's use there was a Mystery Miniature Sale of donated paintings by artists whose names were unknown. The funds went to The Gallery Renovation Project that includes the rebuilding of the skylight in the Grand Gallery allowing paintings to be seen in natural light. The gallery will be a 21st century state of the art exhibition space. After dinner (FYI, the dining room is open to the public and the new chef is excellent) President Claudia Seymour gave welcoming remarks and then Robert Strong spoke about the Gallery Renovation Program. Richard Schmid and John C. Traynor were the Honorees, both excellent artists and great teachers and supporters of the Salmagundi Club and artists in general. I was pleased to see the old tradition of having artists sign one another's souvenir program continue. I wasn't able to track down when that began so if any of you know, please send me an email.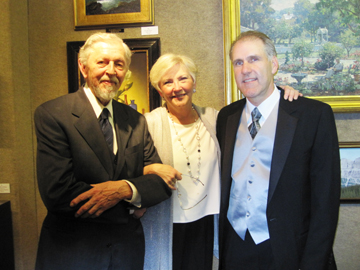 Originally formed as the Salmagundi Sketch Club in 1871, the Club adopted its present name a hundred years ago after Washington Irving published his potpourri of wit and wisdom called "The Salmagundi Papers". The name also serves as the club dining room's famous "Salmagundi Stew". Following a tradition of 139 years, the Salmagundi Club continues to serve as a center for fine artists from New York and around the country-providing exhibitions of paintings, sculpture and photography, conducting art classes and painting demonstrations and art auctions throughout the year.

Enjoy the Winter, it is a time to gather oneself for the creative flow of spring. Keep in mind that the ART TIMES phone will be monitored but the best way to reach me is via email: cs@arttimesjournal.com.
Email your thought about this column to cs@arttimesjournal and join our Facebook page and add your thoughts about exhibits you've gone to.