Culturally Speaking
By Cornelia Seckel
ART TIMES online April 2010
Happy Springtime. As usual this past month flew by. I've made some videos of some of the events I got to and thought I'd present some accounting of my "Out and Abouting."

Raymond was asked by the Barrett Art Center in Poughkeepsie, NY to be part of their Artists' Salon and speak about Art Criticism. Christine Owen, organizer, felt that this was a particularly interesting and well attended Salon and hopes Raymond will return and present another topic. The question and answer period was lively and many opinions expressed.

The joining of the Bardavon Opera House (www.bardavon.org) in Poughkeepsie and Ulster Performing Arts Center in Kingston stands as a model for organizations that want/ need to pool their resources and build a stronger organization. The performance at UPPAC of Itzhak Perlman, world-renowned violinist, was a major cultural event for the Hudson Valley. The audience was delighted, the excitement at having this concert close "to home" was palpable. Pat Metheny: The Orchestrion Tour, Pilobolus and the Hudson Valley Philharmonic are just some of the events coming up in May.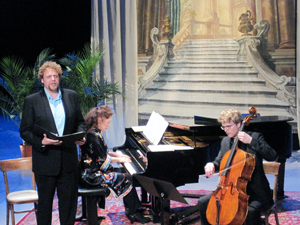 The concert at Kaatsbaan International Dance Center —Music Inspires Dance In Collaboration with the German Forum featuring Anita-Theresa Steckel, violin; Hans Pieter Herman, baritone; Julian Steckel, cello; and Babette Hierholzer, piano, was excellent. We don't expect to hear music without dance at Kaatsbaan but they have such an excellent stage area that it surely accommodates other performances. The center is located in Tivoli, NY and serves as a "playing field for the imagination". www.kaatsbaan.org. Kaatsbaan was designed to provide national and international dance companies, choreographers and all dance artists with an affordable year round facility where they can experiment, create, rehearse, perform, showcase new work, train, and develop new sets, costumes and productions. There are Master Classes, Extreme Ballet Classes, an extensive outreach program as well as numerous performances. Coming up are Master Flamenco Dance and Guitar by Flamenco Vivo Carlota Santana ~ April 12 - May, 2 with performances on Saturday, May 1 at 7:30 p.m. and Sunday, May 2, at 2:30 p.m. See video.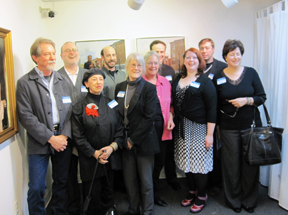 I mentioned several issues ago that I juried Expo 29 at b.j. spoke gallery (www.bjspokegallery.com) in Huntington, NY. The opening reception was very exciting for me as I met the 20 artists I had chosen and saw their work at first hand. Liz Ehrlichman wrote to say, "As the time approaches for the Expo artists to pick up their work, I've been getting emails about the pickup dates, and along with them, the artists have been sending notes about how thrilled they were to be at the reception and to meet each other, the gallery artists and you. They said it was an exceptionally warm event." Thanks for passing that along, Liz.
I saw two plays this month, both excellently done and each in very different venues. •
Capital Repertory (www.capitalrep.org) Theatre in Albany, NY has been producing excellent shows for 30 years. I saw Harper Lee's To Kill a Mockingbird adapted for stage by Christopher Sergel. I'd forgotten how moving the story is and what an important message was sent to audiences 50 years ago when it first came out. Maggie Mancinelli-Cahill, Producing Artistic Director and Director of this production, spoke about Classics on Stage, a program that is part of the Educational outreach. Thousands of students will see the play and teachers will work up a curriculum that supports many of the ideas presented in the play. As always, the acting was excellent, the staging brilliant, a powerful play done powerfully. Capital Rep has an ongoing call to artists for work to be displayed during the run of a play that works well with the theme of the play and Carole Warburton's "Vanishing Barns" did that quite well. The next production is The Lady with all the Answers, a touchingly comic portrait drawn from the life and letters of Ann Landers with the cooperation of Margo Howard. It will run from April 16 to May 9 and will be followed in the summer by The Marvelous Wonderettes, a play that takes us to the 1958 Springfield High School prom where we meet the Wonderettes and a nostalgic experience.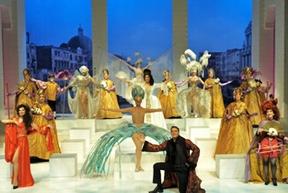 Westchester Broadway Theatre (www.broadwaytheatre.com) is the longest running 52-week a year Equity theatre in the state of New York. Each show is produced exclusively for the theatre and each is approached in the same manner as Broadway Productions; casting Broadway performers at auditions in New York City, hiring the creative staff (Directors, Choreographers, Musical Directors, Set, Costume and Lighting Designers.) On the dark nights of the musicals, Producers have presented over 900 Monday and Tuesday night special events and concerts featuring performers such as Jackie Mason, Tom Jones, George Carlin, Paul Anka, Wayne Newton and Harry Belafonte. Dinner selections are quite good, there isn't a bad sight line in the house and I have never been disappointed in a production. I saw Nine: The Musical with book written by Arthur Kopit, music and lyrics by Maury Yeston. The story is based on Federico Fellini's semi-autobiographical film 8½. It focuses on film director Guido Contini, savoring his most recent (and greatest) success, but dreading his imminent 40th birthday and a midlife crisis blocking his creative impulses and entangling him in a web of romantic difficulties in early-1960s Venice. Sugar: the some like it hot Musical runs from April 29 thru July 3.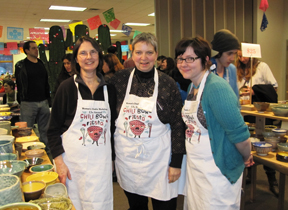 The Women's Studio Workshop (www.wsworkshop.org) has an annual Chili Bowl Fiesta and this year raised about $14,000. One buys a bowl made at the workshop, area restaurants donate chili, a local band plays, and everyone has a good time. Take a look at the video on YouTube. The schedule for Summer Arts Institute 2010 is about to be released. The offerings are varied, the teaching and facilities excellent.
see Video
March 2-7 was Arts Week in NYC (in all boroughs but Staten Island) with major Fairs such as The Armory Show (featuring 267 galleries from 31 countries at Pier 94); The Art Show (The Art Dealers Association of America's 22nd Annual at the Lexington Ave. Armory); Scope (at Lincoln Center); Dutch Art Now (National Arts Club, NYC); Independent; Red Dot Art Fair; Verge; Pool Art Fair; Korean Art Show and hundreds of other shows and participating galleries and museums. Speaking with some of the presenters and the pr people from several of the fairs, it seems that the concentration of all of this art brings additional attention, more buyers and more visitors to the city. Mayor Bloomberg estimated that $44 million will be generated by the 60,000 visitors — 80% are from out of town. Special maps were prepared, shuttle buses scheduled, and tickets sold that covered several of the shows with entrance fees.
Join ART TIMES facebook page and keep up with the latest news and events.