CULTURALLY SPEAKING


By Cornelia Seckel




ART TIMES April 2008

It has been an incredibly busy month getting Raymond's manuscript of The Mountain (see ad for pre-publication orders) ready for the printer, preparing for his solo show at Mezzaluna in Saugerties (see the ad), and working at the usual ART TIMES activities, which by itself fills my time. But Spring is now officially here and with that there is a jolt to the creative juices and the many items in our calendar certainly reflect that.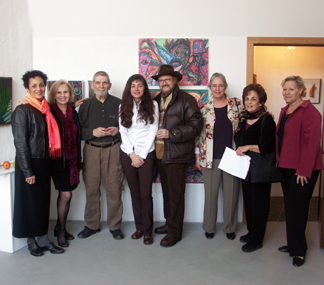 Julia Santos Solomon, Basha Ruth Nelson
Marshall Baer, Elisa Pritzker, Anthony Krauss,
Cornelia Seckel, Shelley Parriott and Ingrid Mazerat at the Pritzker Gallery exhibition Homage to Liam Nelson (1931-2007)
While delivering papers in NYC I stopped at the Noho Gallery to see Basha Ruth Nelson's exhibit Emerging, a show that reflects her emerging back to her creative self after the death of her mother and then, two weeks later, her husband Liam. I found her paper and metal sculptures — both those on the walls and free standing — to have a serene flow, a gentle twist and turn, a coming back together of the materials presenting a whole. Also at Noho was Rebecca Cooperman who was showing her recent paintings of watercolors. I particularly liked the florals and her still lifes. They were quite strong and as we spoke she talked about how (at over 90 years old) she was exploring new ideas and presentations of old themes. John Monteiro had his work at the Pleiades Gallery and his drawings in ink and scratchboard were intriguing. Fine detail, convoluted shapes and designs left me feeling that I could spend a long time with any one of these works.
I've just learned from Bev at the Framing Gallery Studio about "The Shirt Factory", a business community of artists' studios, galleries, craftspeople, healers and professionals as well as unique shops and services located in the historic Shirt Factory Building at the corner of Lawrence and Cooper Streets in downtown Glens Falls, NY. Many of these artists' studios are open to the public. For a first-hand look go to www.shirtfactorygf.com. A new addition to the growing artist community at the Shirt Factory is bjsartworks Framing Gallery Studio, a full service Frame Shop with original pastel paintings for sale by artist and owner Bev Saunders. Also at the gallery are figurative sculptures and a small gift gallery. She offers a wide variety of art services, including art consulting and portraits of any subject, design and illustration. The gallery will host several exhibits throughout the year. Learn more at www.bjsartworks.com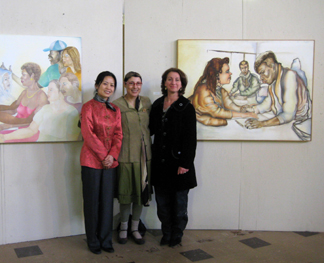 (L to R) artists Lily Braff, Lisa DeLoria Weinblatt and Stephanie Plunkett (curator of the Norman Rockwell Museum) at Lisa's exhibition School Lunch: Celebrating Diversity and Multiculturalism at The Karpeles Manuscript Library Museum
in Newburgh, NY
Lisa DeLoria Weinblatt's exhibit "School Lunch: Celebrating Diversity and Multiculturalism", was at the Karpeles Manuscript Library Museum in Newburgh, NY. These drawings and paintings came out of an Art in Public Spaces project: Illustration as Visual Essay, that she did for her Master's degree at The School of Visual Arts, NYC. While looking at these portraits of individual and small groups of students I am transplanted back to my days as a High School teacher and can almost identify the individuals and their conversations. Lisa has had National and International acclaim for her work and has received several grants. It was a pleasure to see Lisa and to view her work as previously I had only seen reproductions.
Also in Newburgh is Safe Harbors of the Hudson, an organization whose mission is "transforming lives and building communities through housing and the arts." The Cornerstone Residence (opened Dec. 2006) has 128 units of affordable housing, artists' work studio space and an art gallery. There is also a computer lab, library and they offer Wellness programs. The Residence provides safe, attractive, affordable housing for formally homeless, mentally ill and low-income adults, veterans and artists. There are also three commercial spaces on site, which will be rented to local businesses. While I was there I met several of the artists who have studios and were quite pleased with the facilities. The Gallery, run by Virginia Walsh, is spacious with good lighting and has lots of room for paintings and sculptures. The current exhibit with work by Nina Katachadourian, Elizabeth Mackie, Kathy Moss, Andrea Stanislav and Kasumi Tanaka is "Women's Work: Celebrating Women in Contemporary Art" and will be up through April 19.
A current project of Safe Harbors is to restore the Ritz Theater, which is attached to the Cornerstone Residence. The Theater is the last remaining of several Newburgh theaters that regularly sent productions to Broadway during its heyday in the 1940s. Neglect and fire have claimed all the others. Here is some history of the building: The original structure was built in 1883 for the manufacture of overalls, plumbing supplies and cigars. In 1913 Cohen's Opera House was created within the manufacturing building. In 1926 The East-West Theater Company, a major participant in the vaudeville chapter of American culture, found a home in the newly named State Theater. Renamed the Ritz in 1933, the Theater began its most illustrious chapter with live performances by stars such as Lucille Ball, Desi Arnaz, Ella Fitzgerald, Louis Prima, Woody Herman, Bill "Bojangles" Robinson, Eddy Duchin, Xavier Cugat and many more. Although the house was subsequently carved up to make movie theaters, the original stage with the four floors of fly space remained untouched. The plan is to restore the original stage and recreate the house for the stage. The goal is to provide a home for local arts and performance groups, create a venue for live performance, and provide job training and job opportunities for Cornerstone residents and residents of the community. Groups that have already signed on to make the renovated Ritz theater their permanent home include: The Greater Newburgh Symphony Orchestra, the Opera Company of the Highlands, and the Newburgh Performing Arts Academy. What a fabulous project. I'll keep you informed of the progress and you can check their activities at www.safeharborsofthehudson.org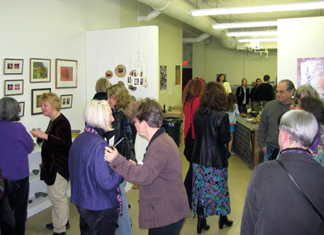 Opening of Hudson Valley Women Working Outside the Box at Barrett Clay Works, Art Studios & Gallery, Poughkeepsie, NY
In Poughkeepsie, I went to Barrett Clay Works, Art Studios & Galleries on Main Street for the exhibit "Hudson Valley Women Working Outside the Box" curated by Meadow, Director of the Clay Works. Thirteen women were invited with the idea of showing the variety of subject matter and media that Hudson Valley Women are working with. It was certainly a wide range with paintings, photographs, mixed media, installations, and sculpture using all types of materials. The exhibit will run through April 12. While I was at Clay Works, I got a tour of the facilities that included: galleries and classrooms, a ceramic studio, semi-private studios and private studios, which are available for rent. A full range of ceramic classes and workshops are offered. Check out their schedule at www.barrettartcenter.org. The Barrett Clay Works, Art Studios & Galleries and Barrett Art School are part of Dutchess County Arts Association /Barrett Art Center which was begun in 1934 by American regionalist and painter, Thomas Weeks Barrett, Jr. The organization has grown from a loosely organized group of artists to a 485-member organization. The school, with classes for children, youths, mature teens and adults, has an impressive list of teachers and offers several classes every day and numerous workshops, all quite reasonably priced. Currently on view at the Barrett Art Center Galleries on Noxon Street is an exhibition by Long Reach Artists Group (formerly known as Summergroup), a cooperative group of professional visual artists founded in 1982. It was a pleasure to see the high quality works of so many artists that I've known over the past years and particularly interesting as they presented paintings distinctive of their styles making it a historically significant show. Take a closer look at their work at: www.longreacharts.com. Opening at the gallery on April 5 is "Photoworks '08", the 21st Annual National Juried Photography Exhibition.
Also in Poughkeepsie is Albert Shahinian Fine Art. On view were art works from most of the artists that have shown with Albert over the past number of years. From what I understand, Albert, who has been a key participant in the Poughkeepsie Art Scene, also has a space in Hudson, NY. For more information: www.shahinianfineart.com. Next door, also on Main Street, is G.A.S. an artists' cooperative that maintains this multi-media art gallery and performance space. Joanne Klein showed "Abstractions" (through April 13), large canvases (2 or 3 making up one painting) and in the back gallery a group exhibit of members' work. There is a substantial gift shop with a great variety of items for sale. Franc Palaia, coop coordinator, will have his illuminated Photo-Sculptural installation "Mysterious Traveler" opening April 19 running through May 11. G.A.S also has music, film, video, and performances, year round. For a schedule take a look at www.galleryandstudio.org.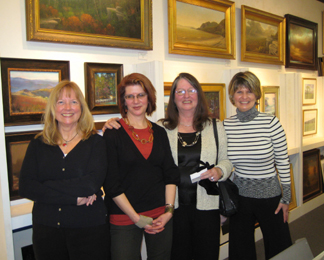 (L to R) Artists Kari Feuer, Christie Scheele Gayle Clark Fedigan, and Linda Richichi at their exhibit "A Softer Side" works in pastel at the Mark Gruber Gallery, New Paltz, NY
The current show at Mark Gruber Gallery in New Paltz is entitled "A Softer Side", works in pastel by Gayle Clark Fedigan, Kari Feuer, Linda Richichi and Christie Scheele. One work was as exciting as the next and it was a pleasure to see how well they worked together.
Writer and art critic Liam Nelson (1931-2007) was active in the Ulster, Dutchess and Greene County art communities from the mid 80's through 2004, working with the Greene County Council on the Arts, as Director of the Woodstock Artists Association, and as an art critic for several publications. The Pritzker Gallery @ Casa del Arte in Highland, NY held an "Homage to Liam Nelson" that included Liam's paintings and writings as well as works by several of his friends and his wife, Basha Ruth Nelson. It was a heartfelt opening as friends and artists remembered Liam, his work, his friendship and his great support and contributions to the Arts of the region.
May this season of renewal feed all of us and bring us to good works.