Explore our site: Art Essays, Videos, Blogs, Literary Writing & Resources for Creatives
Opportunities, Calendar, Guest Blogs, essays, poetry and fiction updated frequently.
Visit your favorite museums, galleries, art centers and schools. Some have opened with limited attendance as well as being online

Very interesting exhibits:
2021 US Premiere of Glasstress from Venice, Italy to Boca Raton, Florida
Carnegie Hall Collection
National Center for Choreography- Akron Ohio Inside the Dancer's Studio
Free-to-stream ballet performances: watch here
Livestreams & Virtual Concerts: watch here
Watch Broadway musical and plays: watch here
Free at Lincoln Center, NYC: watch here
Live From Carnegie Hall: watch here
Do you have a short story, poem, or point of view essay about culture and/ or the arts? We are open to submissions: writing must be good, of general interest and not an advertorial.
Please Advertise with arttimesjournal
This is a way to get your message out to arttimes readers and to support
the work we do in listing your events and the publicity we give the art world.
Let me know if we can count on you to help continue being the
"go to" source for creatives seeking resources and insights.
~ Thank you for using arttimesjournal for your advertising success ~

Read previously printed and online Essays by clicking on categories below

New: Fiction Eric Wayne
New: Poetry Jacqueline Coleman-Fried, Charles Mann, Raymond J. Steiner, Dave Bachmann, Martin H. Levinson
New: Speak Out Never Too Late or Too Old by Millie Baker Ragosta
New: Calendar of Cultural Events
New: Opportunites & Calls for entries

~ On Writing the Mountain— Before and After by Raymond J. Steiner
Still more to read on Raymond J. Steiner's Blog
Art Essay
The World Around Summit 2021: House of the Earth
By Christina Turczyn

April 28, 2021

...
"Revolution" is a word that can be applied to the World Around Summit 2021: Architecture's Now, Near, and Next, curated by Beatrice Galilee at the Guggenheim on January 30 of this year. The ?summit arose from a collaboration between twenty international thought leaders and the Solomon R. Guggenheim Museum, and centered upon contemporary issues of social justice, the violence of systemic racism, the imagination, collaboration, climate change, narrative, and socioeconomic equity.
(see essay)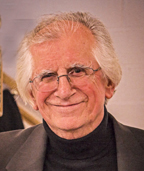 Fr
om Peek and Piques Archives
Art's own Purpose
By Raymond J. Steiner (May 1, 1933—March 5, 2019)
Originally published May, 2013
LIKE DANCE, music, and the spoken or written word, is a means of human expression, a "way" for one human to transmit a "message" to other human beings. As music (sound), stimulates us through the ear, or language (words written and spoken), stimulates the intellect, art, or image-making, "appeals" to the eye and, like the other means of expression, has its own "vocabulary", its own "grammatical " rules to insure clarity of understanding. ...It is also generally believed that of the four means of human expression — (dance) movement, music (sound), image-making (visual), language — their occurrence in human evolution follows the above order. It is also often claimed that our last "invention", i.e. words, is perhaps our worst means of communication (consider the U.N.). (see essay)