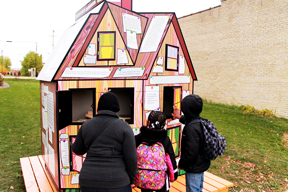 TypeFace in Lindsay Heights "Bookshed"
Speak Out: Public Art Inspires Change in Milwaukee's Dilapidated Areas
By Sarah Flagg
ART TIMES online January 2014
Milwaukee residents got a first look at four public art projects they hope will revitalize abandoned and foreclosed areas in their neighborhoods.
ART Milwaukee and artist Reginald Baylor celebrated the completion of TypeFace in November by installing colorful works of art on iconic structures in four areas of the city.
"Public art, particularly public art that expresses sentiments of neighbors, adds vitality and unity in the area where it is displayed," Milwaukee Mayor Tom Barrett said. "A project like TypeFace does something more; it engages people in a common endeavor that builds community strength."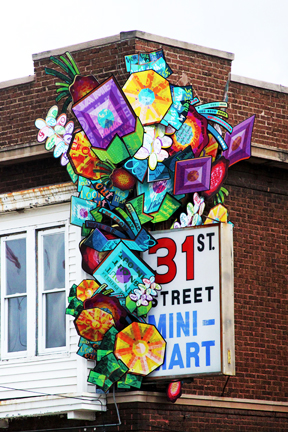 TypeFace in Burnham Park "
An Arrangement"
The former Finney Library on North Avenue and Sherman Boulevard, closed now for 10 years, inspired Baylor to create TypeFace. Green boards cover the windows as they do on many Milwaukee foreclosures. But here, the green boards are littered with staples left from flyers long gone. This gave him the idea to bring the voice of community members to abandoned spaces.
TypeFace was designed to include the words of residents in the artwork itself. Milwaukee-based storyteller Adam Carr hosted community conversations to collect those words during the summer of 2013.
For Carr, seeing the installation for the first time made him realize the project's potential to change each neighborhood.
"Ultimately, we're interested in creating a dialog about what kind of assets exist and what we can feel proud of in these areas," Carr said. "We hope the attention our project garners inspires someone to make the investment and develop something."
Baylor, Carr and ART Milwaukee were able to create TypeFace thanks to a prestigious Joyce Award. The award is a $50,000 grant given to artists of color who engage the community while producing quality artwork.
The public can see the artwork for six months starting Nov. 9 at the following locations:
1. Burnham Park, 31st Street Corner Store: 3028 West Burnham St An Arrangement: a bouquet of flowers and answers as colorful as the neighborhood's cast of characters.
2. Lindsay Heights, Franklin Square: 1420 W Center St Bookshed : a bookshelf fully-stocked with real conversation
3. Harambee, Five Points: 3418 North Dr. Martin Luther King, Jr. Drive Puzzled & Amazed : a platform for history, memory, and questions from and for the community
4. Sherman/Washington Park, Finney Library: 4243 W. North Avenue Panel Discussion : a mural showing off snippets of stories from community youth, adults, and elders
(Sarah Flagg lives in Chicago, IL.)