Singapore & The Arts: A Report (Part 1)
BY CORNELIA SECKEL
November, 2000
When I was approached by the Singapore Tourism Board to go to Singapore as their guest and explore their cultural scene, I agreed to go believing that our readers, who didn't have this opportunity, would appreciate this report and love to have their appetites whetted. I am pleased and feel privileged to report back on the wonderful art offerings and support of the arts in Singapore.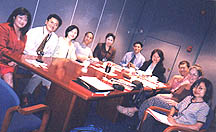 Briefing with the Singapore Tourism
Board Staff (Cornelia 2nd from Right)
Whatever has been your idea of Singapore (unless you've been there in the past 5 years) give it up. This is a young country with young people and a lot of energy molding and shaping their current and future history. The Malay Peninsula has been a recorded center of commerce since 150 AD and continues today to be an important trading center with Singapore serving as the world's busiest port. In 1819 Stamford Raffles, a clerk with the British East India Company, made a deal with the Sultan of Johor, giving Britain the right to establish a trading post on the island, and making it a possession of Great Britain which already ruled much of the region. It was not until 1959 that Singapore was granted self-government and in 1965 Independence established. There are nearly 4 million people in Singapore: 77% Chinese, 14% Malay, 7% Indian, with the balance a mixture from the rest of the world. There seems to be a blending of the ethnic groups (people refer to themselves as "Singaporean," not Malays or Chinese or Indian) and yet they maintain their individual cultures in dress, foods, neighborhoods, temples, and mosques.
Hundreds of businesses from all around the world have offices in this major financial and trading center which daily attracts businesses and tourists to the Island of Singapore–all 217 square miles. The American Chamber of Commerce, Port Authority of New York and New Jersey (as well as at least a dozen other states), the US Education Information Center, and about 1200 US companies currently have offices in Singapore. The skyline changes daily as cranes complete new office buildings, hotels, and apartment buildings for the welcomed tourist and business people. From my hotel room I could see the Singapore River with old abandoned warehouses, and in the same view, 60-story contemporary styled offices and hotels, some completed, some still under construction.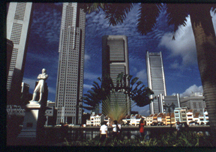 Singapore Skyline
(Courtesy Singapore Tourism Board)
Before leaving the U.S., I worked with Jayme Gilden at TBC Advertising (PR firm for Singapore Tourism Board) to set up an itinerary that would give me as full a view as possible. From materials that Jayme sent, I made a list of nearly 50 things/places I wanted to see/do–and nearly all of them were worked into the 6 days and nights I had exploring the arts, culture, foods, shops and people. Siti Rosminah Ismail was my guide (with a different driver each day) and did a wonderful job, not only providing a vast amount of information but taking care of me and making some additions and adjustments to the itinerary. She was extremely knowledgeable, answering numerous questions on all different topics.
Day One.
After arriving at Changi Airport (traditional and contemporary art was hung along the long corridors as I made my way to immigration and my baggage), I was met by Siti who led me outdoors. The moment I stepped out of the air conditioned airport (practically all buildings are air conditioned) my hair began to curl–humidity is between 70–90% and I knew I'd brought the right clothes since the temperature averaged 95°. Siti brought me to the Gallery Evason Hotel, the newest property managed by Six Senses Hotels and Resorts where I met Michel van der Hoeven, General Manager, as well as members of the staff (Runali, Andrew, Kenny, Andre, Imelda and Thasa) who were all very friendly and helpful. Much of the hotel (covering 3 blocks) is still under construction, and within the year there will be 223 guestrooms (well equipped for the business person and tourist) as well as function rooms, exhibition and performance space (they are working closely with LaSalle-SIA College of the Arts and expect to exhibit contemporary Asian art and work from other places in the world), numerous shops, and restaurants. This is a very cutting edge ("industrial chic") hotel with cement, glass and steel everywhere you look. In the dining area the tables are made with metal pipes with clamps holding the glass tops of the table–the different-colored chair slipcovers and napkins are changed daily and their bright accent colors break the grays. The rooms are elegant and comfortable. You can see a picture of the hotel at their website: www.six-senses.com/gallery
A brief settling-in and we headed out to meet up with the Flavours of New Asia Singapore Tour (one of many different tours available–there's even a few free short city tours available leaving from the airport if you have a several hour layover). We toured a spice garden, saw and then tasted some of the spices in foods at an Indian Market. From there we went to the Singapore History Museum which explores the rich heritage of the people of Singapore. A highlight is the recreation of a Peranakan house. The Peranakan are descendants from Malay and Chinese intermarriage of the 1800's and who today still identify themselves as such.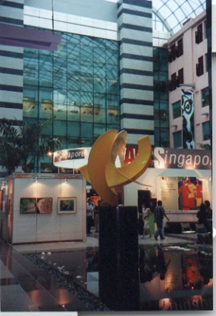 Art Singapore 2000
After lunch at one of the restaurants at Raffles Hotel, I, along with journalists from Taiwan and Malaysia, met with our hosts, the Singapore Tourism Board. STB, part of the Ministry of Trade and Industry (aptly so since tourism receipts contribute to almost 13% of their Gross Domestic Product), is a 300-person organization. I met with representatives from Communications, Arts & Entertainment, Tourism, and Events Marketing. After introductions and the exchange of business cards (handed with both hands, eye contact, and a slight bow), we got an overview of STB, a review of the current arts promotion and a chance to ask questions. One of the purposes of STB is to make Singapore a more attractive place for businesses to relocate to and for tourists to visit–and to that purpose, the arts are being supported and developed. The National Arts Council seems to be where the Arts are supported both for their intrinsic value, as well as for their role in economic and national development. One could easily be overwhelmed at the quantity and quality of Arts and Cultural events available. It appears true that, to quote STB, "Singapore, a global city for the arts, is in a unique position to present the arts of the world to the region and the region's arts to the world. A crossroad of commerce, and now for the arts." For Art's Sake is the latest "art campaign" and includes (I've only named some) programs from countries including Singapore, US, Switzerland, Canada, Russia and Ireland: Christie's Fall 2000 Auction, Sotheby's Auctions of Southeast Asian Paintings, ArtSingapore (more about that to come), Riverdance–The Show, Amati Quartet, WOMAD, American Ballet Theatre, Kathakali, Singapore International Guitar Festival, W;t, Singapore International Cantonese Opera Festival 2000, Moscow City Ballet, plus several ethnic Festivals. Performances take place in a variety of venues that range in seating from 350 to 2000. For more details and pictures: www.new asia-singapore.com. I was impressed with the quality and quantity of promotional materials that this organization generates in print, CD form and film and appreciated the gift of Ten Treasures Tea, a sachet, and tiger balm for sore muscles, all enclosed in a bamboo steamer.
From here a brief rest at the hotel before dinner, and then to see a play produced by Action Theatre. I didn't want to see anything I could have seen in the States, but seeing a production of W;t by Margaret Edson produced by a Singapore Company with Singapore actors would be interesting. As I watched, I could have been seeing the production anywhere that English was the working language. This is a difficult play, excellently done, about a woman coming to terms with herself while dying of cancer. Many of the actors in the company are professionals, including Sandy Philips whose performance of Professor Vivian Bearing was brilliant. Afterwards, I met with founder/president and artistic director Ekachai Uekrongtham who spoke about the company, his vision and hopes for the future, and his upcoming trip to explore venues to bring the company to other countries. Their production of Chang & Eng played in Beijing, China, and they are looking at several possible venues for this production in the U.S. Action Theatre, founded in 1987, has a new home at 42 Waterloo Street with two outdoor stage areas and a small experimental theater where they have programs and productions of contemporary plays (mostly original new works) as well as two productions each year at Raffles Theater–an 800-seat venue at Raffles Hotel. He must choose plays that are good and relevant for Singaporeans. Ekachai Uekrongtham is dedicated to his work and intent on making this theater company successful. They have the support of the National Arts Council and I was pleased to see a good number of corporate and individual sponsors as well.
Day 2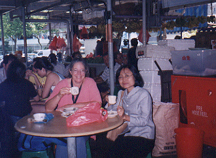 Cornelia & Siti Rosminah Ismail
having breakfast at the Tiong Bahru market
After breakfast at the Tiong Bahru Market (coffee was about 60¢ US) where I continued tasting the flavors of Singapore (average $2 US for a dish), we met with the National Arts Council at MITA (Ministry of Information and The Arts). Formed in 1991, the council is charged to make the arts accessible to everyone, to nurture artists and arts groups, to develop programs (many lunchtime concerts and programs at shopping centers and office complexes), and to promote Singapore Arts abroad. NAC works closely with the private company International Management Group to have leading international stars and attractions come to Singapore: Placido Domingo, Luciano Pavarotti, Isaac Stern, Jean-Pierre Rampal, Izhak Perlman and Jose Carreras among the more recent. In addition, funding is available to individuals and organizations for programs and housing. Many of the abandoned warehouses are scheduled for redevelopment. They will conserve their historic forms and be renovated as performing arts spaces and studio spaces for the individual artists. They are co-sponsors of ArtSingapore as well as many other festivals and programs. Their Foreign Talent Artistic Scheme aims to bring "reputable" individuals to Singapore to set up permanent residence (as they did with Cirque du Soleil) and/or establish foreign individuals with Residence Status making them eligible for certain privileges. Passion 99.5FM is Singapore's only arts radio station: 30% information and 70% music, and on TV, Arts Central, a station devoted to the arts, is very popular. There is great initiative on the part of the government to make arts an integral part of Singapore in order to provide enrichment and fun for Singaporeans and businesses considering relocation, and very importantly to help build a national identity for this young country.
After the briefing and before our Lunch meeting with Geoff Street and Joyce Tay from the Esplanade, I was able to take a look at the Singapore Art Museum and the Asian Civilization Museum. As I was going through the current exhibition, "Landscapes in Southeast Asian Art" at SAM, I came across several paintings by Fernando C. Amorsolo, from the Philipines. What a surprise! This is Lito Ballesteros's grandfather, the man Lito was honoring with his exhibition at Orange Hall Gallery at OCCC (I wrote of Lito's exhibit in last month's Culturally Speaking!). The Asian Civilization Museum, which is undergoing a large expansion, focuses on the cultures of the different peoples of Singapore, and hopes to promote awareness of these cultures and the heritage of the Southeast Asian region.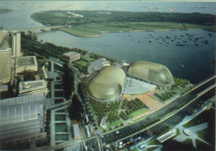 View of the Esplanade: Theatres on the Bay
(Courtesy Esplanade)
Lunch was at a Paranakan restaurant and I must say it is a pleasure to try new foods and not be concerned about what to choose. Several different dishes were ordered and sampling from each one is a delightful way to eat. Geoff Street, Director of Programming and Joyce Tay, Director of Marketing, told us about the plans for the Esplanade, a new performing arts venue currently under construction. It will house a 2,000 seat theater (and be able to handle any major production); an 1,800 seat Concert Hall; Theater Studio and Recital Studio with seating up to 250; Outdoor performance space and additional facilities including carpark, retail shops and restaurants. Scheduled to open in 2002, there seems to be a growing need for this venue for Singapore and the surrounding countries who are eager for this international performing arts venue. Marketing research reports that 350 million people are within a 3-hour flight of Singapore and that they do and will travel to attend world class productions and performances. The Esplanade Co. Ltd is also publishing Arts Magazine, one of Singapore's guides to the arts. It's a well done publication that reviews and previews the arts offerings for a two-month period. Printed in Singapore, color reproduction, paper quality, and overall design is excellent. Where Singapore–published by Miller Publishing Group in LA, CA, who has "Where" magazines in dozens of cities in the world (including New York)–is an excellent source for what is going on where and when.
We met with several of the people involved in running The Substation: A Home for the Arts. Since 1990, this multi-cultural, multi-media, multi-lingual, multi-disciplinary non-profit arts center has presented music, dance, film, visual, performing, and literary arts of primarily young artists. It is dedicated to the creation of an original, indigenous voice for Singapore's arts and culture, and a place for it to grow and develop, to experiment, to explore, and to evolve without the constraints usually found in many other organizations. There is a dance studio, art gallery, 120-seat theatre, art shop, garden courtyard for performances, two multipurpose rooms, and a café. They seem to have good corporate and individual support as well as support from established artists. I was sorry to miss a performance and their weekly Arts and Crafts Sunday Market (but there was a limit as to how much I could fit into a day!)
ArtSingapore, organized by Art Galleries Association (Singapore) and the Singapore Tourism Board, is the first fair for Southeast Asian contemporary art. Intended to be an annual event, ArtSingapore showcased the offerings of participating galleries and provided, through the art panels, a forum for public art education. 24 Singaporean and foreign galleries (Indonesia, Philippines, China and Myanmar (Burma)) brought their work to the Atrium at the MITA Building. With a glass of wine in hand I wandered, listening to people greeting one another and sharing their ideas about the work they were seeing. After an hour, remarks were made by Mr. David T.E. Lim, Senior Minister of State, Ministry of Defense & Ministry for Information and the Arts, Mr. Edmund Cheng, Chairman Singapore Tourism Board, Mr Chua Soo Bin, President of Art Galleries Association and Fair Director of ArtSingapore 2000, and others–all expressing delight at the event and appreciation to the association and the supporters.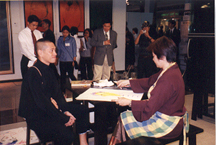 Artist Lin Chan
working on a caricature of Taiwan journalist
Nai-Ming Cheng at ArtSingapore 2000

The Fair was set up in the inner courtyard of the MITA Atrium. Facing the Atrium are permanent galleries which were all part of the fair. I saw drawings, paintings, and sculptures in all different mediums, sizes, styles and techniques. Some of it fabulous, some of it not. Friends and strangers greeted one another, individuals networked and promoted themselves and their work, buyers negotiated with dealers and waiters served hors d'oeuvres and drinks. The fair felt familiar and I was comfortable as I wandered around thinking about how far I was from other Fairs I'd attended in NYC–at which point the first "small world" meeting took place. My friend Kit Taylor had lived in Singapore for a number of years and gave me the names of friends of hers to see for "another view" of Singapore. We would meet at the gala and go for dinner. Judith Pigossi introduced me to several different artists, one of whom was Raymond Lau who told me that he had exhibited in NY a few years ago. "Where?" I asked. At the National Arts Club. Well, I do remember his exhibition and the portrait he did of the club president! I recently received the follow-up information about ArtSingapore 2000. The fair closed with sales amounting to close to $700,000 SD (about $399,000 US dollars) and, according to their spokespeople, quite a number of negotiations are still taking place over some large pieces. The five-day event saw an estimated 9,000 art lovers attending the fair and nearly 500 people attending the different panels.

After the Gala, Judith and Richard Pigossi and Annie and Chee Heng Wee took me to the Tangor Club, one of several old English Clubs that remain in Singapore. We had a delightful dinner, I had my obligatory Singapore Sling (one can't leave the airport without having had at least one) and we chatted about Singapore, the art scene and fair, artists and the changes they see. Before leaving Singapore, I had a chance to visit Judith in her home, a wonderful colonial "tropics" house (like what you might imagine from an old movie) with glassless tall windows, high ceilings with overhead fans, wide openings between rooms, lush plants, and the kitchen in an adjoining building. Her home is filled with exquisitely carved furniture mostly from Indonesia, paintings, baskets, and other objets d'art. What a treat that was! (A treat on top of a treat just to be in Singapore!)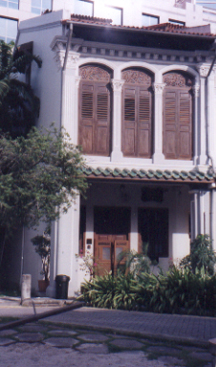 Peranakan Shophouse
on Emerald Hill Road
Day 3
Breakfast at my hotel after my morning swim in the cantilevered swimming pool on the 5th floor where I had a peaceful view of this growing city and watched the sun emerge from behind neighboring buildings. In the morning we visited several art galleries and antique shops at different shopping centers where I couldn't resist the West Java "Wayang Golek" puppets that were also wonderful pieces of sculpture. We had lunch at Indochine Restaurant: Spring roll wrapped in lettuce and mint and dipped in a sauce of garlic, peanut, fish sauce, chili, sugar and carrots; eggplant with shrimp and rice; grilled fish with shrimp sauce; pepper prawns with a black sauce and for dessert–I forced myself– we shared mango with sticky rice and a custard cooked in pumpkin (the size of a large acorn squash) with ice cream. The restaurant blends Laotian, Cambodian and Vietnamese cuisine and the food was delicious. In the back of the restaurant is Action Theatre's home, made up of several open stage areas, offices and indoor performing space. Afterwards we continued down Waterloo Street and visited several of the art organizations that have taken advantage of the housing program from the National Arts Council: The Stamford Arts Centre (9 different groups are housed here including the Chinese Opera Society), The Singapore Calligraphy Centre, Young Musicians' Society (they've got a busy café), and Dance Ensemble Hall. Sculpture Square Limited, a center for contemporary 3-Dimensional art, was right nearby and we ventured in to look at some of the work. The mission here is to be a regional hub for contemporary 3D art where it can be viewed, critically evaluated, traded, promoted, and presented to the public. They hold programs and have a resource center for the artists and the community.
From there we went to Emerald Hill where some of the finest examples of Peranakan architecture (1900-1930) is found. I saw beautifully detailed ornamentation: pastel walls, floral tiles and especially flower motifs on the uniquely carved wooden doors. We were able to go inside one of these "shophouses" (the ground floor originally the shop and storage and the upper floors dwellings) when we visited The Emerald Hill Studio, a gallery of contemporary fine art, specifically Vietnamese artists, run by painter Trinh Thanh Tung.
As it was Rosh Hashanah, a Jewish Holy Day, I had asked if there was a synagogue in Singapore and if it would be possible to attend services. I learned later that there are only a few hundred Jewish people living in Singapore and two different groups were holding services. I went to Maghain Aboth Synagogue, a Sephardic orthodox synagogue built in the first part of the 1800. This was a very different experience for me as my background is Ashkenazim and conservative. As is the case in an orthodox synagogue, the women are separated from the men and rather than a service with a sermon, discussions, readings and so on, here there was reciting of prayers appropriate for the Holy Day. When I arrived I was asked if I would be staying for the Seder. This too was out of my experience. After the service, the congregation shared a meal and part of the ritual of the meal was the reciting of a variety of prayers–not too different from a Passover Seder. Here we said special prayers and ate sesame and honey, apples and honey, bananas, dates, challah, and a variety of other tropical fruits for a good, healthy, prosperous, fruitful and peace-filled new year. Dinner of fish, chicken, rice, pickled cucumbers, tsimmes (a mixture of beef, sweet potato, carrots and prunes), several different sauces including chili and some vegetables and fruit I didn't know, was shared by members of the congregation and visitors. I met a couple from Israel, a man from Australia, a young man from South Africa, and a Canadian. What a way to begin the new year!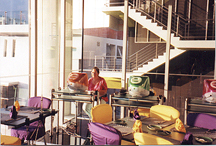 Cornelia at the iMac
in the "Cornelia Seckel Corner"
Gallery Evason Hotel's Dining Room