(845) 246-6944 · info@ArtTimesJournal.com

Travel and Culture Index
Art Times HomePage
Singapore & The Arts: A Report (Part I) Singapore & The Arts: A Report (Part II)

Singapore: Generally Speaking
BY CORNELIA SECKEL
Art Times November, 2000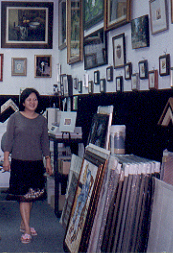 Frame Shop and Gallery
Galleries–many galleries are found in the MITA (Ministry of Information and the Arts) building–formerly the central police station–on Hill Street and along Orchard Street where several are located in the bigger hotels. I also saw galleries, some combined with frame shops in many of the shopping areas we visited. Work came from all over the world, but especially from Singapore, Asia, SE Asia, and the US. At flea markets and at the Clarke Quay Flea Market, I found individual artists selling reproductions of their paintings. (In all there are 39 societies and 92 companies focused on the Visual Arts.*)
Museums–are generally in elegant buildings (former schools and historic buildings) with permanent exhibits as well as rotating exhibitions. When I visited the museums it was with the idea of getting an overview and if time had permitted certainly many hours could have been spent in each of the museums. Galleries I visited are well lit, spacious, with explanatory notes in English (the working language) as well as Malay, Mandarin and Tamil. Programs for children are evident and as always, we find the Museum Gift Shop. Admissions (in approx. US $) $2 adult; $1 Senior (over 55) and Students. Programs related and unrelated to current exhibitions as well as workshops, lectures, demonstrations and performances are scheduled. As in many of our museums, space can be rented for private parties. Just established is The Heritage Conservation Centre whose mission is to manage, care for and facilitate access to the heritage collections under the guardianship of the National Heritage Board of Singapore. It will be housed in a new building at the National University of Singapore along with the Lee Kong Chian Art Museum (covering 7000 years of Chinese civilization and culture) and the Ng Eng Teng Gallery (housing the most comprehensive collection of works by a single artist in Singapore) and the South & Southeast Asian Art collection (showing both classical and modern works or art and paintings). See www.nus.edu.sg/museums/ for more information. Already discussed is the Singapore History Museum, the Asian Civilization Museum and the Singapore Art Museum.
Theater Companies–Theatre Works (Singapore) Ltd. Is a professional theatre company recognized for its cutting edge approach, juxtaposition of Western and Eastern performance traditions, interdisciplinary interpretations, and cross-cultural collaborations; The Theatre Practice does primarily experimental theatre in several languages; Singapore Repertory Theatre collaborates with top Asian performers in original and western classic productions; The Necessary Stage is dedicated to developing contemporary Singapore theatre which focuses on social themes and innovative forms; Circque du Soleil, a combining of circus arts and street entertainment, has chosen Singapore as its Asia Pacific headquarters. Already discussed is Action Theatre. (In all there are 40 societies and 26 companies*)
Dance–Singapore Dance Theatre is the leading professional dance company performing and crossing boundaries between classical and modern, Eastern and Western aesthetics; Dance Ensemble Singapore has its niche in revolutionizing Chinese folk dances; Sriwana is Malay dance and Kala Mandhir presents Indian classical and folk dances and North Indian and Carnatic (South Indian) music. (In all there are 22 societies and 5 companies*)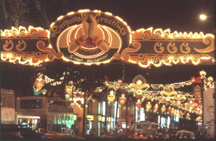 Deepavali Light-Up
(Courtesy Singapore Tourism Board)
Opera–Singapore Lyric Opera performs European opera and musical theatre classics; Chinese Theatre Circle presents Chinese opera and travels extensively to other countries. (In all there are 10 societies and 27 companies for Chinese Opera*)
Classical Music–The Singapore Chinese Orchestra is a 62-piece orchestra presenting Chinese instrumental music. Many of these companies travel and perform in other countries. In addition, numerous companies and individuals such as Yo-Yo Ma, Michael Jackson, Eric Clapton, Tina Turner, Celine Dion, Whitney Houston and New York Philharmonic with Kurt Mazur conducting, have performed in Singapore at various venues throughout the country. Already discussed is the Singapore Symphony Orchestra. (In all there are 60 societies and 14 companies for all music*)
Temples, Mosques–One does get a sense of another's culture by going into their houses of worship, seeing the rituals, the sculptures, relics and peoples. I was in and out of numerous Hindu, Chinese, Muslim, and Buddhist Temples, many dating from the early 1800's. It seemed to be the custom while entering and leaving most of these Temples to ring a bell letting the "gods" know we were there and that we were leaving.
Festivals–Aside from the many religious and ethnic festivals throughout the year, there are numerous International Arts Festivals: The Singapore Arts Festival is a biennial festival that takes place over a three-week period and showcases Asian performing arts as well as world class performers in all areas of the arts; the Chinese Cultural Festival, a biennial month-long festival, features Chinese visual and performing arts; National Day Celebration; The Singapore Cantonese Opera Festival; The Singapore International Comedy Festival; and International Dragon Boat Festival (STB (Singapore Tourism Board) prints a 72-page booklet listing the festivals and events held during the year). I just missed the Mooncake Festival (a mid-autumn Harvest Festival), but I was in time for the Hindu Deepavali Festival (celebration of light over darkness–good over evil) with colorful lights draping buildings and hanging from one side of the street to another in Little India. I think that the embracing of all these festivals helps to add to the good working relationships amongst the different groups as does the common practice of shopkeepers of one ethnic group having a small altar to honor a different ethnic group's deities in their store.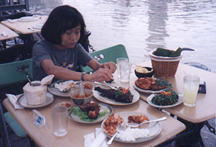 Another Feast
Food–One of the most enticing attractions is the diversity of foods available. A culinary tour of Singapore could be reason itself to visit this city as well as signing up for classes at the Culinary Academy. Each shopping center has huge food courts; Wet Markets (we use the term Green Market or Farmer's Market) are found in each ethnic area of Singapore with many different food "stands"; there's a street in the financial district that is closed off at night (and open till 3am or so) where hawkers sell satay and other delicious foods; the STB has a 50-page brochure of Foods and Restaurants and, as is true in many countries, American fast foods are now part of the offerings: Starbucks, Kentucky Fried Chicken, Burger King, MacDonalds, Wendy's, Pizza Hut and others. It is possible to sample the culinary offerings of many different nations as well as the fusion foods of New Asia. Having small meals at numerous places throughout the day is a way to experience as many different flavors as possible and another wonderful way to experience Singapore. My taste buds were certainly stimulated and I now find my usual meals uninteresting. There is still time to make a reservation for Singapore and be in time for their month-long Annual Food Festival held during April. Be prepared to use only a fork and spoon–I didn't see knives at any of the many tables I sat at, and bring tissues or napkins as only the more elegant (and expensive) restaurants have napkins, which are cloth.
Law–Much has been said about the strict laws in Singapore regarding smoking, chewing gum, littering, jaywalking, vandalism. In fact I printed out a list of "Rules" before I left and knew that they are serious about enforcement. Rarely did I see a newspaper lying on the ground or someone jaywalking across a small street. These laws make good sense in Singapore (although a bit heavy-handed for many Americans to take) and has added to its reputation as a clean and safe country in which to live, work and visit. According to the US Department of Commerce, the government of Singapore has been ranked the least corrupt country in Asia and the seventh least corrupt country in the world. This isn't to say that there is no crime in the Country. The daily newspaper does report thefts, cases of drug use and sale (there is a mandatory death penalty for those convicted in trafficking, manufacturing, importing, or exporting over a certain amount) and deaths by violence. On the two occasions that I walked–perhaps a mile or two back to my hotel and it was after 10pm–I felt safe.Z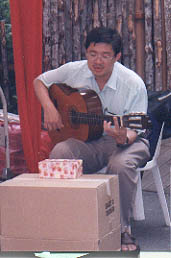 Street Musician
Feng Shui means "wind and water" and is the ancient Chinese practice of harnessing the powers of nature to promote one's business and personal well-being. For example: When the Hyatt Regency Hotel in Singapore opened, the entrance doors led straight to the cashier's desk and according to Feng Shui belief, the wealth of the hotel would flow out the door. Not only were the doors re-set so that they were at an angle to the cashier's desk but a fountain was built at the entrance to "pool" the hotel's fortunes. People's belief in these principals have altered much of the architecture and interior design of buildings, work, and home environments. "In Harmony with Feng Shui" is one of the popular city tours available. There has been a growing interest and practice here in the US and, in many cities, a consultant can be hired to come and "check out" one's environment to make sure the energy flows are positive to one's needs. Sometimes moving and changing aspects of the environment such as furniture, water fountains, lights, mirrors, chimes, plants, and crystals is what is needed to improve one's life.
One day we came to a corner on Seng Bo Poh road, the Bird Singing Arena. This is a place where people take their birds to be by other birds and learn their songs. Songbird rearing is a popular pastime in Singapore and Bird-Singing Competitions are big business with a lot of prize money to be had. Prized Songbirds may sell for thousands of dollars. I watched for a while as bird owners carefully chose where to place their birds. The beautiful cages are different for each species, designed to take into consideration certain characteristics of the bird.
* Registry of Societies and Registry of Companies reported for 1999 in Arts & Media in Singapore published by Research & Planning Division, Ministry of Information and The Arts, Singapore. Email: Mita_pa@mita.gov.sg or visit www.mita.gov.sg for more information and the usual statistics available eg: attendance, grants, economic impact etc.
Read other Travel and Culture Essays
Singapore & The Arts