Culturally Speaking
By Cornelia Seckel
ART TIMES Online October 2010
It seems, and is most likely the reality, that having gone to 6 issues a year has done nothing towards lessening my workload and giving me more personal time. Years ago Raymond said, after I expressed concern about not having enough time for whatever, that I will never have more time, I will only get better at managing my workload and my time. Well, 27 years later and I'm still at it. ART TIMES Online is an ever-evolving process. New to our website is a very inexpensive advertising opportunity. Along the Navigation bar to the left of our homepage, there is a list that includes the Table of Contents for ART TIMES. Each link goes to the "archive page" of Film, Theatre, Music, Art, Culturally Speaking, Travel and Culture, Art Books, Fiction and Poetry with links to the articles written in the past 5-10 years. We are now accepting banner ads for each of these pages. ART TIMES online is seen by an average of 600 visitors a day and this is an excellent way to reach the creative community. If you are theatre-related than the Theater page is for you. If you are Film-related than the Film page is for you— and so forth. Cost is just $100 for the year. The banner ad links to your site and the ads will scroll as they do on the homepage. All you need to do is email your logo for the banner ad (2" x 2" at 72 dpi), the website to link to, and then call the office with cc information for payment. For more information about this inexpensive way to advertise contact me at: cs@arttimesjournal.com.
So my time has been spent with re-design, fixing broken links, cleaning up emails, reminding calendar submitters that we are now only accepting the listings by way of the online submit form www.arttimesjournal.com/submitevent.html.
And now for what I have been up to:
A few months ago I heard Emily Mure sing, play the guitar and the oboe and I have been listening to her album "Where I began". Many of the songs she sang were her own compositions. I believe it is a strong indication of excellence and pure art when something really sticks in one's mind. I find myself humming some of her songs, and feeling again the deep emotions she evoked when I first heard her. Visit her site: www.emilymure.com for more about Emily and to listen to her music and to find out where she will be performing next.
The 14th Annual Fall for Art was a fundraiser for the Hudson Valley arts' community and local Jewish Federation projects. Their elegant cocktail party held at the Wiltwyck Country Club in Kingston, NY had nearly 30 of the region's fine craftspeople, jewelers, artists, and photographers. The recipient of the 2010 honor went to Shadowland Theatre, Ulster County's only non-profit, professional theater located in Ellenville NY. I've been to many performances and they have been excellent. Congratulations to Shadowland and most especially to the committee members of the Jewish Federation of Ulster County's Fall for Art who have consistently produced this elegant gala providing a place to buy fine work, to sell fine work and to honor the arts.
The Audubon Artists 68th Annual Juried Exhibition (www.audubonartists.org) was held at the Salmagundi Club, (www.salmagundi.org) NYC. This national organization of artists is soon to be a signature organization— artist members that have achieved a certain level may use the initials (e.g. AWS for American Watercolor Society, PSA for Pastel Society of America, NA for National Academician, etc). The very fine work filled both the upstairs and downstairs gallery. Accepted were many different mediums and they are now considering mixed media and collage as a new category for next year. The guest speaker was Karl Berger, a longtime member and honorary member and advisor. See the short video on our website and YouTube.
The Pastel Society of America's 38th Annual Open Juried Exhibition held at the National Arts Club in NYC had over 1200 submissions with nearly 200 artists chosen. Artists came from across the US, and from Japan, Hong Kong, Canada, France, and Germany. Richard McKinley, PSA was the Honoree and the Friends Award went to JoAnn and Kenneth Wellner for their loyal support of the PSA. Flora Giffuni, founder and now deceased, had a vision of a Pastel Society (www.pastelsocietyofamerica.org) , for a school offering workshops and classes, and for a gallery devoted to pastel. All of this has come through the very hard work and dedication of PSA's members, board members, and supporters. See the short video on our website and YouTube.
I'm continually excited by the work: the many different styles and exquisite techniques that are achieved by these artists. So much of the work has that "wow" effect: mouth hangs open, shoulders raise, eyes open even further — the signs for me that I am looking at FINE ART. I presented the ART TIMES award (Bob Rohm winner at PSA and James Haggerty winner at Audubon) and had an opportunity to speak to the hundreds of artists and arts supporters in the audience. Basically I acknowledged the very hard work it is for artists to remain true to their inner voice and vision and I wanted to acknowledge and applaud those who are the supporters of artists and the arts.
I saw The Sensational Josephine Baker written and performed by Cheryl Howard and directed by Ian Streicher. This Emerging Artists Theatre (EAT www.emergingartiststheatre.com) production was at TADA! Theatre in NYC. She was an American-born dancer, singer, and actress and the first African American to star in a major motion picture, to integrate an American concert hall, and to become a world-famous entertainer. Most of Josephine Baker's life was in Paris where her career was able to flourish in ways that were impossible in America.
The play tells of her life as a black girl growing up in the South during the 1920's, her life and time as a showgirl in Paris, and her tours in Europe. There are many aspects of her life — her many adopted children, her work with the French Resistance; her contributions to Civil Rights that are not touched upon but how much can one do in 90 minutes? It has been a very long time since I saw such a fine actress and such a well-constructed book. This one-woman production, the story of Josephine Baker, was told through the voice of at least 6 different people from her life, and by Josephine Baker who spoke with others that were offstage or in her mind. What an accomplished actress and what a gorgeous voice (Howard sang several of Josephine's classics). Cheryl Howard was able to bring each of those characters to life, moving fluidly from one to the next creating the illusions so critical to a classic production. The short run is over for now. Hopefully there will be a new venue so that many more people can learn about Josephine Baker and Cheryl Howard.
I heard from the Phoenicia Festival of the Voice (www.phoeniciavoicefest.com) that close to 3000 people attended this inaugural festival in Phoenicia, NY this past August. The concerts I heard were excellent and I expect to have a video available on our website and YouTube showing some of the highlights of the weekend. See the short video on our website and YouTube.
I've just gotten a press release announcing plans to establish the first Museum in the U.S. to celebrate American Writers. Early plans for The American Writers Museum call for a state-of-the-art, interactive museum that celebrates the impact of literature and poetry on American history and culture. At the helm of the movement to establish a museum that celebrates the nation's literary heritage is Malcolm O'Hagan, a former association executive. O'Hagan intends to establish The American Writers Museum, crediting his inspiration to the Dublin Writers Museum in Dublin, Ireland. For more information www.americanwritersmuseum.org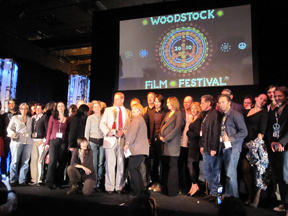 The 11th annual Woodstock Film Festival 2010 had a line-up of nearly 150 "fiercely independent" films, panels, performances and special events that took place in Woodstock and the neighboring towns of Rhinebeck, Rosendale, Mt. Tremper, and Kingston, in the Hudson Valley Catskills. I attended several movies, a panel discussion and the awards party held at BackStage in Kingston, NY. The 2010 festival presented 60 premieres, the highest number since the festival began, consisting of 11 world premieres, 2 North American Premieres, 20 U.S. Premieres, 14 East Coast Premieres and 13 New York premieres from the over 1500 submissions from around the world. "We have an extraordinarily diverse program this year that challenges the way we perceive and think about the world…" said Meira Blaustein, WFF co-founder and Executive Director. The top awards went to Stranger Things, directed by Eleanor Burke and Ron Eyal, for best feature narrative; Marwencol, directed by Jeff Malmberg for best feature documentary; Music Scene directed by Anthony Sheppard presented by animators Signe Baumane and Bill Plympton for best animation. The Honorary Maverick Award is given each year to an individual whose life and work is based on creativity, independent vision and social activism. This year's honor went to two-time Academy Award® nominated writer/director Bruce Beresford. The Trailblazer Award, recognizing an innovative leader and pioneer in the field/ industry, will be presented to distribution guru Bob Berney. Keanu Reeves will be recognized for skillfully skirting the boundaries between tent-pole studio releases and smaller, character driven films. The awards presentation was catered by Postage Inn of Tillson, NY. Major sponsors of the festival include: 120 db films, A & E Indiefilms, Barefoot Wines, BMI, Ketel One Vodka, Markertek, NEA, NYSCA, Panavision, SAG Indie, Teany Beverages, Time Magazine, Ulster Savings Bank Charitable FDN, and WDST. The WFF is purchasing a building in Woodstock that will not only become the home base for the festival, but will create a much-needed center for creativity in film, by providing space for film workshops, film production, special events, jobs, and casting for local productions, among other purposes. contact www.woodstockfilmfestival.com for more information and to contribute your support. See the short video on our website and YouTube.
A reminder: Give a call or email me about the new banner ads on the archive pages and take a look at the new videos (from the video link).
See you all out and about.