A Distinctive Literary Journal & Arts Magazine For Art Essays, Literary Writing & Resources for the Creative

Our ART TIMES Journal is one of those arts magazines that has two distinct personalities. Available to you both online and in print formats, it is a vibrant literary journal with art essays about painting, sculpting, drawing, film, theater, dance, music, book reviews, poetry, short fiction. Our writers are passionate about their subjects and guest writers from around the world contribute poetry, short fiction and their thoughts to our "Speak Out" column.
Art Resources For A Passionate Creative Community
The second personality trait is that ART TIMES is the go-to source for writers, painters, sculptors, film makers, actors, musicians and people looking for calendar listings, opportunity listings, arts schools, theatre auditions, juried art shows, performance locations, and writing competitions. Over the past 30 years that we have been publishing, numerous individuals have thanked us for leading them to galleries where their work is shown, companies who have produced their music and plays as well as to competitions where they have won awards and acclaim.
Online November
Dawn Lille: The Gods of Egypt
Robert W. Bethune: Threading a Needle
Henry P. Raleigh: Movie Ads
Raymond J. Steiner: It's all about Me
Cornelia Seckel: The Cultural Scene
Video by Cornelia Seckel of the National Association of Women Artists' 125th Annual Members' Exhibition

New Travel and Culture:
Fredericksburg, Texas:
Hill Country's New American Art Destination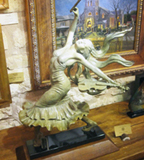 Sculpture by John Bennett
I was asked if I'd like to join a press group to explore Fredericksburg, a small town in Texas with wineries, galleries and historic sites. It had been a while since I did any traveling so I accepted the invite and I am surely glad I did. Visiting Fredericksburg, Texas with all the wineries and art galleries as well as the Texas White House of Lyndon B Johnson is truly an excellent destination for people who enjoy art, wine, outdoors, unique accommodations, beautiful landscape and delightful people who are following their dreams.
(see essay)


New Peek and Piques!:
"Modern" Art
EVERY NOW & then, I still run into someone who asks me why I tend to ignore 'modern' art and I always readily admit to a deep bias to all its myriad manifestations, trends, politics, movements, isms, agendas and earth shattering, mind-blowing, 'cutting' edges. I usually point out (if they seem truly interested in my 'why') that since its inception in 1984, ART TIMES has always tried to take what I call the "long view", readily giving over our pages to the recognized past masters as well as those artists of today who follow in their footsteps, faithfully learning the 'basics' to produce equally 'good' art . .… (see essay)
New Dance:
Batsheva Dance Company at 50
...In the beginning Batsheva was a mix of Israeli culture, with the strong, explosive movement it produced, and American modern dance, originally Graham, with its percussive, angular, inward focused style. But in a repertory that grew via works by Robert Cohan, Anna Sokolow, Jerome Robbins, Agnes De Mille, Donald McKayle, Talley Beatty, Jose Limon, Glen Tetley, Paul Sanasardo and others, they acquired a wider and more varied American approach to dance. (see essay)
New Theater Can Theater still do it's job?
We all know, and have heard endlessly, that theater, once a primary art form and powerful cultural force, is no longer either of those things. A theatrical production once had an excellent chance of catching the eye and ear of people who mattered, who had the access and the power to respond in real, broadly efficacious, publicly visible ways to what that theatrical production conveyed to them. That is no more, and has not been for a very long time..… (see essay)

New Art: Alice Barber Stephens:
Emerging Ways of Living & Working
After the Civil War, pressure escalated for American women's lives to change. Women artists, particularly illustrators, found an interested audience for unpacking the complexities of the issues involved, when depicted in clear and cogent ways. One particularly successful example came from Alice Barber Stephens (1858-1932) with her illustration called Woman in Business from 1897. In this one painting, she captured the transitions, ambiguities, and forces grappling both for change and sameness. … (see essay)

Alice Barber Stephens
New Film:

To See or Not to See
I've still not seen Woody Allen's "Magic in the Moonlight". Perhaps I never will. You see I find myself caught in a quandary, a rock and a hard place, between Scylla and Charybdis and it's necessary to keep my critical skills pure, unsullied, justice and fairness at all cost- I could go on this way-you get my concern, I think. Now the facts of the matter are these: The New York Observer had called Mr. Allen's 44th film a "master strike of enchantment", four star worthy by a usually nasty two star critic but Salon.com dismissed (see essay)
The painting career of Terry Frost (1915-2003) started somewhat later than many artists of his generation. In a way, it was only the disasters of the Second World War and the consequent breakdown of class barriers that led him to become an artist at all. He began to paint whilst a prisoner of war, where he found the first in a series of in-roads into the British art world through the painter Adrian Heath who he met at Stalag 383. Frost's tormented wartime experience ejected him from his class and background, and the front-line action he encountered and four years of incarceration in German prison camps made him realise that life was too precious to waste... (see essay)
© Estate of Sir Terry Frost; Picture courtesy Belgrave St Ives
New Speak Out:
Investing in Art
…While investing in art is a satisfying pursuit for affluent collectors who value a high return on their investments, there is much more that motivates the lover of art who is an ardent collector: Works of art not only provide collectors with a high level of prestige and status, but a collector, in addition to being admired for taste and sagacity, may also be perceived as a special individual who, by supporting the world of art, has admirable eleemosynary motivations. (see essay)

New Music:

The Soundtrack of My Life: Summer Holidays
I have been thinking about the phenomenon that is Band Aid for weeks now, but this conversation inspired the angle I've taken. It may not have been the most emotionally-charged dialogue but, despite his unremarkable response, the bottom line is that this young person and hundreds of thousands of others effortlessly spent 99p (roughly US$1.65) to download the single on the day of its release. Why? A. Because they can? B. Because they feel duty bound to? C. Because they feel strongly about it? Or, D. Because they love it?...…(see essay)
New Dance:
Way Down Yonder in Chelsea
Navarra Nickemil and the Cedar Lake Dance Company
Nestled in lower Manhattan, surrounded by numbers of new restaurants, chic clothing stores, and brazen new art galleries is the home of the Cedar Lake Dancers, a company that reads like the roll call of the United Nations. These dancers, drawn from a multitude of different backgrounds and training, are a quiet addition to the dance community of New York, but nonetheless a fresh and exciting one. They are amazing technicians. .…. (see essay)
The National Association of Women Artists' 125th Annual exhibition: 125 Years: Women of Vision featured the work of over 290 member artists in a wide range of media. Over thirty awards, determined by women professionals in the visual arts, were presented, including about $10,000 in prizes. The ART TIMES award went to Patricia Search for her digital print Eternal Spirit. 125 years is a great milestone and this organization has been working hard over all these years to do the very best for their member artists. There are seminars, workshops, lectures, exhibitions in New York and throughout the country. (see essay) •••• See video