Explore our site: Art Essays, Videos, Blogs, Literary Writing & Resources for Creatives
We have gone Green and Global with arttimes online. Check back regularly for current announcements, blogs, videos, essays, advertisersí information and up-to-date Calendar and Opportunity listings on this arts magazine. There are so many more possibilities being online. We invite you to submit your blogs and videos for consideration.
Read previously printed and online Essays
Click on categories below

New: What's the Big Deal About Plain Air Painting? M. Stephen Doherty
New: In The Box 2; Miki Orihara and Friends at LA MAMA Dawn Lille
New: Elyn Zimmerman and Grounds for Sculpture Christina Turczyn
New: Trust the Author! by Wendy Caster
New: Poetry byMark Ellis and Peter LaVilla
New: Art Books
New: Calendar listings
New: Opportunites & Calls for entries
Alaska, Part 4- Juneau, The State Museum, The Mines and a New Venture Cornelia Seckel
Help Desk 4 Creatives— Marketing Merritt Minnemeyer
The World's Largest Performing Arts Festival Turns 70: A Guide to Edinburgh Fests Justine Bayod Espoz
My 2 Cents, Shadowland Stages - Noises Off! Jacquie Wolf
Creativity Flows from the Hand: The Case for Longhand Writing
by Leigh Donaldson
Cornelia Seckel's Blog: What's up and more
Raymond J Steiner's Blog:

Call to action:

• Click here to have updates emailed to you
• submit your video or blog
New: Art Essay:
What's the Big Deal About Plain Air Painting?
…The fact is that within the past 15 years there has been a dramatic increase in outdoor painting, in part because it appeals to artists who love hiking, camping, and painting directly from nature; and in part because events serve the promotional and financial interests of galleries, arts organizations, tourist boards, and sociable artists. (see essay)
Thomas Jefferson Kitts carried his portable painting supplies up a mountain to paint the elevated view
New: Dance:
In The Box 2; Miki Orihara and Friends at LA MAMA
…The cat in the box was a thought experiment devised in 1935 by the Austrian physicist Erwin Schrodinger in which he proposed a theory related to quantum mechanics. If a cat is placed in a sealed box with a flask containing poison and one atom breaks down, causing the flask to open, is the cat dead or alive? The observer does not know, in what is defined scientifically as a "superposition" of states, until the box is opened.…
(see essay)
New: Art Review:

Elyn Zimmerman and Grounds for Sculpture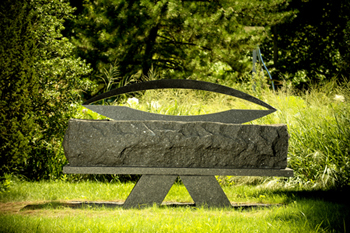 Elyn Zimmerman,XX, 1996, granite, 56.5 x 94.5 x 30 inches, On loan from the Telfair Museum of Art, Savannah, GA, Gift of the Artist, photo: Ken Ek

…If poetry is a form of distilled time, stone is a form of concentrated memory. What kinds of losses or letters are captured in stone? Elyn Zimmerman's Wind, Water, Stone at the Grounds for Sculpture in Hamilton, New Jersey expresses, through collective works, a quiet power, a summer lightning. When considering the breadth and complexity of Zimmerman's work across several decades, I am struck by the artist's description, in an interview with Tracey Hummer, of stone as a material that possesses integrity.(see essay)

New: Theater:
Trust the Author!
…The actor's job is—always—to understand what the character wants, what's getting in the way, and how the character deals with it, and then to take the character's goals and desires absolutely seriously.…
…Getting laughs is the author's job. Honoring the character's needs and desires is the actor's. The directors of Cloud Nine didn't respect Caryl Churchill, who is a truly brilliant and subtle playwright (yes, farce can be subtle, if you let it be). They claimed to be taking a Brechtian approach, which is fine, but while the production may be Brechtian, the characters' lives are still real to the characters.. …(see essay)
Travel and Culture:

Juneau, Alaska, part 4-
The State Museum, The Mines and a new venture
Back into town I met up with Harry Vannatta and Stephanie Nicosia, a delightful couple recently moved to Juneau. They met online a few years ago, fell in love with Alaska and moved from LA. …
…I recently heard from both Harry and Stephanie. They are currently in full operation manufacturing their delicious preserves and accumulating a large stock for future sales! Harry's Wild Berry Preserves has set a tenacious goal to reach mass market in a matter of just a couple short years.
(see essay)

Theater My 2 Cents:
Shadowland Stages— Noises Off!
… Shadowland Stages has been lovingly redesigned, restored, and remodeled. The entrance to the theater is a glamorous homage to the heyday of Art Deco. There is not a seat in the house that is not a perfect view. All the seats are what would be the Orchestra section in any other theater. Being a tad on the larger side I wouldn't mind a skosh more room in the somewhat basic, almost retro, movie theater seats.(see essay)
Dance
Edinburgh Fringe turns 70!
…The Edinburgh Fringe should make everyone's bucket list. It's jovial artistic mayhem in a gorgeous fairytale city erected in grey stone, and the choices for entertainment are limitless. See standup comedy one day, dance the next, theatre the day after and cabaret the day after that. … (see essay)
Help Desk 4 Creatives:
Marketing
…The essence of good marketing is a strong, clear message. To hone this message, begin by boiling down what you do to a single sentence. Leave out the frills, for now. In plain language, come up with a few simple words that tell the world what it is exactly that you do. This is referred to as a "descriptor."… (see essay)