Take a look at our Distinctive Literary Journal & Arts Magazine with Art Essays, Literary Writing & Resources for the Creative

ART TIMES is the go-to source for writers, painters, sculptors, film makers, actors, musicians and people looking for calendar listings, opportunity listings, arts schools, theatre auditions, juried art shows, performance locations, and writing competitions. Over the past 30 years that we have been publishing, numerous individuals have thanked us for leading them to galleries where their work is shown, companies who have produced their music and plays as well as to competitions where they have won awards and acclaim.
Explore our site by going to the navigation bar above, there are hundreds of essays and resources for the creative spirit and those who appreciate good writing.
On this home page you will find links to our current printed issue and to essays and resources that are exclusively online and updated monthly.
Check out Raymond J. Steiner's blog Standing Inside the Artist
Updated listings for May
Opportunities
Calendar
April issue
Trishna Patnaik: Art ~To Express or To Impress
Henry P. Raleigh: Redeemable Films
Dawn Lille: Ballet~ The Mixing of Tradition and Modern
Norman Kolpas @Large: Ai Weiwei on Alcatraz
Jane Sherman's Memoir of her time in Singapore with the Denishawn Dancers' 1925-26 Asian Tour this is a piece Jane wrote after Cornelia Seckel's trip and report on Singapore

Dance:

Ballet: The Mixing of Tradition and Modern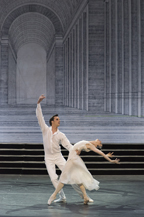 Mariinsky Theater of St. Petersburg ~ Cinderella
……Thanks to the Dane's preservation of his ballets and classes, the world has an exact idea of Romantic ballet. The Bournonville technique, a different class for each day of the week, creates a flexible torso, soft inclining head, flowing arms, unbelievably strong feet and legs and jumps that come from nowhere and soar to the rafters – all in a relaxed and seemingly effortless body. Additionally, the legs do not go above the waistline. …
……The Mariinsky Theater of St. Petersburg, long associated with classical ballet in the late 19th century, was in residence at BAM, January 14-25. They performed three different ballet programs and one opera with their own full orchestra – all under the direction of the conductor Valery Gergiev. … (see essay)
Art Review:
@Large: Ai Weiwei on Alcatraz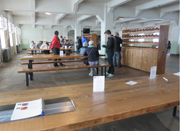 Yours Truly
(shots of tables in dining hall with colorful printed postcards on rack, all pre-addressed to prisoners)
…Opened to the public since September 27 of last year, and continuing through April 26, this site-specific art installation stunningly synthesizes the history and inherent meaning of seven different venues on Alcatraz with issues of free speech and human rights at the very center of Ai Weiwei's work. Even on the frigid, drizzling January day I visited the exhibition—reached only via a book-in-advance quarter-hour ferry ride across the Bay's choppy waters run from Pier 33 by Alcatraz Cruises—Ai's arrestingly beautiful creations shone a blazing-hot light on acts of cruelty that can all too often be carried out by governments the world over in the name of the common good. .…(see essay)
Back in the days when filmmakers were simpler, more caring folks than they appear to be now our movies proudly promoted satisfying, even comforting values. You know, the bad guys pay the price in the end, true love never failed to triumph. You could put your money on bravery, patriotism, loyalty, honesty and mom and her apple pie. Oh, it's not that movies are racing down Hell's Highway. We still have our Captain Americans, and Bruce Willis (as well as his descendants) will never go down in defeat, for goodness sake (see essay)
Speak Out:
Art ~To Express or To Impres
s
What is Art? Is it a platform to express or a platform to impress? Is it a tool to attain inner peace or a tool to make an impact? Is it a creation made to express feelings or a creation made to analyze feelings?
We all should understand Art at a deeper level. I am here to put forth my point of view only and leave a thought with you. Is the way we look at art the ideal way?
I have put forth a Do's and Don'ts list and made it a point not to sound preachy! (see essay)

Art Essay:

Marie Danforth Page
…The 'Cult of True Womanhood' valued piety, purity, and submission. Increasingly though, even these women embraced new roles as consumers that propelled them out of the home into the public sphere of money, commerce, and politics. Women artists were also caught in a bind between the spheres. Even as professionals, bringing in respectable incomes from their work, they were pinned to conventional, private sphere subject matter. (see essay)

Frank Duveneck (American, 1848–1919)
"Marie Danforth Page" , ca. 1889 Oil on canvas 38" x 25 ¼". Cincinnati Art Museum; Gift of the Artist, 1915.100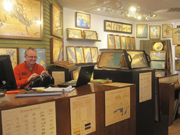 Chris Doucette at Nautical North Gallery, Annapolis, MD
…We went into a number of shops and galleries and what a surprise to see work by Leonard Weber at the Annapolis Marine Art Gallery (annapolismarineart.com). Weber has been painting cities, town, villages, and historic sites for over 22 years. In 1993 he was made an honorary citizen of the State of Maryland and this gallery has an excellent townscape of Annapolis. In 1993 Raymond J. Steiner wrote about Weber's show at the Spencertown Academy in Spencertown NY. …(see essay)
Art Essay:

Theresa Bernstein
A major retrospective of any artist's career usually offers the public a rare opportunity to appreciate the totality of that creative soul's output. If nothing else, it enables art lovers the satisfaction of knowing that they've literally seen it all—and, if it matters to them, the bragging rights of being able to tell others they have.…(see essay)

Theresa Bernstein "Katie", 1917.
Oil on canvas, 24 x 20 inches.
Twitter may seem like a foreign, overwhelming world with which to become acquainted. When looking to develop a thriving, engaged audience, it can be difficult to assess where to begin. Knowing helpful tips and best practices can help build your social foundation and attract relevant followers: target local and industry influencers, learn what is best for your individual account, actively become a team player and, of course, be "visual." You are an artist, after all. (see essay)