Take a look at our Distinctive Literary Journal & Arts Magazine with Art Essays, Literary Writing & Resources for the Creative

ART TIMES is the go-to source for writers, painters, sculptors, film makers, actors, musicians and people looking for calendar listings, opportunity listings, arts schools, theatre auditions, juried art shows, performance locations, and writing competitions. Over the past 30 years that we have been publishing, numerous individuals have thanked us for leading them to galleries where their work is shown, companies who have produced their music and plays as well as to competitions where they have won awards and acclaim.
Explore our site by going to the navigation bar above, there are hundreds of essays and resources for the creative spirit and those who appreciate good writing.
On this home page you will find links to our current printed issue and to essays and resources that are exclusively online and updated monthly.
Check out Raymond J. Steiner's blog Standing Inside the Artist
Rena Tobey: "Finding Her Way" series Marie Danforth Page
Benedict Duffy Theresa Bernstein: a Docent's Perspective
Henry P. Raleigh Remembering Old Movies— Movies Made Me
Mary Alice Franklin Artists: Increase Your Exposure on Twitter
Cornelia Seckel explores Annapolis and the Ashokan Center
Dawn Lille: Dance and Fashion
Raymond J. Steiner: Standing Inside the Artist
Lisa Wersal: Hope and Healing
Jane Sherman's Memoir of her time in Singapore with the Denishawn Dancers' 1925-26 Asian Tour this is a piece Jane wrote after Cornelia Seckel's trip and report on Singapore

Art Essay:

Marie Danforth Page
…The 'Cult of True Womanhood' valued piety, purity, and submission. Increasingly though, even these women embraced new roles as consumers that propelled them out of the home into the public sphere of money, commerce, and politics. Women artists were also caught in a bind between the spheres. Even as professionals, bringing in respectable incomes from their work, they were pinned to conventional, private sphere subject matter. (see essay)

Frank Duveneck (American, 1848–1919)
"Marie Danforth Page" , ca. 1889 Oil on canvas 38" x 25 ¼". Cincinnati Art Museum; Gift of the Artist, 1915.100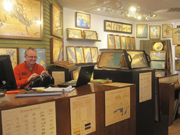 Chris Doucette at Nautical North Gallery, Annapolis, MD
…We went into a number of shops and galleries and what a surprise to see work by Leonard Weber at the Annapolis Marine Art Gallery (annapolismarineart.com). Weber has been painting cities, town, villages, and historic sites for over 22 years. In 1993 he was made an honorary citizen of the State of Maryland and this gallery has an excellent townscape of Annapolis. In 1993 Raymond J. Steiner wrote about Weber's show at the Spencertown Academy in Spencertown NY. …(see essay)
Art Essay:

Theresa Bernstein
A major retrospective of any artist's career usually offers the public a rare opportunity to appreciate the totality of that creative soul's output. If nothing else, it enables art lovers the satisfaction of knowing that they've literally seen it all—and, if it matters to them, the bragging rights of being able to tell others they have.…(see essay)

Theresa Bernstein "Katie", 1917.
Oil on canvas, 24 x 20 inches.
For any movie lover and especially for the older nostalgia prone there is a wonderful documentary made for Turner Classic Movies in the 2014 (available on NetFlix). It's titled "And the Oscar Goes To...", a history of the Oscars from the first ceremony in May 1929 to the present (the most recent has yet to play at this writing.) Out of a field of silent films only eleven awards were given at that Oscar including one for "title writing"- the last time this category would ever appear, for the following year all candidates would be sound pictures. (see essay)

Costumes by Tara Subkoff
for Underland, 2011. Choreography by Stephen Petronio, Stephen Petronio CO. ©Sarah Silver Photography.
The Museum at the Fashion Institute of Technology (MFIT) is, for many, one of the hidden institutions of New York City. Located on Seventh Avenue and 27 th Street, it is accessible and a small gem of a museum. A recent exhibition, Dance and Fashion, was well researched, beautifully lighted and set, with excellent signage.Dance historians often discuss the question of popular dance influences on the stage versus performance affecting the dance of ordinary people. This debate was, in a way, transferred to costumes and clothes in this exhibition. (see essay)

Twitter may seem like a foreign, overwhelming world with which to become acquainted. When looking to develop a thriving, engaged audience, it can be difficult to assess where to begin. Knowing helpful tips and best practices can help build your social foundation and attract relevant followers: target local and industry influencers, learn what is best for your individual account, actively become a team player and, of course, be "visual." You are an artist, after all. (see essay)