Explore our site: Art Essays, Videos, Blogs, Literary Writing & Resources for Creatives
I am so vey excited to have published the last ART TIMES ink on paper issue as we have gone Green and Global with arttimes online. Check back regularly for current announcements, blogs, videos, essays, advertisersí information and up-to-date Calendar and Opportunity Listings. There are so many more possibilities being online. We invite your input with your blogs, videos and suggestions.

Updated July 16
Henry P. Raleigh No Importance
Marian Odenwald: Artistic Creativity
Wendy Caster: When Less Is More: The 90-Minute Play
Gianna Bellofatto Reid: Short Fiction~ "Not a Fake Pollock"
Mary Ann Ebner: Finely Tuned Piano
Opportunity listings
Calendar of Cultural Events
Summer 2016 issue
Cornelia Seckel Letter from the Publisher: Going Green and Global
Raymond J. Steiner 35 years in Partnership with Cornelia Seckel
Dawn Lille An Impressive Four: Belinda McGuire, Camille A. Brown, Bobbi Jene Smith, Dada Masilo
Raymond J. Steiner Profile: Marlene Wiedenbaum
Cornelia Seckel Road Trip: LA to Seattle Part 3
Leslie Herman Anthems we all Sing Together
Wendy Carter Why Do Spoilers Suck? Because Art Is Always New
Henry P. Raleigh Dangers of Garbage
Elizabeth Bram Pat Allen's Open Studio as a Form of Group Art Therapy
Ina Cole Jean Dubuffet Monsieur Plume: An Existential Anti-Hero
General and Testimonial letters
New Fiction
New Poetry


Call to action:

• Click here to have updates emailed to you
• submit your video or blog
Read Essays from the past 15 years by clicking on categories below
Letter from the Publisher
Going Global and Going Green
It has been a hard decision but we have "bitten the bullet" and we are going Global and we are going Green. This Summer issue of ART TIMES marks the beginning of our 33rd year, our 314th Issue and our final ink on paper Issue. Click here for the story of how we began can be found.
For the past year I've been engaging in Facebook, Instagram, and Twitter and started a blog that takes the place of my Culturally Speaking column. This site is evolving, my Blog is evolving and I am providing links to guest Blogs & Videos considering Demos that Creatives would be interested in. Raymond's Blog will continue with his editorials, reviews of art shows, and his Peek and Piques! (see essay)
Peek and Pique: Thirty-Five years in Partnership with Cornelia Seckel
Thirty-Five years in Partnership with Cornelia Seckel, thirty-two of which spent in founding, publishing and building ART TIMES has been, for both of us, a heady, mind-expanding and extremely educational experience. The people we've met, the trips around the world — both the anxieties and accolades — all have enriched our lives, ourselves. Whatever my contributions, it was Cornelia's vision, her fearlessness, her will to make ART TIMES a reality that not only launched but kept alive our desire to foster the arts in all its guises..(see essay)
Some people like the sound of conversation, others silence, and some of us love the sound of music. When I started searching for a used piano, my dream wasn't to produce another "Baby Mozart" but I hoped to share an appreciation of music with my sons. Buying a used piano seemed innocent enough and not terribly extravagant. I'd grown up crowding around a tiny electronic organ with my siblings. … (see essay)
NEW Speak Out:

Artistic Creativity
Somewhere along the line, as I grew to become an adult, things changed. Life became more about my responsibilities and obligations. I slowly lost touch with that little girl with her big dreams and unbridled courage. I put her behind the backyard gate, focusing on adult things and adult ideas. I put aside the thought that I could seriously consider following my talents and dreams. (see essay)
Raleigh writes some interesting notes of no importance from some recent B's.
He looks at three prophetic climate change scenarios:
"I cetastrophe " (2015); "Age of Ice" (2014); Category 8 (2013)
as well as three from the Horror Genre:
Zombeavers (2014); Extraterrestrial (2014) ; Alien Abduction (2014) and promises further notes as they occur..… (see essay)
NEW Theatre:

When Less is More: The 90-Minute Play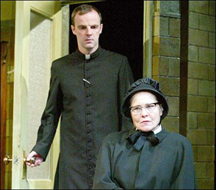 Doubt (original cast), starringBrian F. O'Byrne and Cherry Jones. Photo by Joan Marcus.
…I think this theory relies on knee-jerk conventional wisdom and ignores the huge success of, oh, Hamilton, which runs 2:45; The Curious Incident of the Dog in the Night-Time, which also runs 2:45; and 2014's Pulitzer Prize-winning drama, The Flick, which runs a quiet and plotless three hours; all three have intermissions.
But not every story needs 165 minutes to be told. And there is something deeply rewarding about being 100% invested, without interruption, in a sleekly written piece pared down to its essentials..… (see essay)

Dance:

An Impressive Four: Belinda McGuire, Camille A. Brown, Bobbi Jene Smith, Dada Masilo
This is about four young dancer/choreographers, all women, each of whom left a lasting impression this past winter. Each has spent a decade or more honing her skills as a performer, exploring her art form and deciding how she wishes to investigate and communicate via dance. …In this age of galloping technology, the destruction of the environment, madcap inside/out politics and the return of such phenomena as human slavery, art seems the only avenue that has a chance of disrupting what has become negative dominant narratives. Of these four artists, Brown and Masilo might be considered conscious disruptors. Their aim is to change. McGuire and Smith are concentrating on probing their own consciousness and capabilities, but their results can affect and change an audience, which is a disruption in itself. (see essay)
Profile:

Marlene Weidenbaum
Soulful. More usually applied to the art of sound — music, especially — the word soulful, or profound — even spiritual — just barely describes the oeuvre of Marlene Wiedenbaum. Whether landscape, figurative, still life (or a combination of figure and landscape such as "Sisters"), her paintings not only project outward toward the viewer but also invite — nay, compel — the onlooker to enter its vibrant, nearly irresistible magnetism. (see essay)
Travel & Culture/ Culturally Speaking:
Road Trip: Seattle part 3
We arrived in Seattle, our final destination. The purpose of coming to Seattle was to visit Muriel Bressler, family friend (lived across the street from Little Neck, NY) for over 60 years. For many years I'd been thinking about visiting Muriel and combining it with a visit with childhood friend Leta Nadler and Heidi Robertson in LA and to see my niece Elliana Spiegal in SF and then to head to Seattle to see Muriel.
…… So many times Heidi and I told people we met that we were on this road trip and had been friends for 60 years. I believe we inspired several of them to do the same with old friends as perhaps you will. (see essay)

Share |