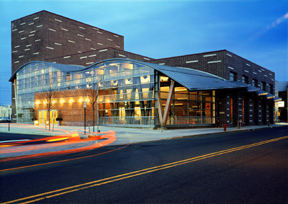 Two River Theater (Exterior)

Please Take Your Seats…in Red Bank, NJ

By Linda McK. Stewart




ART TIMES September 2005

When can Off Off (as in Broadway) turn out to be Right On? In Red Bank NJ, just 46 miles from Broadway, perched on the southern bank of the Navesink River, a great many theater lovers are in a Right On frame of mind. Their rosy outlook stems from the fact that, after ten years of wandering in the wilderness, at long last the Two River Theater Company has a home of its own. And what a home it is!

The original plan called for acquiring an abandoned warehouse or a turn-of-the century factory that would lend itself to conversion. When all such efforts failed the selected alternative was a lumberyard, fortuitously situated only five minutes from the Red Bank's NJ Transit railroad station. Here on a 10-acre site, Hardy, Holzman and Pfeiffer Associates, have achieved a small architectural gem, already being favorably compared to such HHP triumphs, as New York's Joyce Theater, the Brooklyn Academy of Music Opera House, Boston's Paramount Center and the Minneapolis Orchestra Hall. At a cost of $15-million, the Two River Theater provides 43,000 square feet of uncluttered, stylish design. The lobby, separated from the street by a glass wall, features a lofty, undulating ceiling 40 feet high. Wide doorways open from the lobby into the performance area where a removable thrust stage is surrounded by 349 comfortably proportioned seats, arranged in a trio of curved tiers, no seat more than 36 feet from the stage. A smaller secondary area accommodates readings, workshops, small productions. Generous space is provided for props, wardrobe, storage, dressing rooms and state-of-the-art sound and light equipment. All areas used by performers, technicians and audience are wheelchair accessible, including even the backstage showers. It's a beautifully designed, self contained performing arts complex which is making Red Bank, a community of just under 12,000, the envy of many considerably larger towns. Operating under Actors' Equity Association's standard Small Professional Theater contract, the Two River Theater Company functions as a non-profit corporation. As such it is eligible for support from a host of generously funded foundations.

The New York Times calls it "…one of New Jersey's best new theaters." Critic Bob Rendell of "Talkin' Broadway", pronounced the new theater "exceptionally beautiful", adding that it could well "revitalize…the entire New Jersey theater scene."

Such generous pronouncements must strike Bob Rechnitz, founder, executive producer and patron saint of the Two River Theater Company, as too modest by half. Having founded the company in 1994, he has expended boundless energy to keep it afloat, going, hat (and wallet) in hand to negotiate appropriate performance space for the more than 40 productions TRTC has put on since its inception. Its credits run the gamut from Shaw, Pinter and Ibsen to Wasserstein, Mamet and Orton. For the Two River Theater Company to finally drop anchor in a theater of its very own, must seem to Bob Rechnitz like the proverbial dream come true. Standing in the light-flooded theater lobby, he speaks of what lies ahead with infectious exuberance. "We want to develop a society in which everybody is as interested in what's going on in the theater world as they are in the sports world."

How tempting to write Rechnitz off as a hopeless visionary, a man quite out of touch with the budgetary woes by which so many American towns and cities are beset. As recently as mid-July, Michael Gennaro, president and executive producer of the Paper Mill Playhouse in Millburn, NJ, a mere 40 miles from Red Bank, said of attendance in the Playhouse, "…at the end of day, not enough people are coming."

Rechnitz is unfazed. In assessing his boundless optimism a listener does well to keep in mind that this is a man who devoted more than three decades to teaching American literature to college students in Colorado and on the east coast. His is a track record that he believes has endowed him with a powerful sense of what the public, and especially the public under 45, are seeking in the world of the arts.

Fortunately Rechnitz can look to some hefty local support. His wife, Joan, Associate Producer, is unstinting in her support of her husband's plans for the future. Singer and songwriter Jon Bon Jovi, a near neighbor of Joan and Bob Rechnitz, has, with his wife, Dorothea, been a vocal and generous supporter of the Two River Theater. This summer he gave a sold-out, two-hour, fund-raising performance at the Two River Theater, not the first nor the last of his efforts on behalf of the theater, which is all but in his back yard. His newest album, "Have a Nice Day" will go on sale September 20.

Bon Jovi's loyal support of TRT is shared by yet another local resident. Bruce Springsteen, whose roots are planted deep in New Jersey's sandy soil, signaled his support for TRT by contributing an autographed electric guitar, which was auctioned off during a TRT fund-raiser. And when he was shown the completed facility, he promptly opted to make use of its superb electronics. Before an Invitation Only audience, in April "The Boss" gave a two-hour performance that was taped for Columbia Music Video. Entitled VH1 Storytellers, it features Springsteen accompanying himself on piano, guitar and harmonica. Advance word of the occasion brought a welcome horde of TV, radio and print reporters to the brand new Red Bank site.

Surveying the future of the Two River Theater Company, Bob Rechnitz positively brims with energy. High on his Will-Do List is his determination to double the list of annual subscribers to 2400 and to expand the company's already vigorous instructional programs for students at all levels from elementary up through college. The Autumn-2005 season kicks off September 22 with an American adaptation of the 1964 French film Umbrellas of Cherbourg. The production will feature a haunting jazz score offered by an 8-piece orchestra, the lead role being sung by Maureen Silliman, a veteran of Broadway and a member of the Two River Theater Company. It's an ambitious undertaking, scheduled to run for 16 performances through October 9. The rest of the season's slate includes Visiting Mr. Green which was an off-Broadway hit, All My Sons by Arthur Miller and a Joe Orton farce What the Butler Saw.

Of special interest to local…and (it is hoped) not-so-local theater enthusiasts is the upcoming Samuel Beckett Festival March 16 - April 8, 2006. This theatrical plum was originally scheduled to take place at Lincoln Center in celebration of the Nobel Prize Laureate's centennial. When complications caused a reluctant withdrawal by Lincoln Center, Bob Rechnitz was on the doorstep to snag the event for TRTC. The Festival opens with the classic Waiting for Godot, which Rechnitz sums up as "high wit, poetic feats and heartbreaking poignancy."

Taking the artistic pulse of the surrounding area from which the Two River Theater draws its audience is, at best, a tricky undertaking. Its cultural antecedents stretch from the acerbic author and literary critic Edmund Wilson to Count Basie, legendary Jazz musician, both born in Red Bank. Once a seriously industrialized area with commercial river traffic to and from the New York waterfront, the town has in the last several decades, taken on a more genteel hue with distinct aspirations of "cool". Good schools, several colleges and universities, a thriving retail-and-restaurant sector, some impressive residential expanses all combined with a rapidly expanding minority population make for a heady intellectual mix. Some might say "daunting". Bob Rechnitz would say, "inspirational".

Certainly when the opening curtain rises September 22 at the brand new Two River Theater, it will be to the thunderous applause of a host of theater lovers who are fully convinced that Bob Rechnitz is indeed, Right On.