Jodi Richard: Chainsaw Artist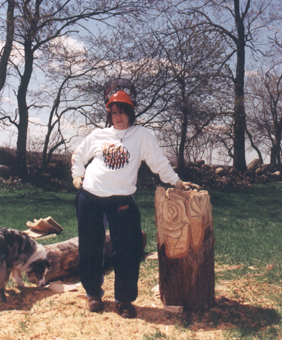 Jodi Richard wtih carving in progress
(Photo Courtesy the Author)
By RUTH ANN BLYNT
ART TIMES Jul, 2003
THERE'S SOMETHING SURPRISINGLY soothing in the sound of the chainsaw as Jodi Richard wields it to cut away half-moon wedges of black walnut. As the chunks drop away, color appears around the edges of the chest-high piece of trunk given to Richard when someone's tree fell down. Walnut is one of her favorite woods to work with because of its variety of hue. From the outside in, the carver's saw creates a pattern of dark brown, fading to light brown and brightening to a yellowish white.
Richard never stops moving, circling the piece, adding a line here, taking out whole sections there. The saw approaches the wood horizontally, with a slicing motion that eliminates large portions of bark and tree, and vertically, with its rounded tip tracing out the inner edges of small hollows, even diagonally, resting on Richard's hip and shaving away sharp edges. Her attention is focused, but not strained. And miraculously, the rigid saw transforms the stiff tree trunk into sinuous curves and swirls of color. A petal cups upward out of the wood; a leaf droops downward.
Jodi Richard created her first chain saw carving, a sunflower, in October of 2001. "I've never been more proud of a piece of artwork in my life," she remembers. And her life has been one filled with art. A bookshelf in the stone house on the rolling hillside with a view of the Adirondack foothills displays her first ever carving, a lion, created from plaster when she was a senior in Holland Patent High School in 1984 (she now serves as art teacher of the art department in the neighboring school district of Remain, NY). But her personal artwork, and desire to do large pieces, dates back to childhood, when, at nine years old, she piled a bunch of log pieces into her first impromptu sculpture, a creation her mother kept and encircled with a flower garden.
"Since I was two years old, I've always wanted to be an artist," Richard maintains, explaining that she would be "scared to not have the ability to do something that would be around forever," something that would outlast her. Chainsaw carving suits her because of its size and speed. It satisfies, "every artistic need I ever had," Richard says. The garage that serves as studio for Richard and her partner Russel Ehart, a professional carver from Kansas, abounds with testament to the truth of her statement. Skirting the perimeter are carvings of pineapples, acorns, pumpkins, apples, an ear of corn, and whole bouquets of flowers in varying degrees of completion. If you pause to relax in an easy chair in her living room, a drunken centaur greets you. Moses opens his arms from the stairway. The desk holds a silken smooth walnut bust of Martin Luther King that represents hundreds of hours of work. (In this house you hang your coat on a tree limb.) If you peer between the trees as you approach the house from the roadway, you can even spot an abstract face among the trees welcoming you. Some of the carvings are Richard's, the other, Ehart's.
And some they have carved together. Richard and Ehart have recently returned from a stint at the Ridgway Rendez-vous in Pennsylvania, where they were part of a group of 170 carvers producing artwork to benefit the Make a Wish Foundation. Chainsaw carving is unique, Richard points out, because in no other art form are you ever able to "see an artist make art." The performance aspect of her new medium is not one she is sure she enjoys. "You get really dirty doing this," she explains. "I'm not used to doing that in front of people."
But the teamwork is magical. Carving together with Ehart is "more connecting than any other relationship I've ever had," Richard says. "It's as if we have one mind." They work on the piece at the same time; two saws circling; what one begins, the other finishes; synchronicity and symbiosis. Do they plan ahead for these double-duty designs? For the piece for the Ridgway competition Richard and Ehart brainstormed a bit, agreeing on a subject, but did no preliminary sketches. Richard wanted to create something unique — she refuses to carve bears, feeling they are the clichéd expectation of her artform; Ehart wanted to make something that would sell — the money earned at auction was destined for a worthy cause. Ehart likes to carve people, so they settled on the subject of a Native American. But for Richard it had to have meaning; it needed political importance. So rather than carving the typical cigar store Indian, the two created a six-foot tall carving of a kneeling Indian, in full headdress, holding a peace pipe, eyes raised. Their finished product, "Peace Offering," sold for a thousand dollars, the fourth highest price earned of the two hundred pieces sold at the festival. Another of the collaborations, an eight-foot replica of the logo for Casey's Restaurant, stands at the establishment at Gore Mountain. This piece was carved by Ehart, painted by Richard.
Richard has found more than her medium with the chain saw carvers; she has found her niche in the art world. "I never felt accepted by groups of people," she explains. She didn't fit in with other groups of fine artists. She was just a country girl who did art. Her connection with the others in her field began over the Internet, where she sought advice from people who'd picked up a saw before her. Now she has completed about thirty carvings and started her own business, Artist-Tree, for custom orders. Her carving of local businessman Pete Ward stands guard over Pete's Storage facility on Route 12. Her "Dozen Roses" was raffled off last year to earn money for the Remain Senior Class, to which she was advisor. Her cubist angel, from an early festival, rises out her aunt's yard in Saranac Lake, and an iris carving has made it all the way to the state of Washington.
It is perhaps the first warm and sunny day of spring in upstate New York when Richard dons her bright pink chaps, pulls on her hardhat, lowers her face guard, secures her safety goggles, covers her ears with her ear protectors and gases up her Stihl MS 180 C. She puts on her gloves and hoists the nearly ten-pound saw. Neighbors have already wandered over, encouraged her to get to work; it has been a long winter without carving. Sweet-scented pine simmers in the wood stove. Sawdust coats the floor, collects in corners, floats through the air. "My life is sawdust," Richard jokes before she begins carving. Sometimes she sketches with spray paint before she makes the first cut. But not today. "The hardest thing was learning to start the saw," Richard admits. No one would help her because they thought she couldn't do it, believed she would get hurt. There is more than a touch of defiance in her voice as she exclaims, "but I am good at it now." And she is right! Under her guidance the saw eats the edges, the leftover places, the unwanted, unneeded pieces. Richard never pauses until the flower is visible in the tree trunk. Then she steps back, lifts the helmet's face guard, rubs her chin and considers. She carves some more. Then she switches from saw to angle grinder, from faceguard to surgical mask. This tool, with a rotary disc, smoothes the inside of the petal, curls its outer edge like a lip. Under its higher-pitched whirring, the wood's grain emerges, like something alive. After about a half an hour's work, Richard relaxes. When asked her goal as an artist, Richard has explained, "I want to carve things that make me happy." The carver is eight months pregnant with her third child. She says the rhythm of the saw calms the baby inside her. Outside, the hunk of black walnut stands shimmering in sunlight, looking as if it always knew it held a rose inside.
(Ruth Ann Dandrea (Blynt), a high school English teacher from Holland Patent, NY, writes fiction, poetry, and non-fiction for various literary magazines.)