CD and DVD Reviews
By FRANK BEHRENS
ART TIMES online February 2010
To the Readers:
Since my last website collection of reports on recordings musical on DVD and CD, much has come my way. Each of these items have already appeared--more or less as seen here—in Keene Sentinel, Brattleboro Reformer, and Bellows Falls Town Crier. I hope they are of some value to Art Times Journal readers.
INSTRUMENTAL
Chamber Music to See and Hear on DVD and CD
QUINTETS EuroArts musical DVDs have the motto "Listen with your eyes," which is exactly what one does with a video such as "Mozart [and] Beethoven: Quintets for Piano and Wind Instruments." The program on the disc is in three parts.
It begins with a performance of Beethoven's "Quintet for Piano and Wind Instruments in E-flat major, op. 16," which is followed by Mozart's Quintet in the same key (K. 452). The players are James Levine (piano) and four members of the Ensemble Wien-Berlin: Hansjorg Schellenberger (oboe), Karl Leister (clarinet), Gunter Hogner (horn), and Milan Turkovic (bassoon).
The program notes are quite good in pointing out the similarities (which are obvious) and the differences (which are not so obvious) of the two works, one in the Classical and the other in the Romantic tradition. I find the Mozart piece especially lovely, the Beethoven more stirring.
While actually seeing the players is a much more rewarding experience than merely hearing them on an audio disc, it is up to the director—in this case, Jean-Pierre Ponnelle—to instill some variety into the shots without getting too "arty." Here, Ponnelle takes a middle course, which is just fine with me.
There is a 46-minute bonus titled "We have a lot of fun," which is a chatty history of the group that sometimes gets a little too cute. I was annoyed to find it all on a single track, but that might be a quibble since I plan never to watch it again.
But the performances and the pieces are so beautiful that I must recommend this DVD to all lovers of fine music.
ITALIAN CLARINET SUITES Because I am partial to the sound of the clarinet, I listened to a Naxos CD titled "Italian Clarinet Suites" and found it simply gorgeous! Clarinetist Sergio Bosi and pianist Riccardo Bartoli combine their skills in performing three suites by Alessandro Longo (1864-1945), Ferruccio Busoni (1866-1924), Antonio Scontrino (1850-1922), and Giuseppe Frugatta (1860-1933).
At first, I feared that some of the more recent pieces would be ear-tormenting experiments in the atonal school; but each proves to be very melodic and quite enjoyable. The program notes will supply some minimal information about the composers and pieces. The music will speak for itself.
Complete Haydn Symphonies are Now in Boxed Set
HAYDN SYMPHONIES The problem for collectors like me is an obsession for completeness. So if Joseph Haydn composed 104 symphonies, then 104 symphonies I must have. I came near but never reached my goal until Sony Classical released a set of "Haydn, The Complete Symphonies" in a boxed set of 37 CDs. And not only does the set include all of the symphonies but even some sinfonia concertante's.
While I quite enjoy these works played by smaller forces than is usual on recordings—in this case the Stuttgarter Kammerorchester under Dennis Russell Davies—I wish the producers had cut off the applause at the end of each work, a feature that usually makes me avoid non-studio recordings.
The booklet lists the symphonies on each disc, but does not give the track numbers for each movement, which makes it very difficult to find a particular part without hitting the repeat button and making one's own listings. Since each disc holds at least two symphonies, this becomes a problem.
For some reason, the producers decided not to present the works in order of their numbering—for instance, Disc 1 holds Symphonies 1, 37, 18, and 2—but in groups described as follows: early symphonies, first symphonies written for Prince Esterhazy, the "storm and stress" works, symphonies written for entertainment purposes, symphonies for the public at large, and the London symphonies. I am going to make a list to paste on the top cover of the box so I can easily find which symphony is on which disc without searching through the booklet!
Despite all that, Haydn lovers will want to own this Sony Classical collection.
Local Artists Play Baroque Gems
FEZISHIN Now and then, a local artist impresses me enough to recommend a recording or two. Frank Fezishin came a long way from Hungary to Washington, NH, where he just celebrated his 70th birthday by completing another CD of trumpet music from that most musical of all periods, the late Baroque.
Frank was taught to play the trumpet by his father, who was solo trumpet of the Hungarian State Opera in Szeged. He escaped from Budapest during the 1956 uprising, and continued his studies at the Juilliard School of Music.
In the past, I reviewed two CDs by Mr. Fezishin, who is "trumpet soloist, arranger, educator in his own right": "Trumpet Music from the Baroque" (2002) and "The Classical Flugelhorn" (2003). They were on his own label, Tromba Classics, and I enjoyed them immensely. The main reason is that Fezishin displays such obvious enjoyment in playing the music of his choice that it spills out into the ears and heart of the listener.
The recent offering is "Heroic Music for Trumpet & Organ," which I am playing yet again even as I write these words. Accompanied by organist Dr. Walter Hilse, Fezishin opens the program with the lively Trumpet Overture from Henry Purcell's "The Indian Queen." This is followed by three Renaissance dances by Claude Gervaise and a very familiar rondeau by Purcell.
One of my favorite composers, George Phillip Telemann, is represented by his 12-part "Heroic Music," in which musical life is given to such virtues as Honor, Grace, Bravery, Gentleness, and so on! Mr. Fizishin has captured the mood of each admirably. A sonata by Pavel Josef Vejvanovksy and the lovely Largo from Georg Friederich Handel's "Xerxes" end the program.
There are passages of great beauty throughout as well as exciting ones. All of the pieces are edited by Fezishin to create maximum effect for the trumpet-organ collaboration. The expert playing of Hilse is part of the chemistry between the two artists.
Copies can be purchased by visiting the website at Trombaclassics.com. Also, considering the season: with prices as they are, a CD such as this one would make an ideal and thoughtful gift to any acquaintance who appreciates good music.

BALLET ARRANGED FOR BRASS

ROMEO AND JULIET As a reporter, I must be careful and never assume that because I like something then all of my readers must or will like it too! Well, I love music for brass ensemble or brass band. I also love Prokofiev's score for the ballet "Romeo and Juliet." Therefore I doubly love the Naxos CD "Romeo and Juliet for Brass Band," and I think (note the verb) that many of my readers will feel the same.
Bjarte Engeset conducts the Eikanger-Bjorsvik Band in arrangements of 14 selections from the complete score of the Prokofiev ballet. The program notes—always very well done for Naxos recordings—explain why these 14 were chosen and why put into this particular order. Suffice it for me to say that in any order, music from this score is always a wonderful listening experience. My only objection is the short 51-minute running time.
Wonderful Ballet Scores are Revived on CDs
BALLETS The crisis in the sales of classical CDs is being met to some extent by reissuing older recordings with minimal program notes. Since the buyer can easily find the background information on websites, the reduced price of each set is a great advantage.
EMI is doing just that with many of their earlier 2-CD releases of ballet scores, some from as far back as the late 1950s, and the result is a music lover's dream. Nine of these sets have come my way and I just want to touch upon what they contain.
The first two sets hold Andre Previn's readings of the two quintessential ballet scores—Tchaikovsky's "Swan Lake" and "Sleeping Beauty"—while two other sets have him conducting Prokofiev's 20th-century scores, "Romeo and Juliet" and "Cinderella." The last includes highlights from Glazunov's "Raymonda." This Russian grouping is linked to the French works to follow by Simon Rattle conducting four Stravinsky ballets composed for Parisian audiences: "The Rite of Spring," "Petrushka," "The Firebird," and "Apollo."
The glories of the French ballet are found on 4 double-CD sets. Terence Kern conducts Adam's "Giselle," (with Act 4 of Minkus' "La Bayadere" conducted by John Lanchbery. Jean-Bapiste Mari conducts two works by Delibes: "Coppelia" (with highlights from Minkus' "Don Quixote" conducted by Lanchbery) and "Sylvia" (with Act 2 of "La Source," conducted by Charles Mackerras).
The Impressionists are celebrated in the last of the CDs in which Jean Martinon conducts Ravel's "Daphnis et Chloe," "Bolero," "La Valse," and "Ma mere l'Oye [Mother Goose]," along with Debussy's "Jeux" and "L'apres-midi d'un faune."
Note: The reason for the extra material is that the original LPs could not contain more than 30 minutes on each side, but CDs can hold up to 79 minutes.
And that is just the listing of contents. These are scores in which not knowing the scenarios does not detract from the sheer enjoyment of listening to such gorgeous music. Some of the program notes do give the story line track by track; some give a quick overview of the works in that set. Either way, this is a great way to build up a library of good renditions of the essential ballet scores.


THE ALFRED DELLER COLLECTION
Counter-Tenor is Celebrated in Spectacular Collection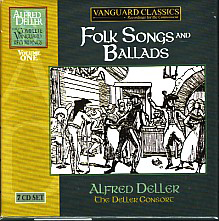 DELLER Among the glories of the Long Playing Record were those on the Vanguard label. Among the best of those discs were those with counter-tenor Alfred Deller. As soloist or joined by his Deller Consort, this artist opened up new territory for countertenors, especially in operatic roles written for castrati in which female vocalists later came to be cast.
Indeed, the Vanguard catalogue tried to include a sweeping look at the music of the Medieval, Baroque, and part of the Classic periods in the history of Western music. It became a valuable teaching aid, especially with the scholarly program notes provided with each LP. The Vanguard Classics CD transfers are just as good!
Vanguard Classics is now issuing six boxed sets of "Alfred Deller: the Complete Vanguard Recordings." Each box contains a separate CD-ROM that gives all the program notes and the texts with translations that were included in the source LPs.
            Volume 1 gathers together his recordings of "Folk Songs and Ballads"—including the three that have up to now been unavailable in this country. The first two of the 7 CDs hold "Tavern Songs, Catches and Glees" (Parts 1 and 2), along with "The Cries of London." If you think songs today are dirty, you will be surprised to know that they don't hold a candle to what was being sung in the Taverns of 18th-century England (and in the Colonies). Not a single profane word is heard (except for "So kiss my ar**," the "s" at the end being supplied by the first letter of the "so" sung by another voice in an overlapping line). It is wonderful fun.
Deller as soloist sounds like a heavenly reed instrument in "The Wraggle Taggle Gypsies," "The Three Ravens," and "Western Wind." Seldom have these simple folk songs sounded so authentic. The more sophisticated "English Lute Songs" and "Awake Sweet Love: Airs and Partsongs of John Dowland" sound more intellectual than spontaneous in comparison, as indeed they are, but just as lovely in Deller's renditions.
Deller is joined by his Consort in "The Cruel Mother" and "Folk Song Album," the latter being a collection of arrangements by Ralph Vaughan Williams. Some of the selections profit from the superb lute and guitar accompaniments of Desmond Dupres.
Volume 2, "Music of Henry Purcell," holds 6 CDs. The LPs that have been transferred are "Homage to Henry Purcell," "Music of Purcell," "Dido and Aeneas," "Music for Saint Cecilia's Day," "The Masque of Dioclesian," and "Come, Ye Sons of Art." Purcell was in his time attacked for being too avant-garde! The listener may judge to what extent he broke the rules and died the greatest British composer until others like Arthur Sullivan and Edward Elgar appeared a century and a half later.
Those who have grown just a tad tired of "Jingle bells" and "Frosty the snowman" should welcome Volume 3, "Christmas Carols and Motets." I have always thought that "The Holly and the Ivy" was by far the most beautiful LP collection of Christmas songs, sung as it is by the incomparable Deller and his group. The other original LPs in this collection are "Hark, Ye Shepherds," "Carols and Motets for the Nativity," and "Carols and Motets of Medieval Europe." Without really knowing exactly what these pieces sounded like centuries ago, I can accept Deller's version as close enough. Absolutely gorgeous!
Volume 4 has some powerful vocal pieces, as can be seen from the titles of the LPs that comprise it "The Connoisseur's Handel" (which includes "3 Coronation Anthems" and "Ode for the Birthday of Queen Anne") and his "Alexander's Feast," Bach's "Cantatas 54 and 170," "Elizabethan and Jacobean Music," Thomas Tallis' "The Lamentations of Jeremiah, the Prophet," "William Byrd and His Age," selections from "Deller's Choice" and from "Duets for Counter-Tenors" (the latter with his son Mark).
Volume 5 is devoted to "English, French and Italian Madrigals" on six discs. The names of the original LPs in this transfer are "The English Madrigal School, Volumes 1-4," "Madrigal Masterpieces, Volumes 1-3," "The Silver Swan and Other Madrigals," and "Monteverdi: Madrigali Amorosi from the 8th Book of Madrigals." The gorgeous melodies in this set can be cloying if taken too many at a time, so caution is urged.
Volume 6, also containing 6 CDs, is titled "French and Italian Discoveries, 1200-1700." The material here is drawn from "Deller's Choice," "Duets for Counter-tenors," and "Italian Songs." The last two were never released before and are quite a treat. Included are world premiere recordings of Machaut's "Messe de Nostre Dame," Leland's "De Profundis," and Couperin's "Lecons des Tenebres." Thus ends this stupendous collection with a look towards the secular and the divine.
Looking back at all six boxed sets instills a feeling of wonder at how beautiful and powerful were the ways composers expressed themselves in matters both secular and religious. Even the dirty tavern songs have a subtlety completely foreign to modern sensibilities, while calling for a style of excellent singing that underlines the impoverishment of modern songs are that can be sung by non-singers with no enunciation or deep feelings for lyrics of rock-bottom awfulness.
Regular members of the Consort are sopranos Honor Sheppard and April Cantelo, baritone Maurice Bevan, and tenors Gerald English and Robert Tear. Deller's son Mark is also found among the singers. Grab these sets while you can.
So deep thanks to Mr. Todd Landor of Musical Concepts for distributing these Vanguard Classics boxed sets of CDs and cooperating so kindly in making copies available to me. Visit www.musicalconcepts.com for more details and other sets.

ORATORIO, OPERA AND OPERETTA
Handel's "Creation" is Given a Fine Performance
CREATION ArtHaus Musik has released a wonderful DVD of Joseph Haydn's "Die Schopfung" (The Creation) that was performed at the 1990 Salzburg Festival with the Wiener Philharmoniker under Riccardo Muti. The soloists are soprano Lucia Popp (Gabriel and Eva), tenor Francisco Araiza (Uriel), bass Samuel Ramey (Raphael), and baritone Olaf Bar (Adam).
The text, the author of which is not known, is drawn from Genesis and Milton's "Paradise Lost" and the score is filled with inventive effects. The soloists would be hard to beat, and watching their expressions and body movements (but not Ramey's hairdo) adds so much more to merely hearing the work on an audio recording. Muti has opted for the German-text version, which I believe is the correct choice.
The running time is 120 minutes, the picture is in full-screen format, and the subtitles are in German, English and French.
"Ruddigore" is Given Complete in Ohio Light Opera Recording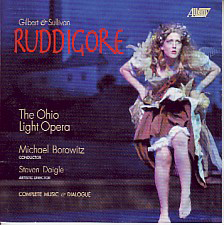 RUDDIGORE When Cole Porter's "Out of This World" premiered in 1950, the critics could not help (I assume) crying down its value because it did not compare with his 1948 "Kiss Me Kate." So when Gilbert and Sullivan's "Ruddygore, or The Witch's Curse" opened in 1887, boos were heard for the first time in their career, mostly because it could top "The Mikado" of 1885. Not fair, but that's what audiences are like. So several revisions were made, mostly cuts, for the rest of the run. And the title was changed orthographically but not phonetically to "Ruddigore." The subtitle was nearly changed to "Not so Good as The Mikado," but that silly idea was dropped.
When revived in 1920, even more cuts began to be made, the most important of which were the Act I love duet "The battle's roar is over," an Act II patter song for Robin Oakapple, and a very snappy Act II finale sequence that led into the usual reprise of an earlier number. Even the Overture, which contained the excised material, had to be revised—and not for the better.
The three D'Oyly Carte Company recordings keep most of the cuts. None of them have the snappy finale or the patter song, while the 1931 electric recording omits the duet, which is included on the 1924 acoustic and the 1962 stereo versions. The monophonic LP of 1952 has even further cuts. Including the 1962 stereo version with Glyndebourne singers and the very complete 1987 recording with the New Sadler's Wells forces, there are scarcely two recordings that are consistent in what is included.
However, what they all lack is the dialogue. And now the Ohio Light Opera company's production is out in a 2-CD set on the Albany label, and any Ruddigore-lover's fondest wish has come true. Not only are the musical cuts restored but the complete dialogue is included.
Although it lacks the period charm of the older 78 rpm recordings, the cast sounds just right for this spoof on the Victorian gothic melodrama of pure village maidens (who know how to follow the money), simple village lads (with horrible secrets), wicked baronets (who crave to be virtuous), simple seamen (who are motivated purely by self-interest), faithful family retainers (who become as wicked as their masters), village mad women (who are almost cured in the second act), and haunted castles (with picture galleries that come alive at "the night's high noon"). [The parentheses are Gilbert's topsy-turvy twists on the clichés.] And one must mention a female population entirely devoted to being bridesmaids during a depression in the marriage market.
The tunes are as delightful as any found in the other G&S works, while the dialogue spoofs the genre simply by sounding exactly like it with slight exaggerations. And, of course, the Act II patter song is the patter song to end all patter songs. Some say that the ghost music is almost too good for a spoof; but Sullivan is more of a major composer than some admit and must be given some leeway to "show his stuff." (The next work, "The Yeoman of the Guard," gives him an entire work to show his serious side.)
My only slight complaint (too strong a word for this excellent OLO production) is that the pacing of the dialogue could be a little snappier. As with all of their past G&S recordings, they speak it very slowly lest a single bit of humor escape the audience. That said, I can find little fault with any aspect of this recording. I do wish, however, they used the original, not the revised, Overture.
The cast includes Ted Christopher (Robin), Cecily Ellis (Rose), Frederick Reeder (Despard), Anthony Buck (Dick), Dennis Jesse (Roderic), Jessie Wright Martin (Hannah), and Sahara Glasener-Boles (Margaret). Unlike the male vocalists in the New Sadler's Wells recording, those here have the deep voices needed for their characters, especially the bottomless basso of Cory Clines (Adam).
While conductor Michael Borowitz' tempos are now and then a little slow, he obviously loves the score and even gives an encore of the last stanza of the patter trio.
The running time is a very enjoyable 130 minutes and the complete text is provided in the program notes.
Offenbach Spoof is a Tuneful Romp
ORPHEE AUX ENFERS When the silly rule that no operetta could have a cast larger than 4 or 5 soloists came to an end, Jacques Offenbach created his magnificent mythological spoof, "Orphee aux Enfers" (Orpheus in the Underworld). Composed in 1858 to a satiric libretto by Hector Cremieux and Ludovic Halevy—and expanded some years later, but not all for the better—it tells a topsy-turvy version of the husband who went to Hell to retrieve his beloved wife.
In the Offenbach version, Orpheus is only too delighted to lose his Eurydice and has to be convinced by Public Opinion to prove that at least one spouse loves his wife enough to risk Hell for her. In the meanwhile, the divinities on Mount Olympus are bored to death. So when Jupiter learns that Pluto has kidnapped the beautiful bride, Jupiter the great seducer becomes all pro-marriage and agrees that all Olympus can go to the Inferno with Orpheus to retrieve Eurydice and to partake of the good time that souls seem to enjoy down there.
There is an excellent German language version of this operetta available on DVD, but the only one in the original French is now on an ArtHaus DVD as "Orphee aux Enfers." The production is from 1997 and is performed at the Opera National de Lyon under the baton of Marc Minkowski.
Of course, it is costumed in a mixture of classical and modern. Disappointingly, Orpheus (Yann Beuron) and Eurydice (Natalie Dessay) appear only in modern dress. The pointy-eared ballet has females and males in the same costumes and is occasionally quite funny. But the Can-can in Act IV is disappointing without the Can-can girls who are so closely associated with this music.
Jean-Paul Fouchecourt is a droll pint-sized Pluto, while Laurent Naouri is a Jove/Jesus look alike with a baritone that commands respect. A very petite Cassandra Berthon makes a cutie-pie Cupid, and Lydie Pruvot a domineering but bald Juno.
I don't know what is going on with Dessay, however. After acting like a manic Baby Snooks in "The Daughter of the Regiment," she plays Eurydice with mugging, silly walks, and ugly screeches within her coloratura passages. Some director has to calm her down and teach her that in comedy less is always better.
As for the scenery, Olympus with pillows for clouds is a good idea. Setting the Inferno in what looks like the backstage of the theater works. But using that same setting for the opening act—along with the modern dress—makes most of Act I look like a pre-dress rehearsal. Wheeling out the wheat field is okay; but it should have been there from the opening.
Minkowski obviously is having as grand a time conducting the work as his cast has performing it. So if one can tolerate the exaggerated attempts at humor—and many think that Dessay is the cat's meow in comedy—this production should do nicely until a better controlled version appears in French.
The running time is 123 minutes, the picture is in 16:9 format, and there are subtitles in five languages.

Mozart Arias Recorded as They Might Have Sounded
MANIACI Yes, there are many recordings of Mozart arias for different voices but none like that of Michael Maniaci. It is a matter of record that several roles in Mozart's "opera seria" called for castrati [I will let the reader look that one up], only one of which lived long enough to leave his voice on a cylinder recording. Other than that, that kind of singer is (thankfully) no longer asked for or available if asked; and so mezzo-sopranos have inherited those roles.
Michael Maniaci, however, is a male soprano and, at least theoretically, the closest we have to a castrato. Therefore the Telarc CD titled "Mozart Arias for Male Soprano" should be of great value to those interested in the unusual and in the human singing voice in general. The singer is accompanied by the Boston Baroque under Martin Pearlman.
The 11 selections include two overtures (which I think is cheating) and five arias taken from Mozart's "Idomeneo," "Lucio Silla," and "La Clemenza di Tito." The program ends with the marvelous "Exsultate, Jubilate."
To some, a male soprano voice will take a little getting used to. It is no doubt a male voice, but the range is extraordinary in that the singing is full and not falsetto as with a counter-tenor. So while there might be a somewhat limited audience for this Telarc disc, it is certainly going to be a valuable edition to many a specialized library of recordings.
MUSICALS
Music from 1903 Hit Collected in CD Set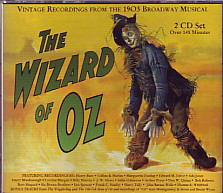 After L. Frank Baum's "The Wizard of Oz" became a best seller, the author wanted to create an operetta based on the book with composer Paul Tietjens. The producers, however, had another vision of it and convinced Baum and Tietjens to turn the project into an extravaganza with a lot of non-Ozian material. So not only Dorothy, without her dog, is sent into Oz but also a Kansas streetcar conductor and his girlfriend waitress!
All of this gives greater scope to the kind of songs that would be featured, most of them spoofing the Victor Herbert type of operetta, the rest taken from minstrelsy and early vaudeville shows. Other composers chipped in and the score is an olio of many hands and styles. Very few songs, however, have anything to do with the plot. The show was the hit of the 1903 season; but it has passed into obscurity—except for one or two revivals. Therefore what a joy it is to find a 2-CD set from Hungry Tiger Press that contains over 145 minutes of vintage recordings from "The Wizard of Oz"!
Quite a few numbers were recorded and 49 of them appear in this set. Among the voices are those of Ada Jones, Billy Murray, Harry Tally, Dan W. Quinn, and many others whose names once were instantly recognizable and today are familiar only to historians of recordings. Some selections are instrumental only; but they include melodies not heard on any other discs.
No member of the original cast is found among the soloists; but some of them are heard in songs from other shows as a bonus feature.
Of course, many of the recordings could not be perfectly relieved of their surface noise and other imperfections. But this is living history, as well as a chance to hear a delightful score from a play that was the cat's pajamas so many decades ago.
To increase the value of this set, there are two booklets. One has background information and program notes for each of the 60 selections in the set. The other, for which I am most grateful, has all the lyrics, accompanied by photographs of the original production. How nice it would be for some troupe to restore this work to the stage!
Film of Kern Musical is Restored on DVD
SUNNY When Jerome Kern's musical "Sally" (that's the one that introduced "Look for the silver lining") proved a hit in 1920, its star, Marilyn Miller, was THE female name on Broadway. So it was natural to seek her services for a follow-up titled "Sunny" in 1925. It was more or less a review with a plot that allowed Miller to do her thing and little else.
Hollywood was alerted and starred her in three films, one of which was "Sally" and another "Sunny." Now that Warner Bros. has released "Sunny" as part of their epic Archive Collection, students of the American musical can actually see Ms. Miller perform.
Well, let us say that she must have been a lot better on the stage than in this 1930 film. First of all, the ancient Vitaphone sound is pretty awful, giving no idea of what her voice really sounded like and making some of the dialogue very hard to follow. When she dances, however, things do sparkle. Her acting abilities are limited and her face is just a little chubbier than one would wish—and she does look like a munchkin next to the taller male actors around her.
In the cast are Lawrence Gray, Joe Donahue, O.P. Heggie, Inez Courtney, Barbara Jefford, and others who have faded from movie history.
The original show had 20 musical numbers. The film has retained about 4 of the
dances and 4 of the songs, one of which is the title song and the other the classic "Who (stole my heart away)?" As in many musical films to follow, the plot takes up far too much time. I will ignore it here.
But who would want to miss a chance to see Miller managing to upstage them all. This is theatre history. It is also a chance to hear some vintage Otto Harbach Oscar Hammerstein II lyrics set to Kern's music.
Note: Because the Archive Collection can be purchased as a download, the DVDs can be played only on "DVD video 'Play Only' devices." So if you use only your PC to play DVDs, this will not work.
The Musical That Wanted to be Kismet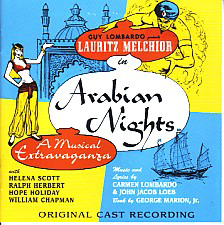 ARABIAN NIGHTS Although I lived in New York City, I never did get out to Jones Beach to watch the spectacular shows they mounted there. So in 1954 I missed "Arabian Nights," with music and lyrics by Guy Lombardo and John Jacob Loeb and book by George Marion, Jr. Now Sepia Records has partially restored what I missed with a CD of 12 numbers from the show, along with 10 bonus tracks of other recordings of the same songs.
The plot is quite negligible, but it must be pointed out that "Arabian Nights" was created when Lombardo found he could not get "Kismet" to Jones Beach. So "Arabian Nights" has a Wazir (or Grand Vizier, as he is called here) with a Gilbert & Sullivan-sounding solo, a Sultan (Lauritz Melchior) with a punishment song straight from "The Mikado," Sinbad (William Chapman), a teenie weenie Genie (Jack Dabdoub), and all the expected exotic characters, including a whale.
Speaking of which mammal, the score has a song "A whale of a story" that is too close for coincidence to "A whale of a tale" sung by Kirk Douglas in the film "20,000 Leagues Under the Sea" that came out the same year.
While none of the songs are great, they are all good; and it is interesting to note how carefully the singers articulate the lyrics, instead of garbling them in the current fashion. Not only is this score worth the hearing, the entire show might be worth the reviving by some local musical group who wishes to do something different with a huge cast and easy-to-sing numbers.
So once again, I have to say, "Thank you, Sepia."
1920 Musical is Restored in a Lively Performance
FLY WITH ME I am forever grateful to the "small label" companies that make available CDs with material unattainable anywhere else. Such is Original Casts Records, which specializes in older recordings of well and little known musicals such as "Fly With Me."
It was first produced by the Players Club of Columbia University as their annual Varsity Show. (So far, so good.) The President of the Players Club at the time was named Oscar Hammerstein II. (Better still.) And the composer and lyricist he chose were the practically unknown Richard Rodgers and Lorenz Hart. (Aha!)
The plot takes place in the future (1970) on a Soviet-owned island…. Well, the program notes to the Original Cast CD outlines the plot nicely. My copy of "The Complete Lyrics of Lorenz Hart" shows 13 songs with Hart's words. The recoding has 18 songs, not counting the orchestral segments and a reprise.
Consider, however, that this 1980 version was recorded (before an audience) with "additional lyrics" by Hammerstein. As much as I usually dislike taking liberties with historical shows, the results are so delightful, so 1920ish half-operetta, half modern-musical, that I say "Who cares?" as long as none of the original songs and score is lost.
The lyrics are indeed included with the program notes, albeit in subatomic size.
The young performers really throw themselves into the fun of the thing, while lovers of Hart's lyrics will certainly spot him as the creator of such a song as "Don't love me like Othello"! And the music of the 17-year old Rodgers already shows the promise of his more mature works.
No lover of the musical theatre should pass this one up!
MISCELLANEOUS
DG Celebrates Its 111th Birthday with Classical Music on Film
Reissuing older recordings in new boxes or jewel cases calls for various justifications. Usually, it is simply to resell the CD or DVD at a lower price. Sometimes, as is the case with "111 Years of Deutsche Grammophon," it is the company celebrating itself. Since it was in 1898 that the DG company was founded in Hanover, Germany, the "111 Years" of the title makes sense and looks good. The contents, however, belie the title.
There are 13 DVDs that are devoted to films of concerts, ballets and operas that were made from 1955 to 2005, accounting only for one aspect of DG products made during just under 10% of the advertised 111 years. There are some clunkers among them, but for the most part, this is a terrific set to own—if one does not already own single copies purchased when originally issued.
Starting with the operas, the 1967 "Carmen" is another case of no one having the nerve to tell Herbert von Karajan that he did not have a clue about directing operas on film. Grace Bumbry, Jon Vickers, and Mirella Freni do their best in the lead roles; but the staging is simply amateurish. And the opening chorus in Act IV is cut, while there is time for an interpolated ballet in Act II.
The 1954 "Don Giovanni," filmed in Salzburg, is a treat, what with Cesare Siepi as the Don. Although the tenor loses an aria, Wilhelm Furtwangler conducts the score with power and a fine sense of drama.
Carlos Kleiber is in his Viennese element in the 1979 film of Richard Strauss' "Der Rosenkavalier," with a cast that might not be vocally perfect but is certainly dramatically so. Gwyneth Jones, Brigitte Fassbaender, and Lucia Popp all create believable characters.
Wagner's "Ring Cycle" was given a very controversial treatment at Bayreuth 30 years ago, when Patrice Chereau set each of the operas in a different time period, from pre-French Revolution to the 1920s. Siegfried in a dinner jacket, and all that! But it worked, as one can witness from the 1980 "Die Walkure." Here Pierre Boulez conducts a fine cast with Peter Hofmann (Siegmund), Gwyneth Jones (Brunnhilde) and Donald McIntyre (Wotan). It is almost traditional, compared with more recent "concept" approaches to this ancient northern tale.
The 2005 "La Traviata" is a Eurotrash nightmare that not only utterly wastes Anna Netrebko and Rolando Villazon but the viewer's time and money. I will say no more.
1967 saw Von Karajan conducting Verdi's "Messa da Requiem" at La Scala, with soloists Leontyne Price, Fiorenza Cossotto, Luciano Pavarotti, and Nicolai Ghiaurov. For better or worse, this conductor does have his own ideas.
"The Making of West Side Story" (1984) is really the making of the recording with Kiri Te Kanawa and Jose Carreras miscast as the young lovers and the always dependable Tatiana Troyanos as a bonus.
"Swan Lake" (1966) boasts Margot Fonteyn and Rudolf Nureyev and is worth seeing for that alone.
As samples of a concert on film, there is Maurizio Pollini as soloist with Karl Bohm and the Wiener Philharmonker playing "Beethoven's Piano Concertos 3 & 5" (1977), and Anne-Sophie Mutter, in a very tight red gown, as soloist and conductor in Mozart's "Violin Concertos 4 & 5" (2005).
Last of all, and the most original of nearly any similar video I have seen, is Prokofiev's "Peter and the Wolf" with two sound tracks. The English one is narrated by Sting, who is effective. The cast consists of humans, humans dressed as marionettes, actual marionettes, and a circus troupe. The result is the best rendering of the Peter story I have encountered; and children as well as adults will enjoy it.
The tiny tots might not be all that appreciative of several of the characters continuing to be seen during Prokofiev's "Overture on a Hebrew Theme" and "Classical Symphony." But if any approach will lead youngsters to classical music, films like this one will be among the contenders.
So there we are. This is a mighty collection, while not a perfect one. Let's see what other surprises the Big Record Companies have in store for 2010.
HANDEL DOCUMENTARY SHOWS LITTLE IMAGINATION
BAROCKSTAR I was much disappointed with the ArtHaus DVD titled "Barockstar: George Frideric Handel." The title is the only original thing about it. The actual film hearkens back to those budget-priced tapes before DVDs that tossed together a bunch of tourist sites and paintings as the composer's music played and some simple narration was heard over it all.
This film tries to give, in a short 60 minutes, the important facts about Handel's life and works and does not quite make it. Only a tiny percent of his works are mentioned and nothing about his colorful personality. Some scenes from two or three of his operas are shown, but in that absurd modern dress with minimal scenery that has become required in opera houses.
The narration is pedestrian and makes one long for that televised series of talks about famous composers in which Peter Ustinov kept the listener informed and amused with his witty delivery. A half-dozen interviews with people who have made Handel a part of their lives are crammed into 18 minutes of "bonus" material.
Yes, "Barockstar" might be suitable for an introductory college course in music history. More informed viewers will demand more.

A Talented Singer is Wasted in Las Vegas
LIZA There is a bonus segment on the MPI Home Video DVD titled "Liza's at the Palace" in which she is interviewed. That is the only place on this disc that we see her as a human being. The 2-hour main feature is her complete act as it was given at the MGM Grand in Las Vegas on October 1, 2009; and during every minute of it, she is a personality, not a person.
The very cover shows her in the most clichéd pose: sitting on a stool, back arched, upstage leg raised, head looking straight up at the hand microphone that is held upside-down above the head. During the show, she cannot say anything without breathiness, dramatic pauses, half-suppressed laughs, and a look at the audience to cue in applause for the mention of a name or song title. And there is, of course, the obligatory obscene word that passes for humor today.
(She keeps referring to Kay Thompson, whose influence on her life is explained in the program notes and interview; and in fact the show is dedicated to this multitalented person.)
How I wish she would just sing, which now and then she does; but she will never match the simple grandeur or the sincere delivery of her mother, Judy Garland. Yes, Liza has talent. But like a tasty seafood dish that is buried in cloying sauces, that talent is hard to discern under the glitter and posing that seems absolutely essential to a Las Vegas show.
To add variety, a few numbers are shared with a male quartet, which is always a welcome relief in a one-person show. Remembering the flak John Simon took when he referred to her looks in a review of her act many decades ago, I must say that age has made her more attractive. And I mention her age only because she does too!
Among the numbers in the program are "Teach me tonight," "Basin Street Blues," "Liza," "Look for the silver lining," "Cabaret," and "New York, New York." There are subtitles for both dialogue and lyrics. So let me leave this one to the reader as a matter of taste.

RELATING READING
New Book Features "The Complete Lyrics of Johnny Mercer "
LYRICS OF JOHNNY MERCER Coinciding with a new DVD devoted to the life and works of lyricist/composer/singer Johnny Mercer comes a book from Knopf titled "The Complete Lyrics of Johnny Mercer," edited by Robert Kimball and others.
This 462-page tome measures 11x12 inches and contains the lyrics to over 1,000 songs written by Mercer. The first comes from 1930, the last from 1989, and there are about 36 pages of undated lyrics that some devoted future Mercer-researcher might place where they belong in the chronology. While watching the DVD "Johnny Mercer, The Dream's on Me," I kept exclaiming when I heard some old favorite, "He wrote that one too!" Now that I have all of his output before me, the "that-too's" will increase geometrically.
After some introductory remarks, one by Mercer himself, the Knopf book breaks the material into years. Each chapter gives the lyrics to the show(s), film(s), and independent songs written during that year. It is very easy to follow his development—which is from good to terrific—as a lyricist; and to find any specific song, one need only refer to the long index.
Each section begins with a full page photograph of Mercer and associates or scenes from the show or film to follow. (This organization is consistent with the other volumes in this series.)
Among the films with Mercer lyrics are "Second Chorus," "The Fleet's In," "You Were Never Lovelier," "The Sky's the Limit," "The Harvey Girls," "Centennial Summer," "Dangerous When Wet," "Seven Brides for Seven Brothers," and "Daddy Long Legs." He wrote the lyrics to the song "Laura" only after the film was such a hit.
Among his Broadway shows are "St. Louis Woman," "Texas, Li'l Darlin'," "Top Banana" (with his own music), "Li'l Abner," "Saratoga," and "Foxy."
I cannot even begin to name all of the songs with Mercer lyrics. But among the best are "And the angels sing," "Any place I hang my hat is home," "Blues in the night," "Days of wine and roses," "Dearly beloved," "G.I. jive," "My shining hour," "One for my baby," and "Skylark."
This entire Knopf series is proof that good lyrics can be as worthwhile as good poetry not intended to be sung but read aloud. While not as clever as Larry Hart or Cole Porter, Mercer's lyrics have a straightforward appeal to the imagination without any of the cynicism of the others. This is indeed a volume worth opening up at random and delighting in the words—if one can possibly keep the music out of one's mind.
Other composers celebrated in the Knopf "Complete Lyrics" books are Ira Gershwin, Irving Berlin, Cole Porter, and Lorenz Hart.d

fbehrens@ne.rr.com