CD and DVD Reviews
By FRANK BEHRENS
ART TIMES OnlineDec 2009
Quite a few musical CDs and DVDs have come my way since my October entry. I am grateful that websites do not have the same word limitations as do printed journals!
Here are my "off-month" reports on recordings musical that have appeared up my way in Keene Sentinel, Brattleboro Reformer, and Bellows Falls Town Crier.
Perhaps some ideas for seasonal gifts will be found below. In any case, I wish all my readers Happy Holidays and Holydays.
Opera
Film Version of "La Boheme" is Saved by Its Tenor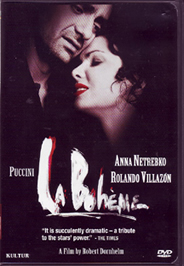 It would take a lot to ruin a production of Puccini's masterpiece, "La Boheme," although one or two "concept" stagings have tried. Director Robert Dornhelm, admittedly not an opera director, could not resist making a film version when he was offered superduper-stars Anna Netrebko and Rolando Villazon as the lovers Mimi and Rodolfo; and this version is now available on a Kultur DVD.
In this report, I am going to recommend it--although it has more faults than merits—for the one reason I will give below.
First of all, it is a studio recording in which the cast lip-synchs to a prerecorded soundtrack. But only some of the artists seen on the screen are mouthing to their own vocalizing: Netrebko, Villazon, Nicole Cabell (Musetta), and Vita Lij Kowa Ljow (Colline). The rest of the cast consists of actors are obviously lip-synching to the voices of others. Indeed, in the crowd scene in Act II, the chorus is heard but not one of those seen on the screen seems to be singing at all.
Another directorial no-no is to kill the effect of a knock on the door followed by an off-stage voice or the effect of a sudden entrance, when that character is seen coming up the steps a few moments earlier. Even worse is showing Mimi in her room listening to the men early in Act I, thereby utterly weakening her first appearance later into the act.
And where is the sense of fun in the first half of the act before Mimi shows up? Since two of the four men are not the ones heard on the soundtrack, they make for somewhat dull vocal jollity. At least three of them look like they are really starving, as contrasted to so many other productions in which they all look like they need a diet, not a meal. Also, as one review points out, they look far too old for young Bohemians.
Worse still are the subtitles created by Director Dornhelm himself. Every single pun in the first part of Act I is translated so that the pun is lost. When Rodolfo's play manuscript is burning, Colline comments (in Italian) that he finds it "scintillating."—which exactly describes burning paper. The subtitle here becomes "It's great." I leave the rest of the butchered humor to the viewer to find, if they know or can follow the original Italian.
Last of all, I suspect that Netrebko is riding more on her looks than on her acting or singing ability. I will forego comment on the latter but I must say I can't say much about her adding anything new to the character of Mimi other than she stage manages her first meeting with Rodolfo.
However, I must say that Villazon redeems the film by giving us a hero that is human, believable, and intense, while looking like a starving poet who finds true love and a life-threatening fact of nature to be overwhelmingly incompatible. He alone makes this film worth seeing. So, thanks to Kultur for making it available.
The running time of the film itself is 109 minutes, that of the bonus material 71 minutes. The opera is in 2.35:1 widescreen, the bonus material in 16:9. The interviews are filled with clichés, while the "Making of …" feature is only of minor interest.
A Nearly Forgotten Opera is Now on DVD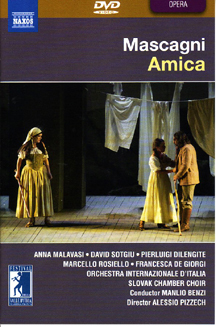 Yes, some composers have proven to be a "one-opera man." Beethoven was one because he wrote only one opera (although he gave it four overtures). Boito was one because he only finished one and left a second incomplete. And poor Mascagni is one because he wrote many operas that never quite matched his wonderful "Cavalleria Rusticana."
Mascagni tried never to repeat himself musically, but I wonder why he ever bothered with the plot of his 1905 "Amica," composed to a French libretto by Paul Berel. It was a treat to see a production, albeit a modest one, of this work on a Naxos DVD, as performed in 2007 at the Palazzo Ducale, Martina Franca, Italy by a game cast conducted by Manlio Benzi.
"Modest" describes the plot as well. Amica (Anna Malavasi) loves Rinaldo (Pierluigi Dilegite) and not his brother Giorgio (David Sotgiu) who of course loves her. Her guardian, their father, insists she marry the son whom she does not love. So much for Act I. She runs off to the mountains with Rinaldo (who is unaware of his rival's identity). When he learns that it is his beloved brother, Rinaldo waives his rights to Amica and she…. Well, let me not spoil the ending.
After a beautiful opening chorus, which seems to harken back to the one that opens "Cavalleria Rusticana," the score is mostly of the "declamatory" style that proved so popular once Wagner showed the way. Unfortunately, most composers followed the way but without the genius needed to bring it off. So while "Amica" is an interesting example of where opera was heading in the early 20th-century and has some impressive musical moments, it will never prove popular to wider audiences than the one heard applauding on this DVD.
The direction is fairly primitive—the director has no idea what to do with choruses—and the symbolic staging of the climax does not convince. The one bit of "sexy" staging simply does not work. Still, this 80-minute work is certainly worth the viewing.
Note: My copy ended abruptly after the end titles and shut itself off rather than returning to the main menu.

Cyrano Deserves Better than This
I have heard boring opera scores in my time—especially those in so-called 12-tone style—but never have I heard one so incompetent as the one Franco Alfano composed for the opera "Cyrano de Bergerac"! Alfano has before now been known mostly for completing his master Puccini's "Turandot" (and botching it badly). But since the Metropolitan Opera has decided to revive "Cyrano," his reputation has now to stand upon the very shaky foundation of what he did with this work.
There are now two videos available on DVD. The one I saw is on the Naxos label; and it is from this version that I draw my conclusions.
Not all that long ago, there were some recordings by a group called the Mannheim Steamroller, who played selections by this or that composer or genre all at the same volume and tempo with no pause between them, no dynamics, no other variety, so that one just blurred into the next. This is exactly how I felt during the first two acts of "Cyrano." Every one sings at the same volume, with no hint of a melody, no hint of characterization, no relation to what the text was saying.
In the Garden scene (Act III), Roxanne and the men manage to sing a little more softly; but things soon return to their top-of-the-voice monotone. It is only for a few moments in Act IV, when Cyrano asks the fifer to play a nostalgic air to get the cadets' minds off their starvation, that the music actually fits the mood and the words. Then it is back to the Alfano-steamroller.
Poor Placido Domingo tries to get some characterization into the title role but is stopped at every turn by the absurd score. Sondra Radvanovksy, who looks far too matronly for the young Roxanne, gets some applause by negotiating a long tuneless passage with excellent breath control. Rod Gilfry can do nothing with a De Guiche that is reduced to a minor character with most of his lines cut out.
Yes, almost all of the libretto is faithful to Rostand's original French text. However, the cuts are so extensive that the dramatic flow might leave anyone unfamiliar with the play wondering exactly what is motivating the characters.
The production is better than the opera deserves. It was filmed in 2007 at the Palau de les Arts "Reina Sofia" in Valencia and conducted by Patrick Fournillier, who obviously saw more in the work than I can. Alfano's defenders are numerous; and I would be willing to listen to their reasons for loving this score.
The picture is in 16:9 ratio, the subtitles are in French and English, and the running time is 141 minutes. There are no bonus features.
Victor Herbert Operetta Has One Foot on Broadway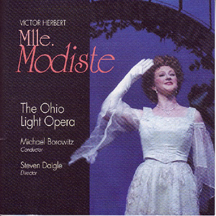 By 1905, it was starting to be difficult to tell Victor Herbert operettas apart from the musical comedies of that time. Sigmund Romberg's "Student Prince" (1924) for example, sounds very European, while Herbert's "Mlle. Modiste" (1905) sounds like early Jerome Kern. The tunes are snappy, the lyrics bordering on intelligent now and then, the plot (alas) just as cliché-ridden as most of the others.
Still, it is so good to hear the score with most of the original dialogue, albeit only on CD, performed well by a company that is turning more and more to early musicals. Yes, it is the Ohio Light Opera that is featured on this 2-CD set on the Albany label. Aside from an occasional line reading that implies "isn't this a funny show?" the singing is up to OLO standards, the acting is more than adequate, given the lines the cast has to speak, and the whole thing is a lot of fun.
The two "big tunes" are "Kiss me again" (that comes as the last part of what is known as an "audition" song) from Act I and "I want what I want (when I want it)" from Act II. The funniest lyrics of all—and every English teacher should copy them and hand them out to the class—are those in "Ze English language." (The rest of the show is done without the annoying "French" accents.)
The plot is concerned with Fifi (Sara Ann Mitchell), a salesgirl in a Paris hat shop, who wants to be a singing star. She is courted by Capt. Etienne (Todd Strange), whose family considers her too low for him, and by the pathetic Gaston(Jacob Allen). It is easy to guess which one she loves and which one gets her at the end.
Michael Borowitz instills good humor into the playing of his Ohio Light Opera Festival musicians and vocalists.
To those who miss memorable melodies in what once were musical comedies and to those who are interested in the development of the American musical stage play, "Mlle. Modiste" is not to be passed over.
Ohio Light Opera, why not release some of your productions on DVD?
Ballet
"Rite of Spring" is Recreated by Marinksy Troupe
No one doubts that Igor Stravinsky's collaboration with the Ballets Russes early last century set the standards for most of the innovations in dance as an art form. Stravinsky made his fame with "The Firebird" in 1910 and nearly ruined the company with his "scandalous" "Le Sacre du printemps" (Rite of Spring) in 1913.
Up to now, videos of "Rite" either did not exist or were out of print, but I did catch a PBS special that included a complete recreation of the original Nijinsky choreography, costumes and setting. It was gorgeous but never was issued as a video. At long last, BelAir Classics has issued a DVD not only of the original staging of "Rite" but also that of "Firebird" with the Fokine choreography—and I cannot recommend it highly enough.
The two were performed as a double bill at the Marinksy Theatre in 2008 and conducted by Valery Gergiev. My only slightly negative comments are these. Ilya Kuznetsov chooses or is directed to play the character of Ivan in "Firebird" with a smug look that makes him quite unsympathetic. In "Rite," Alexandra Iosifidi as the Chosen One shows no fear at all after she realizes she is the one to be sacrificed; although her knees are trembling (as is called for by the choreography), her face remains impassive. Also the Busby-Berkeley-style overhead shots are poorly handled and an annoyance.
Putting all this quibbling aside, the chance to see at last the original settings for "Rite of Spring" is enough to recommend this disc to a wide audience.
The original choreography for "Firebird" was recreated by Isabelle Fokine and Andris Liepa; for "Rite" by Millicent Hodson. The two ballets' running time is 85 minutes, that of a bonus interview 38 minutes. The picture is in 16:9 widescreen and there are subtitles for the interview.
"Peer Gynt" is Transformed into an Impressive Ballet
As is Goethe's "Faust" to Germany, Ibsen's "Peer Gynt" is to Norway. And it is obvious that both are long and deep masterpieces that can be turned into an opera only at the cost of losing most of their literary value. A further step away from a great original work is turning it into a ballet, as has been done in "Peer Gynt" with choreography by Heinz Spoerli.
A DVD from BelAir Classics preserves a performance given in 2008 at the Zurich Opera House, conducted by Eivind Gulberg- Jensen. In 110 minutes, it recreates in dance many of the episodes in the play, adding some spoken dialogue and some of the songs (all in German) Ibsen scattered throughout his text. This calls for three Peers on stage: the dancer (Marijn Rademaker), the speaker (Philipp Schepmann), and the singer (Boguslaw Bidzinski). And so on.
The music is mostly by Grieg. I found the weakest moments in the ballet to be those with more contemporary music by Mark-Anthony Turnage and Brett Dean. One sequence set to Dean's music adds nothing dramatically and resembles a gym class routine more than anything to do with the story. It is also very unpleasant music by itself. Spoerli writes in the program notes that the music expresses Peer's confusion and also calls for "a modern expressive style of dance." I call it a miscalculation.
Otherwise, this ballet has many stunning sequences. "Anitra's Dance" is spectacular, as performed by Rademaker and Julie Gardette. The leaps of the King of the Mountain (Arman Grigoryan) are fabulous, while Death (Vahe Martirosyan) is a muscular being of frightening aspect.
Solveig's two songs are among the most beautiful ever composed. In this performance, the faithful Solveig is danced by Yen Han and sung by Agnieska Adamczak.
All things considered, I thoroughly enjoyed almost all of this modern translation to the dance stage of a great literary work and can heartily recommend it to all lovers of the dance (and of Grieg's music, of course).
There are English subtitles to help with the dialogue but no bonus features at all. The picture is in High Definition and in 16:9 ratio.
Composers
Film Documents Tchaikovsky's Tortured Soul
Did you ever hear a long, tragic story about someone you know or simply admire, that left you totally depressed? That is how I felt after viewing "Tchaikovsky: Two Films" on an Allegro Films DVD. One of The Christopher Nupen Film series about famous composers, this documentary is in two parts.
The first, "Tchaikovsky's Women," concentrates on the composer's infatuation with one or two women and several fictional ones. For example, he became so closely attracted to Tatyana in "Eugene Onegin" that (we are told) he actually fell in love with her and poured his own emotions into her Letter Scene.
The second part, "Fate," concentrates on his strange relationship with his sponsor, Nadezhda von Meck, with whom he only corresponded and never spoke. The narration dwells a good deal of his obsession with his own homosexuality and belief in Fate, both of which plunged him into a depression which can be found in his music. That is a very tenuous thesis at best, and should be taken with a good deal of salt, considering he also composed the sparkling "Nutcracker" score.
Further, I am not sure of the truth of the story that Tchaikovsky's former friends and colleagues gave him poison and demanded that he commit suicide, because they did not wish to be associated with a man of his sexual inclinations. (Tchaikovsky died at 53 and the poisoning was only a rumor, according to other sources.)
There are no re-enactments of incidents in his life, and the same photos are used once too often to cover parts of the narration. Shots of performances by the Swedish Radio Symphony Orchestra conducted by Vladimir Ashkenazy are a trifle too long and a little hard to watch because of the extreme close-ups.
Nevertheless, insights into any artist's personal life are always welcome in appreciating his works—if one does not jump to conclusions. With Tchaikovsky, though, there are plenty of his writings to back up one's assumptions.
Other artists appearing onscreen are Cynthia Harvey and Mark Silver (dancers), and Helen Field and Carry Bartha (sopranos). Part I runs 70 minutes, Part II 86 minutes. The picture is in full screen and there are subtitles in several languages.
A Great Love Story is Told in Words and Music
The nearly legendary story of Robert and Clara Schumann was staged and filmed at the Royal Opera House, Covent Garden, in 2007. The production, titled "Twin Spirits," is now available in a 2-DVD set from Opus Arte, and it is impressive and unusual.
As Narrator, Derek Jacobi has center stage. On his right are actor Sting to read from Robert Schumann's letters, baritone Simon Keenlyside to sing Schumann's songs, Sergej Krylov (violin), and Iain Burnside (piano). On his left are actress Trudie Styler to read from Clara's letters, soprano Rebecca Evans to sing selections as a solo or as a duet with Keenlyside, Natalie Clein (cello), and Natasha Peremski (piano).
The first disc contains the performance, which is an expert balance of narration and dramatic readings with solos and accompaniments from the musicians. As is explained in the program notes, some of the selections were edited in various ways for theatrical effect. All in all, it provides a fascinating insight into two human beings who loved, created complex and beautiful music, and finally suffered when Robert had a mental breakdown.
The second disc offers another set of insights into the genius of the two when different members of the cast, actors and players, discuss the personalities and works of the two Schumanns. The educational value of this disc alone is great.
I would like to see similar formats used for other famous musicians—but only with such skilled artists as were used in "Twin Spirits." But when will art departments stop using white print over colored backgrounds in the booklets, which might please their eyes but ruin ours?
A Tribute to Johnny Mercer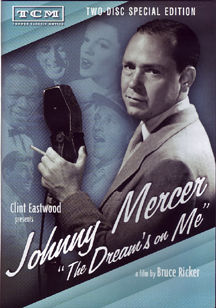 While watching the Warner Bros. DVD titled "Johnny Mercer: The Dream's on Me," I couldn't help exclaiming with delight as so many of my favorites were sung and discussed in the course of this 90-minute documentary. It was made in association with Turner Classic Movies and is quite enjoyable.
Just for the record, Mercer was a triple talent: lyricist, composer, and singer. He wrote the lyrics to over 1,000 songs, composed the music for many of them and for lyrics by other writers, recorded many of them, and so on and so on. Among the films he wrote lyrics for between 1933 and 1971 are "Gold Diggers in Paris," "Jezebel," "Follow the Fleet," "Seven Brides for Seven Brothers," "The Harvey Girls," "How the West Was Won," and even "Koch." Yes, and he is the one who put the words to "Laura," after the melody in the film proved so popular.
Actor and jazz lover Clint Eastwood was so taken by Mercer's many accomplishments that he acted as Executive Producer of this film. Using a studio as the barest setting, Eastwood discusses many of Mercer's songs with artists like Michael Feinstein, Cleo Lane, Maude Maggart, and Audra McDonald.
(Unfortunately, Eastwood puts his daughter in front of a microphone and might be the only one not embarrassed by the result. Never a good idea to include family, as witness "Godfather III.")
On a second disc, Eastwood discusses Mercer's lyrics with John Williams and Jamie Cullum. Following that, the singers give studio performances of several songs, after which Nancy Gerard discusses Mercer as a painter. Clichés like "He's a singer's singer" abound, but what words can one find for "genius"?
Among the best of Mercer's output heard in the film are "Moon River," "That old black magic," "Blues in the night," "Jeepers creepers," and "One more for the road." Several are shown in the original film settings, some as they were performed on TV by Dinah Shore, Frank Sinatra, Tony Bennett and other interpreters, some by the guests in the studio. Just about all of them are classics.
The picture is in 16:9 widescreen format and there are English subtitles to follow the narration, discussions, and even the lyrics. This set is a very good buy.


Barbara Cook is Still Going Strong

Two words I really hate in titles are "ultimate" and "essential." Exactly what is essential in "The Essential Barbara Cook Collection," a boxed set from DRG Records, remains a copywriter's mystery. However, it is clear that Ms. Cook is one of the more popular female pop singers today; and that any collection of her work will be very enjoyable.
Five of the discs are CDs. "Live from London" holds 16 tracks of what she sang at the Sadler's Wells Theatre in 1994. "Barbara Cook at the Met" has 22 tracks, 2 of which have another singer to accompany her. "All I Ask of You" does not ask much, with only 12 selections. The (to me) most interesting CD is "Close as Pages in a Book," which features songs with lyrics by Dorothy Fields ("I can't give you anything but love," "I'm in the mood for love," "The way you look tonight") on 13 tracks. There is also "Give Me the Simple Life" with only 4 songs as a "bonus sample of a forthcoming album."
A sixth disc is a DVD titled "Mostly Sondheim." Here are 19 tracks of songs and commentaries performed before an audience at a master class, followed by an interview. The running time is a generous 110 minutes. And yes, Marian the Librarian has put on a bit of weight as the years have passed.
I found the program notes less than useful as they use white print on a light brown background. When will art departments realize the poor job they are doing?
So may all Barbara Cook fans take note. This DRG set just might be essential for them!
Garland's Last LP is Now on CD
I know there was not an infinite number of popular music LPs recorded in the past, but DRG makes it seem so by issuing one after the other on CDs. Among the latest is "The Garland Touch," which appeared in 1962 on a Capitol LP. This was Judy Garland's last LP and is a compilation of selections from older releases. The one Capitol had planned was thwarted by the singer's ill health and they had to substitute at the last minute the older recordings.
Doing its homework, DRG has found 6 tracks from the album that had been aborted and added them to the rather skimpy 10 tracks from the LP. So for several reasons, this DRG disc has considerable historical value for Garland fans.
Some of the familiar numbers on this disc are "Shine on, Harvest Moon," "You'll never walk alone," "It's a great day for the Irish," "Stormy weather," and "Come rain or come shine."
Since I consider Garland as the last century's greatest female pop vocalist, how can I not recommend this to all?
Historical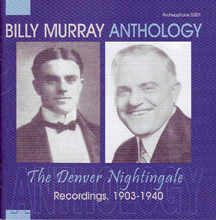 Billy Murray: an Almost Forgotten Recording Star
Second only to my Gilbert & Sullivan recordings, my most treasured set of consists of those released by the fantastic Archeophone Records. On them are hundreds of recordings transferred from the earliest cylinders up to the acoustic 78 rpms of the late 1920s onto CDs. In the compilations that make up the Phonographic Yearbook series, there are several selections sung by a certain Billy Murray, who sang exclusively for recordings and whose career spans 1903-1940.
Just why his name is practically unknown to the general public is explained in the copious program notes that Archeophone has included with "Billy Murray Anthology: The Denver Nightingale." Perhaps the designation does not quite fit Murray's light comic voice, but his enunciation is perfect and his approach to the lyrics impeccable.
Among the 30 examples of his legacy on this disc, the more familiar include "Meet me in St. Louis," "Yankee Doodle Boy," "Give my regards to Broadway," "In my merry Oldsmobile," "Harrigan," "Shine on, harvest moon," "By the light of the silvery moon," "K-k-k Katy," and "Charley, my boy." The less familiar are even more fascinating, being first hearings for most listeners: "The way to kiss a girl," "Come take a trip in my air-ship," "He's a devil in his own home town," and the bitingly satiric "He goes to church on Sunday."
Notice especially the references to (then) modern inventions like the automobile and airplane. His recording of George M. Cohan's "The grand old rag" keeps the original noun that Cohan had to change when audiences reacted unfavorably. In a few numbers, he is accompanied by vocalists Ada Jones, Aileen Stanley, Ed Smolle, Walter Scanlan, and the Haydn Quartet. As soloist or as part of a duet, Murray never fails to please.
Be sure to consider other sets in the Archeophone catalogue that are dedicated to single artists (Bert Williams, Marion Harris, Nora Bayes, and most recently Sophie Tucker), to vocal groups (The Heidelbert Quintet), to bands (Arthur Pryor), and especially to the hits of all those glorious and terrible years that made up the early fourth of the last century.
The Best Recordings of Broadway's Best in EMI Collection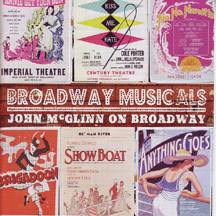 EMI has just released a treasure chest of a CD set, titled "Broadway Musicals: John McGlinn on Broadway." It is a box with 12 discs and a CD-ROM that contains all the program notes for the shows on the other discs. All of these were—and some still might be—available as single sets; but for those not having any of them, this is a wonderful collection.
For starters, McGlinn is a conductor who believes a show should be presented the way it was written. No changing of lyrics, no modulating the original keys or tempi, and so on. (He does a little of the latter on single-performer discs, but not for complete scores.) He also chooses singers who do full justice to their roles and creates a dramatic as well as musical product. He is, in short, the conductor of choice for Broadway music.
The collection starts with the historic recreation of Jerome Kern's "Show Boat" (lyrics by Oscar Hammerstein II) on 3 CDs. Not only does it include every single number that was heard on opening night back in 1927, but has an appendix with every song that was written for revivals and for the 1936 film version. With Jerry Hadley, Frederica von Stade and Teresa Stratas in the lead roles, there is no other recording of this show even to consider!
Disc 4 has Cole Porter's "Anything Goes," in which just about every song is a hit! Here Kim Criswell takes on the Ethel Merman role, and is ably backed up by von Stade and Cris Groenendaal as the lovers. Veteran comic Jack Gilford is vocally perfect for the gangster. (The program notes explain all the references found in "You're the tops.")
Another every-number-a-hit show is Irving Berlin's "Annie Get Your Gun" on Disc 5. Here Criswell is joined by Thomas Hampson, and all the songs and incidental music missing from the classic original cast album are included here.
More like operetta is "Brigadoon" on Disc 6 with its lovely score by Frederick Loewe and haunting lyrics by Alan Jay Lerner. The lovers are sung by Brent Barret and Rebecca Luker, while Judy Kaye handles the comic numbers. Again, much of the material missing from the original cast recording is found here.
"Kiss Me Kate" on Discs 7-8 holds more than one would expect. First there is the music and lyrics that told Broadway in 1948 that Cole Porter was still alive and writing. Here Josephine Barstow, a noted British opera soprano, sings Kate in love and war with Thomas Hampson as Petruchio. Then there is an appendix of 6 songs that were dropped from the show and there is still room left over for some Porter overtures and dance numbers!
"Jerome Kern Treasury" on Disc 9 contains 18 numbers from the composer's works, many of them very hard to find, if at all, on other recordings. You can tell that of the composers so far heard in this set, this is the one that studied in Europe.
Disc 10 is devoted to "Kurt Weill on Broadway." Selections here are from "One Touch of Venus," "Knickerbocker Holiday," "The Firebrand of Florence," and others.
Note that Ira Gershwin wrote the lyrics for the latter show.
Eight overtures to Jerome Kern shows and 5 to George Gershwin shows are heard on Disc 11, "Overtures." And finally, the last disc holds 15 "Show Stoppers." The always familiar ones like "Swanee" are mixed with rarely heard ones like "Duet for One" from "1600 Pennsylvania Avenue."
So here are top notch recordings of top notch shows mixed with top notch selections from less than top notch shows. In short, while the price is a little high but not overly so—yes, Christmas sometimes demands a little sacrifice—it is well worth it.
At the same time, EMI has issued a 2-CD set called "The Very Best of Broadway: John McGlinn," in which 37 tracks from the complete set are presented for those who are content with a sampling. However one chooses, the result will be pure delight for those who receive such a gift.
Songs Sum up the Early Irish Experience in America
When I reviewed a CD from Compass Records titled "McNally's Row of Flats" some time ago, I emphasized the historical value of the songs' contribution not only to the history of the Broadway musical (they were performed in the famous Harrigan and Hart extravaganzas), but also to the social history of the Irish experience (as they call these things) in New York City. Now the same singer, Mick Maloney, has created another collection of songs from the same era titled "If It Wasn't for the Irish and the Jews."
For starters, the title is somewhat misleading, since it refers to little more than the first song on the CD. From then on, it is the Irish who are celebrated. Historically, many Irish songs were composed by Jewish members of the Tin Pan Alley crowd, but that is of little import as far as the other 13 selections on this disc are concerned.
They are for the most part very tuneful, seldom trying for anything "classy," because the rigid stanza-format emphasized the words over one melody for the verses and another for the refrains. Far more impressive than any history text, songs like "Along the rocky road to Dublin," "When McGuiness gets a job," "Mother Malone," and "The old bog road," make very clear the hopes of those who left their homes in Ireland (mostly from old Cork, it would seem, since it provided an easy rhyme for New York in so many of the lyrics), their disappointment when they couldn't get work, their pride in distinguishing themselves in World War I, and their slow integration into a resisting society.
Maloney and his choral backup sing in the style of the period with clear enunciation and lots of feeling. The texts to all the songs are included. However—here we go again—the notes are in a tiny font to the side of the page, black print against gray background, and very difficult to read without a magnifying glass. When will art departments have some consideration?
The performances themselves, however, are marvelous. Grab this one. And as I never tire of saying, will Social Studies and History teachers please use it in their classes and make the subject come to life?
Mathematical (no kidding)
Clever CD Fights Math Illiteracy in Song
As much as I love teaching brush-up mathematics at a local college for students who wish to become teachers or to take Statistics for Management, I lament the fact that few have never been required to memorize the times tables. Boards of Education discovered—as part of the general dumbing down of American education—it was easier to hand out calculators.
One of my students, having failed a simple exam concerning decimals, told me, "I have never in my life divided without a calculator"! I wanted to cry but just felt angry.
So ANY attempt to encourage memorizing what older generations took for granted were worth memorizing—the times tables—is a noble effort in my book. A CD on a private label titled "Multiplication Mountain" features the lyrics and music of Hap Palmer, who has this to say on the back of jewel case:
"Children learn the multiplication tables in a fun and easy way. They start at the bottom of the mountain and memorize the easiest tables first. After they've learned the 2s, 10s, 5s, and 11s, they move up to the next level and keep climbing until they finally reach the sun with the 12s. Each table has its own catchy song."
Although this is difficult to bring off without visuals, Palmer has done something very clever. Each song is sung through by a children's chorus twice: the first time with the answers, the second time without them. So when a child hears "2x8 is…" he should be ready to fill in the 16. The trick is to have the child hear the first part through several times.
It is no small feat to set the times tables to really good tunes, and Palmer does not quite pull it off. But the tunes are jazzy or calypso or whatever beat will attract a young child. A booklet with all the lyrics helps. More information can be found on www.happalmusic.com or by e-mailing info@happalmusic.com.
In fact, I might play some of it for my classes at the college!
fbehrens@ne.rr.com