Spain and the Ballets Russes
By DAWN LILLE
ART TIMES Jan/ Feb 2010
As noted in the Sept/Oct issue, this is the centenary year of the Diaghilev Ballets Russes. Since the art of dance is global, it is not surprising that on a recent trip to Spain I saw the English National Ballet at the Liceo, the opera house in Barcelona, in a program billed as an homage to Diaghilev and his company.

The English National Ballet, formerly the London Festival Ballet, has antecedents in the Markova-Dolin Company and began performing in 1949. They focus on a mixed repertory of 19th century ballets, including Bournonville, works by Diaghilev's choreographers and a certain number of new pieces. Anton Dolin was the first artistic director and his aim was to present popular works with well trained international dancers. Wayne Eagling is the present head of the group.
The relationship between the Ballets Russes and Spain is an intimate one and in many ways Diaghilev had Spain and its King, Alfonso, to thank for the fact that the company survived World War I. In 1916 war was ravaging much of Europe and Diaghilev's company, unable to return to Russia, was homeless. An invitation from Alfonso asking them to perform arrived in May of that year. It inaugurated an interim period during which the company danced and Diaghilev and a selected entourage spent months over the next several years in Spain. Diaghilev used this time to rebuild his troupe around Leonid Massine, a young Russian who had become his newest protégé, educating him and transforming him into a choreographer. To help him in this endeavor he specifically appointed Mikhail Larionov and Nathalie Goncharova, avant-garde artists who were brought to Spain for this purpose. They spent many evenings going to cafes and watching flamenco, the rhythm, control, timing and dignity of which fascinated Massine.
The summer of 1917 found the Diaghilev entourage traveling extensively throughout the country in the company of the composer Manuel de Falla and a young flamenco dancer whom they had seen perform one night in Seville. Diaghilev hired him to teach Massine the native Spanish dances.de Falla served as their musical guide on these wanderings. With his tremendous knowledge of folk music, he was a constant source of information.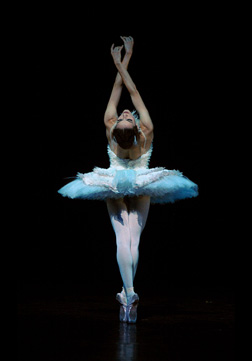 This sojourn in Spain affected many in the Diaghilev inner circle, including the impresario himself. Anton Dolin, in an interview many years later, quoted Diaghilev as saying there were two great schools of dance: classical ballet and Spanish. These years of enthusiasm for Spain influenced the future repertoire of the company, particularly in the so-called "Spanish" ballets-Las Meninas, Three-Cornered Hat and Cuadro Flemenco. In addition, there were many other artists "sitting out" the war years in Spain, which had its own active avant-garde. It was from this time on that Diaghilev began his experiments with "Modernism" and Massine started on his artistic development, which was to contain and expand on much of what he learned in Spain.
The Liceo has a long history with the Ballets Russes dating from 1917 when the repertory included Les Sylphides, Carnaval, Scheherazade and Le Spectre de la Rose, all choreographed by Michel Fokine, and Le Soleil de Nuit, The Good Humored Ladies and Las Meninas, all choreographed by Massine. They presented a short season in fall of 1917 and one in spring of 1918 that included Parade, also by Massine (music, Satie; décor, Picasso). In spring of 1924 they danced Three-Cornered Hat to de Falla's music.
It is interesting to note that none of Massine's works were included on the program presented. What was seen was Les Sylphides and Le Spectre de la Rose, a contemporary version of Vaslav Nijinsky's ballet L'Apres-midi d'un Faune, choreographed by David Dawson, Fokine's Dying Swan and a version of Scheherazade, choreographed after the original by Nicholas Beriozoff.
Sylphides was originally staged for the English National Ballet by the elegant ballerina Alicia Markova, who remained involved with them until her death in 2004. The program did not indicate who was responsible for rehearsing it since then, but this technically strong group rendered this flowing, romantic work so limply it was almost listless. The fact that every dancer broke the line of her arm at the wrist added an even more disconcerting note.
Le Spectre de la Rose, with the dreaming young girl and the spirit of the rose she brings home from her first ball, had Daniel Gaudiello as the spectre. This role was intended to be androgynous and non-stop in movement. Mr. Gaudiello's excellent technique showed – which it should not – and he even stopped after a series of turns to acknowledge the applause, which is out of character for this ballet.
The Dying Swan, the short piece to Saint-Saen's music, which Fokine originally created for Anna Pavlova, was danced to perfection by Elena Giurdjidze – and the audience knew it.
Dawson's choreography for Faune, a modern dance for two men in graceful, toga-like costumes, started in silence and was then accompanied by the Debussy score played on two pianos. This work involved intense concentration by the two dancers and many curving arm movements on different angles that contributed to the first encounter and then the establishment of a relationship, before one man and then the other walked offstage. It was good theater and an excellent performance.
Scheherazade contained movement that was almost a parody of the sensuousness in the original version and the role of the chief eunuch was enacted as a broad farce that was not funny. The ranks of the huge cast, lined up as if in a Broadway musica, "grabbed" the audience, but was a long way from what Fokine or Diaghilev originally intended. It is too bad that this strong, lively company did not perform one of Massine's Spanish ballets.
There will be much visiting dance all over Spain this year. In ballet, the Bolshoi was in Madrid concurrently with the English National Ballet in Barcelona, the Maryinsky was in Valencia in November, the Nederlands Dans Theater will be in Madrid in June and the Royal Ballet (London) will be at the Liceo in July. The extensive dance calendar at various theaters in Barcelona includes Sasha Waltz, a leading German modern dance choreographer, a work created by Gerhard Bohner, another avant-garde German, a piece from France choreographed by Carolyn Carlson, plus a work created by four European modern dance choreographers called "In the Spirit of Diaghlev." There will also be several collaborative theater/dance works involving the National Theater of Catalunya, the National Center of Drama, Mercat de les Flors and several French and English theaters. One wonders if Diaghilev ever imagined all of this!
Email your response to this and other essays in ART TIMES info@ArtTimesJournal.com