Lincoln Kirstein: a Towering Figure in the Arts

By Dawn Lille


ART TIMES

January February 2008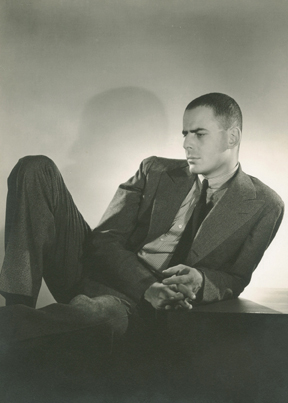 Lincoln Kirstein. Portrait
Photograph by George Platt Lynes
Lincoln Kirstein (1907-1996) was one of the most important contributors to the creation of a modern artistic dialogue in 20th century America. A brilliant iconoclast, he towered over his era intellectually and physically with an amazing force of energy. A poet, painter and art and film critic, he began and edited the literary magazine "Hound and Hare" while still an undergraduate at Harvard. He also founded the Harvard Society For Contemporary Art as a means to display contemporary art work in that city.
"Hound and Hare" published Ezra Pound, Katherine Anne Porter, Archibald MacLeish, ee cummings and Edward Wilson, among others. The work of the art society was assisted by Edward Warburg, son of the financier Felix, by Alfred Barr (later the first Director of MOMA) and by A Conger Goodyear (the first President of MOMA). Throughout his life his friends included artists, writers, composers and most of the "movers and doers" in the arts and outside of them.
But perhaps the greatest contribution of Lincoln Kirstein to America was his decision to devote himself to the development of ballet as an art form. In 1933 he brought from Europe George Balanchine, the Russian choreographer who had spent four years with the Diaghilev Ballets Russes, in order to start a school and, eventually, a company. He spent much of his personal fortune (his father was an investor in the Boston department store Filenes) in support of the School of American Ballet, which opened in New York City in 1934, and of the New York City Ballet and the three Kirstein companies that preceded it.
In honor of his centenary the New York Public Library for the Performing Arts at Lincoln Center has mounted the exhibition "Lincoln Kirstein Alchemist," which can be seen in its Vincent Astor Gallery through January 26th.
Kirstein was a true genius who was also strong willed and, as his biographer Martin Duberman points out, could be irrational and display a terrible temper. Yet this rare talent, the alchemy of which "achieved magic in American awareness," eventually touched all the artists of his time. He fell in love with classical ballet when he first saw the Diaghilev company in London and after his graduation from college made the decision to devote himself to bringing ballet to America. One of the exhibition quotes reads:
We are working toward the pure tradition of classic ballet as it has been handed down to us. It is exquisite – pure and crystal like a precious stone. We must put all our energy, heart and soul into it.
Since other NYC cultural centers, including the Metropolitan Museum of Art, have presented exhibitions of his vast collection of painting, sculpture and photography (he was a patron of many artists and had an intense need to understand what they did), the Library exhibition, curated by Madeleine Nichols and Nancy Lassalle, concentrates on the institutions "that he variously co-founded, transformed and maintained as his gifts to New York and the dance audiences of the world." In addition to the school (SAB) and the Dance Collection of the Library itself, these are American Ballet, Ballet Caravan, American Ballet Caravan, Ballet Society and the New York City Ballet. Each subject area contains photographs and original drawings of set and costume designs. There is also some of Kirstein's own art work.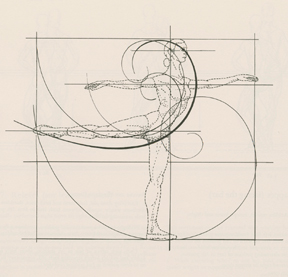 An illustration by Carlos Dyer for Kirstein's book
The Classic Ballet
The American Ballet (1934-1938) was the first company in the United States with which Balanchine was associated, and, as Kirstein, the organizer, had promised, it was Balanchine's company. Its young dancers performed in concerts and were in residence at the Met Opera House. This section shows items from Serenade, the first Balanchine ballet in America, which used Tchaikovsky's music and had costumes by Jean Lurcat, and from Mozartiana, with the same composer but with scenery and costumes by Christian Berard. Both ballets were first performed in 1934 on the estate of Felix Warburg in White Plains.
Ballet Caravan (1936-1938) was solely Kirstein's company, and through it he tried to dedicate the future of American dance to using American music, painting and characters, wishing to "give new meanings and new frontiers to the classic form."
Lew Christensen choreographed Filling Station, with characters such as Mac, the attendant who was the hero, an intoxicated but rich girl and boy and a gangster. The music is by Virgil Thompson and the sets and costumes by Paul Cadmus. Billy The Kid, with a libretto by Kirstein, was choreographed by Eugene Loring to Aaron Copland's music and had décor by Jared French. Based on the western folkloric tale of the legendary Billy, it can still make one wonder why different periods choose different heroes. Other ballets were Pocahontas (Christensen) and Yankee Clipper (Loring), both contributing to Kirstein's belief that his company should present America in contemporary times, still using the classical idiom.
The company changed its name to American Ballet Caravan in 1941 and Balanchine joined for a tour of Latin America that included several of his new works. It disbanded shortly after that.
When Kirstein returned from his army service during World War II he formed Ballet Society in order to create a new contemporary theater that would educate both the audiences and the young artists. The intention was to promote new collaborations among all the artists involved and included The Four Temperaments, with music by Paul Hindemuth and décor by Kurt Seligman, and Renard, a Balanchine/Stravinsky partnership for which Esteban Frances did the décor. What may be a repertory surprise for many was The Seasons, choreographed by Merce Cunningham with music by John Cage and costumes by Isamu Noguchi.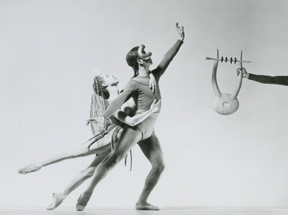 Orpheus Performed by Maria Tallchief, Nicholas Magallanes and Francisco Moncion. Photograph by George Platt Lynes.

But it was Orpheus, a Balanchine/Stravinsky/Noguchi ballet, that was seen by Morton Baum of City Center and led to the invitation to the company in 1948 to join City Center and become the New York City Ballet. With Kirstein as general manger, Balanchine as artistic director and Jerome Robbins as artistic co-director, it melded European tradition with contemporary Americana and has become one of the leading ballet companies of the world. The exhibition has examples of the Balanchine/Stravinsky Firebird (with décor by Marc Chagall), The Nutcracker and a revival in 1958 of Seven Deadly Sins (Balanchine/Kurt Weill) to celebrate 25 years of collaboration between Kirstein and Balanchine.
The visitor with time may sit and watch three complete ballets that are shown continuously, all with Jacques D'Amboise in the lead role. There is Filling Station in a 1954 performance that also features Janet Reed and Todd Bolender, Afternoon of A Faun, choreographed by Jerome Robbins to the Debussy score with a gorgeous Tanaquil Le Clercq in a 1955 film and Apollo, which Balanchine created for Diaghilev in 1928, working for the first time with Stravinsky. Jillana, Francia Russell and Diana Adams are the three muses in a 1960 version.
Kirstein's collection of books occupied several rooms in his home, one of which was just for Shakespeare and British reference material. His writing, a part of the exhibition, includes Dance A Short History, Ballet: Bias and Belief, Nijinsky Dancing and Four Centuries of Ballet in the dance area. There is also Mosaic, the first volume of his memoir, and Quarry: A Collection in Lieu of Memoirs .He wrote on August Saint Gaudens, Elie Nadelman, Henri Cartier-Bresson and numerous other photographers, and produced many publication for MOMA.
Kirstein once commissioned ee cummings to write a libretto for a ballet based on Harriet Beecher Stowe's Uncle Tom's Cabin. With music by Virgil Thompson, décor by Ben Shahn and choreography by Balanchine, it was never realized, but what a marvelous vision. If this is a bit reminiscent of Diaghilev, his early inspiration, here is what Kirstein said in the Forward to his book Movement and Metaphor: