Clothes Make the Man…Do they Unmake Dancers?

By Francine L. Trevens




ART TIMES

January February 2008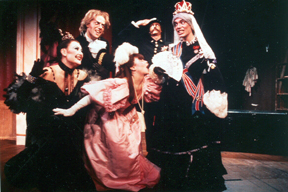 The picture where the girl in pink dress is in front of a cast in black the caption is: Pictured in a scene from "Charlotte Sweet," Lynn Eldredge, Mara Beckerman, Jeff Keller, Timothy Landfield, Christopher Seppe. Photo by Elizabeth Wolynski
Not all stories about dancers and costumes are as newsworthy as the theft of Carol Channing's sequined gown, later recovered in a dumpster, which hit the press recently, but many of them are amusing. I thought it would be fun to share a few with Art Times Journal readers.
My first personal awareness of a costume foible was while watching The Nutcracker': one of the fighting mice lost its tail. The tail was gently kicked off stage by various mice as they moved about. My young daughter fretted the mouse felt the pain of losing its tail. I assured her the dancers probably didn't even know whose tail it was until they took off their costumes.
Theatre critic, Victor Gluck, recalls Karen Ziemba's headpiece falling askew in Contact, which made her appear off balance, although she continued undaunted. He also remembers when, after a male dance strip tease in the recent Iphigenia 2.0 one actor ran off leaving his shirt on the bare stage. All eyes were riveted on it when he dashed back on, grabbed it and ran off again.
Jeanne Pearson, an actress who worked for years with Hasselfree Mysteries, wore a costume that was a take off on Carmen Miranda and Chiquita Banana when she appeared in The Hollywood Musi-Kills. The bananas, which were among the fruits on her high headdress often, fell off during performances, making her wish she could sing, "Yes, we have no bananas." These were minor costume glitches. More memorable were the following.
In Mardi Gras at Jones Beach, David Atkinson missed the step off his barge that took him to the stage and wound up in the moat. In true "show must go on" style, he was pulled up and was singing and waltzing in his soaking wet costume. The off stage cast, seeing he was OK, was hysterical. The audience, much kinder, gave him an extra applause. You might say this gives new meaning to the song of the eager princess, "I Swam the Moat."
On Broadway, in "Mack and Mabel," tap dancers wore tops fastened at the neck in the back and held up totally by a hook, no bra.
The number began with dancers bending over and moving their toes, then slowly coming up. One night, all the dancers came up, but one of the dancer's tops didn't. When the dancer lost her top, everyone on stage "lost it," but continued dancing the number. Needless to say, all hooks were checked on costumes very carefully after that.
Heather Johodos remembers one nightmare costume that she wore in The Magic Flute. Dressed as a beetle, she claims, "I could hardly move, let alone dance. Then the choreographer threw in a bunch of floor work. I landed on my back and could not get up. How Cliché!"
The costume was such that "I could hardly see, let alone move, so I trusted the others on stage to guide me to the proper location to begin the sequence."
Her worst costume, however, was in college when she helped out a friend doing an art piece in opposition to animal cruelty. "We were told to dress in black unitards."
Her friend strung lit Christmas lights around the dancers from head to foot, then handed them slabs of "raw meat to present to pictures on screens that alternated between Elvis' 'Blue Hawaii' and slaughter houses.
"Despite all its challenges, the meat costume was the most memorable merely because it was so hard to forget. A rather unusual experience turned into a very fond memory."
Her fondest memory relating to costumes was when performing the "Rainbow Etude" solo from Donald McKayle's Rainbow Round my Shoulder.
"It was a simple brown dance dress which was more than comfortable to wear, stayed in place, and never wrinkled or smelled after several performances. (How gross is that?)"
Another good memory Heather, who wanted to be a dancer since earliest childhood, treasures was when she performed with the Hartford Ballet in Jean Grand Maitre's version of Romeo and Juliet.
"I felt especially regal and dignified when in costume for the grand Ballroom scene. The full length gown was exquisite and the hats were beyond remarkable."
Hats also figured in Helen Butleroff's costume memory.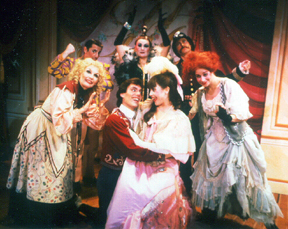 From the Colby/Markoe musical "Charlotte Sweet:,
Merle Louise, Michael McCormick, Christopher Seppe, Lynn Eldredge, Mara Beckerman, Timothy Landfield and Polly Pen.
Helen, who had been a Rockette and has been busy with her own dance projects in recent years, recalls, "My weirdest costume was actually what was considered very normal for a Ziegfeld Girl. Years ago, when I was young, the Ziegfeld ball was held every year at the Pierre Hotel—at that point all the elderly Ziegfeld girls and performers came to it each year. They would do a big performance using new Ziegfeld girls—me and other dancers. "Well—the headgear on top of what were gorgeous costumes was unbelievable. It was so heavy, if you just gingerly bent in any direction -- you went in that direction!!! If you dropped your head, your neck would never support ever coming up again. I had, I think, a flowerpot, extensive fruits and garnishes on top of my head. I guess not really weird—but weird for me! It's surprising I never keeled over." Now we have the secret to the amazingly straight posture of Ziegfeld girls – they'd have toppled otherwise!
Spatz Donovan, who began as a busker in London, when asked if a costume ever inspired him replied, "I designed a theme park for Bob Hope and dressed us as the bus driver character from the TV show 'The Honeymooners' and did the infamous 'Gleason dance.' Later, I surprised Bob on the 9th hole at the Buena Vista Disney World Golf Course dancing in the costume. We all enjoyed a good laugh."
You might say Gleason's impishness had inspired the moment.
Another time, doing a one-man show with the Walt Disney Orchestra at an Orlando, Florida hotel, Blockbuster Video flew in legendary MGM musical stars for their Big Banquet Convention that was themed That's Entertainment. While performing Donald O'Connor's famous "Make "Em Laugh," Spatz jumped off the stage and landed in O'Connor's lap.
Among the other celebs there that evening were Ann Miller, Cyd Charisse, Eleanor Parker, Gene Kelly and June Allyson.
"Spatz," whose grandparents, The Donovans, danced traditional Irish Jig and Reel a century ago in Vaudeville, claims he was "born kicking when he popped out of [his] mother's stomach."
Can't exactly blame the following on a costume, but it is too good a story to pass up.
"Once, when I was on stage portraying James Cagney, as I did a spin, (in Give My Regards to Broadway) my arms were out and I accidentally hooked the lower part of the trombonist's slide and it whipped over the heads of about 50 people."
An even odder incident of an instrument leaving the stage was at Jones Beach where Helen Butleroff recalls a piano being blown off the stage in a windstorm. The pianist, however, was spared.
Again in the matter of people's heads and Mr. Donovan, when he toured Europe with the Friends Road Show Company in an English double-decker bus they had a mobile stage unit on wheels, painted like a Peter Max with shooting stars and rainbow kaleidoscope colors. In Amsterdam they presented I Was a Teenage Palm Tree in which he played "a half-man, half palm tree who wound up like that because of a nuclear blast. Just like King Kong, I was captured and brought back to the big city where I was showcased. The act was dancing while crushing a miniature city on stage to the tune of 'Tiptoe Through The Tulips.' " His costume had Velcro sponges wrapped in burlap to represent cocoanuts. When he went crazy crunching the city he threw the coconuts into the audience where they bounced off people's heads. They might have enjoyed the show but I doubt the bouncing coconuts were received as a Dutch treat
My favorite and most prolific living lyricist and book writer, Michael Colby, gave me this delightful memory: "During the run of Charlotte Sweet, the producer decided he could only afford one standby to cover the four male roles, and one standby to cover the four female roles. In the case of the male standby, the producer used an actor from the showcase version (Six out of the eight original performers were retained for the commercial transfer, with the seventh becoming standby). While this was an excellent performer, he was ill-suited to some of the roles he was covering. Fortunately, for most of the run, he only went on in the role he'd played during the showcase. One night our juvenile lead, Christopher Seppe, developed a bad eye infection. Had Christopher's standby gone on, it would have been like Zorbà playing Pippin.
"Christopher made a brave decision, upon discussing it with our staff (including the costume designer). He wore an eye patch—to hide his bandaged eye—for the performance. This worked for most of the show, except at one point the juvenile role (Ludlow Ladd) disguises himself as Queen Victoria. Watching from the audience, I had no idea how Christopher planned to get away with playing Queen Victoria without his patch, making the disguise obvious. Well, in a number entitled "Surprise! Surprise!" Christopher surprised us all. Making his entrance as Queen Victoria, he'd removed the patch and painted over his eye bandage a big flashy eye. It was one of the biggest laughs the show ever received. We almost wanted to keep it in."
Guess that was a case where a costume decision just about knocked the audience's eyes out, or maybe just knocked their socks off! There are many more humorous or embarrassing costume stories – but I hope this gives you a few chuckles for now.