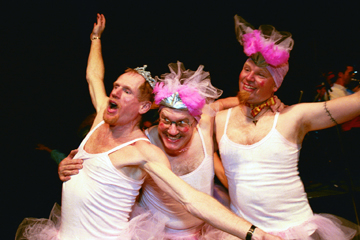 Among the people who got up to join the Nutcracker Dance-Along were these unidentified "fellerinas" (Photo by: Jane Philomen-Cleland
By Francine L. Trevens
ART TIMES Jan/ Feb 2006
Time was, just about every dance company and most dance schools offered light holiday entertainment around the Christmas/Hanukah season. Now, most avoid planning anything for this overly busy time of year
In big cities such as New York, major dance companies present an annual NUTRACKER, so what's a small company to do?
Some, such as Manhattan's Kinetic Dance Theater, now in its sixth year, plan events for other holidays. Kinetic did a pre-Thanksgiving program called THE CYCLONE from Nov. 5th to 20th in 2005. It is one of their favorite repertory pieces, described as a "gritty-side-show circus-act take on the human condition." It was directed and choreographed by Joanna and Ryan Greer.
Her cofounder of Kinetic Dance, Joanna's husband Ryan Greer, explains scheduling thus: "We have seen very positive results scheduling shows thematically during appropriate months. But it's important to listen to the inner creative voice and put up shows when you hear the cry, 'it's time to get to work.' You find that the work goes up when it's supposed to…a fatalistic thing that happens."
"The Cyclone", named for that huge old Coney Island roller coaster ride, compares the human condition to surreal, circus-like variety acts with the maelstrom of existence presented in center ring. When the line between real life and circus characters is blurred, you better hang on. You just might find yourself on the ride!
While Kinetic is unconnected to any dance school, Joanna noted, it does "offer company dance classes and arts in education workshops." They plan a fund raising event for Spring.
Aphrodite Clamar is president of another New York based not-for-profit company, Tom Cat Cohen Productions. Ms. Clamar explains it got its unusual name from "my husband's cat. Richard had never had a pet, and I found this black and white cat in the eighties and brought him home. I'm a psychologist, so I applied psychology saying it was HIS cat and he should name it. He called it Tom Cat, which I thought plebeian so I added my husband's surname."
Tom Cat Cohen was thus christened.
"Years later, when an actor rehearsing at my house and I decided to start a theatre group with the mission to do theater applicable to children and adults with an educational bent, he thought a good name for the company would be Tom Cat Cohen. The cat himself was producer, as he ruled the roost."
Helen Butleroff-Leahy is artistic director of Tom Cat Cohen. Under their auspices, with funding from the Ficalora Foundation, Helen runs a physical fitness initiative called THE NEW FOOD GUIDE PYRAMID MUSICAL PROGRAM. In 2004, this program which she directs and choreographs, won a New York State Certificate of Achievement Award for promoting all three of the eat well play hard-core strategies.
It debuted in the NYC school system with fourth and fifth graders in Brooklyn where it was performed by professional Broadway actors and three of the school children at an assembly. It's especially significant, as its purpose is the prevention of childhood obesity, a major problem with youth today. Helen also is the creator and choreographer for THAT'S LIFE, another touring piece. For Christmas 2005, this former ROCKETTE taught 40 tourists to New York a Rockette Dance; her holiday project.
Brooklyn based UpBring Dance Company is both a dance school and company. UpBring celebrates its fifth anniversary this year. It has a touring company that tours four or five times a year, to theme parks and festivals with new works including Fantasy Forest, Fairytale Fusion and Planetary Shakedown. They spent their holidays readying for performances Jan. 24 and 25 in Cobble Hill, Brooklyn where they have two dance studios at the Micro Museum.
Artistic Director Shari Lee Polis feels their use of kids from five to eighteen years old who employ all styles of dance – jazz, hip hop, modern, African, Hula, ballet, break dance, Salsa – and perform at street fairs, dance festivals and geriatric homes throughout the year makes them unique.
"Our philosophy," says Shari "is to create a nurturing, positive and supportive environment while teaching all aspects of performance: choreography, dance and stage vocabulary, costumes and props, stage presence and performance etiquette." They are now planning a Spring show May 14th.
Maryland's five–year-old Clopper's Mill Dance Theatre in Germantown, one of five dance studios owned by Concepts of Motivation, Inc., concentrates on dance recitals in June. Each teacher choreographs a new work for this event, as well as for special performances in the community during the year. According to Janet Harwood who runs Clopper's Mill Dance Center, there was a Clopper Mill in Germantown. Its ruins can be seen from the bridge over the creek in Seneca Creek State Park near Clopper Road. The dance school's name commemorates that old mill.
Ms. Harwood said the closest they got to a holiday show this year was planned for December 3 at the shopping center where they are located. In April they'll be doing shows in nursing homes, using their students. They also have an Olney Elite Competition team that repeats its works throughout the competition year and does new works annually.
It isn't only in the Northeast that specifically planned Christmas shows are a thing of the past. In New Mexico, Sandra Baker-Dillingham, director of New Mexico Dance Theater, was busy with a new fantasy ballet she conceived and choreographed, THE KING FISHER AND THE CLAM, relating to Alzheimer's disease and how that locks a person in a world of his own. It was not planned for the holidays. Sandra runs dance classes, where she uses the strengths of her students to choreograph for them. She holds auditions for her dance performances, however.
Tradition was upheld with a twist at the other end of our nation, however. In San Francisco, on Dec. 10 and 11 the San Francisco Lesbian/Gay Freedom Band held its annual Dance-Along Nutcracker. The event is now in its 20th year. Conducted by Artistic Director and Best of the Bay winner Jadine Louie, the wackiest Nutcracker on earth mixes Tchaikovsky's NUTCRACKER SUITE music with film music.
Carolyn Carvajal, veteran of the San Francisco Opera Ballet and San Francisco Dance Spectrum, returned to choreograph the show's specialty number, which includes a tribute to silent film and MGM sing-alongs. More than a zany San Francisco holiday tradition, THE DANCE-ALONG NUTCRACKER is the primary fundraiser foe the San Francisco Lesbian/Gay Freedom Band, the Official band of San Francisco. Since THE NUTCRACKER BALLET itself showcases fantasy dreamscape, they feel there is no better way to move this 19th century Russian montage into 21st Century U.S.A. than setting it against music and icons of the cinema.
In 1997 the conductor, in black tie and tails, barely started an introduction when a tiny fairy princess, perhaps three years old, and not three feet high, slipped from her mom and drifted dead center on the now-empty dance floor to the podium. The conductor, mike in hand bent to ask what she needed and she chirped into his mike, "We have FANTASIA."
This is the very stuff that makes DANCE-ALONG NUTCRACKER so special. The magic is simple – in a society that treats art as polished product and financial investment, this show reminds folks of the sheer joy of joining the dance. Although not required to join in, many of the audience do. There were many repeat performers this year, but the central role is its audience-cast. Sugar plum wannabes leap and pirouette about the dance floor. Tutu rentals and fairy wands are available for those with nothing to wear, and even wallflowers have fun at this unusual dance fest.
"It's a wacky event" sums up Doug Litwin, clarinetist and long time member of the band. "Anyone can jump in at any talent level and the costumes are always fabulous."
For the rest of us, a merry un-Christmas and to all a good new dance year!