By DAWN LILLE
ART TIMES Jan/Feb, 2005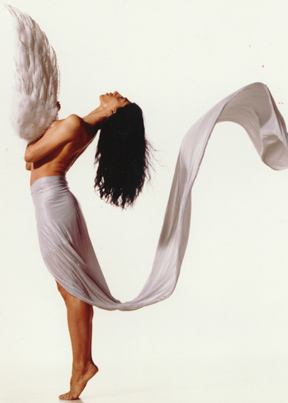 Nejla Y. Yatkin in "Echoes of Hope."
(Photo credit: Lois Greenfield)

There is interesting, good and sometimes amazing dance throughout the world, but mention a dance festival in Medellin, Colombia, and your listener is more likely to think of drug lords. Not entirely correct!
Colombia, a very beautiful and ecologically rich nation, just hosted its eighth international dance festival, in which the participating companies from ten countries were seen in three cities: Bogota, Medellin and Barranquilla.
Now directed by Peter Palacio who was one of the original cofounders, the "Temporado" as it is called in Spanish, lasted for ten days. During this time there were performances in the major theater of each city, in smaller venues and in outdoor spaces, the latter free to the public. Additionally, each of the three cities offered workshops in the technique of Jose Limon, the late Mexican-American dancer and choreographer, plus lectures by international scholars and directors from Spain, Argentina, Venezuela and the United States. The special aspect of the festival was the consistently large, young audience that came back again and again.
The people of Colombia, often a blend of Caucasian (usually Spanish), indigenous Indian and African, are warm, outgoing and welcoming. Look at the facial expressions on the paintings and sculpture of Fernando Botero, a native son, and you understand the love the average citizen has for the twenty-three sculptures by him on the plaza outside the Museum of Antioquia in Medellin.
Although the Indians and Africans together make up well over half the population, the country is ruled by a European elite. The political wars that have been going on for forty years, as well as the drug trade, are directly related to the divisions in the society and the extreme poverty. This notwithstanding, the varied topography and peoples have produced different kinds of dance and movement. Colombian music, too, often began regionally with the influence of drums, guitar, flute and the accordion, and has now developed into jazz on one hand and modern music on the other.
Opening night of the Festival took place on a large, raised, well-lit outdoor stage at EAFIT, a private university in Medellin, the rector of which is the former Minister of culture. Two solos, both choreographed by the performers, constituted the program that was warmly greeted by the audience, many of whom swarmed around the dancers at the reception afterwards.
The work of Luis Viana, from Caracas, was called "Arroyo" (Stream) and danced to Ravel's "Bolero." The program note described his body as "… lit by form and necessity and finally disintegrating into a restless warmth." With his shaved head, and costume of a long red tutu, his strong, expressive body became increasingly conflicted and agitated as the familiar music built in intensity.
Nejla Yatkin, the second soloist, with her long torso, limbs and black hair, was a fascinating study in evolving shapes and a true mixture of her Turkish background and German and American training. In one voluminous rise from floor to standing she made superb use of the long black tutu-like skirt she wore. A few days later she performed "Echoes of Hope" in the main theater. Inspired by the poetry of Rainer Maria Rilke, this impressive work to music by Sheila Chundra and Jurgen Knieper, had a stunning beginning, with Yatkin sitting stage center, her body wrapped in white and her bare rippling back facing the audience. Following Rilke's concept of the child as a stream that becomes a river, a torrent, a sea, this full evening work showed the child in pigtails creatively using a jump rope, as an adult at work and, finally as an old woman. Choreographically Yatkin used the entire stage as she created her luminous images, framed in dramatic clarity and passion.
Delfos Danza Contemporanea works in Mazatlan, Mexico, where they have a school and are active in educating the public, especially children, about dance. "Breves Instantes" (Brief Moments), also seen at a recent performance at the Joyce in New York, is a work in six movements, concerned with emotions that become little poems in movement, carrying out the company's interest in poetry as well as dance. Neither the expressive dancers nor their choreography could be said to show strong Mexican roots, but rather an exploration into the nature of contemporary dance and human beings.
Japan was represented by Eiko and Koma, who have lived in the United States for many years but studied Butoh in their native country as well as contemporary German dance, combining them in a calming blend of their own. "Wind," a sustained duet about the relationship of a man and woman, was performed to vocal music that sounded like Gregorian chant, but was not. Their amazing ability to move with such concentrated stillness, like a Zen garden, was a unique experience for the Colombia audiences, who were thrilled.
Zvi Gotheiner and Dancers are based in New York, although Gotheiner was born and raised in Israel. A highly regarded teacher and choreographer of lyrical and often romantic works, he tends to use ballet partnering, elements of folk dance and theater, all of which could be seen in the three works his company presented.
Wen Wei Dance, from Canada, presented "Tao" (The Way) which is really about the Chinese born and trained Wen Wei Wang's trip from China and the adjustments he had to make. It was performed by six dancers, including the choreographer, whose constant broad and entwining movements filled the stage, accompanied by an original score by Giorgio Magnanesi that included sounds of water, gongs and bells.
A wonderful surprise was the unknown Antje Pfundtner from Germany, who performed a fifty-five minute solo, "Eigen Sinn" (Obsession), in the small theater in Medellin. In it she narrated various stories, many concerning rebellious and vulnerable characteristics in humans. All the while she moved to a sound collage in a quick, idiosyncratic manner that was full of unexpected quirks and gestures, with much humor. In all probability this young artist will be heard from again.
It has long been thought that geography and climate, combined with local mores, affect the way humans move and, subsequently, dance. One need only look at the stamping vertical bodies of northern Europe in comparison with the soft, flowing ones of parts of the Pacific for examples. African dance, with its polyrhythmic and outwardly propulsive pelvic movement has produced American jazz dance. In South America and the Caribbean there is often a blending of African, Spanish and indigenous dance that somehow results in an energetic but flowing and pulsating movement that reaches out to the audience, whose bodies begin to participate unconsciously. This happened with the Brazilian Verve Compania De Danza, the Venezuelan Agente Libre and the Colombian Danza Concierto.
"(C2H4)n – Plastico," presented by Verve Compania De Danza, illustrated the fact that design is paramount in Brazil today. It is not surprising that the founder and choreographer of the group, Fernando Nunes, is a designer of plastic forms and a photographer. The program note talked about the presence of plastic everywhere and observed the current tendency to combine electronics with artistic concepts. Indeed, the six dancers, dressed in black motorcycle-like costumes, started off in front of a huge screen, on which were projected photographs, home movies, political films (Hitler and others), a man and a woman in old fashioned aesthetic poses, videos of the dancers on stage and of the audience. The live dancers often seemed to move in reaction to the projections. They used semi-circular acrylic screens that they stood behind and often moved. There was a sense of excitement and rhythm in the fast changing images and movements, in which the dancers seemed to have a strong inner beat complementing the music of Chris Vine.
Agente Libre, directed by Felix Oropeza, who choreographed and danced in both pieces, presented "Lubumba," which dealt with empty spaces and unknown destinations and "La huida" (The Escape). The latter, based on the William Blake poem that begins "To see the world in a grain of sand…" had two dancers, a man and a woman, with projected scenery and dramatic use of the dancers shadows. "Lumumba," accompanied by what sounded like traditional African drumming, revealed four dancers, one by one, each in a square of light. A film of a traditional dance and then a text was projected behind the performers, whose forcefulness and smoothly undulating movements served to effectively combine the old and the new.
There were a total of ten Columbian groups, including one that performed folk dances and two hip hop companies. Los Peligros (Risktakers) displayed technique, choreographic form and humor, beginning their piece with a rap song that made fun of the Festival and stated that they were the "real" thing.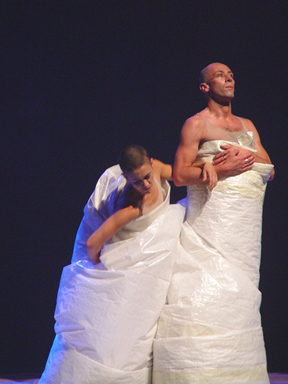 Danza Concierto of Colombia in "... y entonces que...?" choreographed by Peter Palacio

Danza Concierto was founded by Peter Palacio in 1990. He is from Barranquilla, on the Caribbean, and grew up with its lilting, colorful Carnival dancing that was recently named a "masterpiece of intangible heritage of humanity" by UNESCO. He performed with a folk dance company and eventually trained in modern dance in the United States.
"…y entonces que…?" (And then what?), choreographed and lit by Palacio, was performed by five powerful dancers, four men and a woman, to an original score by Luis Fernando Franco. It is a reflection on the relationship of humans to the industrial process and seems to conclude that plastic will last forever. A tightly constructed and beautifully danced piece of theater, it started behind a scrim of milky plastic that became a moving wall from which emerged a figure (actually one man on the shoulders of another) covered by a long white costume reminiscent of Barranquilla's carnival dresses. This "personage" performed long undulating movements of the chest and arms, almost ghostly in feeling. At one point, three huge cylindrical fishing nets made of plastic tubing were lowered from the ceiling and a dancer became entangled in each - moving, swooping, climbing and swinging. At the end hundreds of plastic bottles descended from above. The music, played live by a quartet that included the composer, was a modern, highly sophisticated blend of Colombian sounds and rhythms emphasizing the flute.
Danza Concierto defines its mission as one aimed at building a cultural heritage with Latin America and the rest of the world, as well as investigating all the elements that constitute Colombian identity. The Festival was a wonderful example of that dream.