Diaghilev, the Ballets Russes and the 20th Century
By DAWN LILLE
ART TIMES Sept/ Oct 2009
The early years of the 20th century witnessed the emergence of a personality who was to change the concept of the performing arts forever. Tall, a bit pudgy, with full jowls, bulging eyes, a pince nez and dark hair relieved by a streak of white (as it turned out, his hair was white and he dyed all but the streak), Sergei Diaghilev possessed an intuition – some term it a genius – for discovering the talent in others and combining these diverse talents in the works produced by the Diaghilev Ballets Russes. As a result, he was possibly the greatest individual influence on the arts in the 20th century. In celebration of the centennial of the founding of the company, the New York Public Library for the Performing Arts at Lincoln Center mounted the exhibition "Diaghilev's Theater of Marvels: The Ballets Russes and Its Aftermath," which will be on through September 12.
This period saw the emergence of many new ideas regarding the world and the human beings who occupied it – Fauvism, Symbolism, Cubism, Surrealism, Futurism, Constructivism, Dadaism. This new energy also produced different leaders whose vision galvanized the century; Diaghilev stands above all. The twenty years during which The Ballets Russes existed (1909-1929) witnessed more collaboration and the encouragement of more artists to compose, choreograph, design or just "create" than in any other previous or perhaps subsequent time. In 1905 Diaghilev wrote, "We are witnesses of the greatest moments of summing up in our history in the name of a new unknown culture, which will be created by us and will also sweep us away."
Born in the Russian countryside, he came to St. Petersburg at age eighteen and eventually co-founded a magazine, The World of Art, which introduced new European art to Russia. He also took Russian art, music and opera to western Europe. At the urging of the painter Alexander Benois, who had invited him into a circle of young artists and intellectuals, he brought the Russian ballet to Paris in the summer of 1909, thereby inaugurating an organization, The Ballets Russes (eventually The Ballets Russes de Monte Carlo) that is still influencing the arts. Today almost every ballet company with a 20th century repertoire contains at least one Diaghilev ballet.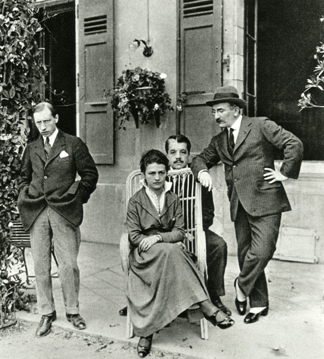 When the works that he conceived, bullied and coaxed out of the participants were successful, such as Petrouchka (Fokine/Stravinsky/Benois), the result was a complete synthesis of the arts – the ideal alluded to in ancient Greece and preached by Wagner. For some, The Rite of Spring, with its multi-rhythmic score by Stravinsky that the musicians distained and originally refused to play, the modern/archaic choreography by Nijinsky that the dancers hated and the primitive Russian décor by Roerich, is the emblematic work of modernism. At its premiere in 1913 it caused riots in the theater – a reaction that delighted Diaghilev, who, supposedly, suggested that they immediately repeat the performance.
He once wrote that he himself had no talent, save that of a maecenae [patron], but with money, which he felt he could obtain, that would suffice. He found talent in others before anyone else recognized it, even in members of the corps de ballet. Possessing a keen intelligence, he was the mastermind through whom the various artistic values were filtered. His enthusiasms and passion for all art, plus his ability to charm and manipulate friends, financial supporters and producers, also attracted a large and fashionable audience in Europe and, in 1916, in America.
Diaghilev was meticulous in his attention to detail: he oversaw the libretto, knew every note of the music (which he really wanted to write himself), chose only the best conductors (Ansermat, Beecham, etc.), approved every design, tried his best to influence the choreography and chose every cast. His only interest was the effect he wished to create. For the first performance of his company in Paris he had the entire theater refurbished and, reportedly, stipulated that the first ring was to be "papered" with the most beautiful and fashionable women in the city.
His now famous command to Jean Cocteau, "Astonish me!," could almost be called his credo. He wanted to transform the ballet into something that would shock as well as please because he truly believed that art could change society. He sought out the avant-garde that often became mainstream, but could also fail. His production of Fireworks with music by Prokofiev and décor by Ballo, had no dancers in it!
The Ballets Russes employed only five choreographers – Michel Fokine, Vaslav Nijinsky, Leonide Massine, Bronislava Nijinska and George Balanchine. But what productions!: Les Sylphides (Fokine/Chopin/Benois), the first abstract ballet; The Afternoon of a Faun (Nijinsky/Debussy/Bakst), which scandalized with its eroticism; Ode (Massine/ Nabokov/ Tchelitchev and Charbonnier), in which dancers moved between and manipulated white cords lit by colored projections and film sequences; Le Train Bleu (Nijinska/Milhaud/curtain, Picasso/set , Laurens/costumes, Chanel), where chic denizens of society athletically frolicked through their foibles; and Prodigal Son (Balanchine/Prokofiev;/Roualt). They were all examples of what could happen when Diaghilev was completely successful in his efforts
The dancers he courted, hired and often fought with included Nijinsky, Pavlova, Bolm, Karsavina and Danilova. Among other composers in his circle were Ravel, Richard Strauss, Poulenc, Auric, Dukelsky, Rieti and Sauguet. Stravinsky, who was part of so many collaborations, received his very first commission from Diaghilev – to orchestrate a piece. His pool of artists started with Benois and Bakst, whose designs for Scheherazade affected not only the clothes of women in Paris and London, but home furnishings as well. Added to them were Gontcharova, Larionov, Derain, Matisse, Braque, Utrillo, de Chirico and Laurencin. In 1917, when Diaghilev asked Picasso to combine his talents with those of Satie, Cocteau and Massine, the result was Parade, which gave Picasso more exposure than he had had up to that time.
The exhibition at the Performing Arts Library includes photographs, letters, programs, music scores, costumes, costume designs and a rich offering of videotapes of ballets that are still performed as well as some rarely seen historic films. There are drawings by Jean Cocteau, a portrait head of Fokine by Isamu Noguchi, Fokine's guest book with many drawings among the signatures and a wonderful contemporary drawing by David Levine entitled "Diaghilev Imagines Merce Cunningham." There are many items that refer to the "aftermath" in the title, including Eugene Berman's designs for the 1944 Balanchine ballet Danses Concertantes. There are also some 19th century dance prints and programs and designs relating to simultaneous companies such as the Ballets Suedois and Gertrude Hoffman's Ballets Russes . The latter presented pirated Diaghilev productions.
But the most fun is to be had by sitting in front of the six screens that show excerpts of many of the Diaghilev ballets (the sound is heard through earphones). Among the "oldies" is Pavlova dancing in a 1915 film, Spessivtseva dancing Giselle, Sokolova in Massine's Good Humored Ladies and a BBC documentary with Karsavina introducing Les Sylphides. All four were Diaghilev ballerinas.