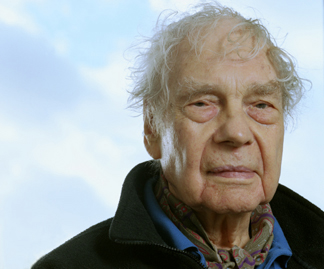 Merce Cunningham (2007) photo by Rita Antonioli

Cunningham, Serra and Space

By DAWN LILLE


ART TIMES

September 2008

DIA BEACON, HOUSED in an almost 300,000-square-foot former factory, was opened in 2003 by the Dia Art Foundation as a home for their permanent art collection, which includes works from the 1960's to the present. Over two weekends in June and July the Merce Cunningham Dance Company was in residence and presented performances in the galleries.

Prior to the performance this newcomer to the museum spent time strolling through the endless space, with its all-encompassing natural light. The length and width invite the visitor to breathe, to feel the vast rooms expanding into infinity and to look at the art so graciously displayed in a completely different and personal way.

The question of how an artist of any kind uses space — inspired by it, adapting to it, fighting it, encompassing it, exploring it or altering it – is key to understanding that artist. In this sense the museum visit was a perfect prologue to a Merce Cunningham dance concert.

Cunningham, the fearless, steadfast, determined, incessantly curious, technologically literate and often iconoclastic artist, was at one time the enfant terrible of the dance avant-garde, then became one of those against whom the early post modernists rebelled. Undeterred, he continued his exploration of movement, where the main elements that have always interested him are time and space and the interrelationship of the two.

With his use of chance determination, in which the order of a dance or the components of a phrase are chosen according to random methods such as the tossing of a coin, and much influenced by his long time association with the composer John Cage, he has aimed to choreograph works in which the viewer chooses which of the many paths of movement to observe. For him, any area of a space is as important as any other and any movement can follow any other movement.

Additionally, although he deems music, costumes and décor important to the final dance, he also believes that each is an autonomous creation in itself. Hence they often do not come together until the last moment, sometimes at dress rehearsal. In the music, what is essential is adherence to an exact time period.

Since Cage believed that any sound could be music and Cunningham that any movement can be dance, it is not difficult to imagine their association with contemporary artists, many of whom designed for the company. During Robert Rauschenberg's fourteen-year association with Cunningham he was on tour with them as stage manager when he received word that he had won the Venice Biennial. The company has dedicated Merce's 90th Birthday Season to the life of Robert Rauschenberg.

Billed as a site-specific Beacon event, the performance took place in the Richard Serra gallery, which is occupied by four large steel structures called "Torqued Ellipses." All the size of a room, with walls tilting in different directions, they are placed in a long rectangular space filled with light. At each end a stage area was defined with a large steel wall as a backdrop. In front about 16 stools were set. Behind the stools the glass doors were open, making the gardens at either end part of the space – heard and felt by the seated audience and seen by the dancers and the many standing and sitting along the sides. In addition to these performing areas a space in between sculptures two and three was occupied by dancers, who traveled between the three performance areas.

The audience was encouraged to explore the Serra pieces prior to the performance by walking into and around them and to move freely from place to place once it began. Inside each sculpture was a musician, all of whom played, often simultaneously, during the dance: Newton Armstrong working on electronic instruments, Maria Chavez who focuses on the "electro acoustic sound of vinyl and needle," David Linton who uses an audio-video feedback system and Stephan Moore who creates real world environments. The program noted that the music for each event was composed and performed by the musicians, implying that it was different each time. The result was hauntingly pleasant.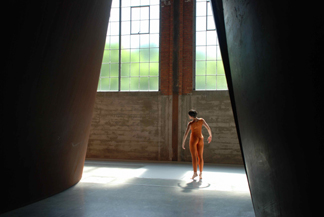 Emma Desjardins at Beacon Dia Photo by Anna Finke
A dance event, a Cunningham invention, consists of excerpts of dances from the repertory, often augmented by new sequences created for a particular performance or space. As is usual with his works, several activities can occur at the same time. All of this, in Cunningham's words, "to allow not so much an afternoon of dances as the experience of dance."
In the Dia gallery showing the work of Joseph Bueys he is quoted as saying that an artist is a shaman. Maybe the first choreographer was a shaman. Cunningham is certainly a combination of all three and the intersecting paths of his dancers created a sculptural painting that never ceased to astonish and please.
The fourteen members of the Cunningham Company are so satisfying to watch. With their absolute concentration and beautifully trained bodies that respond quickly and exquisitely to their inner instructions, via a continuous lengthening flow or sudden inward hollowing movement, they represent the acme of what a dancer can be. Their strong feet articulate a specific language and their long, high leg extensions take the eye of the viewer beyond the performance space and then disappear, only to reoccur later.
At times the continuously engrossing movement seems random, with dancers coming on and off stage singly or in groups. Then two dancers suddenly come together and there is a short, intense duet that is breathtaking.
Julie Cunningham, in a solo that included a diagonal tilt of her body, the force of which seemed about to spring through her fingers into the outside garden, will remain in my vision for a very long time
The color of the dancers' unitards – gold, cocoa brown and burnt orange – seemed inspired by the rust color of the sculptures. Each costume was decorated with a different design of geometric shapes that related to Serra's works. The linear and often circular paths of movement and the sudden bursts of strong movement, such as three dancers in a diagonal line jumping straight up, with knees bent and feet touching their buttocks, also appeared to be treating space in a manner reminiscent of Serra.
Merce sat in a corner of the gallery watching the event and on the other side one could see Carolyn Brown, a member of his original company and for twenty years an unforgettable dancer. What a pleasure to walk out feeling serene because of the contact with a choreographic genius still investigating and communicating the possibilities of space and the human body.