Israel From the Inside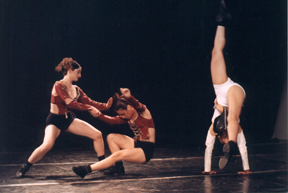 "Cement Machine" choreographer Amir Kolben, Jerusalem Academy of Music and Dance

By DAWN LILLE
ART TIMES Sept, 2003
When the announcement of a planned trip to Israel in May/June was made, email accumulated and the telephone rang persistently, suggesting I was crazy and taking life-threatening risks. Instead, I would like to report on a visit to the Middle East that was filled with exhibition openings, new architecture, performances of music, dance and theater, flowers and sunshine.
The Dance Library of Israel, one of the largest dance research collections in the world, had invited me to teach a seminar. Thus my visit began with two days spent in the library, which is situated between the Tel Aviv Museum and the Opera House. Over twenty people participated in discussions on and viewings of dance centered around the topic of the avant-garde movements of the 20th century, while outside the atmosphere was an eerily gray quiet that alternated with bursts of sandy wind and rain – a desert hamsin.
Attendance one evening at a performance of Mamoota, the newest work of the Bat Sheva Dance Company, created by its resident choreographer, Ohad Naharin, was a reminder of the amount, depth and variety of dance in Israel, a performance art that has finally found its own indigenous voice and special energy. A piece for eight dancers, the title of which means "mammal," the work seems to deal in an abstract manner with the relationships of an early society. Here it is difficult to communicate fully, but the human emotions are evident. Naharin's dance Anaphaza was seen at the recent Lincoln Center Festival in July, but that work is accumulative theater and dance, filled with sound, strong movement and strong voices. Mamoota was almost minimalistic, but even more powerful in its calmer approach of tenderness and fragility, leaving the audience ready to beg for someone to be able to show and to accept love.
The Jerusalem Academy of Music and Dance began in 1947 as a music conservatory; the dance department was established in 1961. Situated on the campus of Hebrew University, down the street from the Israel Museum and the Knesset, the academy has an enrollment of over 600 students. As a member of the board I spent much time discussing curriculum, which is very demanding, and funding, which is badly needed, but also heard concerts by music students and saw a full evening dance performance.
The dance department grants degrees in performance and in choreography/notation. The required curriculum includes classes in various techniques, music, history, notation and choreography. Their graduates are performing, teaching and creating dances. The musicians have the opportunity to perform in opera, chamber music, ensembles, an orchestra and a choir. They can also study composition and jazz. There is a new department of Oriental Music, where the majority of students are Arab Israelis. Everyone turned out on a cool early evening in Jerusalem for the inauguration of the new building adjacent to the Academy. A striking modern structure that will house the associated high school and conservatory, it was donated by Younes and Soraya Nazarian of Los Angeles.
After speaking at Tel Aviv University for the Interdisciplinary Arts Program on "What's American About American Dance?" I was presented with the catalogue of an exhibit of thirty outdoor sculptures currently being shown at the university's art gallery, among them works by Menashe Kadishman.
A few of us drove up to Kibbutz Gaaton, adjacent to the northern panhandle near the Lebanese border. Here is housed a regional dance school, a workshop for older students and the Kibbutz Contemporary Dance Company. The school and Workshop are led by Yehudit Arnon, the founding artistic director of the company, which is now under the leadership of Rami Beer, her former student. The company has traveled widely in Europe and Asia and was last seen in New York at the Joyce Theater. They were rehearsing Beer's most recent dance, Screen Saver, in a new studio that can be converted into a theater. They will tour the work in and out of Israel.
My last night in the country I went to a performance of a play, Fathers and Daughters, presented by the Arab-Hebrew Theatre, housed in an old crusader building in Jaffa. Supported by both the government and the municipality, this combination of two theater companies produces plays together and separately, in Hebrew and Arabic, with the participation of Arab and Jewish actors. Its mission is social and political as well as artistic and its community outreach program, as well as it prize-winning productions, use drama and movement to promote understanding and encourage young playwrights.
The three women in this work, which took place on a set that was a beautifully designed Turkish bath — an Arab, a sabra and an immigrant from Italy — were eloquent and convincing as they spoke of their lives in connection with their fathers. I was invited to stay for the birthday party of the Arab actor. Here the best Arab violinist in Israel played, Arabs and Jews sang in Arabic, and everyone danced. All this happened a few hours after another major suicide bombing in Jerusalem. Gaby Aldor, one of the performers and the co-director, who is also a dancer, described this group as a large family that often bickered, but celebrated every holiday of every religion together.
In Israel there is certainly tension, wariness and deep fear of terrorism. There is security outside public buildings, hotels, restaurants and theaters. But some of the same exists in New York. I kept my promise not to ride the buses, but then European friends warn me about the New York subways. The positive thing is that the arts continue.