This Holiday Season See a Phenomenon*
By FRANCINE L. TREVENS
ART TIMES Nov/ Dec 2009
(*definition: people events or things that are extraordinary ­— "Billy Elliot" scores on all three.)
THE PEOPLE INVOLVED are incredible, as their multi-award-winning personas prove.10 Tony Awards, 10 Drama Desk Awards, 7 Outer Critics Circle Awards, 2 Drama League Awards. 2 Astaire Awards, 2 Theatre World Selections.
The event is a book musical so saturated with dance and movement that it reminds you of the great musicals of the past. It accomplishes the sort of breathtaking dance sequences that one relates to films such as An American in Paris and The Red Shoes. Too often today's musicals pay a nodding acquaintance to genuine dance. This one is intimate with it!
The musical is "the thing" and is phenomenal for dramatizing a specific time in history that, with today's economic situation, resonates for us and for exploring family relationships which are eternal, while using dance to express and define it all.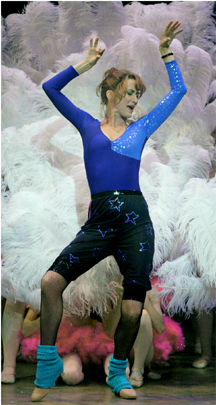 This column is about dance: "Billy Elliot" is about dance. Choreographer Peter Darling was lauded with awards, as were the three young men who created the Broadway persona of Billy Elliot: David Alvarez, Trent Kowalik, and Kiril Kulish. They shared best actor in a musical award. Now three more young dancers have come on board as Billy and young Mr. Kulish is moving on. The musical rests on the slim shoulders of the boys who play Billy – but Billy soars on the shoulders of a distinguished company of stellar performers. The father, a much-nuanced part, is played with perfection by Gregory Hara. The dance teacher who struggles to get a gifted boy his chance, performed to precision by Haydn Gwynne and wonderfully well by Jayne Peterson, in one performance I saw. And everyone dances, everyone sings and everyone makes Billy soar!
What a daring concept it was – to find extraordinary young male dancers and train them to be able to perform this demanding role with its virtuosity dance numbers and the diversity of dance disciplines. It took 20 months from his first audition in Nov. of 2005 until Trent was offered a contract in July of '07. David Alvarez' first audition was in March of '07 and his contract was offered one year later, while Kiril Kulish also took just a year before being asked to come on board. While tap is Trent's favorite type of dance, David and Kiril prefer ballet. We understand slight adjustments are made to highlight the special strengths of each of boy when he performs.
What a problem it creates – since the boys are still growing and their voices soon will change, they must be replaced regularly with other dazzling new talents. There were many "Annie"s, but girls don't have such dramatic changes in their voices in their earlier years; women in their twenties have successfully portrayed very young girls.
The other problem would be keeping the boys from jealousy or competitiveness. It was refreshing, therefore, to sit with them at the Outer Critics Circle Awards dinner and see how like regular young boy chums they were. All three said their best memory of the "Billy Elliot" experience will be the friends they made, and Kiril goes one further saying they will be friends forever. This is also a phenomenon, friends instead of rivals.
It's a simple story of a boy in a mining town during the strike of the Thatcher years who discovers his talent for dance. His teacher attempts to get him an audition with the Royal Ballet School; his shocked family disapproves and mocks him. How he manages to get out of his dire circumstances is the main dramatic element in Billy's personal life, paralleling the strike.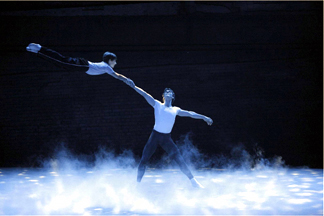 Trent is the old man of the Billy performers, in that he was with the show the longest. He was in England with "Billy Elliot." His working parents with other children to tend, couldn't go with him. The production appointed a guardian. For Trent, "being in a foreign city was so cool… living in a totally different culture: the look of the city, the way people spoke English, the food they ate, the games they played all were new and exciting. People I lived and worked with were so welcoming. Now, I miss my British friends!" But, while there he missed his parents. "I spoke to them daily and couldn't wait for their visits, I counted the days." They came for four days every four weeks.
Asked what was the toughest part of doing this play, David responded, "Coping with the rehearsal schedule." Kiril felt "Well I'm on stage for practically the whole show so it takes a lot of stamina," while Trent felt thinking of acting, singing and dancing all together was the biggest challenge.
Each of the boys also has a different favorite number. For Kiril, its "Electricity" the ballet number that explains how it feels for him to dance. For Trent it's the scene leading to and including the angry dance, mostly tap, which incidentally, he performed on the Tony show, and David's favorite number is "Solidarity! I think it tells all, and as an actor and a dancer I can show a lot of me."
Their dreams of the future also vary somewhat, David wants "Dancing for the American ballet theater and for other world-renowned ballet companies." Trent hopes in ten years to be acting in film, TV or on Broadway. Kiril says, "In a ballet company, or a musical or a movie, I don't know, I'm looking forward to everything."
Audiences who love dance can look forward to seeing a very touching human musical comedy -- yes, comedy, in dance numbers such as "Expressing yourself" and "Born to Boogie" as well as lines and situations throughout the play that uses dance to show armed conflict and tender moments such as when Billy dances with his nostalgic grandmother , the ever wonderful Carole Shelley.
For a holiday treat that values friendship and family, this is an unsurpassed dance experience that everyone will love, despite some rather spicy language!