Fall For Dance is the name of a unique dance festival that just completed its fourth year at the New York City Center Theater. The title covers two important aspects of what is billed as "ten nights, six unique programs" of performances, each of which includes four or five different companies and types of dance. First, it is a fiesta that inaugurates the new season of dance and second, it is aimed at introducing a new and young audience to the art, often via new and young dancers and choreographers. At ten dollars a ticket, anywhere in the 2,753-seat theater, it is no surprise that every seat at every program was sold out before the ten-night season (two programs were repeated) even opened on September 26.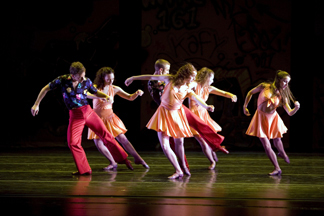 Julliard Dance (photo: Rosalie O'Conner)
What a variety in the twenty-eight dance companies that came from all over the United States, as well as Sweden, Spain, Russia, France, India, the United Kingdom, Belgium, Argentina and South Africa. Before this concept was conceived of by Arlene Shuler, President and CEO of New York City Center, it was almost impossible to see so many different dance companies in so short a period of time, even at major dance festivals. And to be able to absorb this richness at an affordable price is a rare gift. The excitement about and recognition of the festival has resulted in other cities copying the idea, thus introducing dance to a growing young audience and allowing new companies to show their work. Some will perform later in the dance season and many in the audience will go to see them, The Festival also offered ticket holders N.Y.Dance Link, allowing them to receive discounts to other dance events in the city.
Global and democratic in its presentation, the Festival included offerings from such major companies as the New York City Ballet, the Kirov Ballet, Ballet Hispanico, American Ballet Theatre and the Trisha Brown Dance Company. Among the new American companies were Kyle Abraham/abraham.in.motion and Camille A. Brown and Dancers. Each evening was so varied — styles ranged from classical ballet, to Indian dance, flamenco, tap, modern, tango and hip hop — that every member of the audience could find something exciting and inspirational.
The opening night program, typical of those that followed in its mixture, began with the Paul Taylor Dance Company in Arden Court (music by William Boyce), which premiered in 1981 and, in its humor about ego and competition among dancers, is still an example of strong, weighted and happily abstract movement.
This was followed by Middle Duet, choreographed by Alexei Ratmansky, the young choreographer and fairly new director of the Bolshoi Ballet, and danced by Ekaterina Kondaurova and Islom Baimuradov of the Kirov Ballet. Performed last spring by American Ballet Theatre, this duet is a refreshing look at what can be creatively crafted by expanding the use of the classical ballet technique into a rich and beautiful dance poem.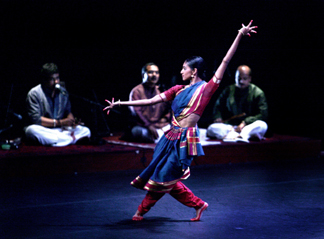 Shantala Shivvallingappa (photo: Rodrigo Cesar)
Shantala Shivalingappa, a dancer and actress from Madras, presented her own solo, Varnam, which is based on the musical composition of South India and is part of the Kuchipudi style of dance. Beautiful of face and gesture, with a piercing projection and an uncanny sense of rhythmic exchange with her musicians, she was the embodiment of what there is to learn about Indian dance.
Twyla Tharp's Deauce Coupe, to the music of the Beach Boys, was originally created in 1973 for the Joffrey Ballet, but as performed by Juilliard Dance it is still possible to see why this work became the icon of how a ballet company could change style. With its jazzy nonchalance, it was a rousing and still pertinent program closer. These young dancers, all juniors and seniors in Juilliard's Dance Division were full of life and energy and an inspiration to every young dancer in the audience.
Not all presentations were equal, but the responsive audience loved each one and several stood out. Damian Woetzel represented the New York City Ballet, where he is a long time principal, dancing A Suite of Dances, choreographed by Jerome Robbins to selected movements from J.S. Bach's Suites for Solo Cello. Originally created for Mikhail Baryshnikov, this is a small work, playful in that it involves a conversation between the dancer and the cellist, yet wistful at times. It contains some of Robbins signature folk steps and amazing sections of seeming relaxation, so that the beginnings and endings of phrases flow into each other. In an interview on the City Center website, Woetzel spoke of what he sees as the juxtaposition of the rigidity of the music and the very American casualness of the choreography. The performance by a mature, secure, thinking dancer, able to communicate by means of the subtlest movement, was almost perfect.
The Royal Ballet of Flanders, the only classical ballet company in Belgium, presented an excerpt from Cornered, choreographed by Nicolo Fonte to music of Philip Glass, Ross Edwards and Gavin Bryars. The curtain opened on a white floor with a black pole in each corner of the stage and four dancers dressed in black. The program note talked about the passing of time and four couples, each in a duet, were very capable dancers, but the work was long, indulgent and repetitive. In its aim to bridge the gap between tradition and modernity, this ballet could not be judged a success, but it and the company were interesting to see.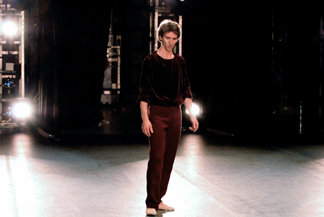 Damian Woetzel (photo: Kyle Froman)
Mats Ek, the Swedish actor, director, choreographer and dancer, and his wife, the extraordinary performer Ana Laguna, gave the American premiere of his work Memory. Set to music of Niko Rolcke, this is a pas de deux in which a man remembers a woman, probably his wife, and "the past becomes the present." There is humor, suggestive sexuality, tender love and a certain familiarity between these two superbly concentrated performers, able to create more with less in a casually simple living room setting. The result was a wonderful bit of pure danced theater.
Two brothers from Minneapolis, Andy and Rick Ausland, presented themselves in their own choreography, Buckets and Tap Shoes, MSP to NYC. along with four musicians who played mostly percussion, as well as bass and alto and soprano sax, they tapped and played their way through a rousing performance. Pony-tailed hair and baggy jeans seemed to float around their amazing rhythmic feet and their good nature was contagious.
Attached to City Center and running between 55th and 56th streets is a public passageway that was turned into a festival lounge, where inexpensive drinks and food from local restaurants could be bought. The sound of the DJ and the talk of the dancers from the different companies and audience members mixed before and after performances. On four different days free classes were offered in tango, tap, flamenco and South African dance, prior to the performances of these groups. The last named brought in many children twelve and under, and their parents joined in as well.
Since I did not initially plan to write on this, my wait for five hours on the day tickets went on sale was not unlike that of others, many of whom read the New York Times thoroughly to pass the time. (Admission: As a faculty member at Juilliard I did receive seats for the first program.) Ordering on line and over the telephone was possible, yet also involved long waits and was more expensive. But for the youthful – and sometimes not so youthful – audience, it was a gift from the dance world and they voiced their appreciation nightly. Next fall take turns waiting on line with a couple of other people. You will not regret it.