A Contented Choreographer Who Has Arrived and an
Up-and-Coming One
By FRANCINE L. TREVENS
ART TIMES May 2009
Despite the concept of creative people being tormented by demons, always struggling with an image they cannot quite capture, an idea that never comes fully alive, there are exceptions to the rule. One such exception is none other than Mark Morris who recently choreographed L'isola disabitata (Desert Island) which, as a Gotham Chamber Opera presentation, had its New York City stage premiere at the Gerald W. Lynch Theater at John Jay College in February, in honor of the bicentennial of the death of its composer, Joseph Haydn.
Another choreographer, half his age, who set off in a different dance direction is Joe Barros. Though both are from the West Coast, their backgrounds and the dance fields they entered are worlds apart. Mr. Morris has his own dance company, Mark Morris Dance Group. Mr. Barros his own theatre company, New York Theatre Barn.
The entertaining Hell's Kitchen Musical, which Joe choreographed at Hudson Guild in Manhattan closed in March. He'd worked on this through its earliest incarnations to the recent run, and along with others on the creative team, is hoping to move the work to Broadway. "The piece grows a little bit each time and it was exciting to see the show finally come to life."
Mr. Barros, while happy is far from content. His ambition is still flaming, and his "ultimate dream is to be doing what I'm doing now as a director, choreographer and producer on an even grander level."
When asked how they started on a new choreographic task – say L'isola disabitata for Mr. Morris, does he begin with the music, a preconceived image, the strengths of the dancers for whom he is choreographing, the mood of the piece, or what? Mr. Morris replied "L'Isola is not a dance, it is an opera. I found the singers to be unusually well prepared and willing. It was a delight.
'In every piece I work on I begin with the music. My job is fuelled by music. That's why I choreograph and that's why I am involved in opera"
Asked a similar question about choreographing, Mr. Barros rejoined, "It all begins with storytelling. After living with the music and text for some time, I begin my prep work with research and experimentation. It's best to have great storytellers, but I have worked with actors who have various levels of dance training. I arrive in rehearsal with my concept (in collaboration with the other members of the creative team) and it evolves from there."
I was aware Mark Morris had wanted to be a choreographer since he was a kid in Seattle. He is a lucky, as well as contented man, for how many of us grow up to be what we dreamt of as kids? His dream then was "To make up dances."
Joe Barros, who grew up in Pacifica, California, recalls "I always had this incredible need to create and share it with others. I never thought 'I want to be a director'…or 'I want to be a choreographer'…or 'I want to produce on Broadway'... eventually...it all just fell into place. I acted, I sang, I danced and then I began to make things happen. From those small projects in my living room and the school yard came larger projects. The first show I really produced was William Finn's Falsettos. I was in high school."
How many of us have reached our ultimate creative goal by our middle years? Mr. Morris's response to my question about a dream he would still hope to achieve was, "World peace comes to mind. Other than that, I'm doing what I love and what I want." He formed the Mark Morris Dance Group in 1980, and has since created more than 120 works for the company. He is very pleased with "The Mark Morris Dance Center, our home in Fort Greene, Brooklyn, was opened in September, 2001. It is the most wonderful place imaginable: My company, a flourishing school, community classes, a real destination."
Barros said his biggest challenge to date was, "My theatre company: New York Theatre Barn, a non-profit theatre company dedicated to the investigation, development and advancement of new works. The company is two years old and I am very pleased with the way things are going thus far." Mr. Barros believes, "Everything is a learning experience. My biggest mistakes have taught me the most."
Mr. Morris feels his biggest professional challenge was the years from 1988-1991 spent in Brussels. "Quite difficult and enormously valuable." He sums them up now. Among the works created during his tenure as Director of Dance at the Théâtre Royal de la Monnaie in Brussels, the national opera house of Belgium, were three evening-length dances: The Hard Nut; L'Allegro, il Penseroso ed il Moderato; and Dido and Aeneas. Morris is noted for his musicality and has been described as "undeviating in his devotion to music."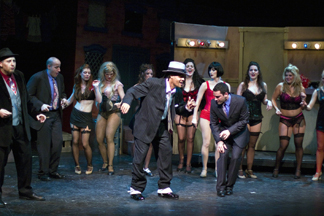 He has won much acclaim and many awards, including eight honorary doctorates to date. In 2006, Morris received the New York City Department of Cultural Affairs Mayor's Award for Arts & Culture and a WQXR Gramophone Special Recognition Award. Morris is a member of the American Academy of Arts and Sciences and the American Philosophical Society. In 2007, he received the Samuel H. Scripps/American Dance Festival lifetime achievement award. At the top of his game in the classical world of dance, Mark Morris has created seven works for the San Francisco Ballet since 1994 and received commissions from American Ballet Theatre, and the Boston Ballet, among others. He founded, in 1990, with Mickail Baryshnikov, the White Oak Dance Project.
He is fortunate in working with many top names in dance including Lar Lubovitch, Hannah Kahn, Laura Dean and Eliot Feld, and feeling he has never staged a work which was not up to his standards, saying, "If a dance is not up to my standards I won't show it publicly. Most often I find very fine dances are underappreciated. Even a bad dance is a lot of work."
Joe Barros has worked with a number of theater people, some dancers some not. He assisted Graziella Danielle on one play, and worked with Tovah Feldshue. His risks are with untried material. Awards have yet to come for him.
What's next for each of them?
The company performs Mark Morris's Romeo & Juliet, On Motifs of Shakespeare at Lincoln Center's Rose Theater May 14 - 17.
For Joe, "May is the second anniversary of my company and I will be producing an evening called Untitled 3D which will explore the process, product and perspective of three musical theatre writing teams and their three new musicals: Punk, Group Therapy and Like You Like It. Also through my company, I am producing a new musical called Hey, You Know What Movie Would Make a Good Musical? It parodies the current state of the Broadway musical."
This amused me, because I found Hell's Kitchen Musical virtually a parody of sixties musicals, which is the era in which it was set. There were shades of Guys and Dolls, Sweet Charity and West Side Story. Joe's dances were very true to the era. While they were basically simple, given the fact that many of his dancers were NOT dancers, they were none the less surprisingly exciting and varied. The number "He's a Ten" sung and danced by two older members of the cast was a show stopper as the two men danced on knees and hands and buttocks across the stage.
"My most vivid influence was the movie The Wizard of Oz," said Mr. Barros. "It had all of the elements of a great story and was told well. I think it's the reason I ultimately chose a career in the theatre, or that a career in the theatre chose me! My fourth/fifth grade teacher Mr. Freeman taught me to always exceed expectations."
He certainly exceeded mine, when I went to Hell's Kitchen Musical on closing night, and thus I predict that in another 25 years he may be as prominent in the theatrical field in which he handles so many phases, as Mr. Morris is in ballet and opera.