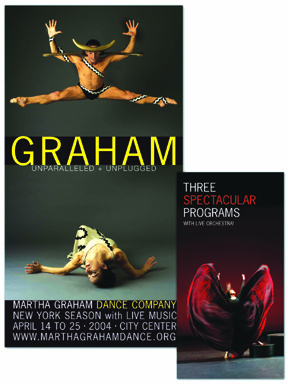 WestGroup Creative, left image: Elizabeth Auclair
& Gary Galbraith in Martha Graham's
"Errand into the Maze"; right image:
Fang-Yi Sheu in "Spectre-1914" from Sketches
from Chronicle. Photos by John Deane
Dance is…?
By FRANCINE L. TREVENS
ART TIMES May 2007
Dance is an art — a physical means of delineating music, a visceral response to the joy or pain life throws your way. Dance is images that captivate your mind and heart. Dance is ethnic yet universal, modern yet timeless, sometimes flowing, frenetic, stilted, athletic, loud as taps or quiet as soft shoe, athletic as wrestling or ethereal as wafting spirits in ballet.
A dance company is a group of dancers with a single and often singular vision. A dance company is a group of dancers who dance together. A dance company, however, is also a business. And in today's world, a business cannot stay in business unless it has an identity, a special niche in the consciousness of those who will keep it in business: In this case, an audience to perform for and bookings of places to perform in. Our conception of a particular dance company is also an image – and good images captivate your attention, making you want to attend the dance. Great images stay with you forever.
How do you build such a consciousness or image? Is it by ads, by publicity, by word of mouth, by reviewer reactions? Yes, all of the above, but there is also another element essential to the preservation and promulgation of dance companies, and that is marketing.
Noel Hayashi, marketing pro, regards marketing as "the 'umbrella' under which publicity, public relations, advertising, promotions, merchandising, etc. all fall." Marvin Beck of WestGroup Creative informed us, "Dancers train for years. Marketing designers do the same." Both are always learning and updating their work.
Last Fall, Donald Saddler and Marge Champion did a10 A.M. ribbon cutting ceremony at opening day festivities for the New Dance Group Arts Center (NDG) which was an event WestGroup Creative worked with NDG to create. During the daylong festivities, three studios were combined into one large space to accommodate students who came to sample the free dance classes. Festivities ended after SRO performances by Pam Myers, Harvey Evans and Kurt Peterson and the debut of a witty modern dance, "Diversity," by NDG artistic director, Rick Schussel.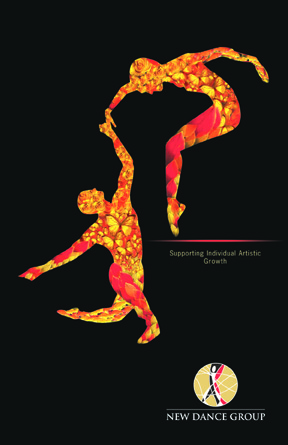 NDG Poster: WestGroup Creative,
Designer and Illustrator: Chip Tolaney.
Although involved in dance for several generations, there are many dancers and choreographers unaware of the work marketers do. Donald Saddler, an original member of Ballet Theatre (now American Ballet Theatre) moved on to dance and choreograph on Broadway. A multi award winner, Saddler admits he was on the artistic side of all his ventures and was unaware of marketing companies or their efforts for most of his career. And what a career it has been: Over fifty years of achievement, including Tony awards, Dance Magazine award, Capezio Award, among others.
He most recently worked with the North Carolina School of the Arts where he did A Funny Thing Happened on the Way to the Forum. He does not believe the school is involved in marketing.
He presumes American Ballet Theatre might have a marketing person now, but certainly did not when it was first founded, nor did the Harkness Ballet Company where he was associate director.
Susan Kindlund, who was director of marketing at Joffrey Ballet back in the late seventies, said they also hired a marketing company, now defunct, called Russ Lapso and Associates
"A marketing company has personnel with direct marketing expertise that I didn't have. Mr. Lapso had extensive direct mail experience and helped us sell subscriptions through brochures and print ads. Small companies can't always afford them, but they can benefit from them."
She also suggests small companies not pay on a retainer basis, but on a project basis as a way to help them afford marketing company expertise. The board at the Joffrey wanted a marketing firm that did "a good job, but also created problems." The Lapso firm came up with the idea of giving premiums to people who subscribed. The more performances a person bought, the more premiums he received.
"I don't believe any dance fan buys a subscription to get a tee-shirt free," says Susan, who spent months long after the season ended sending out the premiums. She believes it shows an "absence of faith in the marketing director" to want a marketing firm in addition. "I'd advise companies to consider carefully what a consultant has in mind and weigh whether the marketing company has the internal staff to facilitate its own plans."
Pilobous Dance Theatre never used a marketing firm. Executive Director Itamar Kubovy feels a marketing company could "devote more attention to specific projects than company personnel can do." He felt, for the right project, a marketing company could help small and not for profit dance companies.
Noel Hayashi, who started in-house at Paul Taylor as their first marketing director, hired a design firm to create a logo and type treatment to give a consistent look to all of their marketing materials. She believes that "as an outside advisor it's easier for me to look at the 'big picture': how a dance company is perceived in the market, whether there is a clear image and message being articulated, whether a company's marketing efforts are adequate, etc." She feels in-house staff is often stretched too thin to cover all the bases. Noel also feels small dance companies can "neither afford an in-house marketing professional nor an outside marketing company."
She would not advise small non-profit dance companies to hire a marketing company. She founded a company, The Center for Creative Resources, which provides "marketing assistance to non profits within a broader context of building capacity by helping companies with management, marketing and fundraising."
She gave several examples of what she has done for various companies, including some specific marketing projects to supplement Alvin Ailey's on-going efforts with its in-house marketing department. For newer companies such as TAKE Dance, she helped them figure out what they wanted their image and identity to be then worked with designers, photographers and PR professionals to articulate that message.
Joanna and Ryan Greer, co-founders of the eight-year-old Kinetic Dance Theater, say they have to handle their marketing themselves. They acknowledge marketing firms have "more time, connections and expertise." They are sure if the budget permitted, small dance companies could benefit from a marketing company. "However, it's important for young companies to gain the experience of taking on marketing themselves."
Marvin Berk of WestGroup Creative notes that there are grants available to small groups specifically to help with costs of marketing. His firm also offers discounts for non-profit small dance companies. As for other companies, it never hurts to ask.
Mr. Beck also commented, "Some for-profit and many non-profit organizations fail to understand the periodic need for graphic/visual updates or new marketing tactics to enhance a product or service. Some non-profits are tradition-stuck…they don't realize yesterday is gone. This is where WestGroup provides inspiration.
"As Chip Tolaney, our Art Director, who won an award for design excellence for his NDG logo says, 'If you saw the ad, the flyer or poster on the floor, would you bend over to read it or pick it up?'
"We do marketing graphics for performances and tours. We work to create a logo and then build a brand name."
Among the companies for which they have done such services are Paul Taylor Dance Company, American Ballet Theater, New York City Ballet, Ballet Hispanico, Thomas Ortiz Dance, Take Dance Company, The Horse's Mouth and Buglese Forman.
In the never ending struggle for any arts organization to attract audiences and funds, the work of marketing companies can be a decided plus. They have also served to help expand the number and quality of bookings for dance companies.
While we as audience go to performances because the ads, posters, brochures, or press releases and reviews attracted our attention, how seldom we think of how that image was created and disseminated. Next time you see a dazzling poster or flyer for a dance event, I bet you won't be able to resist checking to see if a marketing company was responsible for "the look."