By DAWN LILLE
ART TIMES May, 2005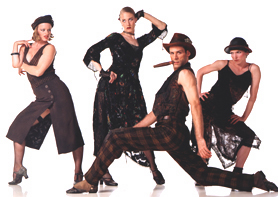 "Black Tuesday" Paul Taylor photo by Lois Greenfield

Even those who decry the repetition often seen in one choreographer companies return year after year to view the new work created by this intellectual and painterly choreographer, whose works constantly find new ways to display the astounding performing energy of his dancers and the underpinnings of the music he chooses. His output now numbers 122 dances, with two new ones added each year. Not all are absolute successes, but even the lesser works are crafted with consummate skill, and the performers project unique personalities that are woven into the choreography.
Taylor studied painting before he came to dance and this can be seen clearly in his approach to movement and composition. The concentration on line, pattern and color (the latter expressed amazingly through movement) all reveal the painter in him. He also has the ability to tell a story, which can be narrative, non-narrative or a combination of both. He was a swimmer in college and his own unique physique, tall, muscular and endowed with both strength and speed, was the instrument on which he originally created dances. He also uses the diverse talents and idiosyncrasies of his company members, who have never been cookie cutter clones of each other. But all are capable to flying through the air at breakneck speed, sliding to the floor, becoming lightly air borne again and then flinging themselves into each other's arms in seamless, trusting phrases. We identify with these people kinesthetically.
The possible emotional range of a given performance – from comedy to pathos, with the latter sometimes hidden beneath the former – is probably one of the things that has kept audiences coming for half a century. Taylor has never been hesitant to explore moral issues either, be they dominance (political or parental), sexuality, the dangers of technology or the hypocrisies in our culture. He sees both the angel and the devil in us.
The other draw is most definitely the pure physicality of his movement. Many of the former Taylor dancers in the audience during the closing weekend wondered how they had rehearsed and performed, day after day and year after year, with the energy required. At a panel discussion of alumni, Kate Johnson, a petite dancer, who, like so many others, moved so quickly at times that your eyes could barely follow her, was asked about taking class outside the company. She replied that at the end of a day she was too tired to do anything. However, it was, and still is, the degree of emotional energy required to portray characters, often nameless, but nevertheless intense, that is most exhausting for Taylor dancers.
Trying to decide whether Taylor is or has been avant-garde or mainstream is irrelevant. His choice of music has ranged from Handel to Stravinsky to Feldman and has included Schoenberg, Mc Dowell, Gottschalk, Mariachi bands, Ligeti and popular songs. The painters Robert Rauschenberg and Alex Katz were part of many of the early works. In 1957 he presented "Seven New Dances," accompanied by a telephone signal, heartbeats, wind, rain and the music of John Cage. This was followed a year later by a work in complete silence. Louis Horst, teacher and mentor to Graham and others, was then editor of Dance Observer and his review of the 1957 concert, which included one dance with no visible movement, was the now famous four inches of blank column space.
Almost all of Taylor's works contain his view of humankind, from Cloven Kingdom, which examines the animal tendencies in our socializing rituals, to Last Look, a most frightening projection of how the world could end, to Sea to Shining Sea, a satire on American myths and heroes, Superman and Betsy Ross included. His outlook is essentially American, often incorporating not only our humor, but our social dances, our puritanical streak, some of our evil history and our naivety.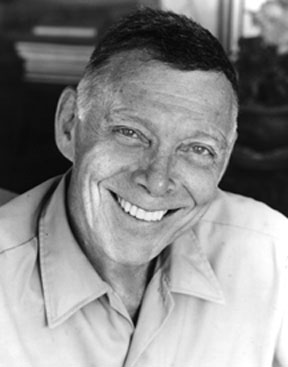 Paul Taylor photo by Paul Palmero

The repertory for this "golden" season included established classics such as Aureole and 3 Epitaphs, the new works Klezmerbluegrass and Dante Variation and others from different decades, all of which reveal his daring imagination and constant incorporation of relevant and minute detail.
Esplanade (1975), to music by Bach, is made up only of walks, runs and hops. It does not contain even one dance step, but it builds and builds, using the floor and the air above it. The nine dancers explore the space around them, sometimes off balance, in vignettes that project a caring gentleness, sly humor and an unbelievable variety in what can be wrought from these pedestrian movements.
Musical Offering a requiem (1986), also to Bach, uses 14 dancers in 16 sections. Involving the full cast in the beginning and end, it alternates solos with small groups. The musicality here is profound, showing a subtle understanding of the fugues, canons and musical configurations via movement that continues through the composer's phrases, never quite arriving at an end. With its almost primitive costumes (elaborate loincloths for the men) this is a ceremonial ritual of richness and power.
Funny Papers (1994) is dedicated to "all those who, before reading the front page news, turn to the funnies." Using such novelty tunes as "I'm Popeye the Sailor Man," "Itsy Bitsy Teenie Weenie Yellow Polka Dot Bikini" and "Does Your Chewing Gum Lose Its Flavour (On The Bedpost Overnight)," the dance evokes simple laughter with its cavorting, pumping limbs and silly, satisfied playfulness. Yet, somehow, we are aware that the comics were, and are, only a temporary diversion from the less than silly news.
Black Tuesday, originally mounted on American Ballet Theatre in 2001, is set to songs of the Great Depression. It opens on a cross section of people in front of Santo Loquasto's backdrop of a bridge and the first duet is to "Underneath the Arches." In this work Taylor again mines the fear in the words underneath the seeming bravura of the steps. His solo for a pregnant girl is frightening in its flippancy, since we all know the life her child will lead. The piece ends with "Brother Can You Spare a Dime," heartbreaking in its outward buoyancy. It is perhaps no accident that ABT performed the work on the west coast immediately after 9/11 and a subsequent cover of the quarterly Ballet Review showed a photo of one of the dancers taking a curtain call holding an American flag.
The season's repertory did not include Sunset, with 6 men, soldiers of some sort, and 4 young women in summer dresses, to music of Elgar. A non- story story, it is delicate, sad and haunting. Some viewers think the men have died and the women are angels. It is a dance that evokes a sense of deep sorrow and inevitability, the explanation for which really cannot be identified.
But, mostly, Taylor dances, with their bittersweetness, their laughter, their evocation of love, their exuberance and their sense of dignity, are life-giving. For that we are grateful.