Stam-Pede ─ a Buffet of Dance Companies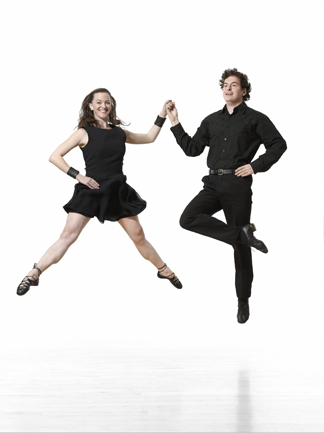 By Francine L. Trevens
ART TIMES Mar/ Apr 2010

It was one of the freezing Sundays of early January. The lobby of Symphony Space in Manhattan was wall-to-wall people waiting to be admitted to the one-day only event, Stam-Pede. My companion noted lots of very tiny kids clustered around harried parents and feared they would be disturbances in the audience. I assured her kids loved dance programs. I'd noticed for years how children reacted to musicals by squirming in their seats or sliding to the floor and dancing. In truth, I suspected they would enjoy the Gotham Arts Exchange, Inc.'s sampler of dance companies more than I would.
I booked to see the production because it included Thank You, Gregory, a tribute to Gregory Hines and other legends of tap. As an old pal of Greg's, how could I resist? Boy, am I glad I did go. The program was long, over 2 ½ hours, but it was delightful, fun, exciting. A joy ─ and that after I had been complaining of how little joy I found anywhere these days. The program consisted of performances from seven different arts organizations. Its intention was to whet the appetite for people to follow up on some of the companies performing. It was sort of a buffet of dance.
Thank You, Gregory used film and live performance in its tribute to tap. The screen showed actual dance numbers, and a continually changing montage of faces of former tap dance stars of the screen, stage and TV. The live dancers were excellent, and Joseph Webb, with his interpretations of some of Greg Hines' specialties, was particularly breathtaking.
In addition to noting the strong enthusiasms of the talented live dancers, I noticed a modern phenomena. Many dancers did not look like dancers, their body types were chunky or even clunky — but their movements and skill belied their physicality. It took a while to be able to see beyond the shapes of the performers to their skill and grace, but their talents won me over Thank You, Gregory was the longest segment of a long afternoon, but was wonderfully executed and utterly enjoyable.
           The Darrah Carr Dance Company followed, with some interesting takes on traditional Irish dancing, including step dancing. It was delightful seeing new variations on the old standard moves. The young dancers performed with precision and style and a contagious exuberance, which made them a joy to watch.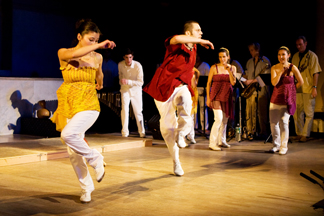 Unaware of the International reputation of David Parker and The Bang Group, I had no idea what to expect. Being short, when the lights went up I at first did not realize the dancers were already on stage and at work, for they were lying prone. A leg of one lifted, then a leg of the other, soon one batted at the other's leg, while the other set the audience giggling when he kissed the other man's foot when it was thrust in his face! Then the bodies were twisting and contorting and merging and mingling and struggling against each other or leaning against each other. They could have been twins in utero. They could have been children cavorting. They could have been erotic young lovers. What they were overall, was stunning. No wonder choreographer David Parker won all those international awards (a Special Citation from the Kurt Jooss Awards Jury ((led by Pina Baush)) in Essen, Germany ((2001)), a citation as Emerging Choreographer of Note from the jury of the Nijinsky Awards in Monte Carlo ((2002)), among others.) Bang had originally been choreographed for Parker to perform with dancing partner Jeffrey Kazin. Kazin did perform it that afternoon, accompanied by Nic Petry. They had the audience tittering with laughter and oohing with amazement at some of the incredible positions and juxtapositions they created.
The second number from this troupe was Bubble Wrap. Amber Sloan came out stage left with a six-foot length of bubble wrap, which she placed on the ground, rather as one would put down a beach towel to lie on the sand. Dancing in her bare feet, the sounds of her steps were soon created as the bubbles broke under her continually more energetic dancing. Her bravura performance was receiving applause when Nic Petry arrived stage left with a square , maybe 14", of bubble wrap, laid it on the ground at his side of the stage, and was soon dancing as vibrantly as Amber, with as much sound effects, in that much constricted space. The audience laughed and applauded and hooted their delight.
Many parents scooped up their children and their belongings and left during the intermission that followed. Those of us who remained were well rewarded.
A little boy in front of us was determined to stay to the end, not realizing how long it was until then. He made it to the end, dozing off mere minutes before the final applause.
Max Pollak's Rumba Tap started the second act with the audience totally in the palm of Max Pollak's hand! He clapped to a special beat several times, and soon most of the audience was clapping after him. The clapping got more complicated, but most of the audience followed along well. Then he made some strange vocal noises, which they also echoed. I have always been thrilled when an audience gets into the tempo of what is happening on stage, and this was a masterstroke of that sort of audience involvement. All three of the segments were masterfully performed – Mongo T, Rumba Tap and Big Chief. The troupe added color and creativity to the day's performances.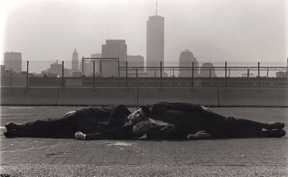 This was followed by a totally unexpected Parul Shah Dance Company presenting North Indian classical dance. Both the man and woman were excellent representative of the graceful body and intricate footwork, but the woman, Reeba Shah, and her hand gestures were utterly mesmerizing. I had heard years ago that each gesture of the hands told a story. I could not read the story, but I could not resist watching those incredibly beautiful and controlled hand gestures.
While the audience was enthralled by Flamenco Revolucion! that followed, this was the only segment to which I personally did not respond. I admit Flamenco dancing does not rank high on my entertainment meter. I dislike guitars, the wailing vocal accompaniments, and what is generally the aloof and disdainful demeanor of Flamenco dancers. But, for me, Maya de Silva lacked the superior air and sensuality that should be part of flamenco. However she, and the three men who followed, got the most enthusiastic applause of the afternoon, and a great migration left the theatre after this performance.
Happily we, as well as the child in front of us, remained for a finale, which was unusual and exciting. It was an excerpt from Buckets and Tap Shoes choreographed, danced and played by Andy Ausland and Rick Ausland, who also designed their own costumes.
The title is what you get. The men drum on the series of buckets they put on stage. But before they get down to that, the taller of the two pulls some magical items out of one of his buckets, including a bat, which grew taller than he. These amused the younger kids remaining in the audience, but once the guys sat down to play their buckets, the show was truly underway. As each took turns rising and tapping while the other continued to drum the beat, it became more fascinating for one would dance away from the buckets, then dance back and resume drumming without missing a beat as the other took off tapping. Eventually, both tapped together and did some fantastic steps that often had your heart in your mouth hoping they would not stumble and lose it all. They didn't.
It was a rousing and memorable end to this sampler of dance companies. Keep their names in mind and if any of them play in your area, catch them if you can for they are splendid groups of energetic, eager and able dancers! And look around for programs such as this, which showcase many talented troupes so you may find new favorites for yourself.
Email your response to this and other essays in ART TIMES info@ArtTimesJournal.com