Renovation and Creation at Covent Garden
By DAWN LILLE HORWITZ
March, 2001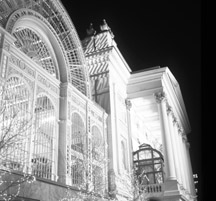 THERE SEEMS TO be an inordinate amount of discussion these days about the environment in which art — performing or graphic — is seen, as well as a desire to expand the audience seeing it. Lincoln Center is busy planning a multi-million dollar facelift, the Guggenheim wishes to build a huge museum complex on the East River, the Pompidou Centre has been redone, and in London, Covent Garden, that bastion of traditionalism, reopened a little over a year ago after a two and a half year hiatus devoted to the rebuilding and renovation of the venerable Opera House that dates to 1858. A visit last summer revealed a truly sumptuous main house, two smaller spaces, and ambitious plans, many of them already underway, to provide expanded opportunities for the development of new choreography and the active involvement of ordinary children and adults in the art of dance.
Covent Garden, home of the Royal Ballet and the Royal Opera, is thus taking the opening of the new house as an opportunity to proclaim its new aims: to preserve the old traditions, while at the same time encouraging and presenting ballet and opera as living, vibrant arts forms; to help these forms evolve by encouraging and presenting works by new and young artists; to create a program of educational outreach to develop both the artists and the audience of the future. As part of this vision there are day and evening lectures, matinee programs for school children, and a "Chance to Dance" project where ordinary students will choreograph and present their own version of Coppelia. In April there will be a Behind The Scenes course designed for young people especially interested in the arts. There are also backstage tours for the public, much as there are at Lincoln Center.
Approaching the refurbished and expanded theater complex adjoining Covent Garden one is struck by the elegance of the restored façade, with its white Portico columns and covered piazza. Inside, the physical plant includes the plush main stage of the house, where the auditorium has been decorated in the original red and gold colors, the Linbury Studio Theatre, the Clore Studio Upstairs (for workshops, rehearsals and the Artists Development Initiative) plus five state of the art rehearsal studios, physiotherapy and body conditioning rooms and last, but surely most exhilarating, the Vilar Floral Hall.
The latter, an iron and glass structure built in 1859 as an adjunct to the main house, was used as a market for many years and then damaged by fire in 1956, after which it was used for storing scenery. As a "listed building," however, it had to be kept in the new plan. Its soaring glass roof and light-filled interior is a public space with an amphitheatre bar on the upper level that is open all day and filled with eating, drinking and "just observing" audiences at night. To come into this area at any time is to be in a special place.
The combination of public, semi-public (open to ticket holders) and private (open to performers) spaces is unique. Additionally there is no "steerage class" and ticket holders at all prices have the same access to the wonderful views and atmosphere of the Floral Hall. This may not seem so unusual to Americans, but it is new to the Opera House. The architect, Jeremy Dixon, has said that the project was an exercise in town planning as much as theater design.
In general, the 1999-2000 season of the main ballet company omitted Giselle and Swan Lake, repertory for which it has become famous, and opted instead to present works by both international and British choreographers, many of them either trained in modern dance or greatly influenced by it. Maurice Bejart, Nacho Duarto, James Kudelka, William Forsythe, John Neumeier, Angelin Preljocaj, Glen Tetley and Twyla Tharp were joined by Britishers Siobhan Davies, a leading figure in contemporary dance, and Ashley Page. These works were seen side by side with ballets by Frederick Ashton and Kenneth MacMillan, the two innovators in the company's past history.
The ballet management is cognizant of the fact that choreographers need time to experiment, develop and make mistakes, all of which can be daunting and expensive if done on a large scale. Hence The Clore Studio Upstairs offers a workshop space for experimentation and collaboration with outside audiences and the Linbury Studio Theatre a venue for staging some of these works.
The latter, with 400 seats, was the site last June of the first presentation of choreography by the New Works Company, which includes some of the members of the main company. For a two week period they presented dances by nine choreographers, seven of whom came from either the Royal Ballet or its school. The performance I attended had works by Ashley Page, Christopher Wheeldon, Matthew Hart and Michael Corder. All had carefully executed designs and costumes and three had live music. The most successful were Sleeping With Audrey, Page's work for four couples (five men and three women) based on a poem about ships and death and set to music by Orlando Gough, a contemporary English composer, and Pavane Pour Une Infante Defunte, Wheeldon's duet to Maurice Ravel's music. Page is an experienced choreographer (the Royal Ballet has performed many of his works) who goes to modern dance as well as other dance forms in order to create his own movement language. He also designed the set (which resembled a Mondrian painting) and the costumes. The work had a continuous, strong flow created by movements that seemed to come from the body's center. Wheeldon, a very young dance/choreographer, has performed with the New York City Ballet and choreographed for that company as well as the Boston Ballet. This duet, danced by Darcey Bussell and Jonathan Cope of the Royal Ballet was originally performed by them with the parent company. The piece is refined, filled with some wonderful lifts and dance in front of a set piece that looks like a flowing lily. Neither of these works, nor the other two on this enjoyable program, however, really gave the feeling of innovation or experimentation. Perhaps other dances in the series were more daring.
It is interesting to note that the entire project was under the management of an American, Michael Kaiser, formerly of American Ballet Theatre's management, who was brought in as Executive Director of Covent Garden just prior to the commencement of the renovation. He left last August to take over the Kennedy Center in Washington, D.C., after being quoted as saying the London institution was "too elite." It will be revealing to observe how successful Covent Garden is in carrying out its plans, what Mr.Kaiser does in Washington and how New York will lead or follow both – or neither.