A Take on Take (tah kay) Dance Company
By FRANCINE L. TREVENS
ART TIMES June 2009
In these tentative economic times, how does a small arts organization survive? Where do they get bookings, funding and donations? How do they attract attention to their work and their need for funds?

One young dance company, Take - pronounced tah KAY – with an engagement scheduled in New York City July 20- Aug. 2, has used some entertaining and clever ways to attract more notice and more funding.

Instead of waiting till three weeks before the event to let people know about it, they have been pushing this and other venues from earliest days of Spring.

First they held an open dance rehearsal to which dance aficionados, dance reviewers and board members plus their friends were invited. They laid on a lovely light food and beverage display, placed a double row of chairs around two sides of the studio they rented at Alvin Ailey's luxury new West Side facility.

The dancers rehearsed among themselves as various guests arrived, working on a movement, a roll on the ground, a lift as their audience milled about.

When it was time to begin, the assistant to Mr. Takehiro Ueyama introduced herself, said a little about the company and had each of the young dancers introduce himself or herself with a line or two about previous training or experience. Then she introduced the compelling young Mr. Take, who spoke briefly before beginning the rehearsal, which was a little over an hour's worth of dance. As it drew to a close, the audience, which was so large more chairs had needed to be brought in, were urged to talk one on one to Take himself, as well as members of the company. It was a well orchestrated and presented subtle request for support of the company, a look into the workings of the group, and a promo for their upcoming performances. We saw them rehearse their new Footsteps in the Snow which will premiere in July.

That same week, at the Independent Film Festival in a lower East Side theatre, the same group, plus parents, potential patrons and friends were invited to attend a film, "A Year With TAKE Dance" by Damian Eckstein that showed how this company is working and organizing to get the funding to bring them to the next step in their progress towards a wider audience and the dream of a studio of their own.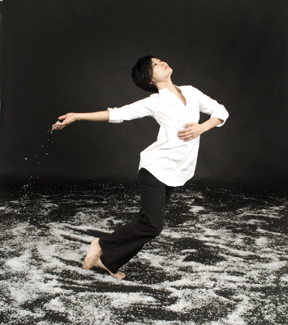 Nana Tsuda dancing in Footsteps in the Snow
(Photo by Mary Ann Moy)

Attendance at the film was again more than anticipated. Among the various shots of performances and interviews of dancers, were some scenes in which Take and others discussed their plans for getting a funding professional on board so they could move forward in the dance community. It was as well presented and as fascinating as the open rehearsal had been.

The company publicity talks of the group's gentle blend of Eastern and Western sensibilities. What most impressed me was how the dancers were able to go from frenetic movement to sudden and complete stillness: To go from the hurly burly lf the world to the inner serenity of an aesthete. This, among some very unusual and unexpected movements, made lasting impressions in my mental photo album.

Then in late May, the press and supporters were again invited to another open rehearsal at the Alvin Ailey Studios to see works in progress.

Take's dream, since childhood, had been to be a professional ballplayer, but an injury to his shoulder put paid to that ambition just as his career was ready to begin. He turned to dance, a natural for his well trained athletic body.

Born and raised in Tokyo, Japan, Mr. Ueyama moved to the United States to study at The Juilliard School in New York. As a member of the Paul Taylor Dance Company from 1995 to 2003. Mr. Ueyama teaches contemporary dance technique in several of the major dance schools, universities and festivals throughout the United States, Japan, and Europe.

Take, as he is familiarly known has received some wonderful reviews, including, "Mr. Ueyama has an unusual gift for creating and putting together big, bold movement. ... His dances are freshly and distinctly his own." - Jennifer Dunning, The New York Times

TAKE Dance has performed nationwide at the New Noises Festival at Perry-Mansfield, Kaatsbaan International Dance Center, Joyce SoHo, Thalia Theater at Symphony Space, the Ailey Citigroup Theater, Jacob's Pillow, PS/21 Chatham, the Central Park SummerStage, among others. The Company recently completed its fourth annual New York Season at the Miller Theatre at Columbia University.

They have a strong game plan and a strong dance ensemble. Take himself is charismatic, energetic and creative in a new and individual way. If the company continues building as they have been, with all the right moves, this may well be a very special and admired major dance company in our country in a few years. See for yourself,
Take's Fifth Annual New York Season at Dance Theater Workshop, 219 W. 19th Street, NYC. a four-performance engagement will feature two premieres: the world premiere of Footsteps in the Snow, set to music by Arvo Part, and the New York City premiere of Shabon, set to the music of Steve Reich, as well as Love Stories (2008), a three movement pas de deux, and the beloved Linked (2008) "...a bright explosive tour de force" (The Daily Gazette) inspired by the music of Pat Metheny.