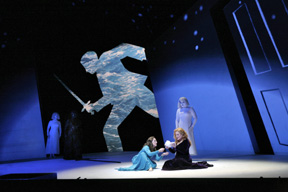 A scene from Richard Strauss's Die Ägyptische Helena
Photo: Ken Howard/Metropolitan Opera
Is choreographing for opera rather than a dance company or musical as different as painting in oils or watercolors? Does it demand a diverse mindset or group of skills? How is the work dissimilar, and what urges choreographers to select one medium over another?
Like fine artists who do oils, etchings, and water colors, as the spirit moves them, many choreographers work in various venues, not restricting themselves to musical theatre, dance companies, club acts or opera. How do they adapt to each type of challenge?
This question arose as I watched the Metropolitan Opera production of Richard Strauss' "Die Agyptische Helena" (The Egyptian Helen) a rather fanciful take on the story of Helen of Troy, choreographed by Linda Dobell. London born Dobell choreographed "Macbeth" for the Glyndebourne Festival this season, and has extensive credits for opera choreography. She also has choreographed the oratorio – "A Child Of Fortune," Shakespeare's "A Midsummer Night's Dream" and a revival of Mae West's 1928 play "The Pleasure Man." She is not unique in the diversity of her work, although opera remains the more predominate.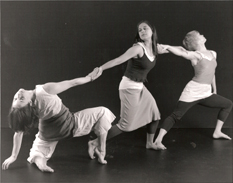 l to r: Heather Johdos, Ana Manula Jara and Hanna Honeywell in concert with Full Force Dance Theatre
(Photo by Ron Compton)
Multi award winner Doug Varone choreographs for contemporary dance on the concert stage, in opera, Broadway, regional theater, film and television. He is Artistic Director of Doug Varone and Dancers, which he founded in 1986 to "explore and process his particular choreographic vision." For the Metropolitan Opera he choreographed "Le Sacre du Printemps," "Les Troyens" and "Salome" as well as the Met's world premiere of "An American Tragedy." Other operas he choreographed for the Washington Opera, New York City Opera, Opera Colorado and Minnesota Opera. But that is hardly the vast extent of his work. Broadway credits include "Triumph of Love" and other plays were choreographed for Baltimore's Center Stage, Yale Rep and Princeton's McCarter Theater. He is also known for his A & E Net work production of "The Planets."
Mark Morris, in a radio interview just before his first opera at the Met, spoke of the enormity of the Metropolitan Opera organization, saying the chorus consisted of almost 100 singers, and he had about 20 dancers. He discussed the vastness of the stage, which he compacted by moving the set far downstage. Morris came to the Met after choreographing for his own company, founding (with Baryshnikov) the White Oak Dance Project, and having created dances for The Paris Opera, San Francisco Ballet, New York City Opera, Royal Opera House, England Covent Garden and American Ballet Theater, among others.
Helen Butleroff choreographed "Sisi" in Munich, Germany in their large opera house, and noted, "The opera was all cast before I got there. I got credited with choreography but actually I completely directed the entire show. In opera, principles have to be selected for their voices, and often they cannot dance, or sometimes even act well. In 'Sisi' there was a sequence on a boat and I wanted dancers to look like imps in fog, so I had my say in that scene for the set."
She had a much more active role when she choreographed "Naughty Marietta" and "The Red Mill" at the gorgeous old theater at Pittsburgh Civic Light Opera. "I was resident choreographer, the director and I worked together. So I had my say so on everything. We had an equity chorus and I had total say on everything pertaining to dance.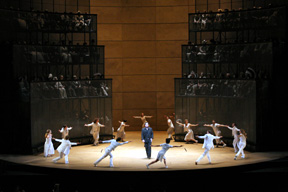 A scene from Gluck's "Orfeo ed Euridice" at the Metropolitan Opera. Photo: Marty Sohl/Metropolitan Opera
Production by Mark Morris.
Helen prefers to use dance to develop character, as she did in "Fanny" and remarks, "I like to have all my dancers with good ballet background. "In a regular musical, a choreographer has much more creative flexibility. In opera it's pretty much set on the score and you can't go screwing around with it. Also, operagoers have a different attention span. They can sit for hours. Musicals in the Broadway style afford the most creativity and variety. You can do tap, modern, ballet — everything."
I thought again of the Strauss opera I had just seen, remembering that much as I tried to concentrate on the dancers, my eye constantly returned to the singers as if magnetized by their magnificent voices.
Charles Repole, when he directed and choreographed "La Pericole" at San Antonio Art Festival, starring Angelina Reaux and Joel Grey, had a fairly free hand, but says when there is an opera ensemble, those people are "thrust upon" the choreographer.
"The important thing in opera is to keep the singers feeling safe, emotionally and physically. They are there to sing. Opera singers often say 'no, no, no' when asked to dance."
Heather Johdos whose credits include choreographing "The Magic Flute" and "Carmen" for the Connecticut Opera aswell as "After the Ball," at the Morris Museum in New Jersey, has had two types of experience. In one, she worked closely with the director and was in constant collaboration because "I was responsible not only for staging the dance pieces but also setting movement for their singers and actors. Other times I was given only the music, the vision, and never saw anyone but dancers until tech week."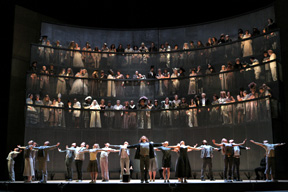 A scene from Gluck's "Orfeo ed Euridice" at the Metropolitan Opera. Photo: Marty Sohl/Metropolitan Opera
Production by Mark Morris.
She also explained, "The amount of rehearsal time does not change. But dancers in opera seem to require more rehearsal than other arts mediums for the mere physicality of it. Choreographing for opera is different than choreographing for concert dance in the respect that you are not always guaranteed costume options that are suitable. Wigs and heavy fabrics can constrict movement options. Space is often an issue as well if the singers are sharing the space with your dancers. Usually, the dance pieces serve as enhancements to opera, as opposed to the work being a main focus as in concert dance or musical theatre."
"It depends on who has the power," explained Mr. Repole in regards to how much say a choreographer of opera has in set and costume design, selection of dancers, etc. "Opera is about voices and spectacle. A resident set designer has more clout than a choreographer hired for one project.
"In musical comedy, you are in on the set and costume decisions from the first and you select your dancers. You can get the set and costume information you need in
opera. But you have to stay on it," as opposed to being part of the design process by inputting your intentions with dance numbers and avoiding costumes which prevent freedom for some of the movements you envision.
Helen Butleroff recalled the problems of dancing in full 18th century wigs, costumes and other regalia. "There are more people, bigger ensembles in opera than one can afford on Broadway. Movement often has to be focused differently because everything in opera is environment. And of course, there's less choreography in an opera than a musical," said Charles Repole. He was a dancer in "The Merry Widow" at the Gold Coast Opera where he portrayed Niegus and in "Orpheus in the Underworld" where he portrayed John Styx at the Boston Opera under Sarah Caldwel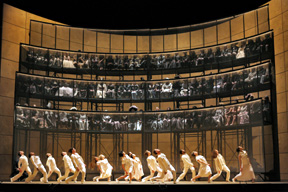 A scene from Gluck's "Orfeo ed Euridice" at the Metropolitan Opera. Photo: Marty Sohl/Metropolitan Opera
Production by Mark Morris.
Charles said he didn't find that much difference choreographing or directing opera, but still prefers musical comedy because, since childhood when he danced on the sofa while watching Fred Astaire dance on the ceiling, he wanted to be a song and dance man himself. He subsequently had a long career as such, then moved on to choreography and directing, as did Helen Butleroff and Heather Johdos.
My younger daughter was hired when she was about 8 years old to do a commercial for a hamburger joint. She came home after 7 hours and complained she had to keep eating cold hamburgers for hours, "All I was, was part of the scenery," she complained.
Often, in opera, that's all the dance seems to be. If it is appropriate, it is unobtrusive and flows with the music and the voices. If it is wrong, it creates a jarring note like inappropriate wallpaper. Only rarely is it the main focus, but when it is, its contribution to the overall event is as dazzling as a diamond tiara on a Queen – the perfect finishing touch, not a distraction. For opera is a more formal, tradition bound world than ballet, modern dance or musical comedy.
Still, when these choreographers worked up their dances, they went with an overriding idea and movements to express the music, the mood and the moment. That holds true no matter what venue they work in, no matter how much freedom or restriction the music, the setting or the situation involve.