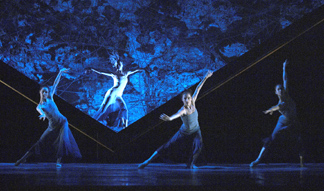 Australian Ballet Dancers in RITES (Photo Jim McFarlane)

Down Under Tops inDance

By FRANCINE L. TREVENS


ART TIMES

June 2008

Ever heard anyone say they were going to Australia for the rich culture of dance? Well, maybe you should have.

The earth's smallest continent has a large and long history in dance, having hosted many of the greats from old and current dance fame, nurtured its native dances, and created world class dance companies. One rarely thinks of the rugged, independent Australia as the home of great modern dance or ballet companies. It's the sort of aesthetic blindness that used to have Europeans considering the USA a country of hunters in leather britches and coonskin caps.

Dance in Australia is as vibrant as anywhere in the world – and offers more variety than many older nations.

"Ballet here is free of a lot of the constraints and heavy burden of history that European companies face. In this way, we are freer, as dancer/choreographers were in the USA in the 1930s, for instance," said Lee Christofis, Curator of Dance National Library of Australia.

There are a number of indigenous dance companies, including Tracks Dance Theater in the Northern Territory, which works with diverse artists, (young and old) schools and bowling clubs to create grand community festival dance events that occupy an entire city block or park. They keep the native dances alive while also presenting much that is new as well.

Headed by Stephen page for the past 13 years, Bangarra Dance Theatre, is Australia's second professional dance company, which includes Indigenous dancers.

The unique Bangarra Dance Theater calls itself the oldest and youngest dance company – since it preserves the dance traditions that are at least 40,000 years old "with Indigenous people of Australia and yet also reflects the life and attitudes of indigenous people today."

The company blends Aboriginal and Torres Strait islander history and culture with international contemporary dance influences to create a truly Australian dance language.

The company plans to be in the USA this October, at the Kennedy Center in D. C. and BAM in Brooklyn, New York. They also hope to tour to Paris and London.

They were invited by Australian Ballet to present "Rites" a new version of Stravinsky's exciting "Rites of Spring" which the two companies presented to enthusiastic reviews.

Currently, the Australian Ballet has made an impact not only in its native land, but also in the U.S.A. where the company's dancers have appeared at New York's jewel of a dance venue, the Joyce Theater, among others.

This year Australian Ballet presents a tribute to Jerome Robbins "Jerome Robbins, a celebration" played Sydney in early May and Melbourne in June. It was a selection of works from the world-famous choreographer. It was but one of their ambitious productions this season.

The Australian Ballet boasts a magnificent performance center in the Southbank section of Melbourne. The twenty-year old facility offers eight first class studios, dressing rooms, which include showers and laundry facilities, a gym, library, audio visual rooms, class rooms and a canteen and medical facilities to dancers of the Australian Ballet and students at the Australian Ballet School. There are also offices and staff rooms for administrators and the teaching staff. The Ballet Company and school occupy 5100 square meters of the building.

The company would be considered new by world standards, having given its first performance a little over 25 years ago. This year, it is presenting a mouth watering selection of dances in Melbourne, Sidney, Brisbane, among other venues.

Modern dance also has a strong presence.

Yes, all kinds of dance are alive and well and will live on for many more centuries in the extraordinary dance archives of a unique organization, which you can access on line at www.australiadancing.org.

Australia Dancing is a relatively new organization and is a joint project of Ausdance National, the federal dance advocacy agency, the National Library and the Australia Council for the Arts. In addition to informative articles about Australian dance, it has a library of wonderful images—practically a visual history of its multitudinous visiting artists and native dancers.

According to Curator Lee Christofis, an encouraging and enlightening source for this article, "Australia Dancing was devised as a directory to resources of any genre of professional theater dance developed in Australia or by Australian artists and, to a lesser degree, artists and companies which have made a major impact on Australian dance practice.

"The initial aim was to create a one-stop-site where the history of, say Borovansky Ballet, the country's first major professional company could be recreated or derived from a number of sources and points of view. These resources are housed in four principal collections: Pictures, Manuscripts, Ephemera and Oral History."
. Lee applied for the position when its first curator, Michelle Potter, was appointed to the Jerome Robbins dance department at the New York Public Library on 2006. It is my good fortune that he is in this position, as he was tireless answering my endless questions over several months. In fact, he was so generous with information; I can not even do justice to it all in this overview of Australian Dance.

Ballet aficionados may know that Anna Pavlova included Australia on world tours in 1926 and 1929. They may be aware the Ballet Russes de Monte Carlo went to Australia in 1936 and 1940 and Luisillo's Spanish dance company in the 1950s. It may not surprise those in the know that Rudolph Nureyev performed there with the Australian Ballet as did Sonia Arova, ErikBruhn, and Margot Fonteyn.. Nureyev also toured with the Australia Ballet and in 1972 directed and performed with them in a film of "Don Quixote."

For my part, I did not know that the esteemed dancer/choreographer Robert Helpmann hailed from Australia. I admired his work since the 1950's when "The Red Shoes" film introduced me to ballet and to his work. More recent small screen watchers may remember him as one of Cinderella's wicked step sisters in the ballet Cinderella which aired several times since its was first filmed.

Aussies may also boast of such choreographers as Graeme Murphy, Stephen Page, Meryl Tankard, and dancers like Leigh Warrren Gideon Obarzanek and his Chunky Move Company, Lucy Guerin whose company bears her name, Ros Warby, Helen Herbertson, Phillip Adams whose BalletLab satirizes both ballet and contemporary dance, Sue Healey, Edouard Borovansky (who toured to and then stayed in Australia) and Laurel Marty have all worked with Australian companies or hailed from there.

Other world class Australian dancers are ballerinas Marilyn Rowe, Marilyn Jones, Kathleen Geldard, Kathleen Gorham, Peggy Sager, Lisa Pavane…and the list goes on. Premiere danseurs include Garth Welch, Kelvin Coe, Paul de Masson, Gary Norman, Jonathan Kelly, David McAllister and Ronnie Van Den Berg. Janet Vernon, is another distinguished contemporary choreographer.

Australia is so welcoming to dancers that the Ballet Rambert, who came for 6 months, stayed in Australia for more than 18!

The first Australian ballet company to receive funding was the Queensland Ballet. West Australian Ballet was the first state company set up without funding in the early 1950's.

Graeme Murphy's Sydney Dance Company, now 31 years young, is the premiere contemporary dance company. It has had 25 international tours, frequently invites guest choreographers to create dances for them and offers many dance classes for adults, among other notable programs.

There are cooperatives for Independent Artists such as STRUT in Western Australia

There is so much more to say about this extraordinary land, that no one article can more than hit some highlights. Apologies to all the other great dancers and companies which I could not highlight in this brief overview.

So yes, one of these days you may hear someone say they went to Australia for the dance, and it made their hearts leap higher than a kangaroo with joy!