By Francine L. Trevens
ART TIMES June, 2005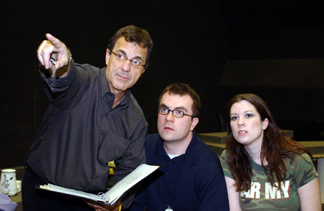 Charles Repole (L) pointing out a movement to students David Hall & Laura Kabela

In the 1980s musicals took a turn for the serious, and "movement" often-replaced dance. Light-hearted older musicals heavy on huge dance numbers, are easily witnessed on Broadway, which currently thunders to rhythmic revivals! The stages are alive with dozens of dancers. Is this one reason they are so popular with audiences? (We know they are popular with producers as "safe bets.") The question is, are today's choreographers also playing it safe?
How do choreographers create in today's dollar driven environment? Are they still an integral part of the creative team, keeping step with or setting trends? For example, how do they attack a new script?
Joanna Greer, who began dance training at six, works with unskilled dancers at TADA!, children performing for children's theatre, Her techniques here are the same as when choreographing for the Kinetics Dance Company she and husband Ryan Greer founded five years ago.
You read the script, listen to the musicality, not merely lyrics, then dream up interesting patterns. You need a marriage of music and dance, not just movement to suit the story. It's not easy getting it from my head, as clean as possible, onto their bodies."
I have the joy of being the first to give them the gift of how amazing musical theatre can be."
Flo Popolizio, who choreographed for Long Island's Douglaston Community Theatre, as well as for Hasselfree Mysteries, which toured Pennsylvania, New Jersey, Connecticut and New York, says her greatest challenge came when choreographing ANNIE at St. Francis Prep, a large Catholic High School. The director decided everyone who auditioned should be in the chorus. Flo ended up with 80 teenagers to choreograph. It turned out "one of the most exciting things I ever did.
"The audience was parents and grandparents, so I made sure everyone danced in the front row some time during the big number. You guarantee applause with a kick line or tap trenches, if they all do it together. They did, and we got standing ovations every night."
Conversely, former Broadway triple threat Charles Repole, who turned choreographer in 1982 with THEY'RE PLAYING OUR SONG at the Westchester Broadway Theatre, never choreographed a gigantic dance number. "They never interested me." But athletic dancing certainly did.
He starred on Broadway in two Eddie Cantor revivals, VERY GOOD EDDIE and WHOOPEE. Both were heavy on dance, which he performed with his piquant interpretation of Cantor's style.
Unlike most choreographers, Charlie did NOT start dance lessons in early childhood.
Inspired by Gene Kelly, Fred Astaire, and Donald O'Connor in movies he watched on TV after school, he'd dance along with them in his living room.
I got into musical comedy because people were jumping around singing and dancing. I wanted to be a song and dance man. Don't know that there is much of that anymore"
Then he mentioned THE BOY FROM OZ .
Hugh Jackman dances with that joy. Look how we responded. Once in a while we need the old triple threat."
Repole, who frequently both choreographs and directs his stock and touring show gigs explained, "I have a sense of where I want characters to go and choreography is where it comes together. My work is very much about what would that character do in that situation.
Greatest challenge in a musical show is finding the middle of the dance, that climax, and making sure you don't go past it. You want to keep going, like an actor milking laughs. You have to make sure you build to the crest and then let it be."
Like Charlie Repole, Cynthia Thole also danced at home, watching her shadow on the walls. She agrees "you work from a dramatic starting place. Who is the character? What physical expression is appropriate?"
She made an astute observation: "Today's lack of censorship replaced the unspoken, danced emotions." This may be another reason that dance appears less prominent.
This former Broadway gypsy has directed and choreographed such shows as QUILTERS, ANNIE GET YOUR GUN and ME AND MY GAL. She also co-directed the national tour of 42nd STREET, recreating Gower Champion's original choreography. She believes choreographers should be in on the initial design meetings.
Michael Lichtefeld began dance lessons at 7. While dancing on Broadway, he blew a hamstring and could not continue stage dancing. A call to choreograph an industrial show started his 25-year choreographic career. \
He feels his greatest compliment was when Stephen Schwartz, after seeing Lichtnfeld's THE BAKER'S WIFE in California told Michael, "I love your choreography. It's absolutely artless. Not without art, but it doesn't call attention to itself as being arty."
Michael has choreographed six Broadway musicals – four with Susan H. Schulman.
When you work with your closest friend you can finish each other's sentences. We're pretty much joined at the hip in terms of selection of a cast.
Others who have a say in casting are producers, musical director, composer, book writer, lyricist. A musical only works when everyone collaborates."
His most recent Broadway work is LITTLE WOMEN. As with Joanna Greer, "What influences me most is the music. Even in a strong book show like Little Women, what inspires movement is the music.
Luckily, I also took piano lessons so I can talk to composers in their own language."
Michael also stages shows at Stratford Ontario where he choreographed Fiddler on the Roof and GUYS AND DOLLS, among others.
When you do big dance shows it's great to hand-pick dancers. I'm a big believer in ballet technique as the basis of everything I do, even in tap shows.
It's important your musical number has a point of view in reference to the story being advanced, important that characters have attitudes.
You have your own ideas but a good director you respect says 'have you thought about this idea or this attitude' and you can have a change of mood, not change of step."
Thommie Walsh, creator of Bobby in A CHORUS LINE, worked frequently with Michael Bennett. He wishes all new choreographers "get opportunities that I did. It's important to serve an apprenticeship. Not enough people are employing that kind of relationship."
Thommie claims "Time is a choreographer's biggest challenge, especially if you're not also directing."
Since theatre is a collaboration, "You get asked 'Can you work with this one? Can you train this person?'
So much of my background, I worked with actors who dance and singers who dance, rather than dancers. It forced me to be more creative."
For example in his production of NINE, most of the women were not basically dancers, but Walsh, used to working with singers who move well, knew how to make them look fabulous.
Still it takes more time to get such performers to create what Thommie, or any choreographer, conceives.
Charles Repole noted, "Only once, did I have a non-dancer in a dance role. I never mind working with a 'star' or 'personality.' I do mind when they are not good, because it isn't about me looking good, it's about them looking good. We both wanted that, so we worked around it."
With all this concentration on dance reflecting character, progressing the story line and making non-dancers look good, can dances in musicals be on the cutting edge of where dance is headed?
Most mentioned the all dance musical, such as MOVIN' OUT, as the place dance was most daring. But isn't this "marginalizing" what was once so integral a part of American musicals?
Flo Popolizio, finds "Most dance today is fun to do, but it's more athletic than lovely movements."
Joanna Greer considers "The hip hop movement's unconnected to creativity and not told through dance. MTV dance music is now part of Broadway commercialism. There is not as much originality as I'd like."
It takes more work to incorporate dance into a script where it feels spontaneous. Dance now is more appropriate, it no longer stops the action," says Cynthia Thole.
MOVIN' OUT broke barriers. But SWAN LAKE? I sat there both in London, and here and thought, there's DANCE! Swans are vicious. When the swans were pulling at that boy — dance using character that way — broke my heart!"
LA BOHEME really inspired me a lot," said Thommie Walsh. This was indeed a case where dances were a reflection of character, period and story progression.
Michael Lichtefeld said, "The old George White Scandals days with leggy girls stuck in for the sake of leggy girls is over. Musical theatre dance is on a different level. It keeps pace with where dance is headed. HAIRSPRAY was brilliantly choreographed with some of the best numbers I've seen in a long time."
Charles Repole summed it up with, "I don't know that musical comedy has gone anywhere, I don't know that its 'going,' its more settling in. Story and character in dance are getting stronger and that's where it should be."
To that, the others would add an amen!