What You Didn't Know Might Have Helped You
By FRANCINE L. TREVENS
ART TIMES July/August 2009
Some people in the dance world have names that everyone recognizes. Most don't, yet their contributions help to make the world of dance as vibrant and divergent as any of the arts. Two such lesser-known talents died within weeks of each other this Spring: There were notices about their passing, but not big headlines in dance circles. Yet each contributed to the dance world in multiple ways. They deserve a little more notice, a little more public eulogy.
They were Charles B. McCraw, best known from the 1970's on as a teacher of dance and movement at the High School of Performing Arts in New York City, and also as music director at the First Presbyterian Church in Maywood, NJ. He died the last day of March. The other was an internationally noted adult film star, Jack Wrangler, who died the 7th of April.
I did not know McCraw who was born in Troy, North Carolina, in 1921, but a friend of mine who did was amazed to read of all his former teacher's accomplishments. "I wish I had known all that when I was his student," exclaimed my pal on reading McCraw's New York Times obit.
The "all that" was that McCraw was an original cast member of the Broadway production of "Brigadoon" in 1947. He was also a dancer in the Broadway production of "Pal Joey" in 1952, as well as in subsequent revivals of these musicals. As a choreographer he was privileged to have worked with Agnes de Mille.
McCraw's correspondence with easily recognizable dance-world names is in the Parmenia Migel Ekstrom Archive and in the George Balanchine Archive, both housed at Harvard University. These and documents at The Performing Arts Library of the New York Public Library record McCraw's work with Agnes de Mille.
McCraw's published works include "Scoreography" (1964), a study on dance notation. Until the twentieth century, there was no standard form of dance notation; choreography was remembered by dancers and passed on to the next set of dancers in any opera or ballet. Charles McGraw's musical compositions include the folk opera Trista and the choral work "The Annunciation."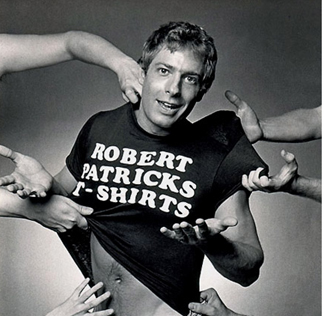 Jack Wrangler photo that made "T Shirts" a runaway hit and appeared on posters, playbills and magazine covers in the early eighties.  It started Jack's stage career in NYC.  Photo by Ken Howard

I did know Jack Wrangler, (nee John Robert Stillman in Beverly Hills, California, 62 years ago) having worked with him on several projects including the Robert Patrick play "T-Shirts" produced by The Glines, and having publicized his book, What's a Nice Boy Like You Doing…
I did not know who this handsome blond man was who was co-starring with Robert Patrick in this off off Broadway play I had been asked to promote. I did know he caused excitement in the audience and that the play was given continuous extensions due to his presence. Having met him at a photo shoot in a loft, where stage managers and others all helped with a hands-on photo of us pulling off the star's clothes, I found him charming and unpretentious. I was rather taken aback when I learned how he had attained his fame. But Jack had no inhibitions or regrets about his work in adult films.
While most youngsters get flak from parents when they want to go on the stage or screen, Jack did not get any even when he moved from acting in children's theatre into pornography. Gay pornography at that. He said his dad, producer Robert Stillman, had a vast collection of pornography, so Jack had grown up with no negative take on it. I, on the other hand, had always been told it was repulsive and demeaning.
Jack also claimed he knew he was gay from the time he was ten, which means he was aware of this when he was appearing in the television series The Faith of Our Children (1953-1955), which starred Eleanor Powell. Having little success in Hollywood when he grew up, he moved to New York as a go-go dancer. He himself admitted this was not one of his major talents… in fact he claimed he was awful as a go-go dancer.
When approached to do gay porn films he agreed for several reasons: he considered them culturally subversive and politically liberating, and he wanted excitement in his life. I believe he also wanted notoriety. He came from that high energy Hollywood milieu where unless you were somebody you thought yourself nobody.
While still appearimg in adult films, Jack wrote the book for the musical "I Love You, Jimmy Valentine." He wrote and produced a 1985 cabaret show for Margaret Whiting, (he was instantly smitten with the great singer when he met her, and they eventually married, after he agreed to give up porn films). The Valentine show featured Mercer's music. Jack admired Johnny Mercer's talent and felt it was under-appreciated. So in 1996 he co-wrote and produced Midnight in the Garden of Good and Evil: The Jazz Concert (inspired by the Mercer music in the film, Midnight in the Garden of Good and Evil). A year later, he helped conceive the 1997 Broadway revue Dream, which starred Whiting and contained many Mercer songs.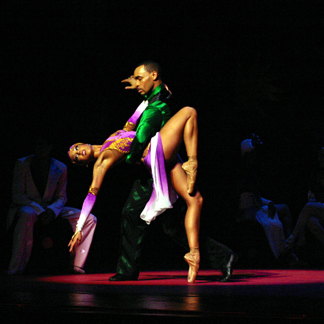 Caroline Roche and Donald Williams in "St. Louis Woman" ballet courtesy of Dance Theatre of Harlem. Photographer: Joseph Rodman
Wrangler conceived the idea of a ballet based on Mercer's 1946 musical St. Louis Woman, which was performed by the Dance Theater of Harlem in 2003. Jack also wrote, directed, or produced a number of other plays, musicals and revues.
I remember taking Jack to be interviewed by Associated Press when he was appearing on stage for the Glines. The reporter spent half an hour inrerviewing him and his final question was, "What made you decide to give up porm films. Jack replied, "I am not giving it up." The interview was over and the article never appeared, as that had been the reporter's "hook."
Margaret wanted Jack out of pornography and asked me to use my influence to get him to give it up. Feeling I had no influence with him, I did not presume to urge him in his life choices. I publicized his book and his stage work only. I could not put my prudery or prejudices on him and could not interfere in his romantic life either.
It has been several years since I last saw Jack and Margaret. We met at an industry film screening. He was as warm and friendly and charming as ever. I shall remember him that way, and not as a wheelchair ridden man as he was near the end.
My friend recalls McCraw as a wonderful teacher. I recall Jack as a sincere, what-you-see-is-what-you-get kind of guy, content with who he was without being stand-offish or false in any of his dealings, a man whose smile could light up a forest, it was so strong and unconstrained.
They may not be the most famous names in the dance world, but both Charles B. McCraw and Jack Wrangler made their contributions to the dance world and deserve to be remembered. These are my words of remembrance for them both.