Dreams Embodied
By FRANCINE L. TREVENS
ART TIMES Online August 2009
We all know for a dancer his body is his pen, his paintbrush, his piano — the instrument with which he accomplishes his artistry. But even the most accomplished dancer may find his well-trained body has betrayed him with a circumstance beyond his control: His height.
Not so many years ago there was a young boy who knew by the time he was six, dancing was his life's calling. He studied hard and his parents, a teacher and a lawyer, both Columbia University-trained, not only supported his dream, they helped expedite it.
For, though New York born, his family had relocated to Israel when he was still a tot. They returned to New York after seven years, to a great extent because of their young son's consuming interest in dance. They wanted him to be where he could learn and grow in his chosen field He won a scholarship to the School of American Ballet where he studied for eight years. He performed the role of Fritz and the Nutcracker Prince in the New York City Ballet production of The Nutcracker for four seasons. He thought there would be nothing to stop him from attaining his dream of being a world-class dancer.
"I was always dancing, from as far back as I can remember." said Avichai Scher at our recent interview, his pixie face peering earnestly into mine. No one else in his family had ever expressed an interest in dance, yet it had always been his passion.
"It is not easy for a short guy to be a dancer. He has to be ten times better than the taller guys because he can't just partner everyone. He has to be a more flashy performer and work harder to get work," he explained. With so many ballerinas now very stately, plus the added height of their being on toe, it is easy to see the dilemma for a pixyish persona such as young Avi.
So, when considering the amount of success he has had to date, one must be aware this is a most talented and dedicated young man indeed, virtually a child prodigy of dance.
For example, he was a mere 16 when he choreographed his first studio piece and only 18 when he was given his first professional choreographing commission for Jouons for the American Ballet Theater.
Now 25, Avi is an emerging choreographer who recently performed with his company of dancers at Jacob's Pillow. As a former critic of that venue, I knew this was a most unusual situation. Companies invited to the Pillow have a lot more credits than Avi and Dancers had as a company. He explained how it came about: He was taking a series of classes at the Pillow in various dance disciplines. "They knew me," he said. So, when he applied for an opening in the schedule, he was selected as one of their own. Obviously, this would not have occurred had they not been aware of his work and thought him worthy and ready for the honor.
Avi Scher and Dancers was formed in August 2008. Its aim is to build a young audience for neo classical and contemporary ballet, presenting top quality dancers and new works in all venues.
Avi and his dancers repeated their Jacob's Pillow program, with the addition of a work in progress, for a packed audience in a studio at City Center in New York City recently. This is where I first saw his work and met the eager young man. He danced one of the pieces, partnering an exceedingly talented young woman, Racheal Prince in the New York Premiere of Aquilarco, choreographed by Val Collima. Others who danced that night were Alexsandra Meijer, Abi Stafford, David Prottas, Christian Tworzyanski, Dena Abergel, Jared Angle, Robert Colby Damon, Elysia Dawn, Alexander Dutko, Ja' Malik, Victoria North, Nancy Richer. and Melissa Hough.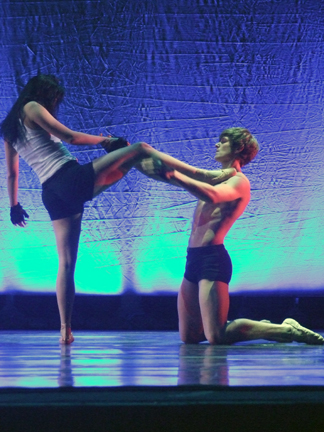 A
Avi's choreography has the same fresh, open, innocent style as he himself has. There is a warmth, intelligence and romanticism in his work: very much against the tide of what passes for entertainment today, but most suitable to classical ballet.
He chose classically trained dancers for the Jacob's Pillow engagement, dancers who worked frequently with a number of other companies and were recognized for their talents. "No one knew me, so I wanted their name value," he admitted frankly.
To date, I do not believe he has developed a signature style, but rather more a feeling. He spoke to that issue: "I am not sure I want a style, so that people seeing it say right away, that's something Avi choreographed." At the moment he feels he is fluid, interested in relationship qualities, movements keyed to the very musical pieces he selects. He also likes to work with narrative.
He has choreographed the annual showcases at Miami City Ballet School and the San Francisco Ballet School. Also for the Festival Ballet, Providence, Manhattan Youth Ballet, West Wave Dance Festival, Ballet Builders, Sacramento Ballet and Shut Up & Dance as well as Dancers of Pennsylvania Ballet.
Last year Avi choreographed a play on theater row. The dancers were not classically trained; in fact, one did not dance at all previously. He felt this helped stretch his creativity.
Avi was named one of the top 25 choreographers to watch by Dance Magazine.
In the immediate future he will be dancing in the Met Opera's new production of Les Contes de Hoffman, working with Barlett Sher. He is choreographing a new piece for the ballet department at Indiana University and the American Dance Guild Festival, both set for September. His Love's Defense will perform at the White Wave Dance Festival in Brooklyn, this Fall.
"I am also planning a one week season of performances of Avi Scher & Dancers in the city," he informed me when asked what was in the future for his company.
While choreography is a marvelous way for him to express his creativity, he still loves to dance himself. He has danced with many major American ballet companies. He continues to take ballet classes, to attend performances by the vast number of choreographers whose work he admires, and to continue dancing.
Among the many roles he has danced was Puck in Fredrick Ashton's The Dream. He was "Red-Man" in Elemental Brubeck, choreographed and staged by Lar Lubovitch, which was a different jazzy style approach for Avi. He appeared in Mark Morris' A Garden, and Twyla Tharp's Nine Sinatra Songs, recalling her mind set to recreate her original piece.

All of this shows the extent of diversity of which he is capable as a dancer, though for his own company he prefers the more classical ballet movements with well-trained classical dancers.

"You learn from everything, you take little things away from everyone," he enthused. His ultimate dream is to have his own company take off on a bigger scale, to hire other choreographers to work with the company, and to be able to get an idea and go and create it immediately.
They say good things come in small packages… this man is a mountain of talent.