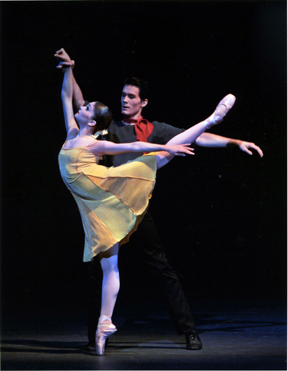 Carousel (A Dance) Kathryn Morgan and Seth Orza, NYC Ballet Photo:Paul Kolnik
Most of today's Broadway musicals are short-changing audiences. Anyone who remembers the musicals of twenty, thirty or forty years ago –- and anyone who loves the big bold revivals – knows this. They are cheating on dance. Musicals used to have lots of dance – all kinds of dance: Resounding tap dances, lofty dream ballets, rousing jazz numbers, exuberant soft shoe numbers, graceful waltzes, appropriate ethnic dances.
Time was, you'd go to see a musical comedy, the lights would dim, and the dark would be filled with a rousing overture that had your feet tapping or your body swaying to the irresistible strains of melody. This visceral reaction can be seen in little children who move so naturally to music.
After all, music is made for dancing. Rarely does one dance without it. Musicals are presumed to be music-laden, otherwise they are billed as plays with music. And for those of us who love dance, a musical with little dance is like a song without lyrics…you don't find much of that in a Broadway musical.
You do find dance shows, that are mostly bookless, and often more athletics than dance. But they are an entirely different category. The dancing in today's all dance shows is dramatic and acrobatic. It is as exciting as a roller coaster and as frightening as a chamber of horrors, for the leaps and rapidly changing body movements are so strenuous one fears for the safety of the dancers.
The old musical, with its exciting overture and its plentiful dance numbers is what is missing. An overture was a great idea and one that served several purposes. It set the mood for the entire show, it gave you a taste of what was to come, it quieted the audience down and offered an opportunity to admit latecomers without obscuring the first few scenes – because the scenes hadn't started yet.
The "Carousel" overture was one such example. I remember sitting in the last row of the second balcony and being swept along with that incredible Rodgers music. My seat cost one dollar, enabling me to attend regularly. Most often, there were empty seats nearer the front of the balcony, and at intermission one often moved.
But what a viewpoint for enjoying dance this afforded. You could see the entire pattern of the dance and fully appreciate the choreographer's vision. And having a familiarity with the music from the sampling in the overture, your response was full-fledged enjoyment.
Incidentally, this season New York City Ballet presented "Carousel", a romantic ballet set to that music. The most memorable part of that piece (choreographed by their resident choreographer, Christopher Wheeldon) was the creation of a turning carousel out of the rising and falling bodies of the circling dancers. It was one of those moments that will stay forever in one's memory. At least, this one's memory.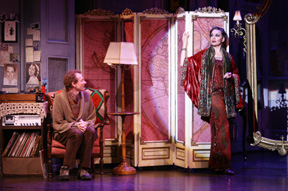 The Drowsy Chaperone - Original Broadway Cast
(L-R Bob Martin & Beth Leavel © Joan Marcus, 2006
Not long ago, a show slipped onto Broadway from Canada via Western USA, which paid tribute to old musicals, even older than "Carousel" – musicals where music reigned and dance was as integral as singing. It was called "The Drowsy Chaperone" and should have awakened the makers of musical theatre today to an audiences' avid response to exuberant dance on stage. While staged rather tongue in cheek, the dances worked wonderfully and would have entranced even without the instant clothing changes and the laughably appropriate old-fashioned style script they were parodying.
Dance was so significant to the musical of yesteryear that dancers such as Michael Bennett, Gower Champion, Bob Fosse and Tommy Tune moved from dancing into choreographing and then to directing musicals. Since Agnes DeMille made dance an integral part of the story line in "Oklahoma", and others continued to make it flow in and out of the non-musical proceedings, it was only logical that to keep that seamless flow, the choreographer should stage the entire musical.
Most musicals of today, however, have replaced dance with movement. While dance is movement, not all movement is dance. It's rather like what humming is to singing. I suspect that trend began when musicals were no longer musical comedies. That word's been dropped from the definition, and rightly so. But even the serious musicals of yesteryear, "Evita", "Sweeney Todd", "Les Miserables" and "Miss Saigon" had memorable dances.
Master Of The House in "Les Miserables" was an incredible eleven o'clock number – the big wake up number of old-fashioned musicals. That's one example, but an even more potent one comes to mind.
I vividly recall sitting in a London Theatre watching Jonathan Pryce cavort all over a car in The American Dream number from "Miss Saigon." I knew instantly that would be a highlight of the Tony Awards once that show hit Broadway.
There was a huge brouhaha about allowing Pryce to come with the show. American Actors Equity argued Americans imported British shows with British actors while English Equity took our shows and recast entirely with English actors, except maybe for a world-renowned star or two. Vivid recollections of The American Dream number alone would have made a powerful argument for giving such a great talent a chance at American Theatre's stages and awards. And since then, Pryce has been as much an American actor as a British one.
Because of his performance in "Miss Saigon", I had assumed Pryce was a long practicing trained dancer. Thus what a surprise at a Drama Desk event last year to hear him say he did not consider himself a dancer at all.
On the other hand, Hugh Jackman, who recreated the life of Peter Allen on stage in "The Boy From Oz", astounded audiences with his multi-skilled performance. His dances, as loose limbed and light hearted as anything Ray Bolger ever pulled off, were star turn highlights of that musical. (For those who don't remember Bolger's stage work, take a look at him in the classic film "The Wizard Of Oz".) Jackman won all three stage prizes for best actor that year — the Drama Desk, Outer Critics Circle Award and the Tony. The man did it all: acted, sang and danced in the old triple threat mode.
Who can think of "Damn Yankees" without thinking of Gwen Verdon? Who can think of "Chicago" without recalling the great dance numbers of Bob Fosse? The revival recreated them, as Gower Champion's choreography was recreated in the recent revival of "42nd Street". And the unforgettable "A Chorus Line", which told the travails and triumphs of aspiring Broadway dancers, which is now enjoying a revival had dance had its heart as it explored the heart of dancers.
Isn't it obvious from the success of such revivals that people long for rousing dance numbers? Yes, producers bring back the old musicals because they have a track record and are less risky than creating and mounting a new one. But when they do mount new ones, my beef (paraphrasing the little old lady in the TV commercials) is Where's the Dancing?
Even children's musicals such as "How The Grinch Stole Christmas" this year are using more movement than true dance. Something was missing: the kids around me did more dancing on their parent's laps or the minimal floor space in front of their chairs than there was on stage. Compare it to a painting without a color palette. The viewer feels cheated. (An all white canvas became the comic focal point of this idea in a play of several years back called "Art".) Yes, a "Whistler's Mother" can pull it off – but the stage is not a proving ground for Whistlers!
I am not advocating going back to the old dream ballet, or the huge chorus numbers where one group sang and another danced. Today's economy won't support it.
Unless of course, producers decided dance was more important than making scenery into a costar on the stage. Instead of sets that collapse or grow before your eyes or twirl out of sight or out over the audience, dance can be the icing on the Broadway cake. It can easily garner as many oohs and aahs as technical effects. More, most likely.
For the millions who like cupcakes, I ask – are they complete and completely satisfying without icing? Why then should musicals omit the delicious and delightful finishing touch of dance?