'Drawn and Colored by a Lady' at Arader Galleries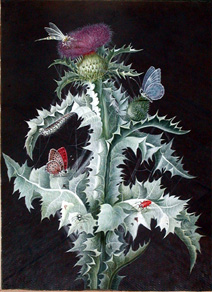 "Study of a Thistle" (Watercolor w/Gouache & Gold Leaf on Vellum) by Barbara Regina Dietzsh
(Photos Courtesy Arader Galleries)
By RAYMOND J. STEINER
ART TIMES March 2007
IF ANYONE STILL needs convincing that women artists can more than hold their own — and believe it or not, gender bias is still alive and well in the artworld — a visit to the present exhibit* at the Arader Galleries may help you overcome any misconceptions that you might continue to unconsciously harbor. Some fifty or so botanical and/or nature studies — drawn and colored by ladiesÓ of the past four centuries — comprise this exceptionally beautiful exhibition, and this pot-pourri of watercolors, gouaches, engravings, transfer prints and chalk, pencil and pen drawings admirably exemplify a sensitive hand/eye coordination. Surely nothing insofar as draftsmanship or painterly finesse is lacking in these exquisitely rendered studiesÓ of plant, insect, or animal world. From the gorgeously tangible plate of figs by Giovanna Garzoni, the incredibly life-like insects of Johanna Helena Graffe, to the almost breathing sheep painted by Rosa Bonheur, these ladies were, by any standards, accomplished artists.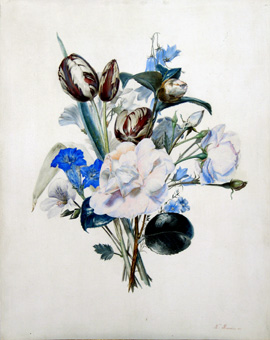 "A bouquet of roses and tulips"
(Watercolor and gouache on vellum)
by Domenica Monvoisin, Née Festa
As the title of this exhibit suggests, such work was often unsigned and it is to the credit of subsequent collectors that effort was made to discover whose hand was actually responsible for their creation. That women artists were slighted is beyond question; the real question is Why?Ó
To begin with, being unsungÓ seems especially hazardous for those who devoted their talents to botanical illustrations. Back in July of 1991 I wrote a review of a show entitled Illustrating Nature: The Art of BotanyÓ that had been mounted at the National Academy of Design, a show similar to Arader?s present exhibition and one that had been organized by Bobbi Angell, then a staff artist of New York?s Botanical Garden, Susan Fraser, Botanical Garden?s Special Collection Librarian, and Dita Amory, Curator of Prints and Drawings at the Academy. If the four centuries of neglected work featured in the present show seems alarming to the casual reader, let be noted that at the time of my reviewing the Academy exhibit in 1991, Bobbi Angell made it clear that archivists were still trying to remedy the problem — and, although that exhibit included the work of men, the slight was — and continues to be — experienced more often than not by women artists.
Again, the question is Why?Ó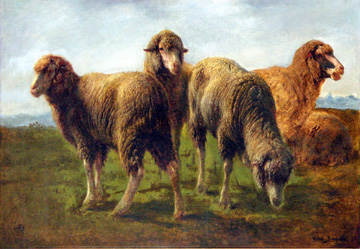 "Sheep grazing in a meadow" (Oil on canvas) by Rosa Bonheur
In the Introduction to the catalogue published in conjunction with Arader?s Drawn and Colored by a LadyÓ, it is pointed out that women were simply considered to be inferiorÓ to their male counterparts. Quoting John June in his 1756 treatise, The Delights of Flower Painting, that author states, the Benefit of this early Amusement will be found by filling up those tedious Hours, that would otherwise lay heavy on the Hands of many, especially the Fair-sex†Ó
AmusementÓ, indeed! A perusal of, say, Anita Albus? The Art of Arts: Rediscovering Painting, will show just how deeply a mereÓ woman can delve (a review of Albus? book can be found in the October 2001 Issue of ART TIMES**). A botanical artist herself — she illustrated Rudolf Borchardt?s Der leidenschaftliche GS?rtner (The Passionate Gardner) and Claude L?vi-Strauss? The Jealous Potter — Albus has authored several books on art but none quite as profoundly far-reaching as The Art of Arts. Surely no fair appraisal of this woman artist/author could deem her inferior.Ó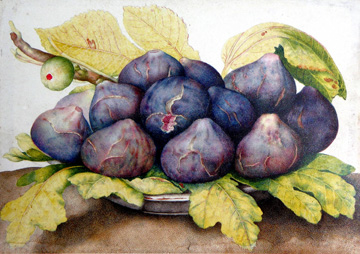 "A Plate of Figs" (Bodycolor on Vellum) by Giovanna Garzoni
The slighting of women artists has long bewildered me. It has always been our policy to keep gender bias out of our pages and, at a last count, I find that I?ve profiled as many women artists as I have men and have covered as many — if not more — exhibits of women than those of their male colleagues. As far back as May of 1987 — when we were publishing but a few years — we featured the National Museum of Women in the Arts, traveling down to Washington, D.C. to attend their inaugural exhibition. Some years later, I wrote an essay, Creativity of WomenÓ — Peeks and Piques!, January/February 2000 Issue of this publication — on precisely this subject. In fact, in that essay I may have even leaned too far in the favor of women?s art, committing a reverse bias against the art of males. That the problem still exists — and continues to rankle women not far under the surface — was made evident when a woman ceramist asked me after reading this particular piece if I was looking to get laid.Ó I was taken aback by her naked cynicism but, after a moment?s reflection, could not blame her for her skepticism. Apparently she had her own litany of negative experiences that caused her to doubt my sincerity. No surprise, really. I still encounter women artists who have their own stories to tell of discrimination at art schools, galleries and museums — and I still get resumes from many women who feel it?s more prudent to use only a first initial to insure a fair appraisal of their work.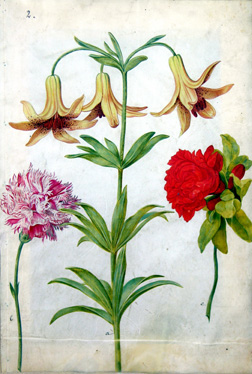 "Study of a lily, carnation and peony"
(Black lead, pen and black ink, watercolor and bodycolor on Vellum) by Maria Sibylla Merian
As if to underscore the problem that Arader?s exhibition is meant to remedy, I recently received a beautifully-bound, slip-cased and over-sized volume from Prestel entitled Florilegium Imperiale, an elegantly lavish set of reproductions of botanical illustrations that were originally painted for Francis I of Austria. Need it be said that this beautiful volume reproduces the work of a male artist — a watercolorist with the rather unfortunate name of Mathius Schmutzer? Most have heard of — and perhaps even have perused the pages of the many published volumes of Pierre Joseph RedoutZ?, court painter to several French kings. By contrast, how many such books have we seen on the likes of Giovanna Garzoni, Maria Sybilla Merian, Johanna Helena Graffe, Barbara Regina Dietzsch, Elizabeth Blackwell, Elizabeth Coxen Gould, Bertha Hoola Van Nooten, or Jane Wells Loudon — just to name a few who are featured in Arader?s Drawn and Colored by a LadyÓ and whose work at times equals —if not surpasses — that of their more famous male counterparts?
Kudos to Dr. Sara Nestor, writer, photographer, and designer of the catalogue, and to Arader Galleries for acknowledging these women?s accomplishments by mounting this impressive exhibition. This is one you ought not miss.
*Drawn and Colored by a Lady: Four Centuries of Female ArtistsÓ (thru Mar 24): Arader Galleries, 1016 Madison Ave. (between 78th & 79th), NYC (212) 628-3668. A full-color catalogue is available.