Art Review: Albert Bierstadt* at the Cole House, Frederic Edwin Church** at Olana
By Raymond J. Steiner
ART TIMES Fall 2013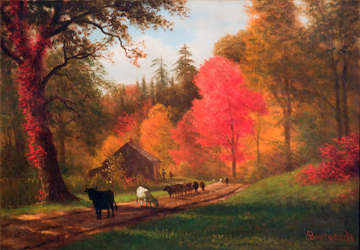 HARD TO BELIEVE that the "Hudson River School" (ca. 1825-1870), purported to be "fathered" by Thomas Cole (1801-1848) and so majestically exemplified in the work of Bierstadt (1830-1902) and Church (1826-1900), was once an epithet of disapprobation haughtily pronounced by many of the major "studio painters" of New York City on their fellow plein airistes who chose to go off into the mountains and stomp around the woods looking for motifs — perhaps even harder to believe that even though those woods-stompers eventually became beloved, themselves eventually building studios that rivaled their former detractors — even revered during the 1960's by the fickle artworld — that they would sink into near oblivion in the so-called "modern" era. I'm sure that even the most cursory glance at the current exhibitions mounted at the Cole and Church homes — built, incidentally, right smack in the middle of their Catskill 'stomping grounds' — would cause many of today's viewers to wonder at their erstwhile neglect.
Although a modest showing — about a dozen paintings that focus on Bierstadt's time in the New York/New England areas at Cole's (supplemented with artifacts, memorabilia and drawings), ten paintings centered in Maine and a handful of drawings at Church's — and mostly comparatively smaller works than either Bierstadt or Church were made justly famous for (so large, in fact, that most New York City galleries could not easily accommodate them, causing the artists to find venues ((such as the large walls of the once popular Delmonico's Restaurant, for example)) that would do justice to them) — both exhibits are more than adequate to give the viewer enough of a "taste" to evaluate their technical genius in depicting landscape. Both Bierstadt and Church brought representational art to its nth degree, both reaching a zenith of perfection that most probably had within its very precision of detail its own eventual downfall written in indelible paint. Where to go from here?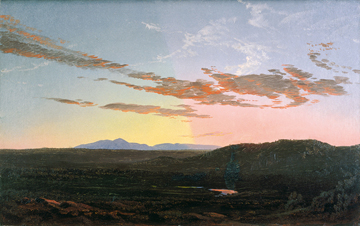 I began my own viewing at the Cole house, once again tearing myself from the mountain vista so dramatically visible from his spacious front porch (I've been there several times in the past, loving to linger there each time), to go inside to view the Bierstadt paintings. Like Church, and indeed so many of the Hudson River "school" beginning with Thomas Cole, Bierstadt (who in fact studied in Düsseldorf) was deeply influenced by the Romantic mysticism that grew up in Germany in direct response to the expressionist/abstract "movements" that were popping up over most of Europe. In reaction to "realist" philosophers (Friedrich Nietzsche, Karl Marx, et al, e.g.) who were trying to "tell it as it is", some artists chose to buy into the new party-line to produce "art" that reflected a "fallen" world and turned out angst-driven, politically-motivated, or simply nonsensical work (if the world is a crappy place why not let art proclaim it?) while others retreated into a dream world of nature where beauty and mystery dwelt; from a realism that morphed into the sublime (accentuated, incidentally, in the title of John Wilmerding's essay as well as for the title of the catalogue for the exhibit at Olana, viz., Maine Sublime) which inspired awe (even fear).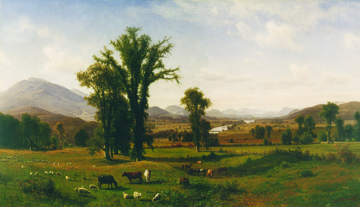 Landscape painting was especially suited for the propagation of such artistic ideals and spurred many Americans who studied art in Germany on to plein air painting — the Hudson River "School" most notably — when these students returned to America. Both The Kunstakademie Düsseldorf (Düsseldorf Art Academy) and the Akademie der Bildenden Künste München (Munich Art Academy) were famous for fostering and teaching the idea(l)s of a sublime and mystery-ridden Nature and a great many American students went there to study. Bierstadt, himself born in Germany, studied at Düsseldorf, most likely picking up his ideas of and propensities for landscape painting while still young. Along with the precise verisimilitude (and 'sublime' exaggeration) imported into America was the idea of the "art colony", a place removed from cities and their suffocating environments where artists could really experience nature. Just such a place was the one in Polling, Germany, a small town south of Munich where Academicians often went — including Americans such as Frank Duveneck, William Merrit Chase, Walter Shirlaw, J.H. Twachtman, and dozens of others (a local inn kept a guest book that lists some 75 American artists who visited from 1853 to 1905!) — which features rural landscape and a stunning backdrop of the Alps. I visited this now defunct German "art colony" (though still a virile little village) some years ago and could hardly keep myself from thinking of the environs of Woodstock and its surrounding Catskills. William Merrit Chase, who studied at the Munich Academy, and, as noted above, spent some time in Polling, could hardly wait to set up his own outdoor art 'school' at Shinnecock, Long Island when he returned home — the first in America and a forerunner for our own home-grown art colonies It wouldn't be long before the Art Students League of New York would set up "summer" schools at Lyme, Connecticut and Woodstock, New York (1906), turning both towns into burgeoning and popular art colonies, with Woodstock even attracting Europeans who wanted to visit what artist Birge Harrison (1854-1929) (one-time League teacher and Woodstock resident) once called the best "landscape school in the world". The Catskills stood in for the Alps and thus the "Hudson River School" was launched (or "fathered") by Thomas Cole in the early 1800s.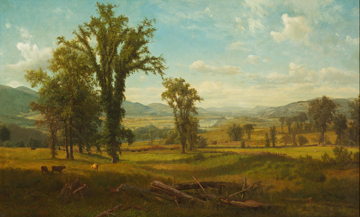 By the time we get to Bierstadt (1830-1902) and Church (1826-1900), the attention to detail and the sublimely beautiful had become a near science, bringing plein air painting to a level hardly imagined, say, back in the time of the quasi-mystical German "Nazarenes" (founded ca. 1809). As one can imagine, such masterpieces could not actually be done strictly in plein air, needing not only a spacious studio but an array of "tools" that might have made a forbidding burden to an early back-packer with his traveling easel as he wended his way through mountain trails. Indeed, the cream of most of the Hudson River "School" is overshadowed by the paintings of both Bierstadt and Church, carried to such a pitch of technical virtuosity that few of their earlier compeers could — or wished — to attain. A hint of that move from natural beauty to technical perfection can be spied in two of Bierstadt's paintings, "Mt. Ascutney from Claremont, New Hampshire" (1862) and "Connecticut River Valley, Claremont, New Hampshire" (1868) wherein the artist "plagiarizes" himself, copying the same trees and clouds from the earlier painting to the latter — the motifs worked so well the first time, why not rehash them and give it a new title? But why cavil about such "short-cuts" when we are treated by the gorgeous colors, say, of his "Autumn View in Waterville, Oneida County, New York" (1878) or Church's "Sunset"?
Kudos to both Historic Sites of the Cole/Church homes, along with curator Dr. Annette Blaugrund (at the Cole Site) and the many organizers, contributors, John Wilmerding and other writers at Olana for bringing these exhibitions to what I term a long, "art-starved" public. Both homes, now carefully preserved as National Historic Sites that boast magnificent views of the Hudson and the Catskills, are themselves worthy of extended visits, and I urge my readers not to forego a journey to the Hudson River/Catskill Mountain Region. Take a hint from Bernard Berenson and let art enhance your life — not dampen your spirits. Surely, a little beauty is a rare benefit to our present dread-ridden world — we can always spend time with the dreary side of life by reading newspapers and watching TV instead of finding it in our art.
*"Albert Bierstadt in New York & New England" (thru Nov 3): Thomas Cole National Historic Site, 218 Spring St., Catskill, NY thomascole.org
**"Maine Sublime: Frederic Edwin Church's Landscapes of Mount Desert and Mount Katahdin" (thru Oct 27): The Evelyn and Maurice Sharp Gallery, Olana State Historic Site, Hudson, NY olana.org
(Both exhibitions have illustrated catalogs available: Albert Bierstadt in New York & New England at the Cole House and Maine Sublime: Frederic Edwin Church's Landscapes of Mount Desert and Mount Katahdin at Olana.