Art Review: Balthus & Chagall:
Beyond the Surface of the Canvas: Two Painters of the Interior
By Kathleen Arffmann
ART TIMES Winter 2013
Fall in New York is traditionally a time for the opening of many exciting museum exhibitions. There are so many exhibits that it seems impossible to see them all. Fortunately, they are scheduled well into the winter, giving us plenty of opportunity. In our present world with all its contrivances and commerciality, museums still offer one of the few affordable cultural experiences that are sources of real pleasure.
"Balthus, Cats and Girls" at The Metropolitan Museum of Art* is a trip into the psyche; and "Chagall: Love, War, and Exile" at the Jewish Museum** is a journey to another world. These two painters go far beyond the surface of the picture to tell their story. Although working in very different styles of painting I see them as linked by this similar objective.
Balthus's world is dark and often sinister. His paintings are an exploration of his own psyche. Balthus lived in Paris at a time when Freud was very much a part of the intellectual and cultural landscape. In his paintings his adolescent girls are not self -conscious about their postures and assume physical positions that are natural and completely uninhibited. Some of his subjects are considered erotic and X -rated even by today's standards. However, Balthus was an integral part of his time and did not consider his pictures pornography but rather a psychoanalytical exploration. To this end his cats are very important since they lead one calmly into his unconscious with great balance and poise. Cats are detached and aloof, just like the painter; cats facilitate the viewers' passage into the psyche. In his pictures cats are playful, mysterious, watchful. His clarity in conveying visually what often words cannot, is a tribute to his craft as an artist and his greatest strength. For the viewer there is no deciphering. His directness makes all that unnecessary; so that one can arrive in his unconscious with a firm footing, very much like the leap and landing of one of his feline friends.
In an adjacent gallery there are 40 small charming drawings of Balthus' cat, Mitsou that Balthus did at age eleven. These have never been on view before. Done first in pencil and then black ink, they very much resemble woodcuts. They tell the story of his cat, Mitsou, his pet's happy arrival in his life and his sad sudden disappearance. Sabine Rewald, who curated the exhibition, discovered these small drawings in the possession of a family friend. (In researching their subjects curators are often like detectives.) The drawings were stained, in terrible condition and needed a great deal of restoration. Sabine proposed that they be restored at the Met in one of the finest paper conservation resources in the world. They add so much to the exhibition because they give greater insight into the mind of the painter and his lifelong attachment to cats and art.
As a youth Balthus was greatly influenced by his study of the Fifteenth Century painter Piero della Francesca who was also a mathematician of geometry. One can see this mathematical influence in the careful placement of all the concrete elements in Balthus's compositions. His subjects and their surroundings are representational but dreamlike. His strategy serves to deconstruct or unwind the reality in his paintings. There is no eye contact or relationships between people or objects. They are separate and detached so one can more easily see into the interior of the painter's mind. Few artists in a simple portrait or street scene can reveal so much so quickly. The exhibition closes on January 12, 2014.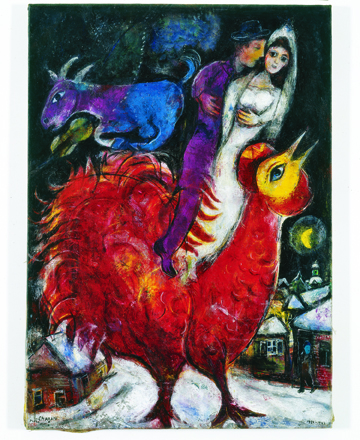 Ten blocks north on Fifth Avenue is another exhibition at the Jewish Museum, "Chagall: Love, War and Exile". Since I saw these two exhibitions on the same day, I couldn't help making comparisons between the two artists. "Chagall: Love, War and Exile" focuses on the most difficult period in Chagall's life, from the1930s to 1948, when he was subject to the turmoil in Eastern Europe, Nazism, World War II, his life in Paris and his exile to the United States. What I could not understand was why after viewing the works in this exhibition I felt so serene. The impact of this artist aroused my curiosity because with all the negative imagery presented in 31 paintings and 22works on paper his form of expression was still an uplifting experience.
Chagall seems to paint with his heart, a man of great sensitivity. Here is a painter so full of poetry and lyricism that one could almost hear these paintings sing their melancholy song. His colors and images are strong and alive. His representational symbols come from his childhood, Jewish tradition, Russian folk art, and Christian Orthodoxy. Yet there is a universality about the images he uses so repeatedly that we begin to understand their poignancy. Keep in mind that he and Picasso were contemporaries who were painting about the horror of war, and yet Chagall is free from all the "sturm und drang" that you find in "Guernica". He loved so many things in his life and when they were lost his sadness and compassion are transparent.
Included in the exhibition are the works painted during World War II. They are dark paintings of Christ on the cross, iconographic images of torment and pain, intended to remind the Christian world that Christ was a Jew after all. Christ on the cross even wears the striped Tallit or prayer shawl as a loin cloth to remind us that he is Jewish. These are powerful pictures. Often Chagall projects himself into the figure of Christ. On the upper walls of the gallery are silk screened his words:
I run up,
to my dry brushes
And I am crucified like Jesus,
With nails pounded in the easel.
The exhibition opens with two works of large bouquets with floating figures in an embrace, completed in Paris after his marriage to Bella, his great love and muse. Chagall, who had already been living in Paris, went back to Russia and somehow convinced Bella's conservative Jewish family that he was going to be a successful painter, which was extremely difficult to do since he was unknown at the time. The exhibit starts on this joyful note and takes you through the grief-laden periods of his life; and ends after his recovery when he resumes a new life in Paris.
Once is not enough to see this exhibit. The galleries are small, and on Saturdays, when admission is free, viewing conditions for these easel size works are difficult. Try weekdays, if you can. The late night is Thursdays. I have seen many works by Chagall and a few exhibitions. However, when I left the museum felt I had personally met the artist for the very first time." Chagall: Love, War, and Exile" is organized by Susan Tumarkin Goodman, Senior Curator Emerita at The Jewish Museum. The exhibition ends on February 2, 2014.
* The Metropolitan Museum of Art, 1000 Fifth Ave (at 82nd), NYC (212) 535 7710 (thru Jan 12, 2014)
** The Jewish Museum, 1109 Fifth Ave, NYC (212) 423-3200 (thru Feb 2, 2014)