Degas at The Hyde Collection

By RAYMOND J. STEINER
ART TIMES Sept/ Oct 2009
IT'S BEEN TOLD that Jean-Auguste-Dominique Ingres, Degas' admired mentor, sternly exhorted him to "Draw, draw, draw!" A humorously ironic parallel, an old New York City joke, goes like this: A woman goes up to a cabbie and asks, "Can you tell me how to get to Carnegie Hall?" to which he replies, "Practice, practice, practice!" If the anecdotes are compared casually in light-hearted intent, the comparison, nevertheless, is apt. If Degas took Ingres' admonition to "draw, draw, draw" to heart, becoming famed for his skilled draftsmanship, he did not — though he did try his hand at the violin and piano — take his music-loving family's advice to "practice, practice, practice" seriously enough to make his mark as an accomplished musician.

If, however, Degas chose to be an artist rather than a musician (surely our gain), the nurturing love of music so carefully inculcated by his family never left him — as this exhibition* so clearly shows. "Degas & Music" consists of some 30 works from their own and on loan from some seventeen other institutional collections — oils, watercolors, gouaches, pastels, chalks, charcoals, graphite, pen and inks, lithographs, prints (heliotypes) — even three bronzes — that show the intimate relationship between music and art that Degas so regularly revealed. Curated by Jill DeVonyar and Richard Kendall, the show is a carefully crafted merging that showcases what they term an "ecstasy of sense", in effect the subtle way in which artforms — in this case, music and painting — 'speak' to us on ancient levels of communication that predates our use of verbal and written means by thousands of years. Following an earlier exhibition, "Degas and the Dance" (2002), and in the context of a Season of Degas — a major effort undertaken by forty different arts and community organizations presenting some seventy different programs in five separate nearby counties — it is hoped that the experience of viewing "Degas & Music" will prove to bring "spiritual respite in troubled times".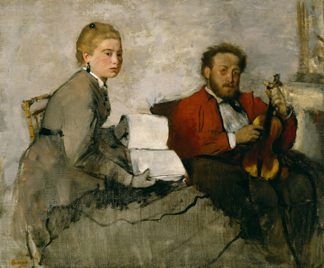 It does.

In spite of the serendipitous nature of my opening anecdotes, there are more serious parallels that went into the mounting of this exhibit, the most important being that The Hyde's founder, Charlotte Hyde, was responsible for introducing a strong musical presence in her community and, in particular, a venue for world-class performances in her own home. Indeed, the groundwork for putting together "Degas & Music" was thrashed out in The Hyde's Music Room, still an integral feature of The Hyde Collection. Fitting then, that this exhibition of this artist in this venue should take place.

DeVonyar and Kendall have chosen well. Though the oils are excellent, for me, since he so evidently took Ingres' direction to heart, the trip to Glens Falls to see Degas' drawings of musicians, singers, and dancers was well worth the time. But there is more. In addition to Degas' work, are several vitrines that hold books, mementoes and other paraphernalia, which certainly enhance the exhibit, and even a darkened sitting room in which visitors can relax and listen to the music that inspired the artist. Do not miss this rare opportunity to have your soul inundated in this delightful "ecstasy of sense."

*"Degas & Music" (thru Oct 18): The Hyde Collection, 161 Warren St. Glens Falls, NY 518-792-1761. A catalogue of the same name is available (see our New Art Books column for full details). hydecollection.org