California Impressionist Paintings
at Katonah Museum of Art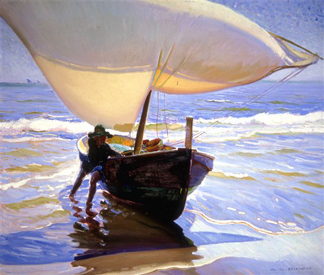 Arthur G. Rider, - The Spanish Boat
By RAYMOND J. STEINER
September 2008
SOME TEN YEARS ago, Abbeville Press published California Impressionists by William F. Gerdts and Will South, the book a standard text on the subject for most of those years. What a treat to find that Mr. Gerdts — along with Jean Stern of The Irvine Museum — has curated a show* that has traveled east to the Katonah Museum of Art, where we can now see at first hand a great many of the artists featured in the Abbeville book. Some 60 works (fifty-nine paintings and one painted vase) make up the exhibit, including five painters that were not included in the earlier study.
There appears to be an irrepressible joie de vivre shared by Impressionist painters — French or not — that is well-nigh impossible for viewers to resist. Whether we will or no, the infectiousness of dollops of light and color almost always overwhelm the senses, leaving most viewers with a strong desire to lose themselves in these paintings — or, more properly speaking, to discover their own particular vantage point of observation — and this, in spite of the propensity to do so, when some painters often make it manifestly unclear just where the "imaginary viewer" is meant to "stand".
Where, for example, are we to imagine ourselves in Alson Skinner Clark's The Weekend, Mission Beach, Meta Cressey's Under the Pepper Tree, or Sam Hyde Harris's Todd Shipyards, San Pedro? A mile away? On a balcony? Treading water?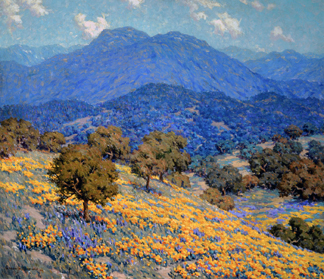 Granville Redmond, - Poppies and Lupines
And does it really matter if you can feel yourself "in" the picture or not? For this viewer, the powerful seduction of color has always served as sort of an entrapment — a comforting "losing of myself" that can cause me to overlook painterly faults — or at least what I consider to be "faults". Like Cézanne, I also believe that some Impressionist-style painters — perhaps carried away by their obvious immersion in the delights of nature — sometimes lose track of the "cones and cylinders" that lend form to objects. Paintings such as Maurice Braun's San Diego Countryside with River, William Clapp's Country Road (which looks infinitely stronger in reproduction), Frank Cuprien's An Evening Symphony, John Frost's The Pool at Sundown, or Hanson Puthuff's Monarch of the Malibu all appear "washed out" in their sun-drenched atmospheres in comparison to the drama of lights and darks found, for example, in Paul Dougherty's The Twisted Ledge, William F. Jackson's Radiant Valley, Edgar Payne's High Sierra, or Granville Redmond's Poppies and Lupines.
This, of course, is all a matter of taste, and it may just be my predilection for strong contrasts that blinds my eye to certain "softer" (and soft-edged) tonal paintings. Truth be told, all of these paintings are worthwhile seeing and we extend kudos to the Katonah Museum of Art for hosting the show and bringing it into the New York area. Who is so jaded not to be moved by the Impressionist vision — a veritable reveling in color, light, and a Mother Nature that shields the eye from harsh realities?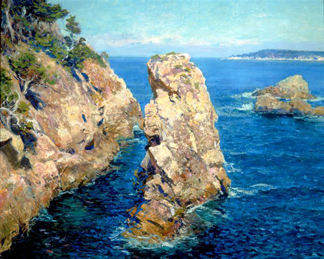 Guy Rose, - Pt Lobos, 1918

Does the sea devour men? But look at how it dignifies craggyrock or sandy shore with its cleansing cascades of water! Do those mountains serve as havens for predators? But look how they appear to the eye from a distance — all shadow and light, peak and valley, causing the soul to rise to new heights! Do those flowered fields harbor destructive pests? But only step back and see in their glory of vibrant color how they delight the eye!

Surely these plein-airistes invite us to flee the city, to put on hiking boots in search of woodsy paths, hidden mountaintop meadows, breathtaking vistas, out-of-the way ruins, small villages, and rocky shores.

So, enough carping! Go fill your eyes with "All Things Bright & Beautiful" — New York aficionados of the Impressionist Style will not want to miss this rare opportunity to see so many of these wonderful works right here in our own backyard.

*"All Things Bright & Beautiful: California Impressionist Paintings from The Irvine Museum" (thru Oct 5): Katonah Museum of Art, 134 Jay St., Katonah, NY (914) 232-9555. katonahmuseum.org. The exhibit will then travel to The Hyde Collection, 161 Warren St., Glen Falls, NY (518) 792-1761 (Nov 16-Jan 8, '09). hydecollection.org. A fully-illustrated catalogue of the same name accompanies the exhibition.