Art Review: Master Drawings at The Frick & at The Morgan Library & Museum

By Raymond J. Steiner
ART TIMES November/ December 2012
RESIDENTS OF AND visitors to New York City have a rare opportunity to view some never-before-seen-master drawings in the U.S. as well as observe a phenomenon that I shall get to in just a bit. The exhibitions, the one at The Frick described in their press releases as "a survey of … draftsmanship" that was "executed in a range of techniques and styles"* while The Morgan declares its show to be representing "the breadth, depth, and vitality of the collection"**, are both splendid examples of these fine institutions' long dedication to bringing fine art to their visitors (The Frick's next offering, incidentally, is to present to us the very first showing in America of the work of Piero Della Francesca, Feb 12 — May 19, 2013). Both institutions are more than justified in describing their offerings as they have done, but to me both exhibitions may well have been titled: "The Decline of Draftsmanship".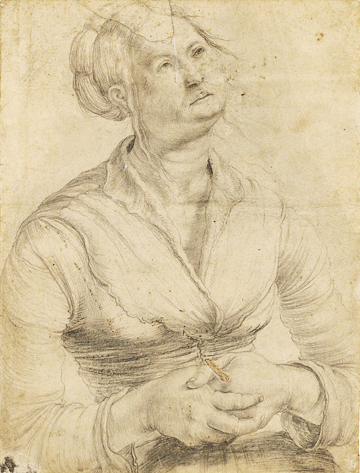 Matthias Grünewald (around 1470/80 – 1528 Halle an der Saale) Study of A Woman in Prayer, Looking Up, 1510-15 Charcoal, smeared in places
When I see just how far we have traveled from either Mantegna to Matisse (The Frick) or Dürer to de Kooning (The Morgan), I am dismayed to see how far an artform can deteriorate in so short a time. Of course, I am "locked into" what is now considered to be a "conservative" mind-set, a way of assessing art that is considered passé by most modern-day art critics (see my "Peeks & Piques!, this Issue on Page 2). For me, viewing, for example, Parmigianino's "Woman Seated on the Ground" (at The Frick) alongside Cézanne's "Apples, Bottle and Chairback" or, likewise, Simon Vouet's "Man Bending Over in Three-Quarter View, Two Heads with Turbans" (at The Morgan) alongside Penck's "I and the Cosmos (Figure with Starry Sky)", I find the differences in draftsmanship starkly glaring. I am aware of the evolution of art history — that many art students are taught today that the study and practice of draftsmanship is irrelevant for painters — but it does not stop me from thinking that the evolution is a pity.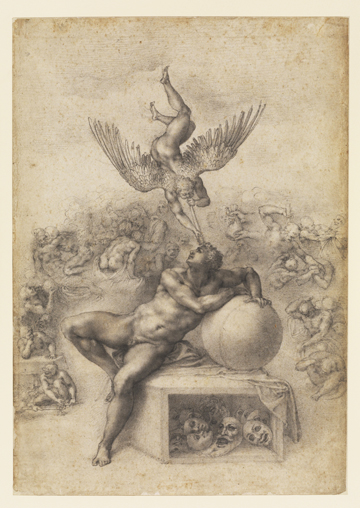 In the more "classical" times of Parmigianino and Vouet, art was thought (and meant) to be universal, more "accessible" to all generations since it was widely believed that the artist (read "genius") was indeed inspired and privy to a "greater" or "arcane" knowledge of him/herself and the world at large which, by sharing through their art, "enhanced" the course of mankind. Note, for instance, that we do not have to speak (or understand) Italian to "get" what Michelangelo is "saying" in his "The Dream" (at The Frick) or speak German to "get" what Grünewald is "saying" in his "Study of a Woman with Her Head Raised in Prayer" (in The Morgan) — their "art" speaks to people of all tongues — it is "universal". Hence the meticulous detail and clarity of line in the early masters – easily "read" by the viewer, and, again, "universal" as opposed to some of the random scribbling of "moderns' that often defy interpretation. A good deal of "modern" art has been preceded by "manifestos" as apologies for their creation — in short, we must often read about it to "get" it. Thus, the "Artist's Statement", an almost universal practice by most galleries and exhibition venues. Why? The artist has already made his/her statement in the art. A good artist friend and teacher (Rick Pantell, at the Art Students League of New York) once remarked: "Do they ask a poet whom they invite to speak to paint a picture?" Good point. For me, if I must read a "statement" or manifesto to "get" what I'm seeing, then the "art" has failed.
By the same token, I want to hear and not read about Mozart's music in some critic's review.*** To paraphrase a character in a bygone Hepburn film set in Venice, "If I have to read one more "-ism", I'm gonna yip". Some artists, in fact, (at least to me) seem unconcerned with what I, the viewer, "gets" and more intent to express what is on their own minds; it is almost as if the "art" is seen as "therapeutic", a way for an artist to mull over his own inner, psychological problems by spewing paint onto canvas or dumping piles of various materials on gallery floors. It is not "universal" but "personal" — and, in most cases of confronting "modern" art I am simply not interested in learning about a particular artist as I am in self-enrichment. No matter how beneficial it may be to the artist, such art does nothing for me. I heartily (sometimes noisily) proclaim, like Bernard Berenson, that I expect "art" to enhance my life through "speaking" directly to me. I do not want to read about a particular school or individual piece of "art" — I want to see it and benefit from the viewing! So much for my biases; both of these exhibitions have much of interest and ought not be overlooked. Kudos to both institutions for carrying on their separate but important "visions".
*"Mantegna to Matisse; Master Drawings from The Courtauld Gallery" (thru Jan 27)" The Frick Collection, 1 East 70th St., NYC (212) 288-0700.

**"Dürer to de Kooning: 100 Master Drawings from Munich: (thru Jan 6): The Morgan Library & Museum, 225 Madison Ave at 36th St., NYC (212) 590-0393.
***An aside: I once shared a seat on a train to New York City with a noted atonal composer who had previously invited me to one of his premieres. He asked me how I enjoyed the concert and I told him that I did not enjoy it, that I found the sounds made me internally disconcerted, that I found classical music "more soothing, more healing". He told me that, in order to be fully appreciated, his "music" had to be read! I merely shrugged and mused on Mark Twain's quip that "Wagner's music was much better than it sounded."