Art Review: Drawings at The Frances Lehman Loeb Art Center

By Raymond J. Steiner
ART TIMES Nov/ Dec 2011
(Michelangelo on disegno (drawing/design): "…si dipigne col ciervello et non con le mani" (One paints with the brain and not with the hands)).
THANKS TO SUCH art-conscious institutions as Vassar College's Frances Lehman Loeb Art Center serving as important venues, art connoisseurs can always rely on the enduring appreciation for fine draftsmanship — and, of course, for collectors such as Edwin Bryant Crocker who had the foresight to gather up and preserve master drawings before they were lost to history. For those of us who appreciate the art, fine draftsmanship — for whatever reasons, and to my mind, none valid — has been given short shrift by many moderns following the questionable argument that such skills are irrelevant to fine painting.
For this writer, it does not take a "connoisseur" to see the results of such reasoning when we survey the current offerings — not only in galleries, but also in many equally respected institutions as the Loeb Center. Whatever my own opinions on the matter or the eventual outcome of the history of art, this "pioneering collection"* will surely please anyone interested in the art of drawing.

A little under 60 master drawings comprise the exhibition, an impressive selection made from the Crocker's some thirteen thousand forty-four masterpieces from which to choose — the lot chosen by Crocker Art Museum curator William Breazeale and mounted at two previous venues on the West Coast before this at Vassar, the only one shown in the East.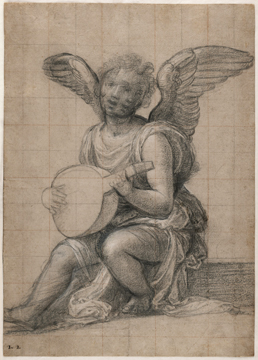 Thematically arranged into four sections — Italy, The Low Countries, France, and Central Europe — the exhibition highlights not only the varying tastes and styles of these different cultures, but also the chronological evolution of the art of draftsmanship from the late 15th to the mid-19th Centuries within these major art centers. Aside from such artistic considerations, one cannot but be overwhelmed by the thought that such treasures as these drawings might well have been lost to posterity were it not for such collectors as Edwin Bryant Crocker and his wife Margaret. They began their collecting in the mid-eighteen hundreds — imagine the loss had they lived during the modern habit of pontifically denigrating their value,

Each viewer will, of course, choose their own 'favorites' and I simply point out a few that caught my eye — either for the motif or for what I feel points out its value as an artform worth preserving. What comes to the fore almost immediately — see Catalog No, 2, Angel Playing a Lute by Fra Bartolomeo — is that all such drawings were meant as preparatory sketches for paintings, clearly demonstrating the truth of Michelangelo's pronouncement quoted above — since one can hardly overlook the thought that has gone into Bartolomeo's finished Madonna del Santuario — as well perhaps, as others — in beginning with this drawing. Although I choose but this one example, the catalogue (a real treasure**) makes abundantly clear that each of these drawings were but executed "thoughts" ala Michelangelo's dictum. An obvious "study" — and the care taken in making it — can be found in Jan Steven van Calcar's Studies of Human Bones done in red chalk.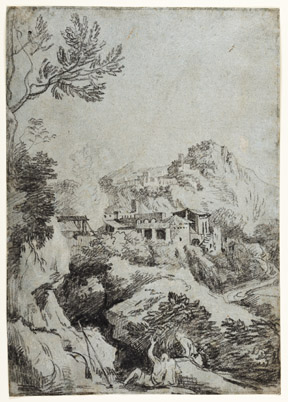 Given that they are meant as preliminary desegnos, one still cannot help but appreciate the exquisite beauty that one can render by a simple line drawing and subtle cross-hatching in such a drawing as Donato Creti's Virgin and Child. Note also the intense attention to folded drapery in Peter Lely's Two Clerics, from a Procession of the Order of the Garter, Adriaen van de Velde's A Young Woman as Pomona and Gérard de Lairesse's Expulsion of Hagar. Or the almost incredible complexity in such drawings as Pieter Stevens The Month of February, Michael Herr's Witches Sabbath, or Johann Georg Bergmüller's Saint Martin Appealing to the Virgin.

Finally, how can one fail to see how a François Boucher or a Moritz Oppenheim captures in simple line the grace of femininity in The Birth of Venus or the sensitivity of a young man's countenance in Portrait of a Man with Open Collar, respectively? And, although I would have liked to see more landscapes and/or florals, Fragonard's An Italian Park, Cittadini's Landscape with Herder and Animals, de Vlieger's Landscape, Bloemart's Landscape with Tree Trunks and a Shepherd Resting and van Schrieck's Morning-Glory and Butterflies certainly made up for the lack. Kudos to Vassar and all such institutions that continue to keep the love of fine draftsmanship alive.
If you love drawing, this is a show that you ought not miss.
*"A Pioneering Collection: Master Drawings from the Crocker Art Museum" (thru Dec 11): Frances Loeb Art Center, Vassar College, 124 Raymond Ave., Poughkeepsie, NY (845) 437-5632. Visit http://fllac.vassar.edu for more information and/or directions.

** A Pioneering Collection: Master Drawings from the Crocker Art Museum by William Breazeale, et al. (172 pp.; 8 ½ x 10 ½; fully-illustrated; Bibliography; List of Artists and Titles. $35.00 Softcover).