Watteau at The Met & The Frick
By RAYMOND J. STEINER
ART TIMES Nov/ Dec 2009
INASMUCH AS I find it increasingly more difficult to find exhibitions that I care to spend time at, it is heartening indeed to find two outstanding shows* almost "across the street" from one another. Although one of the exhibitions closes at the end of this month, there is still time for viewers to take in "Watteau, Music, and Theater" at The Met and "Watteau to Degas" at the Frick in a leisurely one-day visit to New York City — something I did in preparation for this review. Both venues center on Watteau, his time, and selected colleagues, both concentrate on an era of fine draftsmanship and composition that is certainly welcome to many of today's viewers and, assuredly, both well worth a visit for the aficionado of fine art.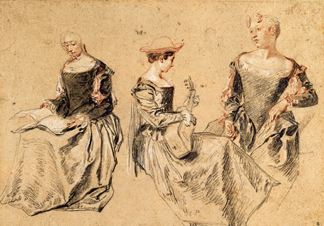 Since it is scheduled to close earlier, I shall begin with "Watteau, Music, and Theatre" at The Metropolitan. Some 60+ works — paintings, drawings, engravings, as well as Meissen porcelain figures and period musical instruments nestled in amongst the works of about a dozen of Watteau's contemporaries (French, Italian, Austrian and Czech painters) comprise the exhibition — the whole a grand presentation of its central theme: the interplay of the arts in subtle line, color and form, equally obvious in the drawings, paintings, porcelain figurines and musical instruments that are included in the show. In an era when cultural sensitivity was refined almost to the breaking point, Watteau and his colleagues went all out to demonstrate just how powerfully effective in expression the artist could be. Compared to the effusion of proletarian, political, and starkly prosaic "art" of today, the sheer gorgeousness of this show is almost overwhelming, forcibly reminding the viewer of just how much we lost when we ousted beauty from the modern artist's repertoire. Conceived by Georgia J. Cowart, Professor of Music at Case Western Reserve University, and Katharine Baetjer, Curator of European Paintings at The Met, the ingenious intertwining of the arts splendidly highlights just how much can be derived by going beneath the surface message of visual creativity. Although the paintings are gloriously lush, for this viewer, the drawings — of Nicolas Lancret, Young Lady Dancing (Chalk, Catalog No. 42), Claude Gillot,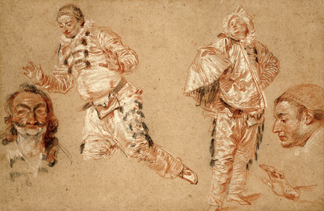 Figures in Theatrical Costumes (Ink and Chalk, Catalog No. 39), but especially Jean-Antoine Watteau's Three Studies of Seated Women (Chalk, Catalog No. 26), Two Studies of Mezzetin, Standing (Chalk, Catalog No. 28), Studies of a Flutist and Two Women (Chalk, Catalog No. 29) and Italian Comedians (Chalk, Catalog No. 32) — reveal just how conscientiously these artists of yesteryear plied their trade, delving beneath the façade of image to bring out the essences of their motifs. A special treat for visitors will be found in Watteau's oil on wood The Surprise (La Surprise) (Catalog No. 11), this being its first public debut since its 200-year seclusion in a private collection. Many lenders have made this exhibition possible and ought not be missed since its like may never come together again.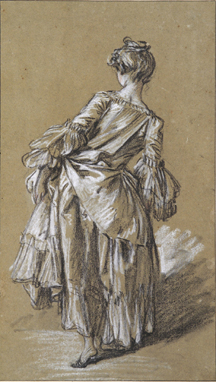 I can think of no better way to begin discussion of the Frick's "Watteau to Degas" exhibit than by once again directing the viewer's attention to a drawing, that of Pierre-Paul Prud'hon's Study for a Curtain c.1806 (Chalk, Cat. No. 33) for it encapsulates nearly everything that makes this exhibition so marvelous — namely, sensitivity to detail, refined taste, and the draftsman's skill in making it all come alive. Over 45 artists and 63 works on paper — primarily drawings and watercolors — make up the show, the lot publicly exhibiting, for the first time, a carefully chosen selection from the Johannes Frederik Lugt Collection, Fondation Custodia, Paris. Focusing, as it does, on French 18th and 19th-Century works on paper, once again, as above, the viewer is regaled with a period literally bursting with exquisite connoisseurship. If Prud'hon's Study for a Curtain sets the stage, then it is François Boucher's Standing Woman Seen from Behind (Chalk and Stumping, Catalog No. 12) that — pace Watteau — puts the icing on the cake and steals the show. Who could resist Boucher's rendition of a young woman facing away from the onlooker, her left hip insouciantly thrust outward, that most alluring feature of femininity — the nape of the neck — bared beneath her upswept hair as if inviting a gentle brush of the lips? With six of his chalk drawings, Watteau is, of course, as in the previous exhibition, the "star" of this show — his Three Standing Soldiers (Chalk, Catalog No. 1), Studies of Seven Heads (Chalk, Graphite, Catalog No. 5) and Woman Reclining on a Chaise Longue (Chalk w/Stumping, Catalog No. 6) so representative of the sensibilities of the age — while his Landscape with Bear Devouring a Goat (Chalk, Catalog No. 3), if not as elegantly finessed, points up the sheer dedication to detailed draftsmanship that characterized the finest artists of his day. There are a few surprises — at least for this viewer — which include Théodore Géricault's somewhat atypical Forest with Two Figures and a Cow (Graphite, Catalog No. 40), Charles-François Daubigny's View of Paris from the Tour Saint-Jacques (Graphite w/Stumping, Catalog No. 53)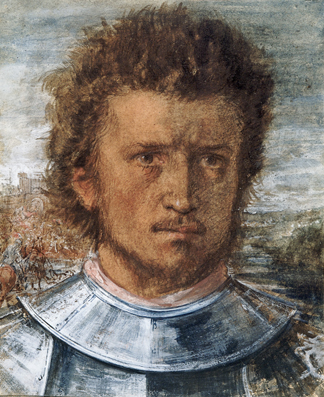 — I am so used to being seduced by Daubigny's use of green in his paintings that I miss it in this simply-lined (though fine nonetheless) drawing — Edgar Degas' uncharacteristic Head of a Soldier (Watercolor, Gouache, Chalk, Graphite, Catalog No. 57) and Henri-Joseph Harpignies' unexpectedly "modern", loosely-brushed Studio of the Artist (Watercolor over Chalk, Catalog No. 63), while such works as Pierre-Jean Mariette's View of Crozat's Gardens at Montmorency (Ink, Wash and Chalk, Catalog No. 8), Boucher's View of a Rustic Habitation (Chalk, Wash, Pastel w/Stumping, Catalog No. 13), Hubert Robert's View of an Italian Garden Chalk, Catalog No. 19), Jean-Honoré Fragonard's View of the Serapeum at Hadrian's Villa (Chalk, Catalog No. 20), Jean-Michel Moreau's Portrait of the Artist's Daughter Asleep (Ink, Wash, Chalk, Catalog No. 28) — unashamedly rendered with charming delicacy, François'André Vincent's Artists in a Landscape, near Tivoli (Chalk, Graphite, Catalog No. 30), Jean-Baptiste-Camille Corot's Landscape with Rocks near Marino (Pencil, Catalog No. 42), Johan Barthold Jongkind's View of Montmarte (Ink, Watercolor, Chalk, Catalog No. 50) and Paul Huet's View near Apt (Watercolor, Chalk, Catalog No. 59) are all wonderful exemplars of the academic principles to which these artists so assiduously adhered. Kudos to curators Colin B. Bailey and Susan Grace Galassi and to the many funders and lenders who have made this show possible — as well as to The Frick Collection for once again having the good sense to give over its space to mount an exhibit of drawings that showcase the art of fine draftsmanship. With the grey days of winter fast upon us, a visit to these two exhibitions offer a rare opportunity to fill your eyes with beauty and your heart with joy.
*"Watteau, Music, and Theater" (thru Nov 29): The Metropolitan Museum of Art, 1000 Fifth Ave., NYC (212) 535-7710. "Watteau to Degas" (thru Jan 10): The Frick Collection, 1 East 70th St., NYC (212) 288-0700. After its closing at the Frick, the exhibition will travel to the Institut Néerlandais, Paris (Feb 11—April 11 2010). Both venues have fully-illustrated catalogues available (see our New Art Books Column for specifics).
Share your thoughts about this review. rjs@arttimesjournal.com