Jenne M. Currie and Ethel Magafan at Windham Fine Art Gallery
By RAYMOND J. STEINER
ART TIMES Nov, 2004

APTLY NAMED, THIS exhibit* is comprised of 35 works — 25 by Jenne M. Currie, 15 by her mother, Ethel Magafan — an eclectic mix of large-scale paintings and sculptures tastefully distributed throughout the open spaces of the Windham Fine Arts galleries. As "independent" as both artists are — and make no mistake, they both possess strongly individual aesthetic visions — their work, in juxtaposition, blends wonderfully together.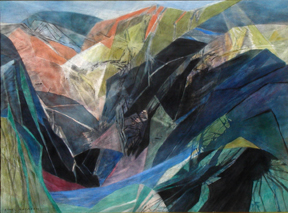 Through the Canyon by Ethel Magafan (W/C on Paper)

Magafan's is a grand vision, one that brings a bracing whiff of mountain air to the confines of a gallery space. I met and wrote about Ethel Magafan some twenty years ago (The Sunday Freeman, June 10, 1984) and still remember a quote of Mallarme's pinned up over her studio door: "To name an object is to suppress three quarters of the enjoyment…to suggest, that is the dream!" And, 'suggest' is precisely what Magafan does so magnificently with her beloved mountain "portraits."
The open spaces of the West — Colorado was both her native home and the source of so much of her inspiration — had always claimed her artistic soul and, almost up until her death, the call of the wild brought her back from her Woodstock studio for sketching trips each summer. The fifteen canvases represented in the exhibit all show the fruits of those years of trekking the almost inaccessible roads that led to out-of-the-way waterfalls, mountain meadows, towering rock faces, and jagged peaks.
Yet, as manifestly tangible as such natural phenomena might be, Magafan, through her delicate application of layers of paint (trusting entirely in her own impression of harmony and abstraction, she worked in hues that ignored local color, relying almost exclusively on the use of egg tempera to attain her special effects), infuses her paintings with a nuanced transparency that leaves this viewer feeling as if he is seeing through the stony faces of mountains into their very hearts. Although but a taste of Magafan's total output over the years (she was also a muralist whose work can still be seen in public buildings across the nation), it is enough for us to find reason to mourn the passing of this formidable talent.
If not the style, then certainly that "independent spirit" of trusting to one's own vision has been passed on to her daughter, Jenne M. Currie. The offspring of two highly successful artists — her father, Bruce Currie, has one painting hanging in the show, a portrait of his late wife, Ethel, a painting, incidentally, that is indicative of his independent spirit — Jenne, though perhaps imbibing some of her mother's acute sense of color (see especially her "Study for Overture"), has taken Ethel's nascent cubist propensities and brought them to her own highly personal expression.
Whereas her mother's theme of the outside world brings the viewer "inside" the work, Jenne's interiors of still lifes and chamber ensembles operate in the opposite direction, bringing the painting "outward," thrusting toward the onlooker through the use of three-dimensional relief — a technique that she ultimately optimizes on when she leaves the canvas behind to express herself in fully-realized, free-standing sculptures.

Study for OvertureÓ by Jenne M. Currie (Acrylic on Wood)
(Photos Courtesy Windham Fine Arts)
There is an intellectual element in Jenne's work that appears to be absent in her mother's more emotional, more visceral interaction with the world. Jenne's series of works, "Study for Overture" (already mentioned above), "Overture", and "Orchestral Triptych," the second two, progressive developments of the original concept, indicate a concerted "thought-out" process over time that, presumably, clarifies the intent of the artist.
Another difference between the works of these two women that enhances their joint exhibition (something that gallery director Victoria Alten seems surely to have noted and capitalized upon) is the difference in visual impact that each separately exert on the viewer. Whereas Magafan's paintings are sedate, reserved, monolithic, Currie's is varied, lively, at times even whimsical (especially in her sculpture), the two artistic "voices" playing off each other in antiphonal concert.
"Independent Spirits" certainly deserves a long look, and the Windham Fine Arts a gallery well worth visiting. Taking a trip upstate into the Catskills while our autumn foliage is at its peak to see an exhibit that will both exhilarate and delight, would surely be an afternoon well spent.
*Jenne M. Currie and Ethel Magafan: "Independent Spirits" (thru Nov 14): Windham Fine Arts, 5380 Main St., Windham, NY (518) 734-6850