Francois Boucher at the Frick Collection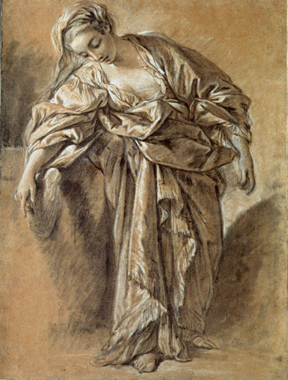 "Study of a Despondent Woman in Drapery,
Supporting Herself on a Plinth" 1761 (Black Chalk w/some Stumping, heightened w/White, on Buff Paper)
By RAYMOND J. STEINER
ART TIMES Nov 2003
THE APPRECIATION OF draftsmanship is alive and well, thanks in large part to The Frick Collection with its long-standing commitment of rarely letting a year go by without mounting at least one major drawing exhibition. They have brought us some of the finest shows one might find in New York City, and this year they do not disappoint with the current show of drawings gathered in celebration of the Tercentenary of the birth of François Boucher.* Organized by the American Federation of Arts and curated by Alastair Laing, Advisor on Paintings and Sculpture to the National Trust, London, some seventy-five sheets from the collections of both national and international public and private collections have been brought together under the auspices and grant generosity of such organizations as the Fino Family Foundation, the Samuel H. Kress Foundation, the Pfizer Foundation, the Peter J. Sharp Foundation, the Benefactors' Circle of the American Federation of Arts, and Jean A. Bonna and the Fellows of The Frick Collection — in all, a monumental undertaking that offers American viewers the first major survey of Boucher's graphic oeuvre.
Long celebrated as one of 18th Century France's shining artistic lights — and rightly so — François Boucher (1703—1770), if we accept his own estimate, left the world a legacy of over ten thousand drawings. If largely known by today's general public as a limner of luscious females, Boucher in fact produced drawings on a variety of subjects over his nearly five-decade career that included landscape, history, myth, literature, allegory, religion, and depictions of the quotidian scenes of everyday life — all of which you will find examples of in the present exhibition.
A master draftsman, Boucher followed the typical evolution of an aspiring artist of the 18th century, starting out as an apprentice to François Lemoyne before striking out on his own. Shortly thereafter, through the early years of the 1720s, he moved on to learning the art of etching, during which time he produced etchings of over 100 of Antoine Watteau's drawings. It would not be long after winning the Academy's annual Prix de Rome that Boucher would find his own niche in the competitive world of the French artworld. A sound businessman as well as a master craftsman, he quickly learned who to emulate while carefully developing his own individual style, eventually carving out his place in the rigid hierarchy of "accepted" French painters. Though painting was his preferred metier — and on which he primarily made his reputation — Boucher continuously and diligently honed his drawing skills throughout his long career. Through such activities as producing a set of illustrations for Molière's works, Boucher raised the art of the drawing to new heights and with success and greater exposure, he soon found himself with clients and patrons that would include the elite from the royal courts.
An innovator as well as a confirmed traditionalist, François Boucher raised the level of the humble drawing — most often used as preliminary studies in preparation for the studio painting — to bona fide and finished works of art in their own right. He not only composed his drawings as carefully as he might a painting, but also turned to recycling his images by isolating images from one drawing and reproducing them as individual (and sometimes enlarged) drawings as "special orders" for select clients. Boucher also seemed to have little difficulty in exchanging one medium for another, turning from the pencil, to charcoal, to pen and ink, to pastel, to watercolor wash, and to various chalks of different color as and whenever he chose to do so — all of which we have the rare opportunity of viewing in this latest exhibition of The Frick Collection.
From such sketchy drawings as "Family Gathered Around a Cradle" ca.1734-35 (Pen and Brown Ink on Cream Antique Laid Paper) to such highly finished works as the charming "A Young Country Girl Dancing" ca.1765-70 (Black, Red and White Chalks — w/Stumping — on Buff Laid Paper), Boucher is consistently accomplished in both his composition and hand/eye coordination. Rarely do we see a false note in his limning of figure, drapery, countenance, object or animal — though he can, every so often, be somewhat "stagy" in such drawings as "Study of a Young Chinese Woman Seated at a Table c.1742 (Red, Black and White Chalks w/Light Brown Wash on Fawn Paper) or "Study for a Figure of Bacchus" c.1747 (Red, Black and White Chalks w/Stumping on Cream Paper.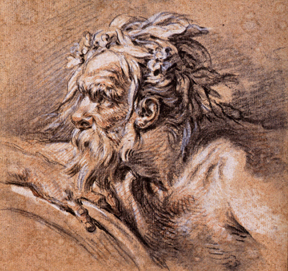 "Head of a Rover God in Profile" c.1750
(Red, Black & White Chalks on Buff Paper)
Though he can handle almost any subject — his landscapes (e.g. "Landscape with an Undershot Mill and Outbuildings" C.1755-58 (Black Chalk), "Landscape with a Mill-Pond, Mill, Bridge, Washerwoman, and Boy" c.1750s (Black and White and Colored Chalks, over Graphite, on Blue Paper can readily compete with the finest of Dutch masters and handily proves that he might well have made his mark in this genre alone — Boucher seems most at home (and almost always his most delicate) when he is depicting the female form. Whether lusciously nude (as in his oft reproduced "Recumbent Female Nude" ca.1742-43 (Red, White and Black Chalks on Cream Antique Laid Paper), or meticulously attired as his "A Young Shepherdess Seated on the Ground, Holding a Heart Target by a Ribbon" 1753 (Black Chalk w/Some Stumping, Red Chalk, White Heightening, Touches of Blue and Pink Pastel and Gray Wash, on Fawn Paper), he seems eminently at home in the presence of women — whether in the homely atmosphere of the kitchen, the out-of-doors, or in the boudoir. He is adept at catching them at the most intimate of moments and quite effortlessly seems to capture the slightest details (e.g. note the bunched-up dress at the rear of the seated woman in "Study of a Young Woman Seated in a Chair Holding a Rod" c.1734-35 (Red Chalk counterproof, Strengthened by the Artist Himself w/Red Chalk); the rigid stance of "A Lady Being Dressed by Her Maid" ca.1742-45 (Pen w/Brown Ink and Bister Wash, over indications of Black Chalk; the graceful curve in the back of "The Young Garden Girl" ca.1760-64 (Pen and Brown Ink, Brown Wash over Red Chalk); or the nape of the girl's neck (a view, that to this viewer, always seems to convey a charge of erotic frissonnement) in "Head of a Young Woman with Hair Tied up, Seen from Behind" ca.1740-41 (Red, Black and White Chalks on Fawn Paper). This is figurative art at its very finest.
As meticulous as he was in depicting women, Boucher was equally at home in capturing the soft roundness of children (see the many sheets of cherubim and putti) or the angular musculature of men ("Double Académie (Study of Two Male Nudes, On Suppliant" ca.1735-40 (Red Chalk); "Académie (Nude Study) of a Man as a River God" 1740s (Red Chalk); "Study of the Figure of Apollo" ca.1753 (Black Chalk and White Heightening, some Stumping, on Greenish-Gray Laid Paper). Nor was he inept when laying in architectural background, as many of the drawings prove. Startling, at least to this viewer, was "Study of Figures on the March" c.1765 (Black and White Chalks on Mid-Brown Paper) which in its dramatic perspective and truncated figures seemed strikingly modern in its conception (as if foreshadowing the influence that Japanese graphic works and the advent of photography would have on 19th Century French painters). Drama, incidentally, is much in evidence in many of Boucher's drawings, several seeming much like studies for elaborate stage settings of history plays. Rarely is there a static line in these richly detailed (yet rarely overstated) portrayals of bodies in passionate movement or distorted position, each individual form carefully rendered and placed for maximum clarity and effect.
In all, François Boucher could surely be counted among the finest draftsmen that the golden-age of French academic drawing produced. For the working artist — as well as any aficionado of the art of drawing — this is a show that you will not want to miss. And, again, The Frick Collection is to be commended for keeping alive a much-needed appreciation for the oft-maligned art of good, solid draftsmanship.
*"The Drawings of François Boucher" (thru Dec 14): The Frick Collection, 1 East 70th St., NYC (212) 288-0700. After closing at The Frick Collection, the exhibit will travel to the Kimbell Art Museum in Fort Worth, Texas (the only other U.S. venue) and be on view from January 17 through April 18, 2004. An accompanying catalogue of the same title with essays by Alastair Laing and Pierre Rosenberg, former director of the Musée du Louvre, is available: 264 pp.; 8 x 10 1/2; Over 100 Color Illus.; Notes; Checklist; Literature Cited; Exhibitions Cited; Index. American Federation of Arts/Scala Publ. Ltd. $55.00 Hardcover ($37.50 Softcover).
(Photos for this Review: Courtesy The Frick Collection)