Art Review:
Carnegie International 2013: Exploring The World Of Contemporary Art
By James C. Weaver
ART TIMES November 2013 online
The Carnegie International, Pittsburgh's serious look at what's happening in the world of contemporary art, just opened its current edition of this renowned exhibit (October 5, 2013–March 16, 2014). This is the third consecutive Carnegie International I've seen and I believe the best both in terms of its concept and selection of art and artists. Three curators, Daniel Bauman, Dan Byers, and Tina Kukieski worked for more than two years to achieve this well conceived and executed exhibition. Wisely, they limited the International to 33 new artists from 19 countries, and while a number of artists showed multiple works, it was still a smaller than past exhibits.
Oil paintings, as I had anticipated, were few. Sculptures, however, were plentiful, as were photographs, videos, and other visual media. Three artists from the show were exhibiting works I found of particular interest -- Henry Taylor, an African American, who lives and works in Los Angeles; Pedro Reyes, born in 1972 in Mexico City, Mexico, where he lives and works; Zoe Strauss, born in 1970, who lives and works in Philadelphia.
Taylor's paintings are simple and direct. People under forty years of age may not remember the subjects of two of his works -- Huey Newton and Eldridge Clever -- both founders of The Black Panthers, a radical civil rights organization of the 1960s. The oil portrait of Newton (inspired by a news photo of the day) depicts the Panther leader sitting in a throne-like chair with an automatic rifle in one hand and an African native spear in the other. He is dressed in black, except for his white collared shirt, and wears a black beret. He stares directly at the viewer with a blank expression. Approaching the painting, it is difficult to look away.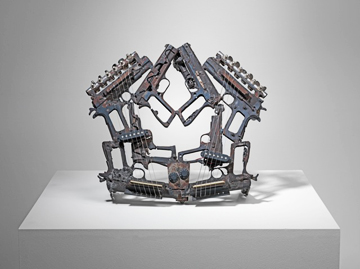 The Eldridge Cleaver painting depicts the Black radical author and leader seated in a two-legged chair. He is in profile, dressed in black except for a single bright blue pant leg (his foot is missing) and smoking a cigarette. There is a small white document mounted on a bright green wall beside him, but the writing on it is too small to read. Taylor presents an incomplete Cleaver, perhaps all he remembers. Some have said the pose is reminiscent of Whistler's Mother.
Mexican sculptor Pedro Reyes works with discarded metal weapons, many recovered from police raids of illegal drug operations. A project Pales poor Pistols (Shovels for Guns) began in 2007 with a campaign for the voluntary donation of guns that were crushed and melted down, and later made into shovels. Community volunteers to plant trees used the shovels. In 2012 Reyes took the project further and transformed 6700 weapons into musical instruments including a set of mechanized instruments exhibited at the 2013 International. Mexican musicians have made their own musical instruments from guns and perform with them live. Reyes is interested in turning "agents of death" into "instruments of life."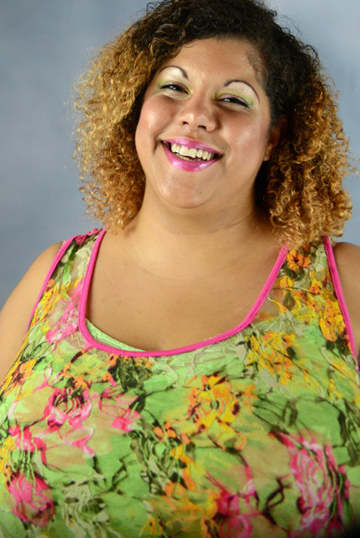 Philadelphia photographer Zoe Strauss has spent much of the past year in Homestead, Pennsylvania, a working class Pittsburgh neighborhood once the center of steel making in the area. She is interpreting Homestead by making informal portraits of its people who she recruits at random and photographs at her studio in whatever they are wearing at the time. The 5 X7 color prints are clustered in random groups of about twelve prints each and displayed in a Museum hallway. The steel industry departed Homestead in the 1970s, so what she has photographed are survivors -- strong people who have chosen to remain here and build a new life. In an adjoining alcove, Strauss is seen in a video explaining her project. She plans to continue photographing Homestead people and add these prints to the exhibit for the remainder of show.
The decision to show works acquired by the Museum from former Internationals was a brilliant idea. When its founder Andrew Carnegie established the quadrennial exhibit in 1896, his plan was to help build the Museum's permanent collection by purchasing works from each show. The 2013 International curators chose to include a number of these paintings hung side by side with other permanent collection works of the same period. These include "The Wreck" by Winslow Homer, "Cape Cod Afternoon" by Edward Hopper, "Plantation Road" by Thomas Hart Benton, and "Woman VI" by William de Kooning, plus a number of more contemporary works by such artists as Mel Bochner, Frank Stella, Stephanie Beroes, Georg Baselitz and Rachel Harrison.
The show's curators clearly decided to view the International not as a single event but as part of an ongoing series of exhibitions. The two-pound exhibit catalog (356 pages $39.95) provides a wealth of information about the International, the artists, and the Carnegie. In addition to documenting the current exhibit, it includes photos of installations from each of the past Internationals. It also tells of the Lawrenceville Apartment, a satellite space of the International, where for two years the curators brought together local and out of town artists, writers, educators, and others to discuss art and the contemporary art scene.
Learn more at ci13.cmoa.org. When planning to attend the Carnegie International view visitpittsburgh.com.
(James C. Weaver lives in Cornwall, PA)