Art Review: Everett Raymond Kinstler at the Norman Rockwell Museum
By Raymond J. Steiner
ART TIMES online April 2012; Print and online May/ June 2012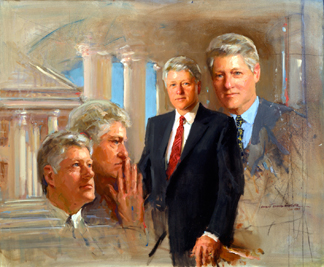 "IT'S ALL ABOUT connecting with the past…" So quotes Martin Mahoney in his opening essay/interview of the catalogue** that the Norman Rockwell Museum published for Everett Raymond Kinstler's retrospective. The past indeed! A time when men were real men and all women were lusciously gorgeous — a world that, alas, only we old-timers can remember. Who of us can ever forget the handsome men and busty women that once graced the ever-present pulps? The cowboys and masked heroes and dashing derring-dos that filled our heads with impossible dreams as we flipped the pages of novels and comic books? Oh, where are the mustachioed swashbucklers with finely chiseled features of our youth? Can Johnny Depp even come close? If you, as so may of us senior citizens do, care for a nostalgic jaunt into our dreamy-eyed childhood, then by all means visit this extraordinary exhibit. The journey, however, can be tinged with sadness as the changes wrought by time begin to sink in. Kinstler's "connecting with the past" — for me at any rate and especially when I stood before his portraits, say, of Will Barnett or Peter Cox, two men I have known for as long as I've known Kinstler — could bring a dull ache to the heart. Barnett, for example, still virile in his portrait has only recently been honored at the age of 100 by our President.
The cold impartial Tempus fugit hardly allows us the same impact that Kinstler's portraits can deliver…and the simple reason is that Kinstler's genius lies in his uncanny abilities to render a verisimilitude through the magic of his brush. It's more than this, of course. It's also his talent of seeing. Kinstler is nothing if not a keen observer of life — he sees not only the visage but also the character, the unique and miniscule differences in this eye, that chin. The pulp character not only shows his courage (or her vulnerability) in his/her face, but also in the nuanced body movement, stance, setting of shoulders and head. Likewise, the living man/woman gives Kinstler not only a likeness, but a sense of "who-ness" as well. In this respect, it is fitting that he should be given a retrospective in — well, Norman Rockwell's backyard if not his home. Both were superlative illustrators as well as accomplished fine art painters. Both speak to an audience in clear, bell-like tones — in images that offer far more than words. Nearly 60 works — both drawings and paintings — comprise the exhibition, the genres roughly separated into two galleries that follow Kinstler's move from illustrator (the "Pulps") to fine art painter (the "Portraits"). Tagging along behind his path through life is a magical experience.
Although I missed the press opening, my friends Annie and Mark Hoffstatter went in my stead and, as they tell you below — traveling to Stockbridge to see this show will certainly not disappoint you!
For more information about the show visit nrm.org
At the Press Opening

By ANNIE & MARK HOFFSTATTER
We were greeted enthusiastically by everyone at the Norman Rockwell Museum and given a press package and beautiful book that cataloged the works in the show.
We arrived early and were able to take in the exhibit in a way that was not encumbered by a crowded room. Seeing the early ink drawings and Pulp Fiction covers of Kinstler's illustrator days in one room and then in the next, which featured his portraits, we followed a progression of how he captured personalities and the essence of people and characters he painted. We were star-struck by the famous portraits that glowed around us, feeling as if we were walking the red carpet onto a major path into modern history.
Chairs and a dais were set up for the press interview, which was held before the official gallery talk. How exciting to be included in this intimate event that showed the person behind these incredible works of art. Everett Raymond Kinstler arrived with his good friend Tony Bennett and sat along with Laurie Norton Moffatt, the Director/CEO of the Norman Rockwell Museum at a table in front of three of his portraits — Dave Brubeck, Katharine Hepburn and that of Tony Bennett. The easy manner of these two gentlemen made us feel as if we were eavesdropping on part of one of their ordinary dinner conversations. Both Mr. Kinstler and Mr. Bennett spoke of their history together and of the similarity of their arts. As a singer and artist himself, Tony Bennett described himself as a perfectionist in communication of the emotion and interpreting the soul of the song. His songs were recorded only after he felt they were just right. Even after the approval of others during a recording session, one of his songs was redone because of what Mr. Bennett said was more of what he didn't hear that made it unacceptable to him. Mr. Kinstler agreed that in painting the same applies. What's missing is what makes the difference in a really good painting. Kinstler highlighted the need for technique, feeling, communication and imagination in developing your own personality as an artist. Finding the way to highlight a personality on canvas is a gift, as is the structure of a phrase or tone to convey the emotion of a song. Both touched our hearts deeply with their gratitude for a life blessed with doing what they are passionate about and to be able to continue this their whole life.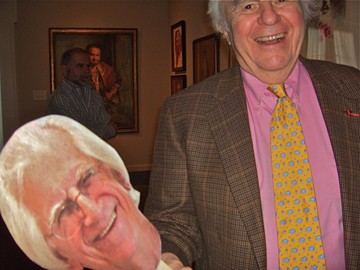 This tribute to Everett Raymond Kinstler was a moment in time I will never forget. Kinstler's comparison of color to musical notes and playing in the middle of the scale opened my eyes to the art of harmony. A packed gallery was captured by Mr. Kinstler whose humorous anecdotes of portrait sessions with famous people of our time humanized these great figures…and seeing them captured on canvas immortalized them for generations to come. His humility. His pride in his family present with him that day, and his boyish charm endeared him to everyone. As I conveyed my regrets for Raymond Steiner's absence, we enjoyed a good laugh together when I asked if he would take a picture with my "Steiner-on-a-stick". He was more than happy to accept the offer and planted a big kiss on Raymond's cardboard face. I also told him, "I feel like one of those Make-a-Wish recipients" in meeting him and then I had my hand kissed. What a Cinderella day it was meeting such talented, inspiring and admirable people.

The show and the man certainly did not disappoint.

(Annie ((a budding artist)) and her husband Mark Hoffstatter—my stand-ins for the press opening—live in Saugerties, NY)

*"Everett Raymond Kinstler: Pulps to Portraits" (thru May 28): Norman Rockwell Museum, 9 Rte 183, Stockbridge, MA (413) 298-4100; June 14 - Sept 28 at the Bellarmine Museum, Fairfield University, 1073 North Benson Rd., Fairfield, CT (203) 254-4000 ext 4046

**A fully-illustrated Catalogue is available: Everett Raymond Kinstler: Pulps to Portraits by Martin Mahoney, et al. 103 pp.; 9x9; B/W & Color Illus.; Exhibition Checklist. $19.95 Softcover